My love for Reese's Peanut Butter cups goes beyond leaps and bounds! But today let's look at a promising alternative: Are Quest Peanut Butter Cups Keto?
I had to say goodbye to Reese's when I set out on the Keto adventure! With 8g of sugar per cup, having a Reese's is a sure-shot way to get kicked out of ketosis!
I was always in search for a keto-adapted version but they never came out with one!
Here's a little secret: I even wrote to them with this suggestion but I guess it went unnoticed just like other fan-mails!
When Quest Nutrition came out with their Peanut Butter Cups, I finally saw some light at the end of the tunnel!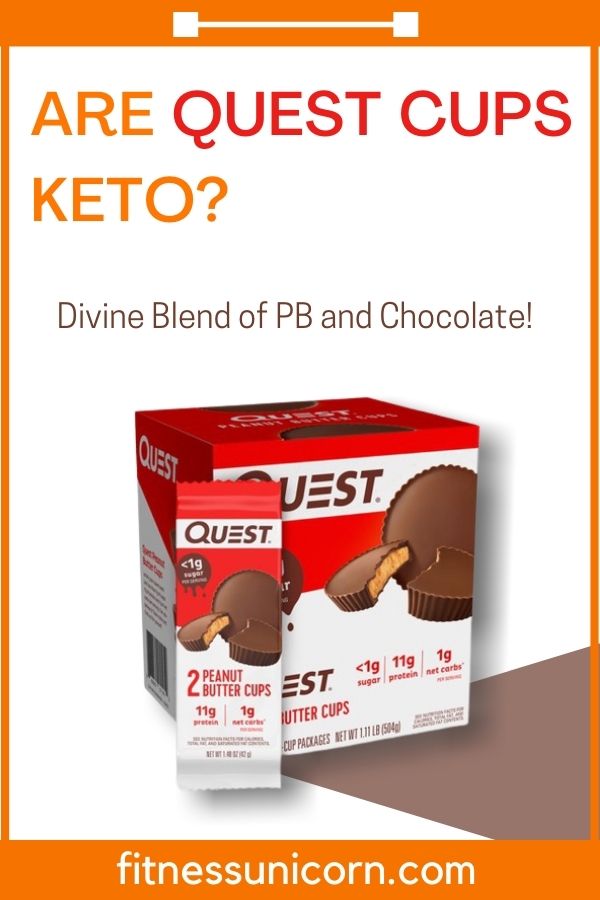 Tired of searching whether certain foods are keto? Download my keto cheat sheet with 210+ keto-friendly foods!
Quest Nutrition has gained massive popularity among fitness enthusiasts! They started out with their protein bars, which as an instant hit in the market.
Over the years they have captured the market with their protein chips, low carb pizza, protein cookies, protein shakes, and finally the elephant in the room: Sugar-Free Peanut Butter Cups
In this article, we'll see how Quest cups fit into the keto diet and explore their ingredients one by one!
This post may contain affiliate links, which help keep this content free. (Full disclosure)
Are Quest Cups Keto Friendly?
Quest Peanut Butter cups are definitely keto-friendly with just 1g of net carbs per serving. They also have 15g of fat giving it a perfect fat-to-carb ratio!
It has no added sugar and uses a plant-based sweetener called Erythritol. If you've been on the keto diet for a while, I'm sure you have this sweetener lying on your kitchen shelf!
Hidden carbs on a keto diet could be in the form of sugar alcohols or soluble fiber (e.g. Maltodextrin in Sugar-Free Jello). Thankfully there are no sources of hidden carbs in Quest peanut butter cups!
There is nothing objectionable in their ingredients and they all are keto-friendly! Have a look:
Whey isolate
Cocoa butter
Peanuts
Erythritol
Unsweetened chocolate.
A single serving (2 cups) of Quest Peanut Butter Cups have 190 Calories, 15g Fat, 11g Protein, and just 1g Net Carbs.
Other than being a lip-smacking keto-friendly dessert, it is also a terrific protein supplement for our low carb diet!
We often tend to neglect protein on a keto diet as we are always obsessed with high-fat and low-carb foods! This poor fella is left screaming for our attention!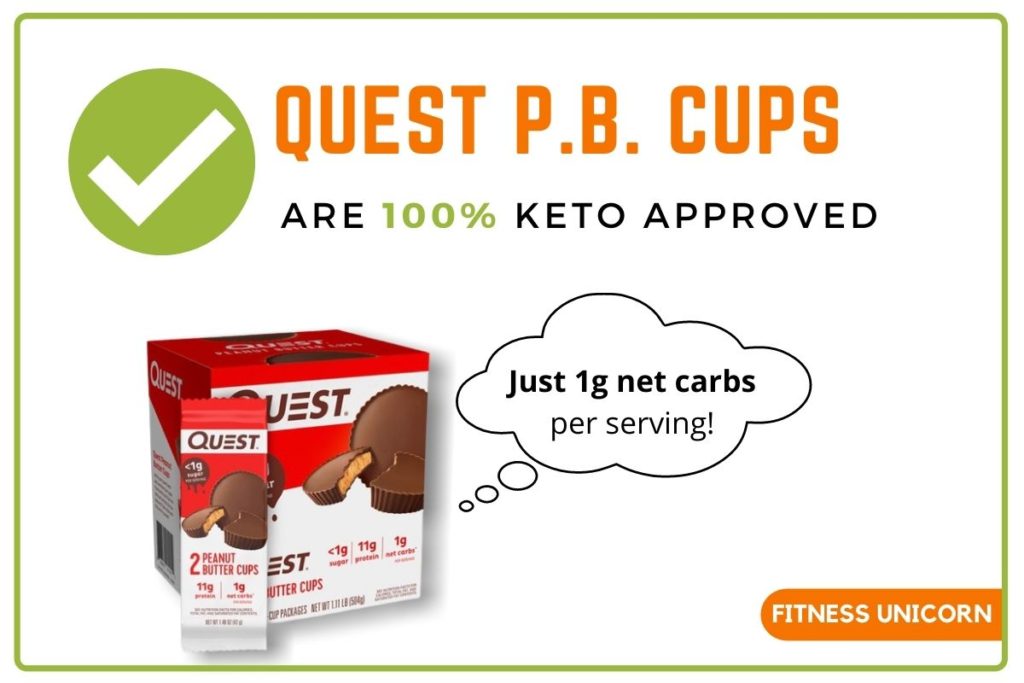 Their overall macro profile is quite impressive! Usually, desserts aren't very nutritious but Quest's keto cups seem to be way up in the ladder!
But if you are on the strict keto diet, this offering from Quest might not be your "cup" of tea! Since it is a processed food item, it falls under the "dirty keto" category.
You are less likely to overeat these cups, which ranks them higher on my keto-friendly scale! There's not enough temptation to binge on them because they are quite filling, unlike these keto chips!
Quest Cups Review on Keto Diet
Quest became one of my favorite brands when they came out with their low-carb pizza. It almost feels like cheating on your diet WITHOUT actually having carbs!
So when they launched the Peanut Butter cups, I was one of the early birds to try this low carb dessert.
To my surprise, they were pretty decent as per keto dessert standards (if such a standard does exist!). There was absolutely NO aftertaste of Erythritol, which is a good thing.
However, I do expect a peanut butter cup to be more creamy and less powdery! Also, I may have risen my expectations too much by looking at those super creamy pictures on the box!
But after some time I realized that it's ultimately a keto-adapted version of a dessert and there will always be some trade-off!
You can't have all the goodness of real, sugar-laden desserts and maintain a low-carb high-fat diet!
Quest keto cups are priced the same as their flagship product: Quest Protein Bar. A 12-pack box will cost you $24.99, while a 4-pack comes for $8.99.
Sometimes I have strong peanut butter cravings and Quest cups help me manage them on the keto diet.
You definitely have to chew them properly as they are a bit on the dry side.
But guess what? That totally works in our favor!
You know why? Because if it were to simply melt in your mouth, you are way more likely to overeat them!
They can also be really crumbly sometimes and eating them leads to a lot of mess on the table.
Quest keto cups also have 8g of Erythritol per serving and trust me, you do not want to have more than 2 servings at a time.
All that sweetener can make your belly really upset!
How to Store Quest Keto Cups
You should always keep the peanut butter cups in a cool and dry place.
They are highly sensitive to heat! In fact, if you order from their official website, they levy a cold-packaging fee and your order comes in perfect condition.
I had been searching for a keto-alternative to Reese's peanut butter cups for a long time!
Thankfully, Quest heard my unsaid wishes and came out with these cups. And the best part about them is that they don't have an ugly aftertaste seen in most keto desserts!
In fact, sometimes they feel like real-sugar delicacies blessed with the magic of peanut butter!
Given the high amounts of fat and protein in these cups, they are quite apt for the keto diet. Having just 1g of net carbs makes it a hell of a keto dessert!
You can use them to replace the traditional candy on the keto diet to satisfy your sweet tooth!
MORE: Is Sugar Free Jello Keto?
Are Quest Peanut Butter Cups Discontinued?
Is it so? Did they just discontinue one of the rare keto desserts without the ugly aftertaste?
The answer is NO.
You can still easily buy Quest Peanut Butter Cups on Amazon or offline in supermarkets or local stores!
So why do people have this confusion?
Well, Quest used to sell a product called Quest Cravings a few years back. It was a protein-rich version of regular peanut butter cups that was also quite low in carbs!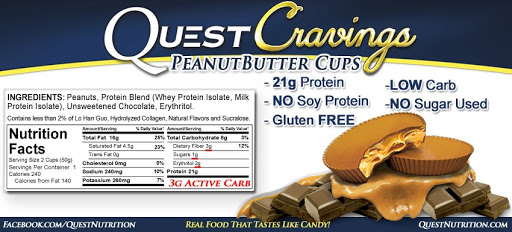 For some reason, they decided to pull it from the market.
As you can see, the older version was a total beast in terms of protein (21g) and I bet it was a staple for Gym junkies!
What we have today in the market are Quest peanut butter cups that have 11g of protein.
Since we keto-ers don't need a hell lot of protein, it totally works in our favor!
Why do I say "in our favor"? Well, the reduction in protein has also made them much more tastier and less artificial-ly!
In a nutshell, Peanut Butter Cups are the latest offering from Quest and they have NOT been discontinued.
Where To Buy Quest Peanut Butter Cups
The latest version of Quest peanut butter cups is available with the following retailers:
Questnutrition.com
Amazon
Wegmans
Hyvee
Giant Eagle
Circle K & Speedway convenience stores
Vitamin Shoppe
GNC
You can also find them in local stores near you! Quest Nutrition is quite a famous brand in the U.S. as it's highly popular among fitness enthusiasts!
Quest Peanut Butter Cups Ingredients
The key to having processed foods in a keto diet is to be well-aware of their ingredients!
It is the only way you develop your keto-sense (if that's a word!).
Don't you agree that the keto diet is highly complicated? There is a plethora of information available online and everyone has different views!
Some people say that all fiber is equal and should not be considered as a part of net carbs.
On the other hands, new research has come up that says only that the soluble part of fiber also contributes to the net carbs in a food!
The only way to develop your keto-sense is to disect each and every ingredient of the foods you eat.
It is definitely a BORING job but if you do it just enough times, you'll be a keto-master in no time!
Heck, you won't even need Google to find out if X food is keto-friendly (that doesn't mean you shouldn't visit my blog, lol!)
Without any further ado, let's jump to the Quest peanut butter cups' ingredients:
Whey Protein Isolate
Erythritol
Unsweetened Chocolate
Cocoa Butter
Peanuts (of course!)
Palm Kernel Oil
Soluble Corn Fiber
Whey Protein Isolate
Whey protein isolate is the purest form of vegetarian protein! It has all the nine essential amino acids which is a rare sight for vegetarians.
Whey isolate is a go-to protein for keto dieters and it has the lowest number of carbs among all the variants.
People often fill their protein deficiencies on keto with instant solutions like Premier Protein Shakes. In fact, even these shakes have whey isolate as their source of protein.
The Keto Pyramid says that protein should make up 25% of your total macro intake on a keto diet. But this is often not the case as we get all caught-up juggling between fats and carbs!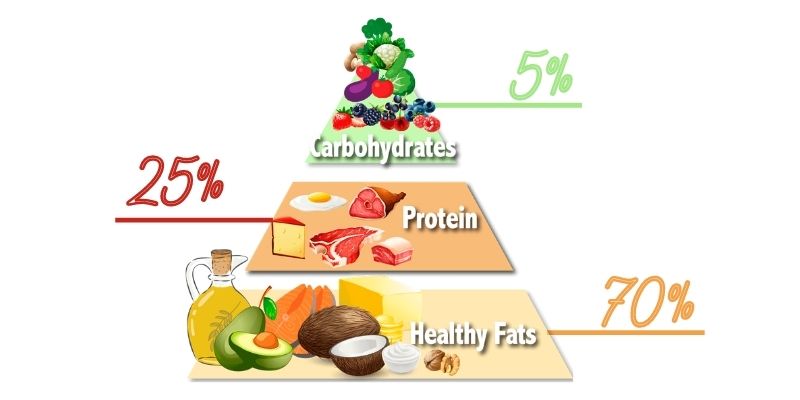 Whey protein isolate is a keto-friendly ingredient.
Erythritol
Erythritol is one of the most commonly used keto sweeteners that is made from fermented corn or corn starch.
It goes unabsorbed by your digestive tract and hence does not impact ketosis.
Quest's Peanut Butter Cups also use Erythritol as a sweetener but it's quite difficult to distinguish from real sugar!
Erythritol can be complicated and some desserts end up with an ugly aftertaste! Even a few low carb beverages like the Zevia soda can sometimes have a bad aftertaste.
Some studies claim that this plant-based sweetener can prevent tooth decay when compared to other sweeteners.
With that said, Erythritol is a pretty safe keto ingredient and can be a good replacement for real sugar.
Unsweetened Chocolate
Dark and unsweetened chocolate is a very comforting friend on a keto diet!
Yes, you CAN have chocolate on a keto diet as long as it is sugar-free.
Concentrated dark chocolate and unsweetened cocoa powder are two great sources of antioxidants in this low carb diet!
I bet you've at least once come across a random editorial saying: "Dark chocolate is great for your heart."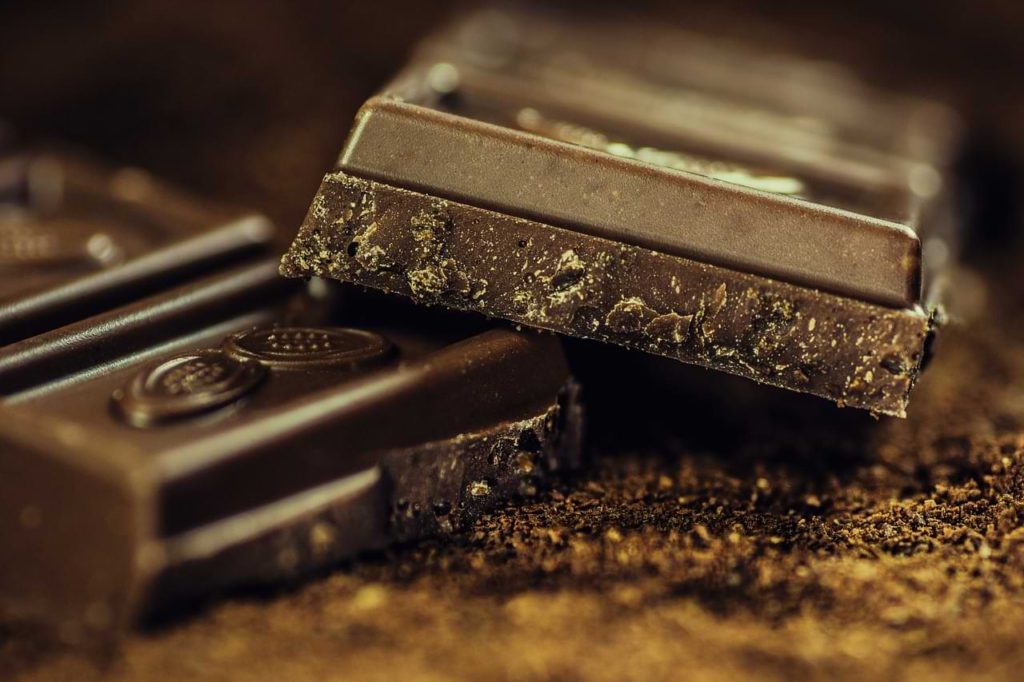 Thanks to the flavanols present in dark chocolates, this statement is indeed true! Flavanols lower your blood pressure and keep your arteries functioning up to the mark.
There is however one essential condition that decides whether you can eat chocolate on keto: It should have a minimum of 70% concentration of cocoa solids.
1 Ounce of unsweetened dark chocolate has roughly 3g of net carbs, which is why it is keto-friendly.
Cocoa Butter
If you're a women, I'm pretty sure you've used cocoa butter in one of your moisturizers!
Along with its skin benefits, it's also a great ingredient for the keto diet.
Cocoa butter is free from carbs and makes your recipes a whole lot smoother and fluffier!
This butter is considered a vegetable fat and is vegan-friendly as well. It makes for a great high-fat option for vegan keto-ers!
While most vegetable oils are hydrogenated, cocoa butter is a far more superior source of fats that can help you fight inflammation.
It adds a natural chocolate-rich flavor to your recipes without the extra carbs!
Palm Kernel Oil
Palm kernel oil is a carb-free oil that has a very mild taste.
It is a tropical oil that can be used for making delicious fried chicken on a keto diet!
Palm oil has a freakishly high smoke point of 450F which makes it an excellent keto cooking oil.
Most dishes require temperatures over 350F to get a good crunchy exterior. Other keto-friendly oils like Sesame Oil have much lower smoke points leading to a burnt taste and smoke covering the whole kitchen!
Palm oil has three variants: Unrefined Palm Oil, Refined Palm Oil, & Palm Kernel Oil.
While all three are keto-friendly, you should always opt for Red Unrefined Palm Oil as it has the healthiest type of fats (monounsaturated fatty acids).
Soluble Corn Fiber
SCF is used in many low-carb snacks as a replacement for sweeteners. It also adds to the fiber content of any food.
Soluble corn fiber is a tricky keto ingredient because it can cause an insulin spike in some people. If you are one of them, you risk getting kicked out of ketosis.
Modern experts consider soluble fiber a part of net carbs because they feel it can also impact ketosis.
However, Quest keto cups have a very tiny amount of soluble corn fiber to even have an impact!
If you want to be dead sure, get a ketone test done right after eating Quest keto cups.
This will weed out any doubts lingering in the back of your mind and you can enjoy the dessert guilt-free!
Conclusion
Are Quest Peanut Butter Cups Keto?
With just 1g net carbs per serving, Quest cups are definitely keto. You also get 15g of good quality fat and 11g protein.
Most people struggle with protein on a keto diet and Quest keto cups can be a great supplement!
It is sweetened with Erythritol which is a sugar-free sweetener.