The Keto diet is one of the most popularly low carbs followed diets. This high-fat diet has a wholesome package of health benefits including weight loss.
For the individuals who are practicing this diet, it is recommended to consume keto protein bars.
Keto bars top the preference since it's very convenient, a quick meal and a perfect go-to option. There is a wide range of keto protein bars that would satisfy your appetite while following a keto diet.
One is required to be a little discerning while choosing a particular keto bar.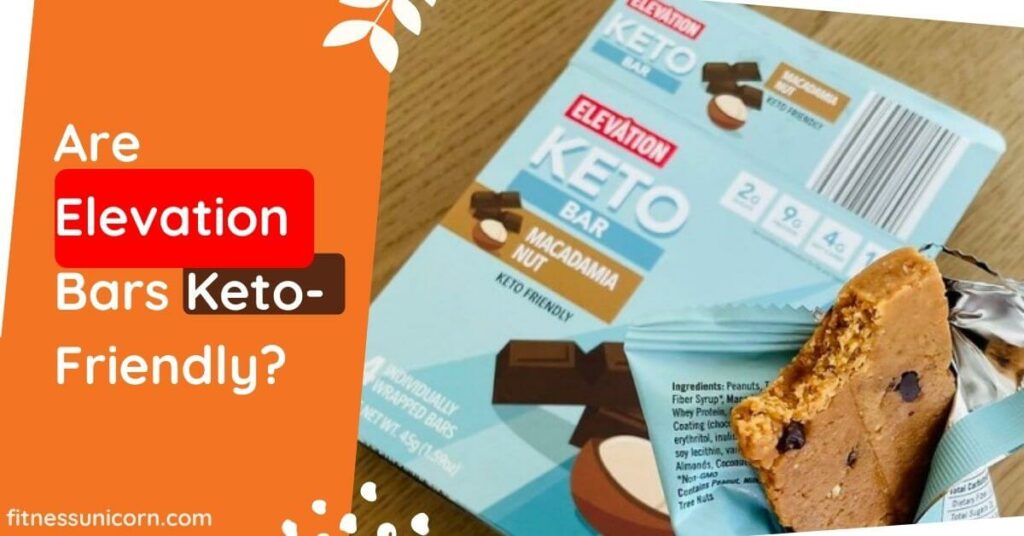 Tired of searching whether certain foods are keto? Download my keto cheat sheet with 210+ keto-friendly foods!
This post may contain affiliate links, which help keep this content free. (Full disclosure)
How are keto bars made?
Keto bars are primarily consumed to meet the basic standards of the keto diet. Any protein bar can be consumed which consist of its lower components of carbohydrates, higher fat content and moderate protein.
Keto Bars are made of the following:-
Functional fibres
Nuts such as walnuts, cashews and almonds
Sugar alternatives such as artificial sweeteners, monk fruit, sugar alcohols and stevia
Seeds like sunflower seeds
Coconut or palm oil
Chocolate
YOU MAY ALSO LIKE: Are Leeks Keto Friendly?
How beneficial are elevation bars while following the keto diet?
Elevation bars are very good in taste considering they constitute around 2-4 net carbs per bar. Keto Elevation bars are ideal for satisfying a stubborn sweet tooth.
They are available in numerous flavours as per the taste and preferences of customers.
Since not consuming sugar doesn't eliminate the craving for it from time to time.
When you are familiar with keto-friendly treats, you need to worry less about your calories since these elevation bars are a one-stop solution to savour your cravings.
Although the two major benefits of elevation bars are as follows:-
1. Low Carbs
Keto Elevation bar satisfies sweet tooth within a few minutes. These protein bars are consumed more like a sweet than a snack since they have a quite rich flavour in comparison to other bars.
Moreover, they are the best option when one needs to consume something light until the next meal.
2. Exciting flavour combinations
Elevation bars are available in a variety of flavours such as salted caramel pecan, chocolate coconut macaroon, chocolate almond brownie and many more.
The texture of such bars are perfectly fine and the taste of coconut macaroon is quite similar to Almond Joy. Many new flavours are being launched like strawberry and macadamia nuts.
How to find the right keto bars?
The trick lies in choosing the right bars containing plant-based fats such as avocado or coconut oil. It contains a lower amount of less processed ingredients as well as lower amounts of sodium.
Make sure that your keto bars contain adequate fibre and protein to promote satiety.
Although the individuals following the keto diet criticise one common issue, constipation. The addition of adding fibre to the diet could lead to counteracting this effect.
Keto is regarded as the powerhouse of a balanced ratio of fat-protein-carbohydrate and that's why the macros of every bar are significant.
It's suggested to choose keto-friendly bars with less net carbs around 7g, amount of protein ranging between 7g to 8g, composition of fat near to 15g, sugar component at 3g or less and fibre should be around 8g to 9g.
You might experience a hard time finding keto bars since most of the protein bars contain a higher composition of carbs. Even those protein bars meeting the correct criteria aren't always good and healthy.
Usually, they constitute a higher amount of preservatives, artificial ingredients and additives, and preservatives.
ALSO READ: Sweet Frog KETO Friendly Options
Who should have keto bars?
Athletes or gamers aren't the only ones who benefit from keto bars. Keto bars maximize energy and help in recovering stress from post-workout. Moreover, they offer a range of various other advantages too.
Irrespective of the diet you are following there are many advantages of consuming either one or two snacks until your final meal. The individuals on the keto diet find it challenging to get snacks consisting of lower carbs.
These bars are beneficial to get into or to stay in a ketosis state in which the body starts burning a large amount of fat and boosting energy. These bars also contain a great mix of macronutrients which is highly preferred by keto dieters.
RECOMMENDED: Everything Keto at Kung Fu Tea
What are the different types of keto bars?
Finding protein bars that are not only nutritious but also keto-friendly is daunting. But it's not possible. Below is the list of some common healthy keto bars:-
1. Keto Bars
The discovery of keto bars took place in the first place to create protein bars that would satiate the appetite of the ones following the keto diet. These bars are purely vegan, soy-free, dairy-free and gluten-free.
Every flavour of keto bars contains a shortlist of ingredients from which it is made. They are usually produced with a base of nut butter, unsweetened chocolate and coconut.
The two popular alternatives of sweeteners used in keto bars are stevia and erythritol to keep them sugar-free.
2. Marigold Bars
Marigold bars are made in seven flavours. People prefer this bar because it offers homemade texture and taste. Every bar contains 20g–21g protein, 16g–18g fat along with 5g-8g fibre and 2g-3g net carbs.
The preparation of marigold bars is done with a few ingredients which include grass-fed whey protein powder. Whey powder is a widely used supplement and your body can rapidly absorb this protein.
Hence it improves muscle mass, strength and fat loss.
RELATED: Costa Vida KETO Friendly Options
3. Perfect Keto Bars
This bar is specially produced for the keto diet, these bars are available in five flavours in the market such as chocolate chip cookie dough, cinnamon roll and salted caramel etc. This keto bar contains 11g of protein, 3g net carbs per bar and 17g of fat.
Perfect keto bars like the regular bar is made with sugar alcohol and fibre which is quite difficult to absorb and digest. Hence the subtraction of sugar alcohols and the grams of fibre from the total amount of carbs indicates net carbs.
4. Atlas Protein Bars
Atlas protein bars are inspired by six different dessert flavours having a consistency like a cookie dough. It provides 180-200 calories with 15g of protein, 5g of net carbs and 11g of fat.
Most importantly atlas protein bars are devoid of any sugar alcohols and artificial sweeteners. The sweetening process of each bar is done with extracting monk fruit, a popularly used natural and zero-calorie sweetener.
5. Primal Kitchen Bars
This bar is renowned for using avocado oil or lower ingredient salad dressings. People are free to choose from five different lip-smacking flavours of this bar. Each flavour is made with egg white, a base of nuts, spices such as nutmeg, cinnamon and coconut oil.
The sweetening is enhanced with a delicate touch of honey and monk fruit. Most bars contain flax seeds and are an outstanding source of plant-based omega-3 fatty acids.
It lowers inflammation because omega-3s play a vital role in your brain, immune system and heart.
RELATED: 14 BEST Las Vegas Keto Bakeries (Low-Carb Delights!)
Frequently Asked Questions (FAQs):-
Q1. Is it good to have elevation keto bars?
A: Having elevation keto bars is not a bad option, they are a great snack option and consist of only 170 calories in them. These bars are wholesome and satisfy the appetite for the time being. These bars also contain around 20% of saturated fat.
Q2. How much caffeine does an elevation bar contain?
A: Elevation bars are produced from cocoa consisting of natural caffeine the content of which ranges from around 10mg to 1 bar.
The level of dark shade in every bar indicates the amount of caffeine it contains. White chocolate is devoid of caffeine. In some cases, it might contain 1g to 2g of caffeine.
Q3. How true is it that elevations bars are dairy-free?
A: Every elevation bar is 100% vegan but some might contain milk, although the chances are very low since every bar is processed in the same facility following the same procedure.
Q4. Is stevia considered as a keto?
A: Stevia is considered 300 times sweeter than sucrose which is also referred to as table sugar. It doesn't contain calories or carbs which is why it is often used for keto diets.
Q5. How safe is maltitol for a keto diet?
A: Maltitol doesn't cause any harm to a keto diet provided it is used in moderation. Though it is not as suitable as sugar alcohols.
Moreover, it's suggested to be careful with packed foods containing maltitol as these might be one of the reasons to harbour other carbs.
Conclusion:-
Many high-fat proteins, low carbs bars perfectly align with the practices followed in the keto diet to satisfy hunger and ensure to keep you full until your main meal. It tops the priority since it offers an easy and quick breakfast.
It's important to focus on choosing bars that contain a decent amount of protein, fibre, fats and a few other kinds of nutritious ingredients.
Some people prefer making such bars at home by following easy homemade recipes available on the internet.