You're in Las Vegas. A city filled to the brim with attractions like casinos and big views. You're in for days loaded with activities. It can be pretty tiring, don't you think?
What's a better way to energize than getting a quick dessert? That sugar rush can do wonders. Ease a bad day's stress from the casino or drive up some happy hormones!
Well, of course, if you're keeping tabs on your sugar intake, this can be a little hard.
With more people becoming health conscious daily, the demand for low-carb dessert options is booming! Luckily, Las Vegas Houses some of the best keto-friendly bakeries offering lots of low-carb delights.
Now, you don't have to worry about where to get baked goodies after a long, tiring day.
Let's finally cut it to the chase. Here are the 14 best keto bakeries in Las Vegas offering the best low-carb delights!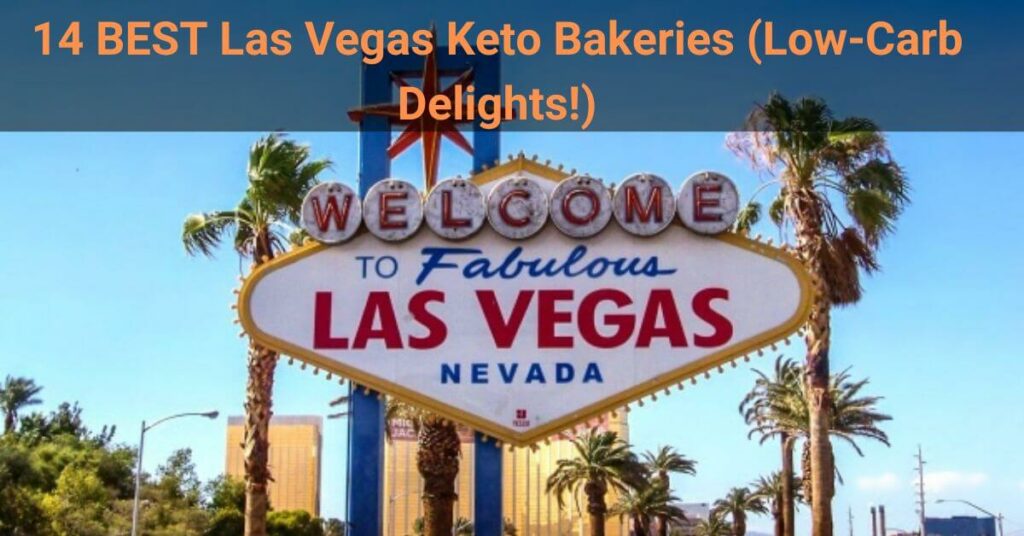 Tired of searching whether certain foods are keto? Download my keto cheat sheet with 210+ keto-friendly foods!
This post may contain affiliate links, which help keep this content free. (Full disclosure)
1. Starburst Parlor
Address: 2202 West Charleston #6 Las Vegas, NV 89102
Website: https://www.starburstparlor.com/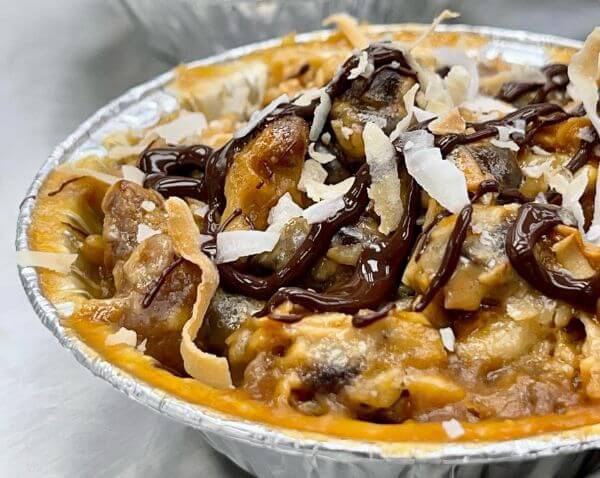 Phone Number: 702-626-0977
Operating Hours: Tuesday-Saturday 9:00 AM – 4:00 PM, Sunday 11:00 AM – 3:00 PM
This keto bakery has a bursting menu of options for all tastebuds, from pizza, and cakes, to cupcakes and bread. In fact, the savory keto menu can get you through the day.
You can have an Everything Keto Bagel filled with cream cheese for brunch. Then, a Charred Edge Keto Pizza for dinner.
If you want to satisfy your sweet tooth, there are also many options you won't get enough of. You can visit Starburst Parlor at West Charleston or have their products delivered to your doorstep.
Either way, anyone in Las Vegas can get the best of eating keto pastries at Starburst Parlor.
Chocolate Chip Cookies
Chocolate Chip Anise & Almond Biscotti
Triple Chocolate Brownie (Available in Vegan Variety)
Sugar Free "Sugar" Cookies
Flourless Peanut Butter Cookies
Keto Bagels (Everything, Jalapeno, Goodfella, Onion, Tajin Jalapeno)
Pumpkin Pie
Plain Keto Cheesecakes
Whole Keto Personal Cheese Pizza with Tomato Sauce
Flat Bread
Cinnamon Toast Bagels
Hand Pie
Italian Love Story
Muffins (Blueberry, Banana Nut)
Konchas
Cheese Danish
Cinnamon Roll with Frosting
Magic Bombs
Flourless Peanut Butter Raspberry Thumbprints
Cannoli Cheesecake
Cupcake (Red Velvet, Chocolate)
Pumpkin Cheesecake
Pumpkin Spice Cookies
Carrot Cake
Cranberry Joy Bombs
Tres Leches Inspired Cake
"Cornbread" Stuffing
Stuffed Peppers Alfredo
Chile Verde
Eggplant Parm
Mashed Cauliflower
Fresh Blueberry Lemon Bar
LEARN MORE: Glory Days Grill Keto-Friendly Options
---
2. Mac's Bakery
Address: 1525 Sunset Rd #10, Las Vegas, NV 89119
Website: https://macsbakerylasvegas.com/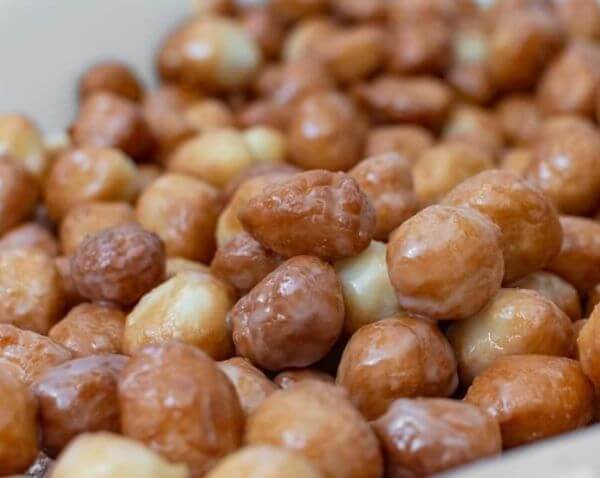 Phone Number: 702-401-6415
Operating Hours: Saturday 12:00 PM – 3:00 PM
Don't you sometimes miss Twix? Its gooey, chocolatey texture that's just irresistible? But after being on keto, you probably know by now that it's a forbidden, carb-dense snack. Bummer.
What if we told you this keto bakery has its own version of a brownie with Twix in it?
Yup. Mac's Bakery has some of the most creative takes on your usual food. There are also savory options if you're looking for something salty to balance your palate.
You can have a Spinach Artichoke Keto Quiche, finishing it off with a lovely Tiramisu.
This keto-friendly bakery also has other delights such as cupcakes, cheesecakes, and more. After all, whether you're on keto or not, you deserve dessert time.
You can give them a visit at Sunset Road every Saturday for pick-up, or have their treats delivered to your home.
Samoa Cheesecake
Boston Cream Layer Cake
Sunday Mixed Box
Coconut Blueberry Layer Cake
Tiramisu
Chocolate Chip Cookie Dough Brownies
Brownies
Mint Chocolate Chip Cheesecake Brownies
Keto Quiche (Spinach Artichoke, Tomato Basil Mozzarella, Broccoli Cheddar)
Spinach And Ricotta Scone
Twix Brownies
Sticky Toffee Cupcake
Floral Cupcakes
READ ALSO: Hopdoddy Keto-Friendly Options
---
3. Mrs. Williams Diabetic Delights
Address: 3466 S Decatur Blvd C, Las Vegas, NV 89102
Website: http://www.mrs-williams.com/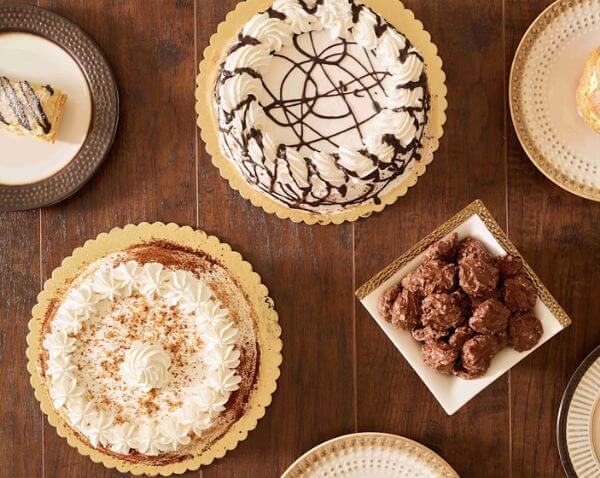 Phone Number: 702-362-1243
Operating Hours: Monday-Saturday 9:00 AM – 6:00 PM
Baking since 1991, this diabetic-friendly bakery is also a place for people without diabetes looking for healthier desserts. Many customers testify that its diabetic delights indeed don't have that weird aftertaste. Yet, they're sugar-free!
Mrs. Williams Diabetic Delights is a guaranteed safe haven for those on keto, too, unless they don't overindulge!.
Whether you're looking for a quick snack or a cake for your birthday, this keto-friendly bakery in Las Vegas, Nevada has it all for you. Everything's baked for people with or without diabetes.
Custom Cakes for Special Occasions
Cakes (Chocolate, Vanilla, Marble, Banana, Coconut, Lemon, Carrot, Orange)
Cream Pies (Chocolate, Banana, Coconut, Pina Colada, Marble "I Can't Decide")
Fruit Pies (Apple, Dutch Apple, Blueberry, Cherry, Apple Cranberry, Apple Raisen)
Cheesecakes (Plain, Strawberry, Blueberry, Cherry, Dutch Apple, Pineapple)
Seasonal Cheesecakes (Turtle, Pumpkin)
Cookies (Oatmeal Raisin, Cinnamon Puff, Cinnamon Nut Raisin Puff, Lemon Peanut Butter, Chocolate Chip)
Cup Cakes (Chocolate, Vanilla)
Pastries

Eclairs
Cream Puffs
Napolians
Bear Claws
Cheese Pockets
Strussel Cups
Fruit Turnovers
Strawberry Pinwheels
Cream-Colada Danish
Brownies
Spice Bars
Muffins
Milk Chocolate (Almond Cluster, Almond Butter Crunch, Cashew Cluster, Coconut Cluster, Cordial Cherries, English Toffee, Expresso Truffle, Fudge Meltaway, Vanilla Marshmellow, Orange Jellies, Raspberry Jellies, Almond Bark, Peanut Butter Cups, Pecan Caramel Patties, Vanilla Caramels, Raisin Cluster, Caramel & Marshmellow)
Chocolate Covered (Almonds, Peanuts, Pretzels, Raisins, M&M Peanuts)
Dark Chocolate (Caramels, Mixed Nuts, Cashew Clusters, Peanut Clusters, Peanut Butter Cups, Pretzels, Walnut Cluster)
White Chocolate (Coconut Clusters, Mixed Nuts, Pretzels, Almond Bark, Peanut Clusters, Cashew Clusters)
Hard Candies & Fun Candies (Peanut Butter Bars, Black Licorice Bears, Gummi Bears, Taffy, Gummy Butterflies, Jellybeans, Chick-O-Sticks, Vanilla Caramels, Jolly Pops)
RECOMMENDED: Wendy's Low Carb Guide for KETO
---
4. Healthy Nibbles
Address: 10436 Mountain Lodge PI Las Vegas, NB 89144
Website: https://healthynibbles.biz/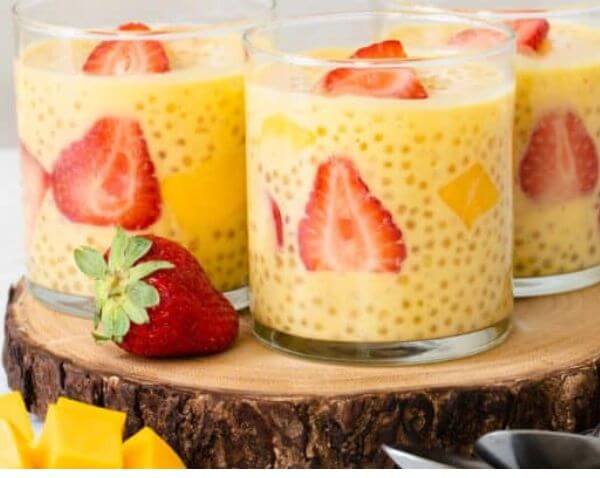 Phone Number: 702-581-9328
Operating Hours: Monday-Friday, 8:00 AM
This home cottage bakery down in Summerlin offers some of the best and most unique low-carb treats to people in Las Vegas. Its products are made with almond flour and monk fruit sugar to give you that 100% guilt-free snacking experience.
One of the best sellers on the menu is the mouthwatering Keto Oreo. It's a keto-friendly chocolate sandwich cookie that you'll surely come back for more.
Healthy Nibbles also has something for the holidays like its Pecan Pie Bars or Pecan Brownie.
There's also a Chocolate Chip Cookie featuring a keto-friendly twist to your classic favorite cookie. If your taste buds are looking for something different with a bursting flavor, try Raspberry and Lemon Cupcakes.
You can also have custom desserts if you want something more personal. Just let them know of your preference (if you want a cupcake, cookie, or cake) and if you have any dietary restrictions.
A note from Healthy Nibbles: just one bite at a time!
Rice Cookie
Cranberry Orange Loaf
Blueberry Orange Cream Puff
Keto Oreo (Chocolate Sandwich Cookie)
Butter Cookie
Linzer Cookie
Pumpkin Chocolate Chip
Raspberry & Lemon Cupcakes
Pecan Pie Bars
Pecan Brownie
Almond Butter Brownie
…and a LOT more products coming soon! (Keto Tea Biscuits, Mini Cinnamon Rolls, Sunflower Butter Choco Cookie, Mint Chocolate, Chocolate Chip, Mexican Wedding Cookie, Blueberry Lemon Cupcakes)
---
5. Freed's Bakery
Address: 9815 S Eastern Ave, Las Vegas, NV 89183
Website: https://freedsbakery.com/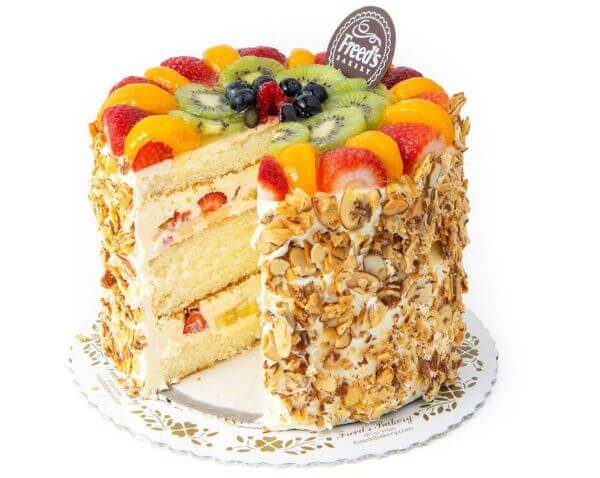 Phone Number: 702-456-7762
Operating Hours: Monday-Sunday 9:00 AM – 6:00 PM
There's nothing a nice slice of cheesecake can't fix. But, since your usual slice can be loaded with sugar, cheesecake can be a no-go when you're on keto.
Good news. Freed's Bakery is a game changer! This bakery has been serving up some of the most delicious treats in Las Vegas for over 60 years now.
Its Low-Carb Keto Cheesecake is a bestselling product that everyone in Las Vegas must surely love, whether they're on keto or not. You can have it in a single slice to a whole 10" cake for sharing with your best buds.
Low-Carb Keto Cheesecake – creamy low-carb New York cheesecake with an almond flour crust. Sweetened with erythritol, a natural sweetener. Aside from being keto, Freed's cheesecake is also gluten-free! Available in:

10" Round (serves 10-15)
Individual Slice (approximately 3.41 g of carbs per slice)
YOU MAY ALSO LIKE: Chipotle Mexican Grill KETO Friendly Options
---
6. Caked Las Vegas
Address: 7175 W Lake Mead Blvd #118, Las Vegas, NV 89128
Website: https://www.cakedlv.com/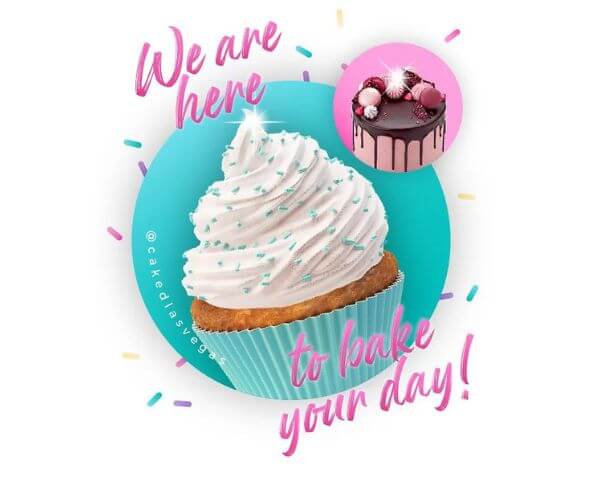 Phone Number: 702-835-0061
Operating Hours: Monday 10:00 AM -5:00 PM, Tuesday-Wednesday 10:00 AM – 6:00 PM, Thursday-Saturday 10:00 AM – 7:00 PM, Sunday 10:00 AM – 4:00 PM
For two straight years, Caked has won awards for being the Best of Las Vegas. So, you can say that they're that good and loved! The satisfaction is evident on the customers' faces, too.
At Caked, all desserts are custom, unique, and special. So, keto visitors visiting Las Vegas can expect specialty cupcakes fit for their diet.
All you need to do is contact them for the available flavors or write an inquiry on their website. (Flavors vary and are limited to availability)
---
7. Smoketo
Address: Las Vegas NV 89120
Website: https://smoketo702.com/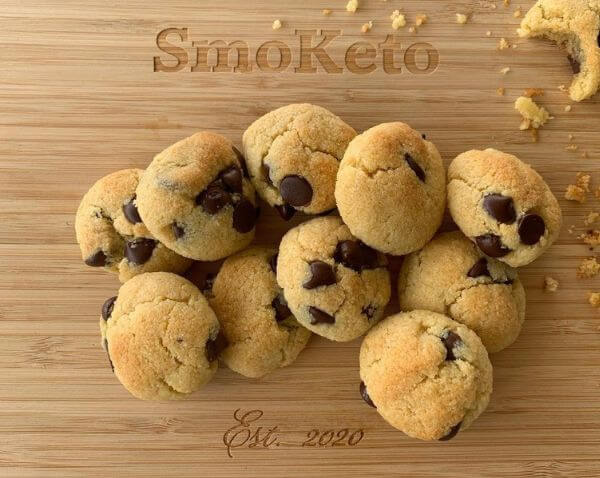 Phone Number: 702-595-0905
There's no better way to end a hearty meal than munching on something sweet. For that reason, we included Smoketo on this list.
Although it's really not a bakery, it still bakes up tasty low-carb, gluten-free treats on the side for the busy people of Las Vegas.
Smoketo is an ideal place if you're looking for a more filling meal with a decadent dessert of your choice. You can get in touch with them to learn more about their tailored menu program.
Note that there are new meals every week, so items can vary. Here are some sample keto treats from Smoketo:
Cheesecake – rich and creamy made on an almond flour crust with a hint of lemon.
Mini Bundt Cakes – moist yellow cake with a cream cheese icing
Zero Carb Chocolate Fudge – rich fudge with sea salt
Pumpkin Spice Bundt Cake
Vanilla Bean Chocolate Chip Keto Ice Cream
Chocolate Peanut Butter Cup
Brownie Cheesecake
Chocolate Chip Cookies
---
8. Foodie Fit HQ
Address: 2185 E Windmill Ln Unit 300, Las Vegas NV, 89123
Website: https://foodiefitmeals.com/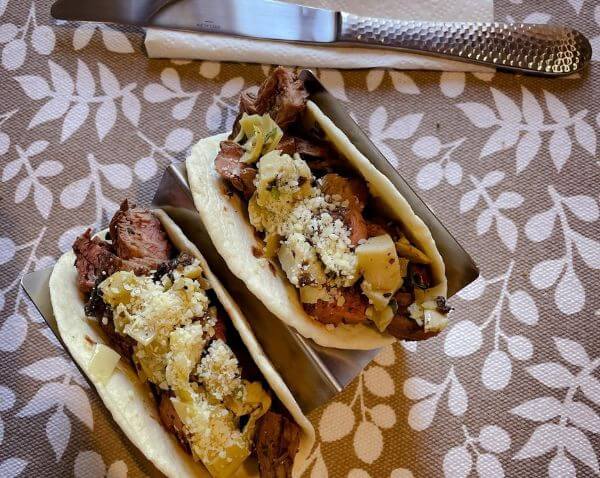 Phone Number: 702-714-1426
Operating Hours: Monday-Sunday 8:00 AM – 8:00 PM
Foodie Fit is your personalized meal service delivering healthy food, including keto and low carb meals, to the Las Vegas community.
Although most items on the menu are hearty meals like shrimp bowls and lasagna, there are still some pastries and packed goodies you can enjoy for a quick treat.
Cheddar Egg Bites – scrambled egg mixed with cheddar cheese, hash browns, and diced red bell peppers. 12g carbs.
Elite Sweets Protein Donut – protein packed donuts you can enjoy cold or warm.
Catalina Crunch Keto Cookies (Chocolate Mint, Peanut Butter, Vanilla Crème, Chocolate Vanilla) – 100% plant-based with no artificial ingredients. 5g net carbs.
Blueberry Cheesecake – vegan cheesecake treat that's lower in calories and sugar. Made with non-fat Greek yogurt, gluten-free flour, and monk fruit sugar. Topped with house made blueberry compote. 19g carbs.
Legendary Foods Tasty Pastry – soft, delicious snack that you can eat right out of the wrapper or lightly toasted. 4g net carbs.
---
9. Batch Cupcakery
Address: 555 S Virginia St, Reno, NV 89501
Website: https://www.batchcupcakery.com/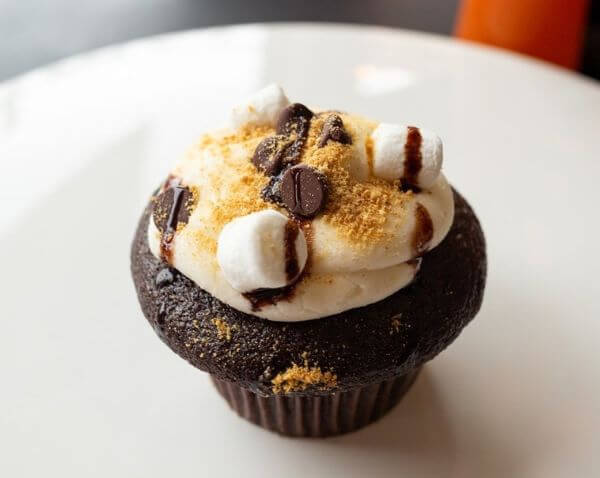 Phone Number: 775-336-1622
Operating Hours: Monday-Saturday 10:00 AM – 6:00 PM, Sunday 10:00 AM – 4:00 PM
Batch Cupcakery in Reno, Nevada, houses skilled bakers who can cater to any food preference. It's an artisan bakery using organic, locally sourced ingredients for its healthy treats.
Everything is handmade in small batches for that ultimate perfection!
There are also a handful of keto delights you can enjoy at Batch Cupcakery.
Burner (Keto Fat Bomb. A healthier version of Reese's!)
Keto Brownies
Keto Lemon Bars
---
10. Wholesome Keto Treats
Address: 313 Commerce Center Dr, St Cloud, FL 34769
Website: https://www.wholesomeketotreats.com/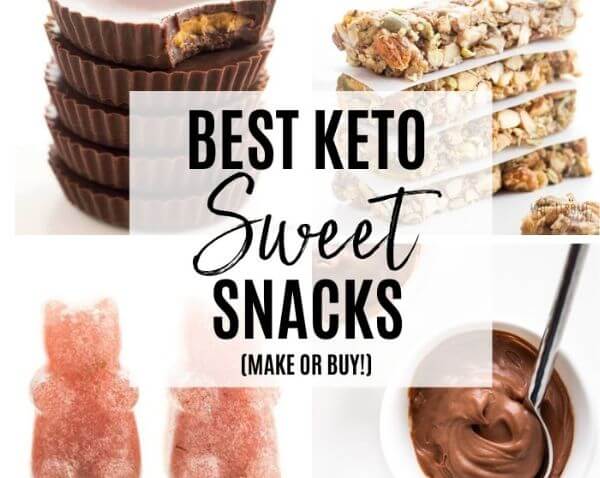 Phone Number: 407-593-0113
Operating Hours: Monday-Saturday 10:00 AM – 6:00 PM
Wholesome Keto Treats is a company delivering treats all over the US. All its products have less than 5g net carbs, making it a perfect bakeshop for anyone on keto living in Las Vegas, Nevada.
Aside from being low-carb, they're also gluten-free and diabetic-friendly!
This bakeshop has a storefront bakery out in Florida (in case you're interested.) But if you're in Nevada, you can have their keto treats delivered to your doorstep. Totally hassle-free. Here are some of your options when ordering:
Funfetti Cake Balter Cheesecake Crumble
"Apple" Crumble Cake
Peanut Butter Cheesecake
Swiss Roll (Red Velvet, Strawberry)
Smore's Kit
Keto Twinkies

Golden Sponge Cake with Filling
Chocolate Sponge Cake with Sugar-Free Buttercream
Strawberry Sponge Cake with S.F. Buttercream
Peanut Clusters
Rocky Road Nut Clusters
Macadamia Nut & Toasted Coconut Clusters
Cake Scrap Cups
6" Cookie Cake Chocolate Chip
Cheesecake Crumb Cake
Almond Bear Claw Cake
Cookie Cheesecake
Boston Crème Pie
Pound Cake (Chocolate, Lemon)
Blueberry Cheesecake Loaf
Banana Nut Bread
Flourless Chocolate Torte
Cake Push Pop with Buttercream
---
11. Ketolicious
Address: Hunterdon County, New Jersey
Website: https://ketoliciousllc.com/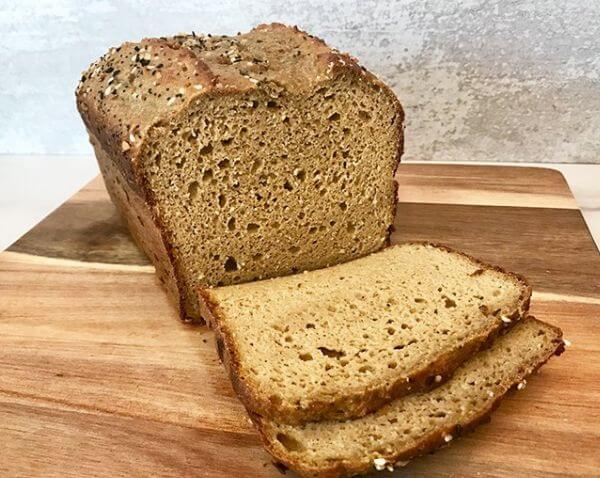 Phone Number: 908-962-7200
Adopting a keto diet literally changed th e life of Ketolicious' owner, Siobhan. Now, she wants to share the wonders of it through her baked keto treats.
Ketolicious is located in Hunterdon County, New Jersey. They ship all over the US, too! That means anyone in Las Vegas can enjoy a taste of Ketolicious' cakes, fat bombs, and mini cupcakes.
You can give them a call for your birthday cake or if you're craving a rich, keto chocolate peanut butter fat bomb.
Fat Bombs

Snickery
Matcha Coconut
Chocolate Vanilla Almond
Almond Chai Pistachio
Chocolate Peanut Butter
Lemon
Peppermint Delight
Chocolate Nut & Fruit

Mini-Cupcakes

Carrot Cake
Vanilla With Chocolate or Vanilla Frosting
Chocolate With Chocolate or Vanilla Frosting

Made-to-order cakes
---
12. Kai's Baking
Address: 10846 Westheimer Rd, Houston, TX 77042
Website: https://www.kaisbaking.com/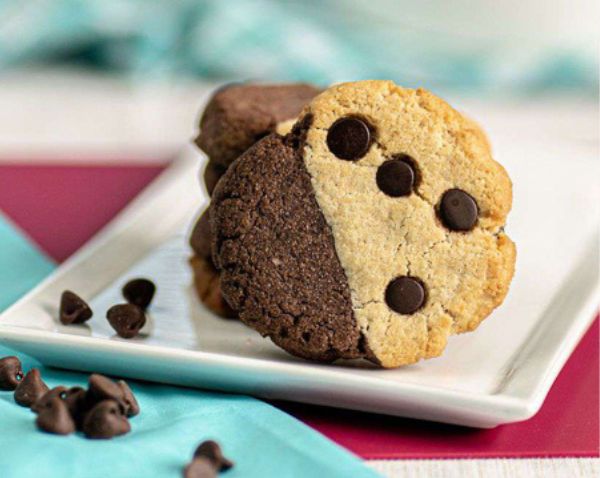 Phone Number: 832-583-7894
Operating Hours: Monday-Wednesday 10:30 AM – 4:00 PM Thursday 10:30 AM – 5:00 PM, Friday 10:30 AM – 4:00 PM
Kai's Baking is another bakery shipping products to anywhere in the US. It was initially a venture to start baking treats that the owners missed after cutting out carbs and sweets.
Thankfully, tons of healthier recipes from Kai's Baking produced lots of keto yummy treats! They also use monk fruit sugar and allulose for these treats after finding out that these sweeteners do not impact blood sugar as much.
You can shop online to order keto treats for your pantry. There's also an option for catering and wholesale if you want to add keto, gluten-free, and low-carb treats to your gathering!
Blueberry Lemon Keto Bars
Bagel Dogs
Bagels (Half-Dozen)
Beef Sausage Kolaches (Jalapeno Sausage & Cheese)
Brookie Cookies
Brownie Bites
Buckeye Brownie Bites
Keto Cake
Cheesecake
Cheesecake Brownie Bites
Chocolate Chip Cookies
Cinnamon Rolls
Cupcakes
Lemon Bars
Lemon Cookies
Peanut Butter Cheesecake Brownie Bites
Pecan Bars
Pizza Rolls
Pretzel Nuggets
Red Velvet Cheesecake Bites
Snickerdoodle Cookies
---
13. The Keto Sweet Shoppe
Address: McKinney, TX 75071
Website: https://www.theketosweetshoppe.com/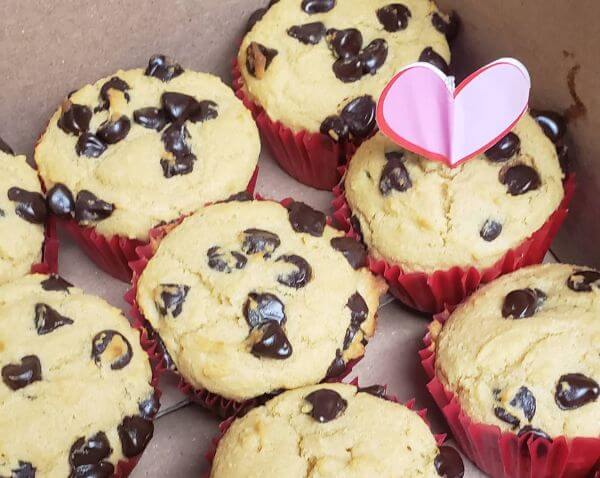 Phone Number: 214-799-0718
Operating Hours: Monday-Friday 9:00 AM – 6:00 PM, Saturday 9:00 AM – 1:00 PM
It's as sweet as it gets. The Keto Sweet Shoppe definitely has lots of sweet keto cookies, cupcakes, and cakes waiting for you. While this bakery is situated in Texas, anyone in Las Vegas can still order their keto treats.
Many items on the menu are either gluten-free, keto or both! Customers can order pre-made treats or customize their own for special occasions. You can even personalize your own sugar-free Cake Pop in any theme you want!
Custom Keto Cake Pops
Custom Keto Cake
Custom Mini Keto Cake (6")
Keto Cheesecake
Keto Chocolate Brownies
Keto Chocolate Chip Brownies
Keto Chocolate Snack Cakes
Keto Cupcakes
Keto Donuts
Keto Muffins
Keto Peanut Butter Cookies
Keto Pumpkin Pie
Keto Sheet Cake
Keto Snickerdoodles
Keto Un-Sugar Cookies
Keto Vanilla Snack Cakes
---
14. Misfits Bakehouse
Address: 2706 Middlefield Rd, Palo Alto, CA 94306
Website: https://www.misfits.kitchen/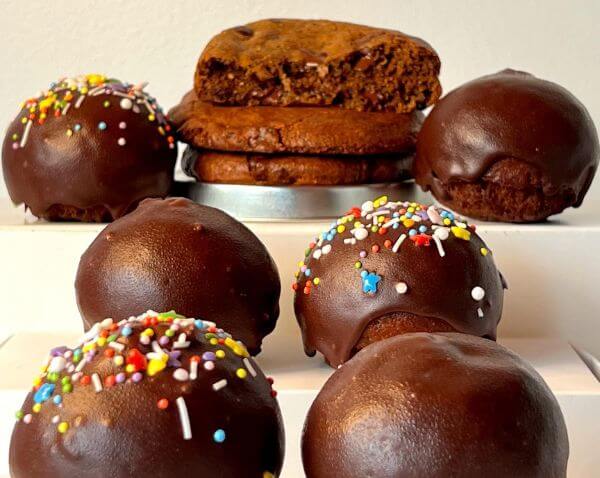 Phone Number: 650-690-5073
Operating Hours: Saturday-Sunday 12:00 PM – 4:00 PM, Thursday 1:00 – 5:00 PM
This bakery thinks that baking bread is a labor of love and a bit of rebellion (in their case.) Kind of like a misfit if you think about it. Well, that's where the name comes from.
Misfits Bakehouse is a bakery located down in Palo Alto, California. It's a safe place for anyone with dietary restrictions, whether you're a celiac, diabetic, or someone on a keto or paleo diet.
Everything's made utterly delicious and healthy for you.
The menu uses real ingredients to satisfy all palates. No hidden refined sugars, perfect for diabetics and keto visitors. Don't worry if you're in another state, by the way. Misfits Bakehouse delivers to all over the US!
Pecan Walnut Baklava
Fantabulous Focaccia
Sandwich Bread
Mini Baguettes
Bagels
Rolls
Cinnamon Rolls
Cardamom Brownies
Ooey Gooey Cookies
Additional Tips (Before You Go)
It almost feels like a blessing to have bakeries focusing on making keto treats. The readily labeled keto pastries and items spare you from stressing out whether a treat is low-carb or not.
However, there are still some things you need to remember when dining out or ordering keto treats from any bakery:
Not everything "healthy" or sugar-free is keto or low-carb. Some desserts labeled as such may still contain carb-dense ingredients like wheat flour. If possible, make sure to order items labeled as keto or low-carb only.
Be wary of your portions. Sometimes, the carb content of an item indicated on the menu is only for one piece or slice. Know the recommended serving size of your preferred pastry to ensure you're within your daily carb limit.
Nothing beats asking the manager or server if anything on the menu is keto or low-carb. It's always better to ask than to make a false assumption.
Diabetic-friendly options are usually keto-friendly since they're lower in carbs with less sugar.
Opt for fat bombs. It's a popular option for anyone on keto since it's a dessert high in fat with low carbs.
Visit the bakery's website before ordering. This also gives you time to ask about the ingredients of your preferred pastry, allowing you to gauge if the ingredients are keto-friendly or not.
Stick to your daily carb limit strictly. Desserts can really be tempting, especially if you've been eating healthy the whole day or week. However, if you fail to keep track of your intake, you might ruin your hard-earned ketosis.