Did you know that Cheeseburgers and Hamburgers make up over 70% of the food served in American Hotels? Hopdoddy also takes part in the initiative by selling a fraction of that percentage.
But, does it have low-carb options that customers on a keto diet can enjoy? Let's find out.
Low-carb options like Side Bar salad come for as low as 4g of carbs. All of the patties at Hopdoddy carry no carbs at all. On top of that, they are very high in protein.
Toppings like Steakhouse Bacon and sauces like Caesar Dressing also contain very low carbs.
Hopdoddy does not have a huge range of items on its menu. That makes our choices very limited. But, you can still enjoy a filling keto-friendly meal if you follow the tips shared in the article and go by them.
Having said that, let us now have a look at the survival guide for eating a keto-friendly meal at Hopdoddy.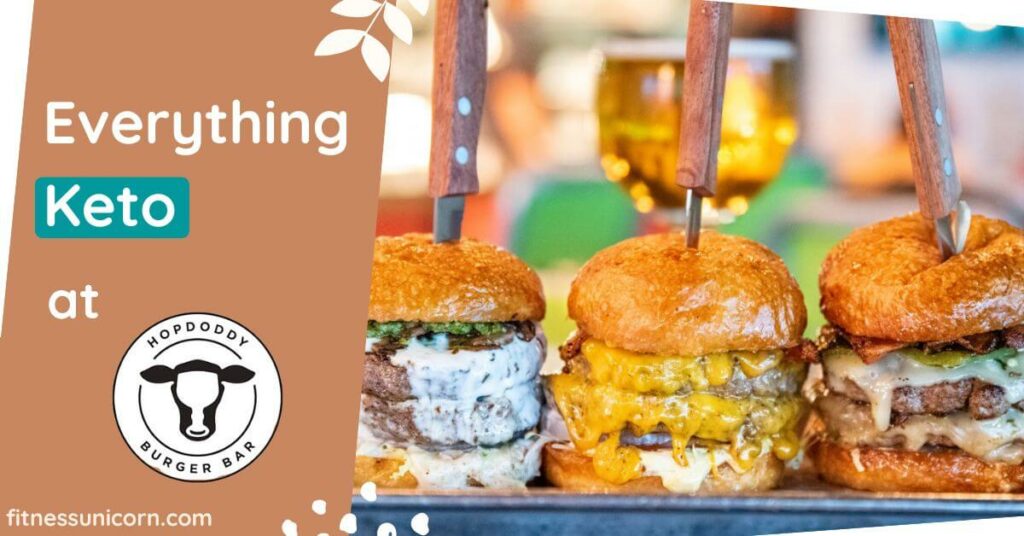 Tired of searching whether certain foods are keto? Download my keto cheat sheet with 210+ keto-friendly foods!
This post may contain affiliate links, which help keep this content free. (Full disclosure)
How to survive Keto at Hopdoddy
Started in 2010 by four friends, Hopdoddy pushed the boundaries of what's expected by bringing together craft beer and unique burger concoctions – all with high-quality ingredients and even higher standards.
On their menu, they have burgers, salads, shareable fries, shakes and of course, Beer. Most of these items contain carbs in high amounts. With my tips though, you will find it easier to choose the right low-carb meal for yourself.
As the name suggests, Hopdoddy is famous for its burgers. The issue with burgers is the high-carb bun. An average burger bun consists of 26g of net carbs. And when it's grilled with butter, carbs go higher.
Even if you choose Egg Bun, Whole Wheat Bun or Non-Gluten Bun, the number of carbohydrates does not get lower.
In such a case, you can choose either of the two options. You can choose to get the fillings and condiments of the sandwich in a bowl. Or, you can ask if lettuce wrap is available at the store.
Lettuce will act as the perfect substitute for high-carb bread. For instance, 100g of lettuce contains just 2.9g of carbs. Therefore, it acts as an ideal low-carb substitute.
I'd like to build up on that and suggest you eat as many veggies and salads as you can. Vegetables contain a high amount of dietary fiber that helps our stomach to feel fuller.
It helps in regulating our diet as we are less likely to cheat on the diet when we would have been starving otherwise.
Along with burgers come various types of dressings and sauces. Most of them hold a lot of carbs. Hopdoddy does a good job here by providing you with several low-carb options. All of those are mentioned in the next section.
Talking about their beverages now. Hopdoddy gives you a range of alcoholic and non-alcoholic drinking options. But, most of them are high on carbs so choose wisely. I have mentioned the low-carb beverage options in the next section.
Without any delays, let's now look at the available keto-friendly options at Hopdoddy.
Hopdoddy Keto-Friendly Options
You have the tips and tricks with you now. You only want the option to apply these tips on. So, let us have a look at all the keto-friendly options Hopdoddy has in store for us.
Crafted Burgers and Chicken
The Classic ( 14g )
Magic Shroom ( 14g )
LLano Poblano ( 16g )
Buffalo Bill ( 15g )
-> Though burgers are on the higher side. But, if you have consumed fewer carbs from other meals of your day, you can certainly enjoy these without hesitancy.
LEARN MORE: Gyu Kaku Keto-Friendly Options
Salads
Kale Caesar ( 12g )
Side Bar ( 4g )
-> Salads should be your go-to dish while on a keto diet. They are light on the belly and the healthiest possible option for you.
Patties
-> Actually, the best meal for the keto diet is one with the most fat and protein content. And these meat patties very well fall into this criteria.
Toppings
Guacamole/Avocado ( 1g )
Steakhouse Bacon ( 0g )
Caramelized Onions ( 8g )
Fried Egg ( 0g )
Cheddar Cheese ( 0g )
Mustard Grilled Onions ( 2g )
RECOMMENDED: Everything Keto at Eat'n Park
Sauces & Dressings
Caesar Dressing ( 1g )
Caffeinated BBQ Sauce ( 7g )
Chipotle Aioli ( 3g )
Doddy Mayo ( 4g )
Teriyaki Sauce ( 7g )
-> They have many more like Goat Cheese Spread, Green Chile Queso, HD1 Steak Sauce, Oregano Vinaigrette, Pickled Mayo, Salsa Roja, Tomato Bacon Jam and Truffle Aioli. All of these contain around 2-3g carbs.
Choosing the right sauce can be a bit tricky sometimes. You'll have to do some calculations and choose the dressing that fits under your carb limit for the meal.
Drinks
-> Not many low-carb drinks are available here. However, you can have Lil' Larry, a pint of any beer of your choice, coffee, tea or any other keto-friendly packaged drinks like Diet coke or Coke Zero.
Now, in the next section, I'm gonna give you some alternatives to Hopdoddy if you are not satisfied with the options given above.
Alternatives Restaurants to Hopdoddy
Wahlburgers
Wahlburgers Franchising LLC, doing business as Wahlburgers, is a casual dining burger restaurant and bar chain. There are around 50 Wahlburgers locations in the United States, two in Canada and one in Germany.
Their menu outshines Hopdoddy in a number of ways. Along with Burgers, Wahlburgers also serves delish salads, sandwiches, appetizers, side dishes and both, alcoholic as well as non-alcoholic drinks.
All of these require little alterations to turn them into low-carb meals and I'll tell you how it can be done.
The best part is that Wahlburgers allows you to customize your meal. In their official menu, they have stated that customers can ask for the buns to be removed if they are allergic.
Gestures like these certainly show their interest in the consumer's liking and make Wahlburgers a split alternative to Hopdoddy.
Burgerfi
BurgerFi International, LLC is an American hamburger restaurant chain aimed at the "better burger" sector of the market.
The first location was opened in February 2011 in Lauderdale-by-the-Sea, Florida and since then has spread across the states.
Keto options at Burgerfi range from their Burgers to Hot Dogs to their low-carb condiments and dressings. It shouldn't be much of a problem going keto then at Burgerfi if you're willing to do the needful.
Their burgers are slightly on the higher side, even after ditching the bun. But, if you have eaten fewer carbs from other meals of the day, you're good to go.
Whataburger
Whataburger is an American regional fast food restaurant chain, headquartered and based in San Antonio, Texas, that specializes in hamburgers. They currently serve at over 880 locations across the United States. 
Other than their trademark burgers, they have low-carb salads like Cobb Salad and side dishes like Apple Slices, that hold less than 10g of carbs.
Various Add-ons and dressings also contain fewer carbs, making them absolutely keto-friendly.
Conclusion
A new concept on its own, bringing burgers and bars together, Hopdoddy shows us that they are here to innovate and create. Their contemporary vision proves that they want to serve whatever the customer requires.
Interestingly, they also have options for customers like us. Burgers, patties and salads contain a high amount of fat and protein and a low amount of carbs ( if done the right way )
If you follow all the required steps that I discussed in this article, you won't face any problems in enjoying a keto-friendly meal here, at Hopdoddy.
Well, that's all from my side. I feel that I have been able to be as clear and crisp as possible in guiding you through this. But if you still have any doubts or want to explore more, you can definitely visit Hopdoddy's official nutrition guide here.