More and more people are looking for ways to be healthy and fit. One way that's getting more popular day by day is the low carb diet. It restricts you from eating way too many carbs per day, depending on your daily carb limit.
The hard part of any diet restriction, though, happens when dining out. That's why you're probably here right now, looking for ideal low-carb restaurants before visiting LA.
Are you tired of scrolling through tons of websites already? Search no more. We're here to help you out!
Without further ado, here's the best list of low carb restaurants along Los Angeles (in no particular order) to help satisfy your cravings while staying healthy.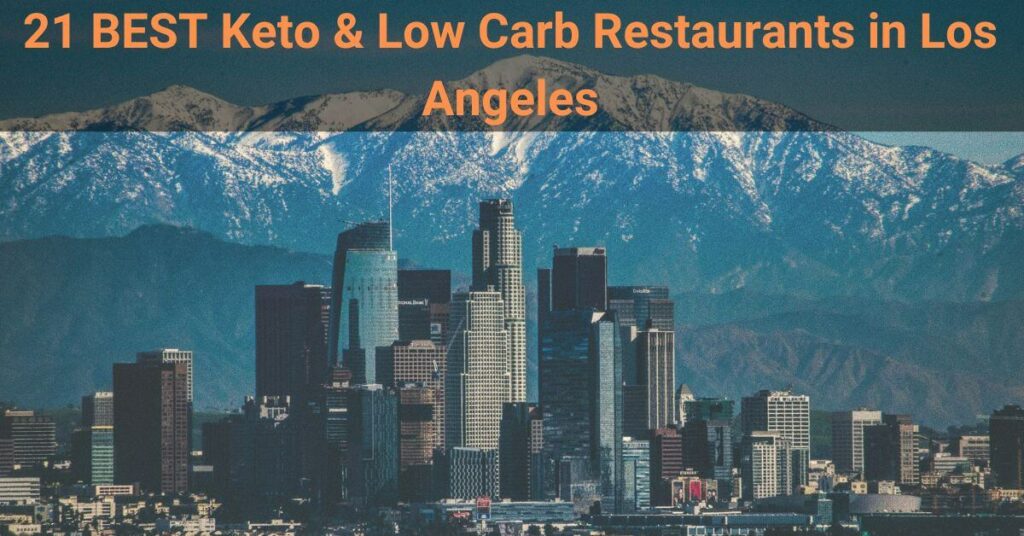 Tired of searching whether certain foods are keto? Download my keto cheat sheet with 210+ keto-friendly foods!
This post may contain affiliate links, which help keep this content free. (Full disclosure)
1. Salad Farm
Address: 2210 S. Figueroa St. Los Angeles, CA 90007
Open Hours: Monday-Friday 10:00 AM – 4:00 PM, CLOSED on Saturday-Sunday
Website: https://saladfarmrestaurants.com/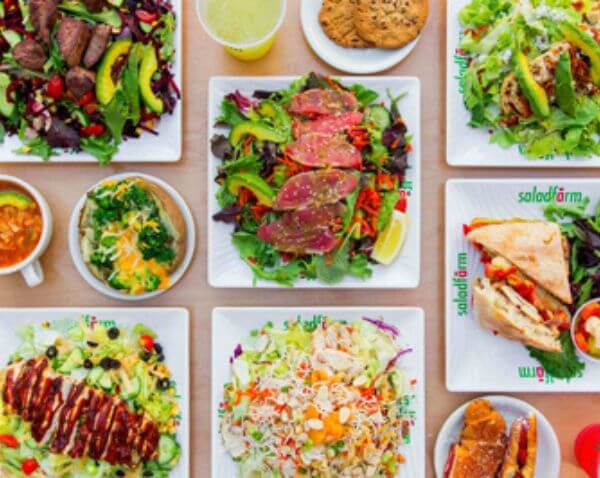 Craving for something healthier? Like a bowl filled to the brim with fresh greens and sumptuous proteins? If so, try LA's famous Salad Farm! Its items are never processed, all freshly prepared every day.
They even toss the salad right in front of you.
You can never go wrong with salads when eating low carb. However, some salads usually contain carb-dense ingredients like corn or beets. Here are some of Salad Farm's low-carb options without the bad stuff:
Fresh Salads
Remember to skip the croutons for the salads. You can add your choice of extras like avocado, chicken, cheese, turkey, etc.
Caesar Salad (crisp romaine lettuce with shaved Parmesan cheese. Served with creamy Caesar Dressing)
Cobb Salad (crisp romaine lettuce with grape tomatoes, blue cheese, hard boiled eggs, applewood bacon, chicken breast, Hass avocado and blue cheese dressing)
Garden Salad (crisp romaine lettuce with grape tomatoes, Persian cucumbers, carrots, cauliflower, chopped celery, and mushroom. Served with low calorie Italian dressing)
Greek Salad (crisp romaine lettuce mixed with organic baby spinach, Persian cucumbers, grape tomatoes, Kalamata olives, sliced ripe olives, and Mediterranean Feta cheese. All tossed in a light balsamic reduction)
Seared Tuna Salad (organic baby field greens with julienne cut carrot, Persian cucumbers, grape tomatoes, and scallions. Topped with seared tuna, Hass avocado, and ponzu dressing)
Spinach Salad (organic baby spinach with grape tomatoes, applewood bacon, hard boiled eggs, sliced mushrooms, sliced ripe olives. Topped with sliced Hass avocado and served with honey mustard dressing)
Tuna Salad – (crisp romaine hearts with two scoops of tuna, julienne cut carrots, grape tomatoes, sliced mushroom, Persian cucumber, chopped celery, shaved cauliflower. Served with buttermilk ranch)
Entrees
Grilled Chicken (white meat marinated in a blend of olive oil, fresh parsley, and garlic)
Grilled Salmon (grilled to perfection and marinated in lemon herb)
Ahi Seared Tuna (seared on the outside. Brushed with ponzu dressing)
RECOMMENDED: How Much Water to Drink on Keto
---
2. Del Frisco's
Address: 10250 Santa Monica Blvd., Suite 1700 Los Angeles, CA 90067
Open Hours: Sunday-Thursday, 12:00 PM – 9:00 PM & Friday, 12:00 PM – 10:00 PM
Website: https://www.delfriscos.com/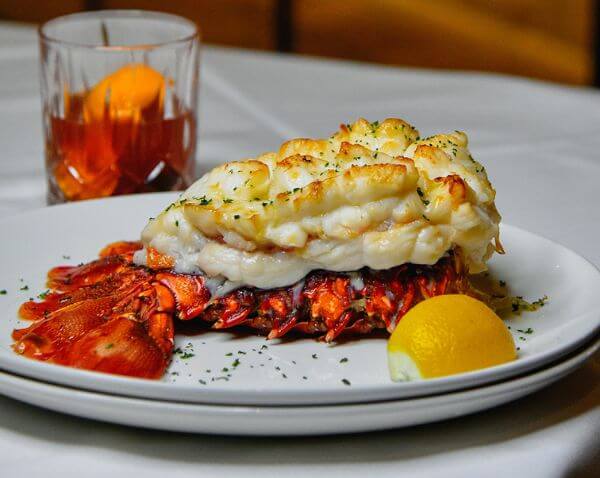 Indulge in freshly cut steaks and filling entrees at Del Frisco's Steakhouse! The place embodies a rich American tradition through its sumptuous selections that give anyone an extraordinary experience like no other. They also have sommeliers to guide you through the broad list of award-winning wines to complete the exceptional hospitality Del Frisco's has to offer.
Here's a list of their best, low carb tacos:
Filet Mignon
Prime Strip
Prime Ribeye
Greek Chopped Grain Salad (consists of halloumi, farro, romaine, shaved red onion, arugula, cucumber, kalamata olives, artichoke hearts, heirloom cherry tomatoes, tarragon vinaigrette)
Fresh Sauteed Spinach
Prime Steak Salad (mixed greens blended with crispy bacon, tomatoes, blue cheese crumbles, avocado, Parmesan, deviled eggs, and horseradish dressing)
Blue Cheese Lettuce Wedge (Iceberg lettuce mixed with some cherry tomatoes and crisp bacon drizzled with Danish blue cheese dressing)
Del's Jumbo Lump Crab Cake (with Cajun-Lobster Cream Sauce)
Roasted Cauliflower Steak (includes Ginger-Soy Shiitake Mushrooms, Farro, Cilantro Chimichurri, Charred Asparagus, and Tomato)
---
3. Shabuya
Address: 1925 W Olympic Blvd, Los Angeles, CA 90006, United States
Open Hours: Monday-Thursday, Sunday 12:00 PM – 10:00 PM, Friday-Saturday 12:00 PM – 11:00 PM
Website: https://shabuya.net/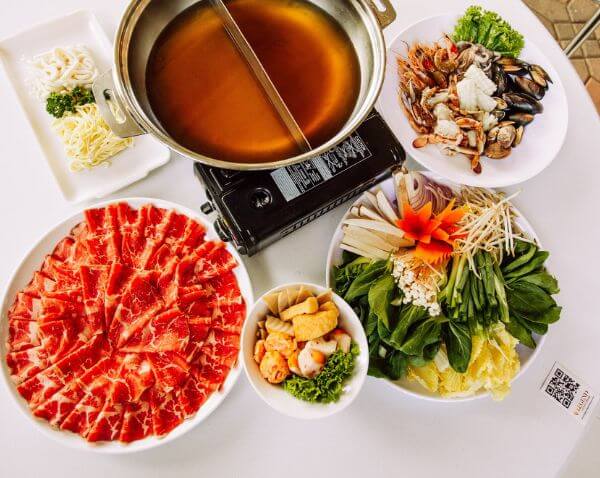 Shabu-shabu is one heaven sent gift for people on a low carb or keto diet. It's super easy to prepare, delicious, and absolutely healthy! You definitely won't be having such a hard time at restaurants like Shabuya.
It gets better when you learn that everything is unlimited. Meats, vegetables, and seafood! Here are some of the options you can pick from when eating all-you-can at this place:
Soup Base Options
Bases are usually seasoned broths made of vegetable stock or pork, beef, or chicken bones. They're just mostly water.
Pork Soup Base (creamy, rich pork broth with fresh veggie broth added with dried garlic)
Water and Dry Kelp (the original Japanese style shabu-shabu soup base)
Miso Soup Base (perfect combo of red and white miso with vegetable broth)
Chinese Hot Pot "HuoGuo" (Chinese traditional hot pot soup base with a distinct herbal taste giving that spicy kick)
Meat Options
U.S Wagyu Chuck Tender
Shabuya Rib Eye
Shabuya Special Short Rib "Triple S R"
Prime Beef Belly
Jidori Chicken Breast Slices
Angus Top Blade
Wagyu Beef Round
Prime Chuck Eye
Natural Pork Belly
Lamb Leg
Seafood Options
Do not get Fish Cake. This is processed with carb-dense stuff like potato starch and sugar.
Webfoot Octopus
Scallop
Manila clam
Squid
YOU MAY ALSO LIKE: Ultra Fast Keto Boost SCAM or LEGIT?
---
4. Mrs. Fish
Address: 448 S. Hill Street Los Angeles, CA 90013
Open Hours: Tuesday-Thursday, 5:00 PM – 10:00 PM and Friday & Saturday, 5:00 PM – 11:00 PM
Website: https://www.mrsfish.com/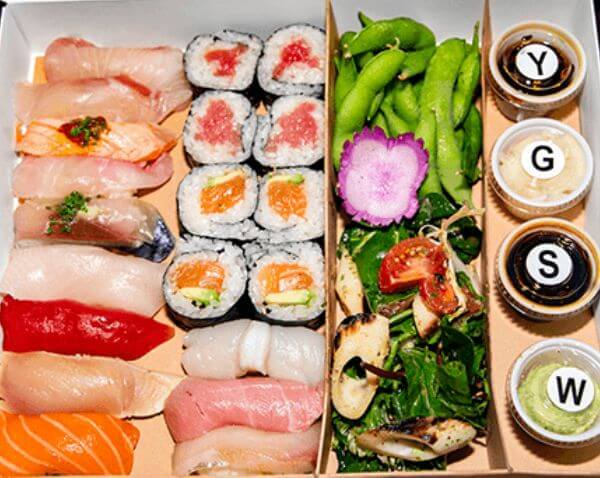 Enjoy classic Japanese traditional taste with Mrs. Fish's meals, perfect for all palates at any day. Its immersive ambiance compliments the featured art from Tokyo's top galleries and its modern Japanese cuisine.
Choose from their available low carb options:
Renkon Chips (with aonori, curry kewpie)
Edamame (traditional style or chili garlic fried)
Spicy Green Beans (shallots, ginger, and red chili)
Silken Tofu & Tomato (contains gem lettuce, cucumber, avocado, drizzled with sesame vinaigrette)
Tai Yuzu (ninja radish, celery heart, red Fresno, passion vinaigrette)
Wagyu Tataki (with myoga, needle ginger, chive, ichimi, daikon ponzu)
Albacore Warayaki (Hay smoked with shiso, citrus soy, myoga)
Salmon Carpaccio (includes kelp, ginger, cucumber, shiso, myoga, truffle amazu)
Tosaka Seaweed (with Japanese cucumber and heirloom tomato)
Kurobuta Pork Belly (Japanese eggplant and spicy miso)
---
5. Pepe's Red Tacos
Address: 2720 E. Olympic Blvd. Los Angeles, CA 90023
Open Hours: Monday-Saturday, 9:00 AM – 8:00 PM and Sunday 9:00 AM – 5:00 PM
Website: https://www.pepesredtacos.com/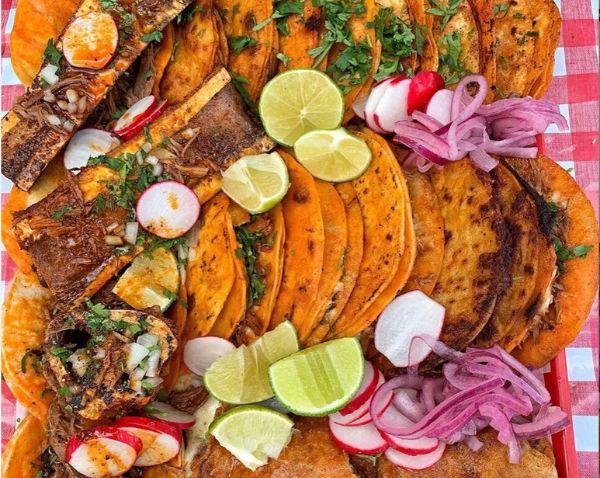 Did you know that Pepe's Red Tacos is LA's first bone marrow truck?
Yup! It also prides itself on the recipe that has gone through two generations before arriving to the streets of LA. Get a taste of its creative tacos like:
Huesi Taco (savory Bone Marrow taco)
Birria de Res (Mexican beef brisket)
Taco Suave (Soft taco loaded with birria)
Taco Dorado (Crunchy taco with birria)
Quesi Taco (Soft taco with birria and melted cheese)
Mulita (Melted cheese and birria sandwiched between 2 tortillas)
Vampiro (Crispy cheese and birria on a tostada)
FIND MORE: Andy's Frozen Custard Keto Friendly Options
---
6. Applebee's
Address: ​​9255 Winnetka Ave, Chatsworth, CA 91311, United States
Open Hours: Monday-Sunday, 11:00 AM – 12:00 AM
Website: https://www.applebees.com/en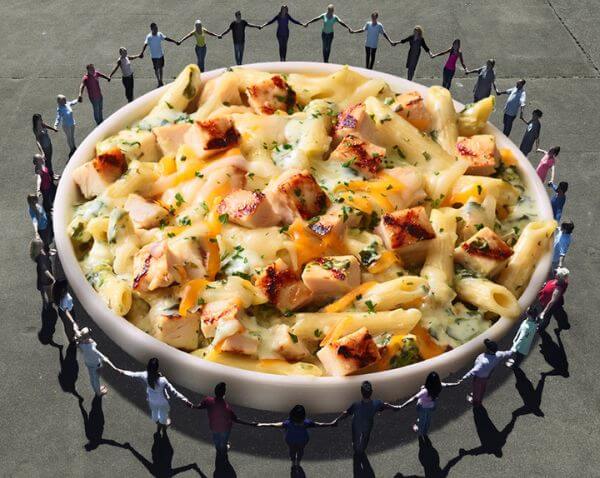 Applebee's guarantees all visitors a great time, thanks to its extensive menu loaded with yummy food and a comfortable casual dining atmosphere.
There are many options to choose from, such as:
Blackened Shrimp Caesar Salad (romaine lettuce with blackened shrimp and Parmesan, all drizzled with garlic Caesar dressing, Don't get it with croutons)
Grilled Chicken Caesar Salad (romaine in Caesar dressing with grilled chicken and Parmesan. Don't get it with croutons, too)
Whisky Bacon Burger (All-beef patty with Pepper Jack cheese, Applewood-smoked bacon, lettuce, pickles, and tomato. Get it without the bun, crispy onions, and Whisky-infused steak sauce)
Classic Burger (all-beef burger with lettuce, onion, tomato, and pickles. Eat it without the Brioche bun and fries)
Quesadilla Burger (two slices of Pepper Jack Cheese with bacon, pico de gallo, and shredded lettuce in a cheddar quesadilla. Hold out the tortilla and ranch dressing for this one)
Classic Bacon Burger (all-beef patty with American Cheese, bacon, lettuce, tomato, pickles, and onions. Get it bun-less and without the fries)
Classic Cheeseburger (it's like the classic bacon burger, only without the bacon! Don't get it with fries and buns)
Bourbon Street Steak (an 8 oz. sirloin with Cajun spice and garlic butter, served with mushroom and onions. Ask for no mashed potatoes)
Double-glazed Baby Back Ribs (Slow-cooked baby back ribs with your preferred sauce: Honey BBQ or Sweet Asian Chile. Dodge the fries and coleslaw
6 or 8 oz. Top Sirloin (Mildly seasoned top sirloin served with steamed broccoli. Order without the mashed potatoes)
Clubhouse Grille (turkey breast with sliced ham, bacon, Swiss cheese, cheddar, lettuce, tomatoes, and mayo. Get it without the bread)
Bourbon Chicken + Shrimp (include Cajun-seasoned chicken and blackened shrimp drizzled in garlic butter and parsley. Served with mushrooms and onions. Don't get it with mashed potatoes)
Shrimp and Parmesan Sirloin (top sirloin with blackened shrimp and lemon butter Parmesan sauce, served with broccoli. Ask for no mashed potatoes)
Grilled Chicken Breast (seasoned chicken breast with steamed broccoli. Don't get mashed potatoes)
---
7. Emporium Thai
Address: 1275 Westwood Boulevard, Los Angeles, CA 90024
Open Hours: Monday to Sunday, 10:30 AM – 11:00 PM
Website: Emporium Thai: Thai Restaurant in Los Angeles, CA (ethaicuisine.com)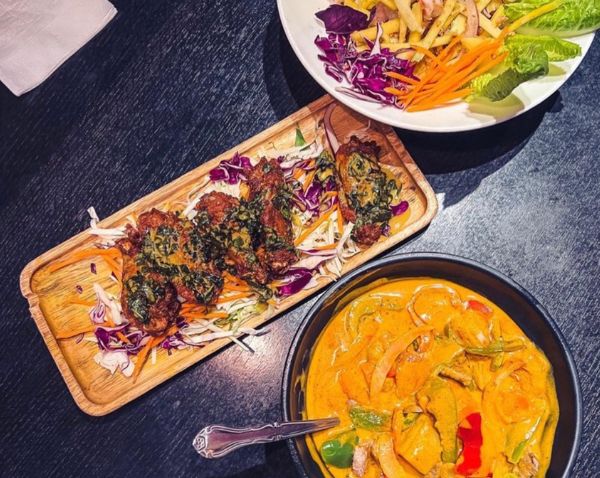 If you're looking for something filling and healthy that won't bore your tastebuds, this place is definitely for you. Emporium Thai is an award-winning restaurant that brings a fresh, authentic Thai dining experience to the streets of LA. The inclusive menu also guarantees something for every diet, from vegan, gluten-free to keto.
Here are some of the ideal low carb options on the menu:
Tom Yum Soup (consists of onion, cauliflower, tomato, and other fresh ingredients you can complete with proteins like beef, fish, or shrimp)
Garlic Prawns (a large shrimp meal stir-fried with herbs, spices, garlic, and pepper with other spices)
Chicken Satay (barbecue chicken skewers with an authentic Thai barbecue sauce that doesn't have too much sugar! Served with peanut sauce and vegetables)
Grilled Thai Barbecue Beef (served with steamed vegetables and sauce)
Chicken Lettuce Wraps (contains minced chicken, spicy lime juice, onions, and cilantro)
Crying Beef Salad (marinated beef with lime juice, chili, red onions, tomatoes, cucumbers, chili, and fresh mint)
Pad King (contains mushrooms, onions, ginger, chili peppers, bell pepper, and a grilled protein of your choice: meat, tofu, or seafood. Skip the rice and brown sauce)
Pad Kra Prow (stir-fried with chili pepper, bell peppers, Thai basil, onions, and brown sauce. A protein of choice can be added: beef, pork, chicken, tofu, or seafood. Dodge the brown sauce and ensure that the meat isn't breaded)
Pad Cashew (stir-fried with celery, carrots, water chestnuts, bell peppers, onions, and cashews blended in sweet chili sauce. You can also choose from meat or seafood. Steer clear of the sweet chili sauce and ensure that the meat isn't breaded, too)
---
8. Pampas Grill
Address: 6333 W 3rd St, Los Angeles, CA 90036, United States
Open Hours: Monday-Sunday, 10:00 AM – 8:00 PM
Website: http://www.pampas-grill.com/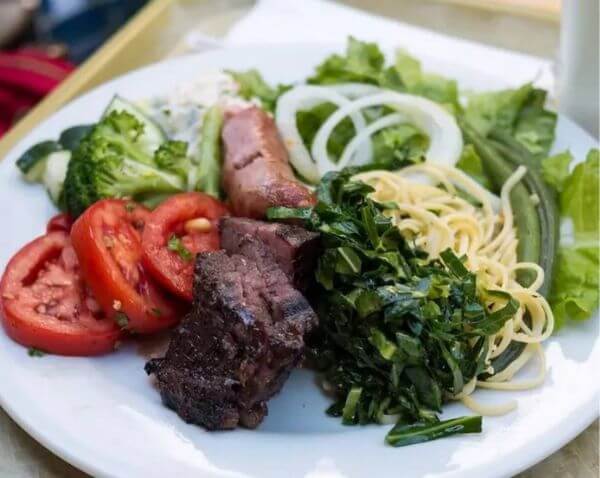 Experience the authentic taste of Brazilian churrasco at Pampas Grill. Customers go down a buffet-style line and pay for the amount of meat they get.
No worries. You can never go wrong with meat when eating low carb! They have lots of proteins to choose from:
Chicken and Sausage
Beef and Lamb
Leg of Lamb
Chicken Wrapped with Bacon
Brazilian Sausage
Garlic Beef
Pork Loin
Top Sirloin
Sirloin Cap (Picanha)
---
9. Feng Mao Lamb Kebab
Address: 3901 W Olympic Blvd, Los Angeles, CA 90019
Operating Hours: CLOSED on Mondays, Tuesday-Sunday 11:30 AM – 11:00 PM
Website: https://fengmaous.com/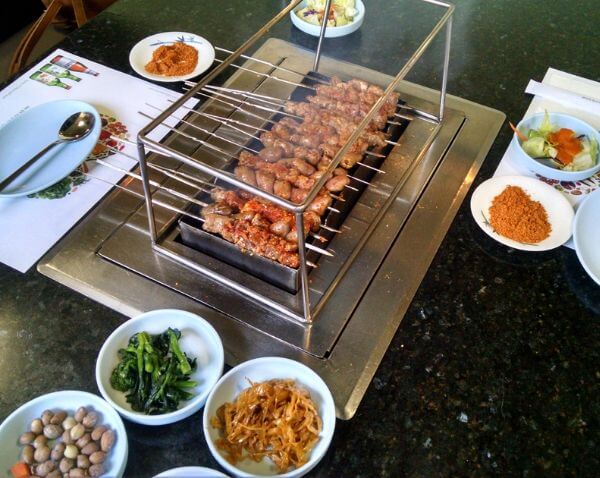 Can't decide if you want Chinese or Korean food? Well, you can always get the best of both worlds at this place along Olympic Boulevard.
The place guarantees not just great food, but also a ride for its customers to experience the rich culture behind each item.
Of course, the menu features lots of tasty kebabs and dishes perfect for anyone on a low carb diet. Some of them are marinated, though. So, you might want to watch out for the sauces used for such items.
Here are some options you can choose from:
Lamb

Lamb Kebab
Mala Lamb
Lamb Soft Bone
Lamb Ribs
Lamb Kidney

Chicken

Chicken Kebab
Chicken Wing
Chicken Heart
Chicken Ribs

Beef

Beef Kebab
Beef Intestines
Beef Tendon Chunk

Seafood
Pork

Pork Belly
Pork Belly & Asparagus
Pork Belly & Enoki

Other
Veggies

Matsutake Mushroom
Enoki Mushroom
Green Chives
Eggplant
Bamboo Shoots
---
10. niKETO
Address: ​​11419 Santa Monica Blvd, Los Angeles, CA 90025, United States
Open Hours: Monday-Sunday, 11:00 AM – 12:00 AM
Website: eatniketo.com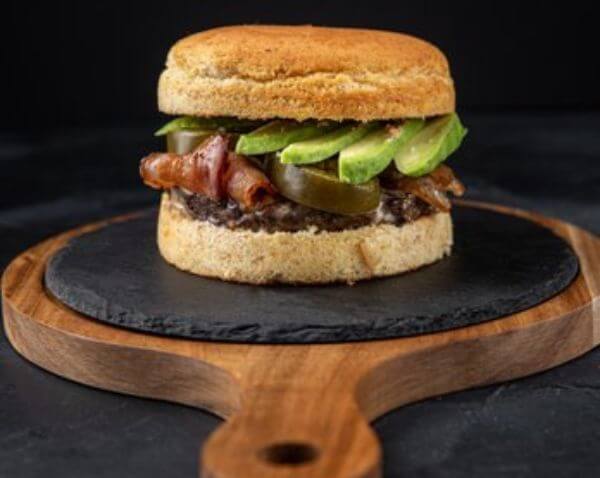 Eating healthy doesn't have to be so harsh. At niKETO, you can enjoy the familiar and favorite dishes you love all at a guilt-free cost.
Foods are made using similar tasting low carb alternative ingredients to make sure that "eating healthy doesn't have to taste healthy!"
niKETO guarantees something for every hour. Choose from:
McKeto
Mushroom Swiss
Jalapeno Bacon Burger
Boneless Wings
Sesame Ginger Boneless Wings
Sweet and Spicy Boneless Wings
Buffalo Boneless Wings
Teriyaki Wings
Steak Tacos
Chicken Tacos
Shrimp Taco
Shrimp Tacos
Cheeseburger
Chicken Nuggets
Parmesan Crisps
Jicama Fries
Chips & Guacamole
niKETO Strawberry Shortcake
Cookies & Cream Parfait
Mont Blanc
Cheesecake
Walnut Brownies
Nutella Mousse
Red Velvet Cupcake
24K Donut
---
11. True Food Kitchen
Address: 2nd Rd, Santa Monica Pl #395, Santa Monica, CA 90401, United States
Open Hours: Monday-Thursday 11:00 AM – 9:00 PM, Fridays 11:00 AM – 10:00 PM, Saturday 10:00 AM – 10:00 PM, Sunday 10:00 AM – 9:00 PM
Website: https://www.truefoodkitchen.com/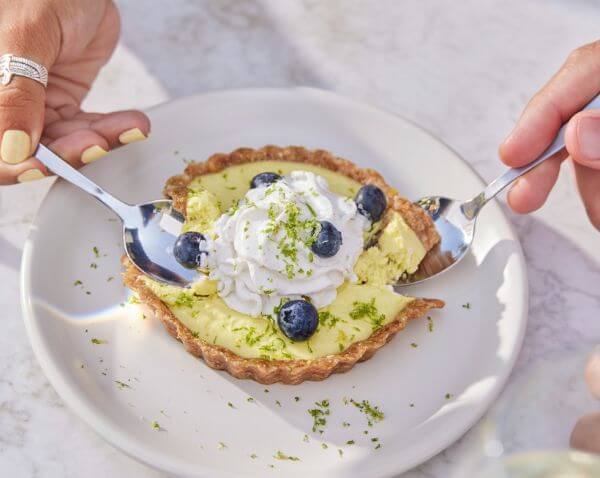 True Food Kitchen believes that better food means better living. True enough, it's one of those places with all-out healthy, inclusive meals.
With a few tweaks to some items on the menu, almost anything can be made low carb for your liking.
Tuscan Kale Salad – ask for no breadcrumbs
Wild Caught Tuna Tostada – substitute tostada chips for lettuce cups. Ask for kale salad dressing instead of vinaigrette
Good Earth Kale Cobb – no garbanzo bean, no pickled jicama
Grass-fed Burger – substitute bun for a lettuce wrap
Turkey Burger – substitute bun for a lettuce wrap
Grilled Chicken and Mozzarella Panini – substitute the pita for a lettuce wrap
Poke Bowl – substitute ponzu sauce for olive oil & salt. Ask for plain jicama and mixed greens
Pan-Seared Bass – ask for mixed greens and seasonal vegetables
Grilled Sustainable Salmon – ask for mixed greens and seasonal vegetables
Grilled Chicken Parmesan – skip the breadcrumb and butternut squash
---
12. Soh Grill House
Address: 27 N Raymond Ave, Pasadena, CA 91103, United States
Open Hours: Monday-Thursday 5-10 PM, Friday 5-11 PM, Saturday 12-11 PM, Sunday 12-10 PM
Website: https://www.instagram.com/sohgrillhouse/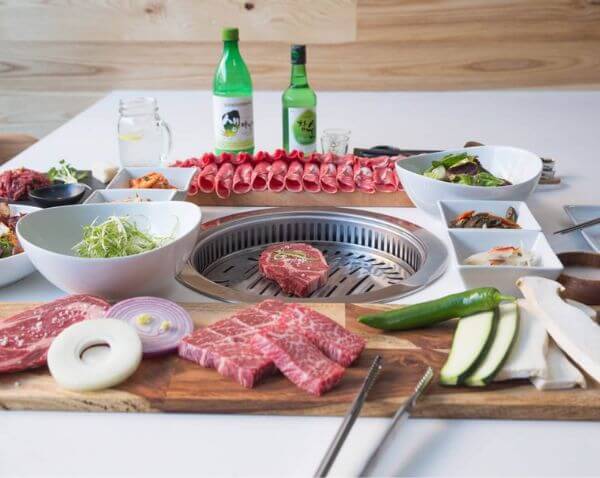 Korean barbecue places are one of the best go to places for low carb meals. Luckily, Soh Grill House has lots of tasty BBQ options in store for you. As always, skip the marinated items on the menu when choosing your meat.
Prime Rib Eye
Prime Beef Belly
Prime Top Blade
Prime Tongue
Prime Boneless Short Rib
Pork Belly
Jowl (Juicy Pork Jowl Cut)
Jumbo Shrimp
Lobster
Tofu Steak Temple Style – Ask the staff to skip the soy sauce.
Soybean Paste Stew
---
13. California Chicken Café
Address: 6805 Melrose Ave, Los Angeles, CA 90038
Open Hours: Monday-Sunday 10:45 AM – 9:05 PM
Website: https://califchickencafe.com/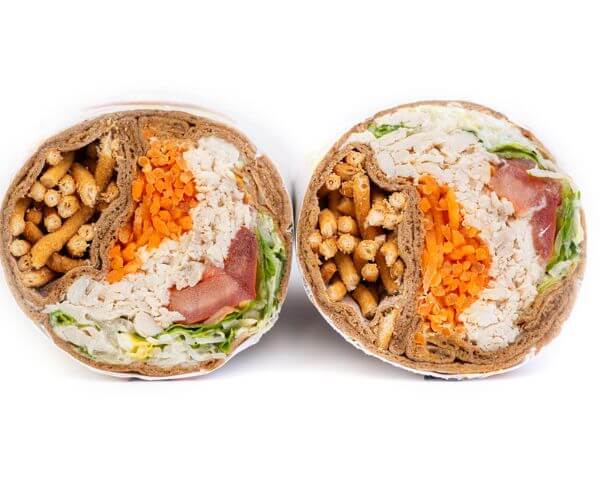 Chicken is one of the best proteins to order when looking for something low carb. Aside from being a protein-rich dish, it's easily customizable with just a few tweaks here and there.
California Chicken Café has a vast menu featuring chicken in most of its items. Well, it's famous for its Rotisserie Chicken for a reason! Pick from other low carb dishes, including:
Rotisserie Chicken – Choose from sizes ranging from a quarter to a whole.
Salads – Skip the pita croutons. The dressing is served on the side, but you still need to be wary of its net carb content. If in doubt, opt for oil and vinegar.

Out West Salad – white meat chicken, avocado, black beans, jack cheese, roasted corn, red peppers
Café Caesar Salad – the classic salad loaded with white meat chicken, avocado, flaked parmesan, pasta, lettuce
Veggie Salad – stuffed with lettuce, tomatoes, avocado, broccoli, carrots, bell peppers, sprouts
Side Orders

Seasonal Fruit Salad (vegan)
Garden Side Salad – consists of lettuce, tomatoes, carrots, croutons, radish, red bell pepper, purple cabbage, cucumbers
---
14. Isaan Station
Address: 125 N Western Ave Unit 111, Los Angeles, CA 90004, United States
Open Hours: CLOSED on Mondays, Tuesday-Friday 11:30 AM – 3:00 PM, 5-10 PM, Saturday-Sunday 11:30 AM – 10:00 PM
Website: https://www.isaanstationthaila.com/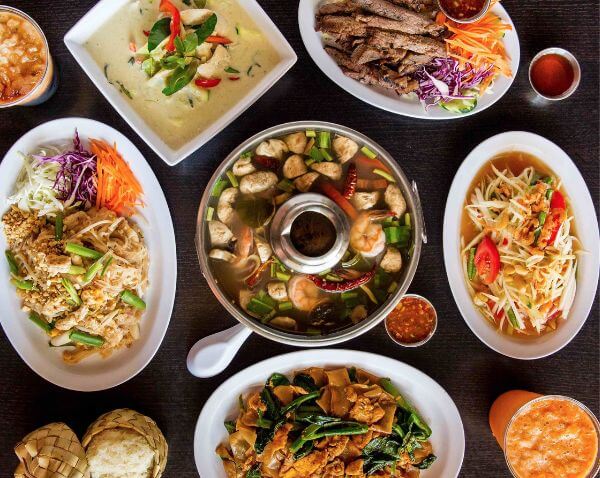 Isaan Station brings the unique, delicious taste of Thai street food to Los Angeles. Its modern interpretation of classic Thai dishes undoubtedly makes it a must-visit for tourists and locals.
There are lots of options to choose from, such as:
Tom Yum Soup – hot soup consisting of Thai herbs, galanga, lemongrass, Kiffir leaves, chili, and lime juice. Served with your choice of protein.
Tom Kha Soup – coconut milk soup with mushroom, chili, tomatoes in Thai herb broth. Served with your choice of protein.
Tom Saab Soup – hot and sour soup with braised pork ribs, Thai herbs, lemongrass, galanga, Kiffir lime leaves, chili, and lime juice.
Tom Super Soup – chicken feet in spicy soup.
Poh Taek Soup – hot and sour seafood soup
Kaeng Aom Soup – hot and spicy vegetables in Thai herbs soup
Papaya Salad – green papaya salad with peanuts and dried shrimp.
Blue Crab Papaya Salad
Salted Egg Papaya Salad
Pickled Crab Papaya Salad
Shrimp Papaya Salad
Lowl Bhu Mah – the Blue Crab Papaya Salad without the papaya.
Som Dtum Bhu Pla Rha – an Isaan version with fermented fish. Has a strong flavor to it.
Yum Moo Yor Salad – white pork sausage with white onions, tomatoes, and celery. Served with lime and chili.
Yum Nua Salad – charcoal grilled beef salad with white onions, tomatoes, celery, lime, and chili.
Yum Ruam Mitr Salad – mixed seafood with onion, Thai Chili, tomato, celery, mixed with lime, and chili.
Grilled Crying Tiger – charcoal grilled beef tenderloin
Bamboo Shoots Salad – shredded bamboo shoots with lime, chili powder, dried chili, red onions, cilantro, coriander mint leaves, and green onion. Watch out for the fermented fish sauce.
---
15. El Pollo Loco
Address: 260 S Broadway Los Angeles CA 90012
Open Hours: Monday-Saturday 9:00 PM – 7:00 PM, Sunday 10:00 AM – 7:00 PM
Website: https://www.elpolloloco.com/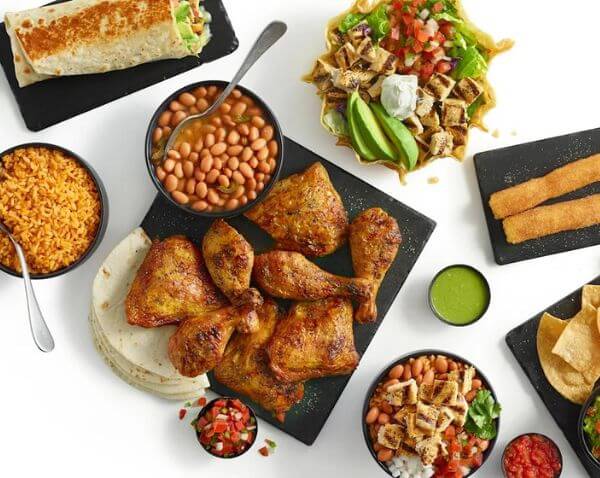 El Pollo Loco does a wonderful job in offering Mexican cuisine to the tables of LA. There's no secret to tell! Its fresh food doesn't only feed the appetite but also nourishes the soul.
That's how El Pollo Loco connects to its loyal diners for almost 40 years now.
It can be hard to find something low carb at Tex-Mex places. Even so, there are still options for you like:
Double Chicken Avocado Salad
The World's First Keto Burrito – we recommend skipping the Flour Keto Tortilla for fewer carbs.
Tostada Salads – order these items without rice, pinto beans, and fried tostada shell. You can have the fillings in a bowl instead.

Double Chicken Tostada Salad
Classic Tostada Salad
Baja Shrimp Tostada Salad
Bowls – order the bowls without rice and pinto beans.

Original Pollo Bowl – chopped chicken, diced onion, Pico de Gallo salsa, Cilantro
Grande Avocado Chicken Bowl – Monterey Jack cheese, chopped chicken, corn, avocado, Pico de Gallo salsa, cabbage, sour cream
Double Chicken Bowl – cabbage, chopped chicken, Monterey Jack cheese, Pico de Gallo salsa, avocado, sour cream
Fire Grilled Chicken (wing, chicken thigh, chicken leg)
Sides

Broccoli
Loco Side Salad
Coleslaw
---
16. California Fish Grill
Address: 249 North Glendale Ave, Suite A Glendale, CA 91206
Open Hours: Sunday-Wednesday 11:00 AM – 9:00 PM, Thursday-Saturday 11:00 AM – 9:30 PM
Website: https://www.cafishgrill.com/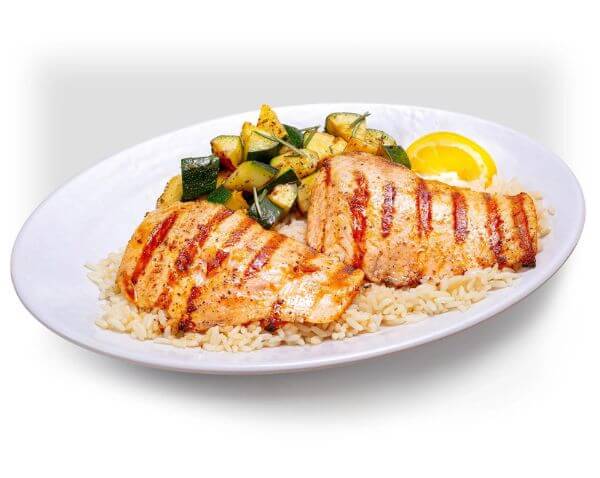 One of the greatest things about seafood is that it's versatile. You can transform it into any dish or add it to anything without being too guilty about your carb intake!
There are even more choices to pick from at California Fish Grill. All thanks to their creative and healthy takes at seafood. Here are some of the best choices:
Grilled Specialties
Do not order these items with carb-rich sides like rice. These proteins have little to no carb content when ordered without such sides.
Atlantic Salmon – flavorful grilled salmon
Swai (White Fish) – has a mild clean flavor to it
Salmon & Swai Combo – two customer favorites in one dish
Tilapia – white fish with a flavor similar to sea bass
Shrimp Skewers – eight succulent shrimps served skewered
Chicken Breast – grilled to perfection, served with your preferred topping
Rockfish – topped with your choice of Garlic Butter sauce, Seasoned Olive Oil, or Cajun style.
Sea Bass (Branzino) – Mediterranean Sea bass with a delicate white-flake texture. Served with two sides and your choice of topping.
Louisiana Delta Catfish – Southern favorite with a mild and flaky texture.
Ahi Tuna (Grilled Rare) – Sashimi-grade Ahi tuna with a firm texture, grilled to perfection.
Cajun Served Ahi Tuna – Cajun-spiced Sashimi-grade Ahi tuna with that extra heat. Pan-seared perfectly to rare perfection.
Wild Alaskan Sockeye Salmon – grilled medium-rare, served with two house sides.
Cali Bowls
Do not order these items with rice.
Ahi Poke Bowl (served raw) – Sashimi-grade Ahi tuna drizzled in poke dressing with red onions, diced tomatoes, and sesame seeds. Served with Green Goddess Dressing.
Keto Shrimp Bowl – mixed greens served with seasoned shrimp, fresh mint, red onion, and tomato. Drizzled with Green Goddess Dressing.
Paleo Salmon Bowl – lightly seasoned salmon served with rosemary zucchini mix, fresh herbs, and pickled onion.
Signature Salads
Shrimp Louie with House Mix – mixed greens with golden beet, Feta cheese, and grilled asparagus. Drizzled with Louie dressing.
Sides
Ahi Poke (served raw) – Sashimi-grade Ahi in poke dressing. Served with house-made tortilla chips drizzled in Green Goddess dressing.
Kaleslaw – California Fish Grill's twist on the classic Coleslaw. Chopped kale and purple cabbage in Coleslaw dressing.
Green Side Salad – fresh greens mixed with red onions and tomatoes. Served with your choice of dressing.
Grilled Asparagus – crunchy side topped with lime vinaigrette
Rosemary-Zucchini – grilled zucchini with seasoned olive and a hint of rosemary.
---
17. My Vegan Gold
Address: 4319 Sunset Blvd, LA, CA 90029
Open Hours: Monday-Sunday 11:30 AM – 9:30 PM
Website: https://www.myvegangold.com/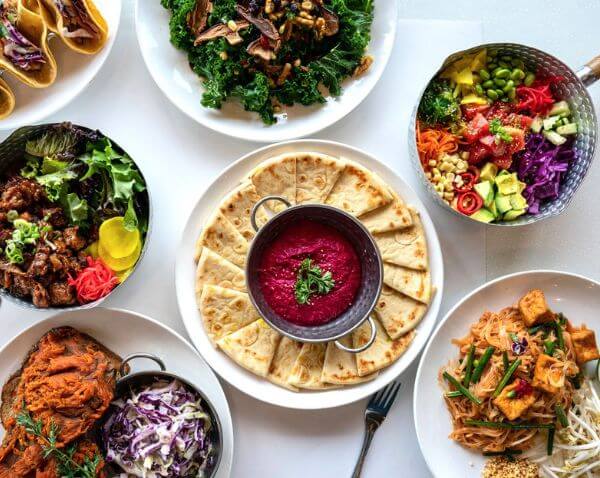 "Eat healthy, live better." My Vegan Gold is an ideal place not just for vegans but also for anyone looking for healthy meals to satisfy their cravings. Of course, there are low carb options for you to savor:
Soup

Vegetable Soup
Tom Yum
Tom Kha

Salad

Shitake Larb Salad
Peanut Salad – watch out for the peanut dressing. Ask for it to be served on the side.
House Salad

Entrée

RIPP (Rest in Peace Porky)
Hot Portobello Mushroom

Sides

Steam Mix Vegetable
Steam Organic Broccoli
Steam Organic Kale
Steam Organic Broccoli and Kale
Coleslaw
---
18. Bossa Nova Brazilian Cuisine
Address: 321 W Olympic Blvd, Suite Retail B Los Angeles, 90015
Open Hours: Monday-Sunday 11:00 AM – 1:00 AM
Website: https://www.bossafood.com/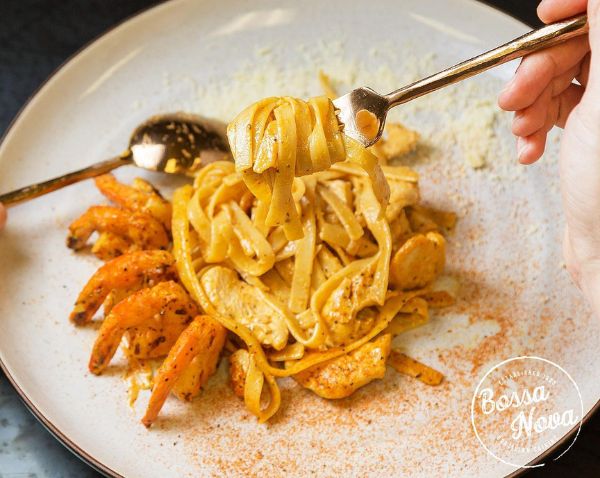 At Bossa Nova, each dish is an artwork. Customers can see and taste its passion for giving the best Brazilian culinary experience through its food and service.
Bossa Nova makes real food for its true bosses: you! Here are some of the best low carb options on the menu:
Appetizers – skip the bread.
Mushrooms Appetizer
Chicken Brochette
Salads – do not get these with croutons.
Mixed Greens Salad
Blue Salad
California Salad
Greek Salad
Bossa Salad
Chico's Salad
Andrea's Salad
Tropical Spinach Salad
Caesar Salad
A La Carte
Stroganoff (your choice of beef or chicken)
Tenderloin Medallions
Seabass Al Limon (skip the mashed potatoes)
---
19. Yum Yum Donuts
Address: 1834 Marengo Street, Los Angeles, CA 90033
Open Hours: Open 24 Hours Everyday
Website: https://yumyumdonuts.com/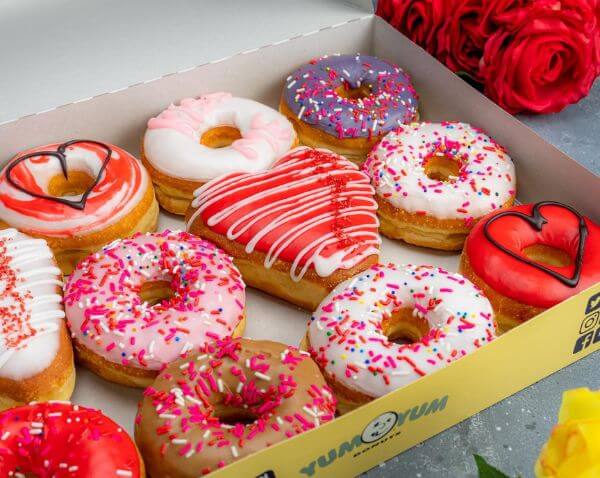 What's a better way to end a meal than with a dessert? Although getting something sweet can be one hell of a challenge if you're on a low carb diet, Yum Yum Donuts assures you can get donuts with less than 30 g of carbs!
Chocolate Cake Donut (Plain)
White Cake Donut (Plain)
Donut Hole

Chocolate Sprinkles
Cinnamon Crumb
Cinnamon Sugar
Coconut
Donut Sugar
Glazed
Plain
Powdered Sugar

French Cinnamon (Sugared)
White Mini Cake

Chocolate Iced with Chocolate Sprinkles
Chocolate Iced
Chocolate Iced with Rainbow Sprinkles
Plain
Vanilla Iced with Rainbow Sprinkles

Puffies with Vanilla Crème Filling
Wheat & Spice (Plain)
---
20. Fresh Brothers
Address: 10850 W. Le Conte Ave. Los Angeles, CA 90024
Open Hours: Sunday-Thursday 10:00 AM – 9:00 PM, Friday-Saturday 10:00 AM – 10:00 PM
Website: https://www.freshbrothers.com/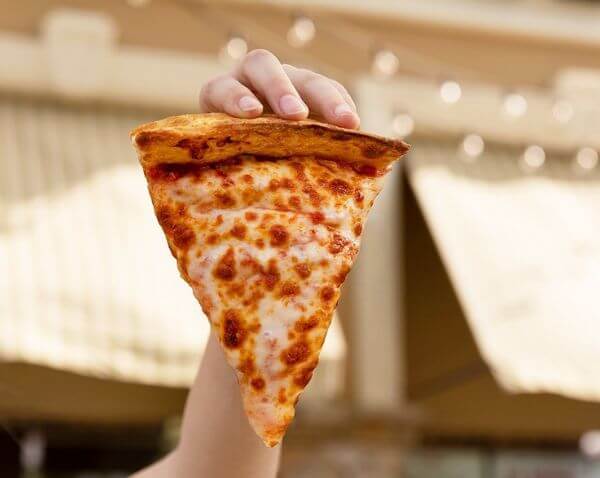 Curious what a pizza with a California twist tastes like? If you are, Fresh Brothers should be your next must-visit spot! Everything on the menu uses real, fresh, all-natural ingredients to serve up nutrition and taste.
Fresh Brothers also has a special Keto Pizza crust, crafted to keep carbs at bay. Here are some pizza flavors you can enjoy along with it: (Note: Fresh Brothers' recommended serving size for a low carb meal is 2 slices)
Fresh Momma's Pizza
Fresh Vegetable Pizza
Chicken Sausage, Artichoke & Pesto Pizza
BBQ Chicken Pizza
Margherita Pizza
Miller Pizza
Hawaiian Pizza
Da Works Pizza
Triple Pepperoni Pizza
Pure Pepperoni Pizza
Beyond Meat Pizza
Cheese Pizza
---
21. Hugo's Restaurant
Address: 8401 Santa Monica Blvd West Hollywood CA, 90069
Open Hours: Monday-Thursday 9:00 AM – 9:00 PM
Website: https://www.hugosrestaurant.com/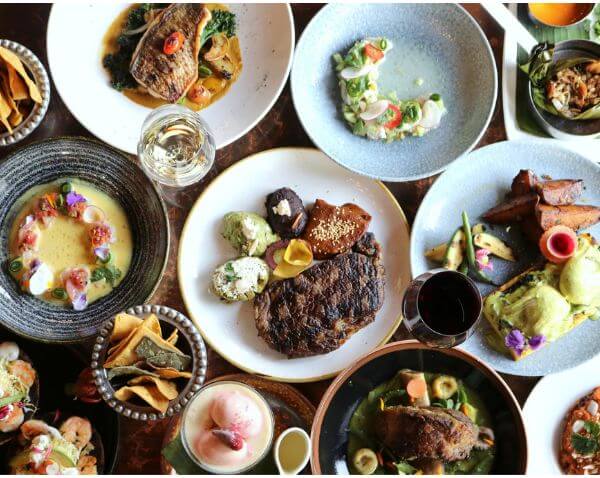 Hugo's Restaurant started as a vision to build a kitchen that produces original food found nowhere else. Up to this day, the restaurant still lives up to this philosophy by bringing people together through meals made from whole-food ingredients.
The place focuses on creating balanced choices for everyone to enjoy. Some low carb items on the menu include:
Breakfast

Protein Scramble
Herbed Omelette
Eggs Any Style (served with your choice of side)
Breakfast Sides

Four Whites
Bacon
Side Avocado
Lunch

Citrus Salad
Caesar Salad (ask for no croutons)
Dinner – ask for no mashed potatoes

Chimichurri Steak (skip the grilled onions)
Pan Roasted Salmon
---
Conclusion
Sticking to a strict diet regime when dining out can be super challenging. This doesn't have to be the case always, though. With the right guide and bits of info, picking good low carb items won't be so hard.
After all, it's Los Angeles! You won't run out of places to choose from. There's always something for you everywhere you turn.
Here are some tips to remember before dining out at your preferred place:
Stay away from anything starchy like rice, mashed potatoes, and fries.
Avoid bread, buns, biscuits, breadcrumbs, noodles, and croutons for your salad.
Don't get anything too sweet for your drink. Stick to coffee, water, or unsweetened tea.
Base your choice on common low carb foods and ingredients like meat, fish, veggies, fats, and oils.
Keep an eye on the sauces as some can be processed with too much sugar.
Stick to your daily carb limit. This is very important!