Tired of searching for keto-friendly places in Denver, CO? Your search ends today!
Keto is a highly carb-restrictive diet where your maximum limit is 20-25g of carbs per day. And that's why most restaurants are out of the equation! Just think about all the breading, rice, noodles, etc that dominate their menus!
Luckily, there's still hope for us! We have rounded up the best keto-friendly restaurants in Denver for the perfect low-carb meal.
After all, keto doesn't have to be the end of your socializing!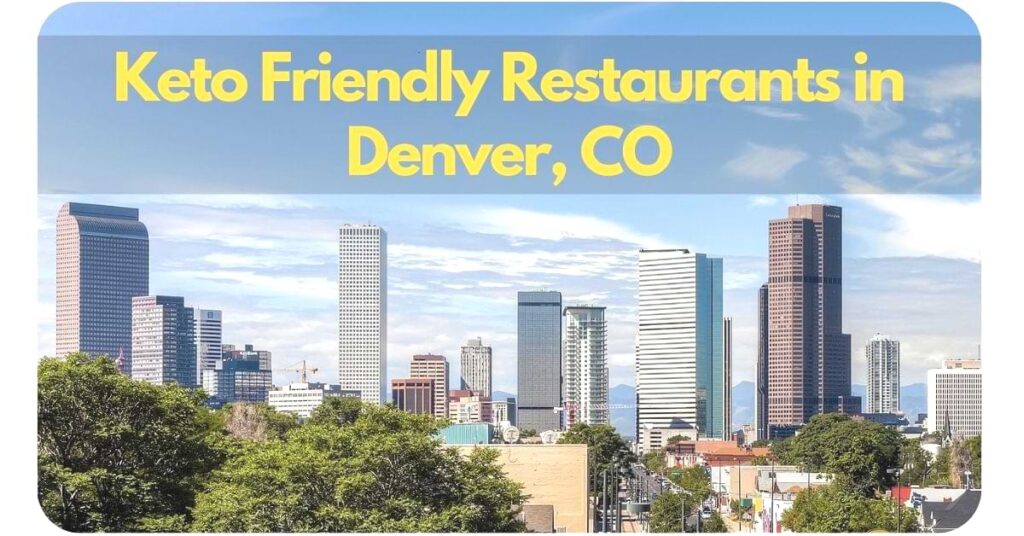 Tired of searching whether certain foods are keto? Download my keto cheat sheet with 210+ keto-friendly foods!
This post may contain affiliate links, which help keep this content free. (Full disclosure)
KETO and Low Carb Restaurants in DENVER
Not in a mood to cook? Check out the most keto-friendly options in Denver:
1. Vital Root
Vital Root is one of our favorite restaurants with an airy-open front! It is a fast-casual vegetarian restaurant with a complete focus on wholesomeness. Their menu options include smoothies, salads, bowls, cocktails, and vegan desserts! And the best part about this place is that the staff is very open to customizations.
Address: 3915 Tennyson St Denver, CO 80212
Open Hours: Tue – Sat from 11 am to 9 pm, Sun 10 am to 4 pm (Monday Closed)
Website: https://www.ediblebeats.com/vital-root
Choose from the following low-carb dishes:
Keto Bowl (tofu, egg, shiitake, zoodles, pecans, roasted cauliflower)
Yuca Fries (chimichurri, grilled banana ketchup). Go easy on ketchup
Preserved Lemon Grass Beans (frisée, fried shallots, golden raisins, pickled mustard seeds)
Pad Thai with zoodles (scrambled egg, green papaya, pickled vegetables, thai chili paste, peanuts, cilantro)
Med Bowl (turmeric cauliflower rice, zoodles, harissa chickpeas, feta, tzatziki). Ask for no chickpeas.
You can add avocado, eggs, green veggies, and chicken to any item you order.
---
2. Just Be Kitchen (Special Keto Menu!)
This is one of our favorite keto-friendly places in Denver! Just BE Kitchen is a 100% gluten, grain, & refined sugar-free fast-casual restaurant that caters to a ton of different diets including Paleo, Keto, and WHOLE30. They also have the tastiest cauliflower rice I've ever had in a restaurant!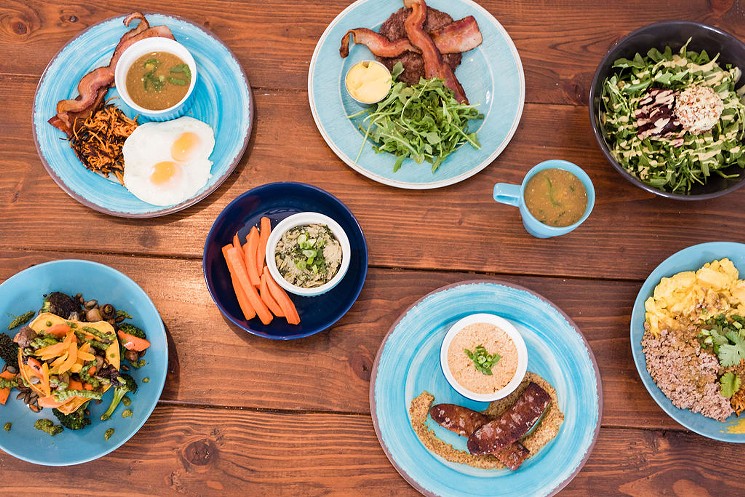 Address: 2364 15th St Denver, CO 80202
Open Hours: 8 am to 7 pm (Open 7 days a week)
Website: justbekitchen.com
Pick from the following keto-friendly items at Just Be Kitchen:
Glow Egg Bowl (cabbage, carrot, pork, coconut aminos, spicy aioli, sesame). Ditch the carrots
Fulfilled Breakfast Bowl (scrambled eggs*, sausage, roast veggie puree, sweet potato hash, pork or veggie green chili, cilantro, scallion, jalapeño). Nix sweet potato hash
Bone Broth (garlic, ginger, jalapeño, sea salt, cayenne, scallion, butter, cilantro)
Cozy Chicken – No Dumplings (arugula, roasted beets, almond, feta, dijon lemon dressing)
Excite Korean Beef Bowl (grass-fed beef, cauli rice, cucumber kimchi, ginger, garlic)
Fulfilled Dinner Bowl (chicken, salsa verde, roast veggie puree, hash, pork or veggie green chili, cilantro, arugula, scallion, jalapeño)
Crave Burger – No bun (grass-fed beef patty*, sugar-free bacon, jalapeño aioli, arugula salad)
Pork Green Chili (roast veggie puree, jalapeños, scallion, cilantro)
Magic Chicken Tikka Plate (chicken, masala spices, mint chutney, romaine, pickled onion)
Famous DDD Sampler (guy fieri's favorites, chicken no dumplings and pork green chili)
---
3. Kaffe Landskap
Kaffe Landskap is your go-to coffee place when you want a simple yet reliable menu! This LoDo coffee shop is quite spacious and you can get your morning work done while enjoying a light keto-friendly meal. They freshly prepare all the meals and hence you can easily customize your order.
Address: 1750 Wewatta St Denver, CO 80202
Open Hours: 7 am to 6 pm all days
Website: kaffelandskap.com
When craving some keto fast food in Denver, choose from the following options at Kaffe Landskap:
Smoked ham, egg, and grilled cheese sandwich (ditch the bread and ask for a lettuce wrap)
BLT wrapped in lettuce (eggs, guacamole, beefsteak tomato, Applewood smoked bacon, local lettuce and house-made vegan mayo)
Turkey Club sandwich wrapped in lettuce (hand-cut roasted turkey, avocado mash, beefsteak tomato, Applewood smoked bacon, local lettuce, & house-made aquafaba mayo). NO Sourdough
Chicken Brie + Fig inside lettuce wrap (roasted chicken, grilled brie, poached fig, feta, arugula, drizzle w/ house-made dijon vinaigrette & house-made aquafaba mayo)
Zen Bowl (organic Kale & spinach, organic quinoa, organic garbanzo beans, roasted organic tempeh, roasted beets, roasted sweet potatoes, avocado). Ditch the beans and sweet potato
Swedish Trout Salad without roasted potatoes (Bed of spinach, local arugula, smoked trout, roasted beets, organic fennel, avocado, and house-made pickled dill cucumber)
Add some eggs, cheese and avocadoes to make your meals more filling!
---
4. Parsley
Parsley is a beautiful restaurant with very comfy vibes! The reason it scores brownie points is that they highly focus on sustainable sourcing of ingredients. Their menu is a mix of sandwiches, juices, smoothies, and salads. If you are a vegan or vegetarian, you'll find plenty of options at this food heaven!
Address: 303 W 11th Ave Denver, CO 80204
Open Hours: 11 am to 5 pm on all days
Website: parsleyandbailey.com/
Here are all the keto-friendly options:
Turkey Avocado Salad (roasted turkey, organic spinach, roma tomato, avocado)
Turkey salad with sun-dried tomato (roasted turkey, organic spinach, sun-dried tomato, cucumber, feta)
Texture tuna salad (albacore tuna, organic spinach, roma tomato, cucumber)
Mediterranean tuna salad (albacore tuna, organic spinach, roma tomato, cucumber, feta)
Caprese salad (organic spinach, fresh mozzarella, roma tomato, with kalamata olives, basil pesto)
Garden Salad (organic spinach, roma tomato, cucumber, organic carrot, kalamata olives)
Avocado salad (organic spinach, roma tomato, cucumber, avocado)
Tree Hugger sandwich (organic cucumber, fresh mozzarella, sweet red peppers, organic lettuce, organic spinach, balsamic vinaigrette). Ditch the bread, get in a bowl!
Classic Turkey sandwich in a bowl (roasted turkey, provolone cheese, vine-ripened tomato, organic lettuce, red onion, olive oil vinaigrette). No bread
The Cherokee sandwich in a bowl (roasted turkey, roasted green chiles, pepper-jack cheese, vine-ripened tomato, red onion, chipotle sauce)
Red Pepper Turkey Sandwich in a bowl (roasted turkey, provolone cheese, sweet red pepper, organic lettuce, red onion, red-pesto sauce)
RELATED: Firehouse Subs on Keto
---
5. True Food Kitchen
True Food Kitchen believes that the food you consume should make you feel "better" not worse. Just think about the times when you gobble down a giant pizza and become lazy as a bear!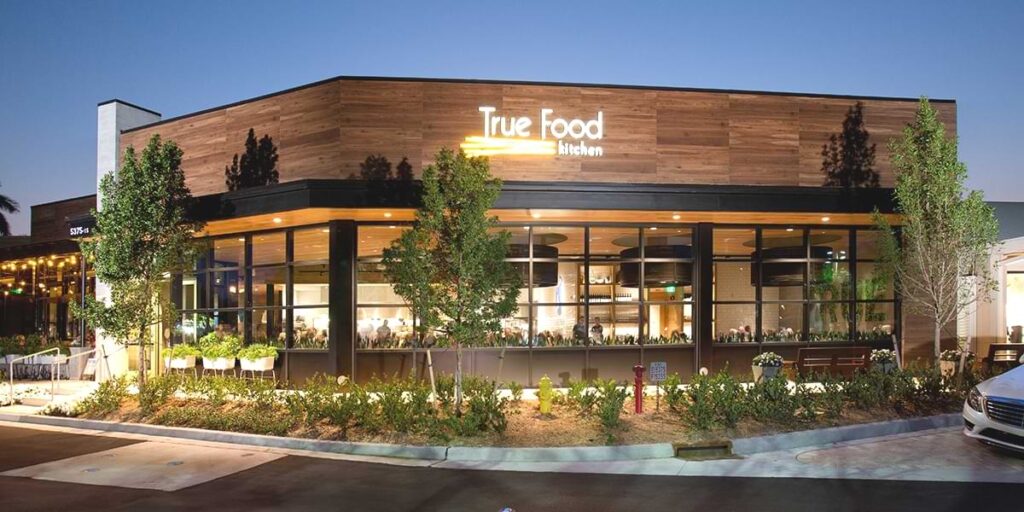 Originated in 2008 in Phoenix, Arizona, True Food Kitchen tries to bring the most wholesome foods to your palate! As a result, their preparations are minimally processed with maximum nutrients! Their menu includes a wide range of burgers, pizzas, salads, sandwiches, and desserts!
Address: 2800 E 2nd Ave Denver, CO 80206
Open Hours: 11 am to 9 pm all days open
Website: truefoodkitchen.com
We've shortlisted the most keto-friendly and low-carb dishes at True Food Kitchen, Denver:
Grass Fed Burger – No Bun (umami, mushroom, caramelized onion, organic arugula, parmesan, mayonnaise)
Vegan Double Cheeseburger – No Bun (house-made with portobello, walnut, beet, kuzu, lettuce, pickled onion, organic tomato, vegan cheddar, vegenaise,)
Turkey Burger without bun (smashed avocado, organic tomato, butter lettuce, smoked gouda, jalapeño remoulade)
Grilled Chicken Avocado Wrap – No Pita, ask for lettuce wrap instead (organic tomato, cucumber, hummus, fresh mozzarella, lemon oregano vinaigrette)
Grilled Chicken Parmesan (summer vegetables, organic DiNapoli tomato sauce, mozzarella, herbs). Go easy on tomato sauce.
Grilled Salmon without Quinoa (farro, quinoa, summer vegetables, cilantro pumpkin seed pesto)
Shrimp Tacos – Replace Tortilla with lettuce wrap (jicama slaw, cherry tomato, chimichurri, zucchini salsa verde, street corn, cauliflower rice)
Get additional side serving of low-carb meats like chicken, steak, salmon, shrimp, and cauliflower rice.
Related: Buca Di Beppo's Keto Options
---
6. Keto World Kitchen
Keto World Kitchen does not have a dine-in facility, but it's the easiest keto take-out food without any customizations! They offer a rotating menu of fresh ready-made gourmet keto dishes. You can either pick up your order or have it delivered anywhere in Denver Metro.
They also have some delicious fat bombs to satisfy your sweet tooth while staying in keto!
Address: 9447 Park Meadows Dr. Lone Tree, CO 80124
Open House: 11 am to 8 pm all days open
Website: ketoworldkitchen.com
Choose from a wide range of options at Keto World Kitchen:
Chicken Dishes Include: Pho Keto with Chicken, Chicken Cordon Bleu, Chicken Tikka Masala, Green Chile Chicken Casserole, etc.
For the love of Beef: Pho Keto with Beef, Outlaw Street Taco Bowl, Shepard's Pie, Bacon Cheeseburger Cups, Beef Stroganoff , Mongolian Beef , BBQ Bacon Mini Meatloaf, Bolognese Lasagna, etc.
Pork Dishes: Egg Roll in a bowl, Meat Lover's Pizza Cups, Cuban Sandwich, Garlic Alfredo Sausage Skillet, etc.
Side Dishes: Cacio e Pepe Brussels Sprouts, Keto Antipasto Salad, Grilled Artichoke with Pistachio Spread, Radish Au Gratin, Cauli Mash, etc.
They also have a wide range of soups, salads, breads, and desserts (Our favorite is Cherry Chai Cheesecake!)
PS: The Keto World Kitchen has a rotating menu which means you get varying menu options for each day of the week.
---
7. Wave the Grain
No more tasteless cardboard in the name of bread! Wave the grain, is a completely grain-free bakery for the keto and gluten-free diet. Admit it, no restaurant list is complete without a special mention of desserts!
Address: 8172 S Holly St Littleton, CO 80122
Open Hours: 8 am to 6 pm, seven days open
Website: wavethegrain.com
At Wave the Grain, you can choose from the following low-carb delicacies:
Cakes (sweetened with monk fruit, they are low-carb and diabetic-friendly as well)
Cookie Dough (sugar-free chewey dough for those late night keto cravings)
KETO Cupcakes (almond and coconut flour, monkfruit sweetener, and low-carb icing options
Cookies (monkfruit, almond flour, and sugar-free!)
---
Conclusion
Dining out on the ketogenic diet isn't rocket science! If you are in Denver, there are a lot of low-carb options to suit your taste buds.
Whenever going out for a keto meal, just stick to the basics:
Always stay below your daily carb limit (i.e. 20-25g net carbs for most people)
AVOID all kinds of bread, bun, biscuits, noodles, or breading.
Mind the portion of sauces as they can easily add up carbs.
For beverages, stick to unsweet tea, coffee, iced tea, or the plain simple water!
NEXT: Shack Shack Keto Options