Triple D, or Dallas as we know it, is a city where Southern taste blends with Texas's rich cultural scene. As one of Texas' major cities, Dallas houses some of the state's best views, tourist spots, and restaurants.
The authentic taste of Dallas is at your fingertips wherever you go. No matter what you're looking for, Dallas has it. From savory barbecue bites and Tex-Mex favorites down to margaritas on the rocks, the city can satisfy anyone's tastebuds.
If you're one of our readers with a special diet thinking if Dallas also has something for you, you're absolutely right! You can have a taste of the city's authentic cuisine regardless of your restrictions. Keto, vegan, paleo, or gluten-free.
No diet should hinder you from eating your favorites, even if that means satisfying your sweet tooth.
With that said, here are the 14 best gluten-free bakeries you can find in Dallas, Texas, for a quick delish dessert!
Note: While we used our best judgment based on available information online, there can be some modifications without prior knowledge. Information such as ingredients, recipes, locations, and preparation may change.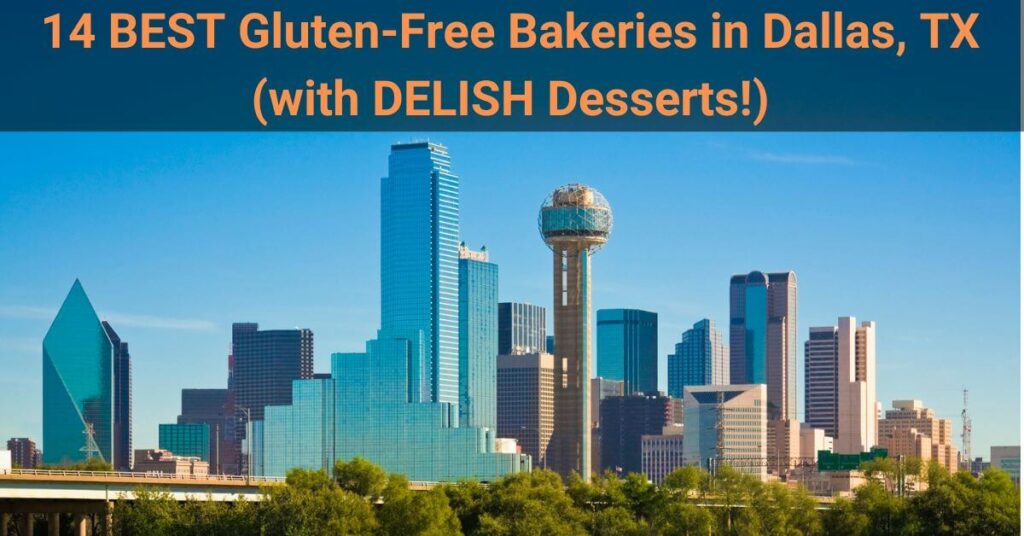 This post may contain affiliate links, which help keep this content free. (Full disclosure)
1. Unrefined Bakery
Address: 6464 E NW HWY Suite 326 Dallas, TX 75214
Website: https://unrefinedbakery.com/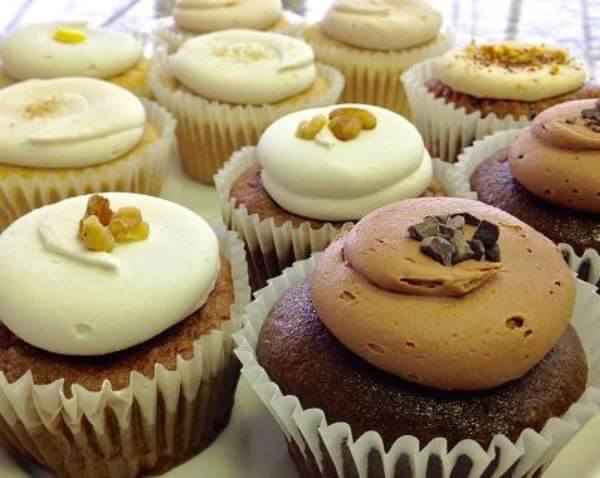 Phone Number: (214) 414-2414
Operating Hours: Monday-Saturday 10 AM – 6 PM, Sunday 12 PM – 6:00 PM
If you're craving a rich gluten-free chocolate cupcake in Dallas, Unrefined Bakery is your next cloud nine. The bakery boasts of taking allergen-free baking to a whole new level.
As expected, this 100% gluten-free bakery down at Medallion Center has succeeded in doing so. Why else would it be super loved by its loyal customers?
In fact, Unrefined Bakery is one of those gluten-free bakeries in Dallas offering custom cakes! They can bring your dream cake to life, free of any allergens. "If you need it, chances are we make it!" Here are a few of their gluten-free treats:
Bread
Grain Rolls
Grain Sandwich Bread
Cornbread
Hamburger Buns
Keto-Paleo Bread or Rolls
Pizza Crust
Rosemary Dinner Bread
Whole Grain Bread
Muffins
Banana
Banana Walnut
Blueberry
Pumpkin
Chocolate
Lemon Cranberry
Cinnamon Sweet Rolls
Paleo Lemon Cranberry Muffins
Paleo Morning Muffin
Sweet Bread
Banana Bread
Coffee Cake
Gingerbread
Pumpkin Bread
Pies
Pecan
Derby Pie
Pumpkin
Winterberry
Dark Chocolate Silk
Coconut Custard
Summerberry
Appleberry
Cupcakes
Chocolate
Carrot
Vegan Vanilla
Loaded Monkey
Lemon
Brown Velvet
Cookies
Keto Whoopie
Vegan
Decorated
Classic
YOU MAY ALSO LIKE: Gluten-Free Options at Penn Station
---
2. Hannah's Gluten-Free Bakery
Address: 371 Jefferson Blvd Suite #A1, Dallas, TX 75208, United States
Website: https://hannahsglutenfreebakery.com/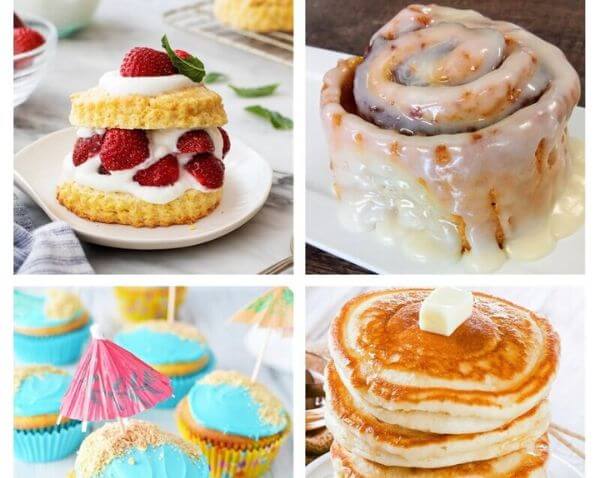 Phone Number: 469 (708) 9864
Unlike other bakeries, Hannah's Gluten-Free Bakery has different things waiting for you. Instead of pastries, you can buy gluten-free baking mixes that come with instructions to guide you.
Or you can join one of their baking classes (virtual or in person) to learn everything you need to know about baking gluten-free treats at home!
Bread Mixes
Gluten-Free Sandwich Bread Mix
Gluten-Free Buttermilk Biscuits Mix
Gluten-Free Crescent Roll Mix
Gluten-Free Dinner Roll Mix
Gluten-Free Focaccia Bread Mix
Breakfast Mixes
Blue Ribbon Gluten-Free Pie Crust Mix
Gluten-Free Kolache Mix
Gluten-Free Pancake & Waffle Mix
Gluten-Free Sweet Roll Mix
Gluten-Free Vegan Sweet Roll Mix
Cake Mixes
Premium Gluten-Free Chocolate Cake Mix
Premium Gluten-Free Vanilla Cake Mix
Donut Mixes
Gluten-Free Yeast Raised Donut Mix
Gluten-Free King Cake Mix
Gluten-Free Beignet Mix
Scone Mixes
Gluten-Free Sweet Scone Mix
Gluten-Free Savory Scone Mix
Dinner Mixes
Gluten-Free Gravy Mix
Gluten-Free Seasoned Fried Chicken Mix
Pastry Mixes
Gluten-Free Cookie Mix
Gluten-Free Sugar Cookie Mix
---
3. Reverie Bakeshop
Address: 980 N Coit Rd, Suite 2850, Richardson, TX 75080, USA
Website: https://www.reveriebakeshop.com/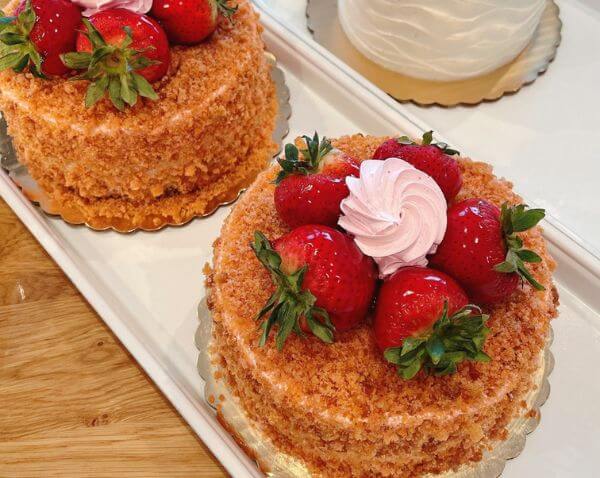 Phone Number: (972) 238-7511
Operating Hours: Tuesday-Friday 7 AM – 4 PM, Saturday 7 AM – 3 PM
Hop on a reverie-like experience at this 100% vegan bakery offering some of the best gluten-free cakes in Dallas, Texas. To know why it was called Reverie, you have to taste how heavenly its pastries are.
Everything on the menu is delightfully vegan. You can request other cakes to be made gluten-free at an additional cost. That means you can enjoy a Classic Vanilla cake or cookie without worrying too much!
Pastries
Pumpkin Cinnamon Roll
Cake Donuts
Muffins
Mixed Berry White Chocolate Scone
Maple Pecan Scone
Cookies
Oatmeal Cookie Sandwich
Chocolate Chip Cookie Sandwich
Rice Crispy Treats
Brownies
Peanut Butter Cups
Cake Balls
Reverie Classics
Classic Vanilla
Classic Chocolate
Classic Marble Cake
Reverie Signatures
Fauxstess
Strawberry Charlotte
Red Velvet
S'mores
Cookies And Cream
Italian Cream
Reverie Deluxe
Chocolate Peanut Butter
Sunny Side Lemon
Strawberry
Raspberry Almond
Chocolate Raspberry
Honee Cream Cheese
Jane's Chocolate Addiction
Carrot Cake
German Chocolate
Chocolate Lavender
Whipped Cream Cakes
RECOMMENDED: Gluten-Free Options at Caribou Coffee
---
5. Sugarless deLite
Address: 1389 W Campbell Rd Richardson, TX 75080
Website: https://sugarlessdelite.com/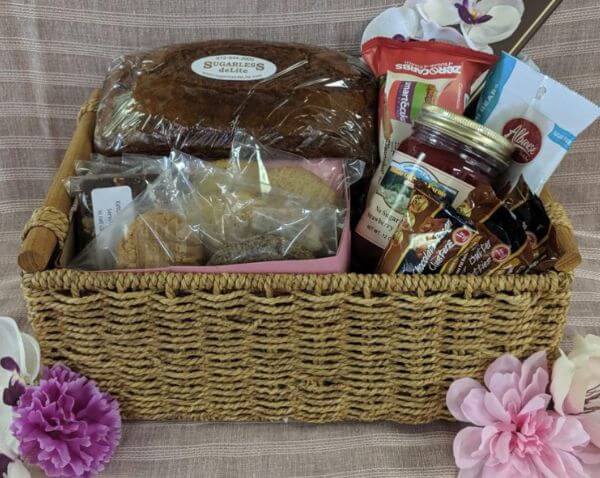 Phone Number: 972-644-2000
Operating Hours: Monday-Friday 10 AM – 5 PM, Saturday 10 AM – 6 PM, Sunday 12 PM – 5 PM
In the mood for unique gluten-free desserts in Dallas? If so, give this 100% sugar-free bakery a try. As an award-winning sugar-free bakery, its products surely appeal to lots of other diets, too.
Sugarless deLite has a promising range of delectable pastries to keep your cravings at bay. You can get low-carb cheesecakes if you feel like getting something sweet and salty.
Or maybe a crunchy pecan-topped brownie for that extra crunch.
Overall, what sets this bakery apart is its dedication to baking desserts that are both healthy AND super delish!
Fudge Brownies
Low-Carb German Chocolate Cake Bars
Low-Carb Pecan Fudgie Brownie Bars
Smartcakes

Cinnamon
Vanilla Latte
Lemon
Keto-Friendly and Gluten-Free Chocolate Chip Pecan Cookie Box
Low-Carb Original New York Style Cheesecake
Low-Carb Brownie Cheesecake
Low-Carb Strawberry Swirl Cheesecake
Keto-Friendly Cookie and Brownie Tin-Always Diabetic Friendly
Chocolate Peanut Butter Brownies
Crunchy Pecan Topped Brownies
Assorted Brownies
---
6. Trouvi Cookie Company
Address: 580 W. Arapaho Road Richardson, TX 75080
Website: https://www.trouvicookies.com/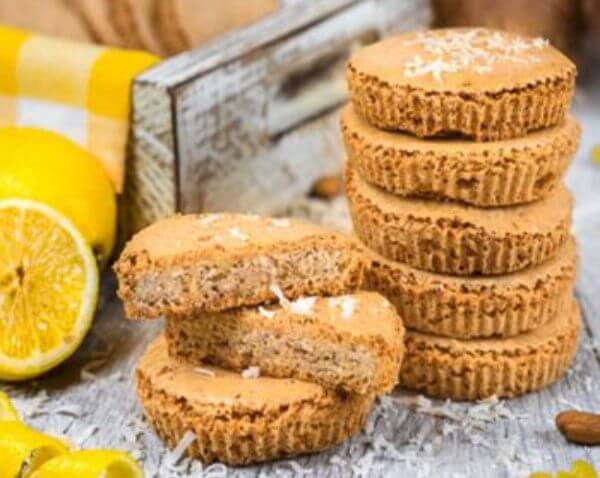 Phone Number: 214-552-8814
Operating Hours: Monday-Tuesday, Thursday 10 AM – 9 PM, Friday 10 AM – 10 PM, Saturday 6 PM – 10 PM, Sunday 6 PM – 9 PM
Nothing beats a dessert topped with a guilt-free experience. And at Trouvi, cookies are always gluten-free.
This gluten-free bakery in Dallas, Texas, has some of the most creative takes on gluten-free cookies. Where else would you find a cookie as good as its top-selling, gluten-free Sweet & Salty Cookie?
This one features the perfect ratio of sweet and salty in one gluten-free treat. Dark chocolate chips, salted pretzels, toasted coconut, some caramel and vanilla, and a pinch of salt that balances it all together.
Sweet & Salty
Lemon Sunshine
White Velvet Vanilla
Peanut Butter Chocolate Chip
The Chocolate Chip
Ginger Molasses
Peanut Butter Overload
Oat Of This World
Snickerdoodle
Sweet Orange Marmalade
Mint Chocolate Chip
Triple Shot Chocolate Espresso
Chocolate Chunk Explosion
Lemon Coconut Bliss
Hey There Pumpkin
Wild Strawberries & Cream
Lemon Blueberry
The Guilty Pleasure
---
7. Haute Sweets Patisserie
Address: 10230 E NW Hwy, Dallas, TX 75238, United States
Website: https://www.hautesweetspatisserie.com/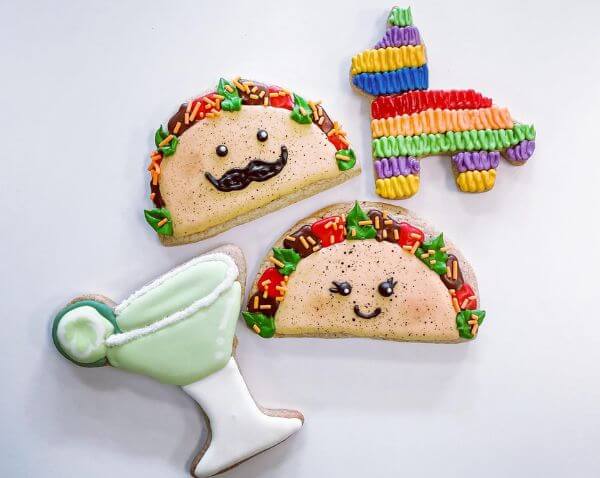 Phone Number: 214-856-0166
Operating Hours: Friday-Saturday 11 AM – 6 PM, Tuesday-Thursday 11 AM – 5 PM
Chef Tida Pichakron and her extremely talented team of artisans are what makes Haute Sweets an award-winning patisserie.
Anyone looking for a gluten-free gourmet bakery in Dallas can come to say Howdy and taste the perfection she puts into her craft.
Lots of customers gush about how good its gluten-free French macarons are! There are many flavors on the menu, from PB&J, Coffee to Salted Caramel.
If you want to grab one for your gluten-sensitive friend, the Poop Emoji Macaron makes the best choice. It's a fun gluten-free treat that can bring a smile to anyone.
8" Chocolate Flourless Cake
Cherry Almond Bar
Chocolate Brownie
Coconut Lemon Bar
French Macarons
Poop Emoji Macaron
Amaretti
Chocolate Molten Cake
Mini Mocha Flourless Cake
Paleo Banana Chocolate Chip Cookie
---
7. Local Oven
Address: 4436 McEwen Rd, Farmers Branch, TX 75244, United States
Website: https://localoven.com/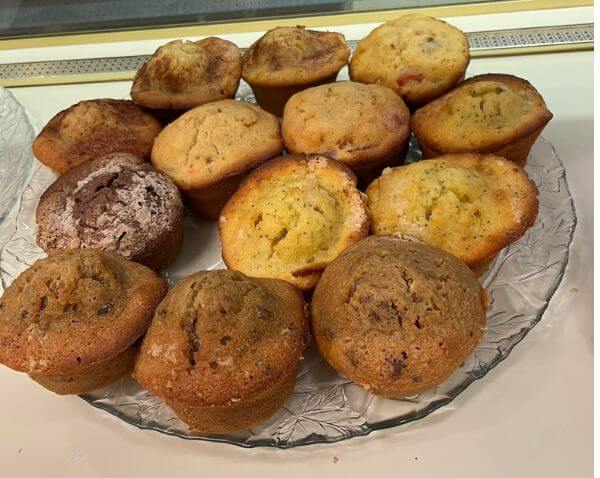 Phone Number: 972-250-1818
Operating Hours: Monday-Friday 8 AM – 5 PM
Finding a restaurant with gluten-free bread options for burgers or pizzas feels like a treasure hunt. Anyone with gluten sensitivity knows how tough this can be.
But if you're in Dallas looking for gluten-free bread, this shouldn't be a problem as Local Oven makes some of the best gluten-free baked goods in the city.
It's a bakery making way for your return to variety and more choices of gluten-free baked goodies.
So, whether you're looking for a nice gluten-free bun for your juicy burger or just a cookie for dessert, Local Oven's artisan bread and pastries will keep you on your toes.
Breads
Sliced Bread
Pita Pocket
Baguettes
Flatbread
Buns And Rolls
Hamburger Bun
Deluxe Onion Roll
Hamburger Bun with Sesame Seeds
Hoagie Roll
Hotdog Buns
Onion Dinner Rolls
Plain Dinner Rolls
Southern Biscuits
Bagels
Plain Bagel
Sesame Seeds Bagel
Everything Bagel
Pizzas
Tortillas
Flour Tortillas
Flour Wraps
Spinach Wraps
Sweets
Chocolate Chip Brownie
Blueberry Banana Muffin
Chocolate Chip Cookie
Oatmeal Raisin Cookie
Snickerdoodle Cookie
Chocolate Chip Biscotti
---
8. And I Like It
Address: 850 W. Arapaho, Richardson, TX Richardson, TX 75206
Website: https://andilikeit.com/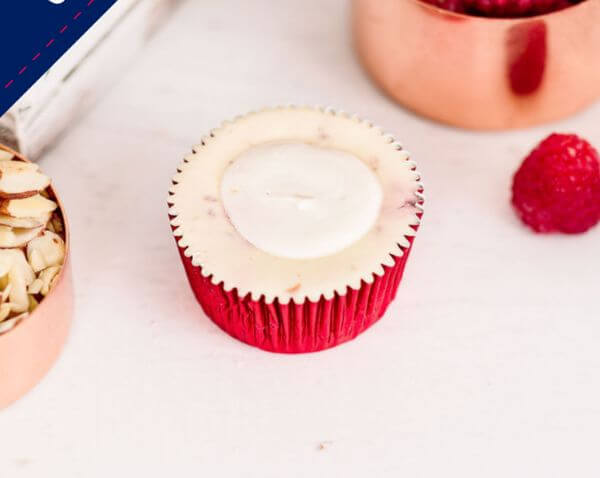 Phone Number: 214-810-5782
Operating Hours: Monday-Wednesday 10 AM – 7PM, Thursday 10 AM – 5 PM, Friday 9 AM – 5 PM
Sugar and gluten can be addicting. The company's owner, Ericka, knows that. After being diagnosed with severe gluten sensitivities, she had to give these up.
And I Like It has then become the fruition of her endeavor to find gluten-free treats that taste just as good! It's a gluten-free bakery in Dallas serving unforgettable healthy cheesecakes.
Her specialty products consider the consumers' health the most, so you're extra safe with her treats.
Other than flavorful, healthy cheesecakes, there are also Candied Keto Pecans you can munch on while touring Dallas. You can also grab an all-natural sweetener or gluten-free baking blend when you feel like baking a batch of treats at home!
Cheesecakes – Keto, Low-Carb, and Gluten-Free!
Original
Raspberry
Key Lime
Chocolate Chip
Mix & Match
Lemon Blueberry (June 1 – August 31)
Pumpkin (September 1 – December 31)
Spiced Rum (January 1 – February 28)
Grasshopper (March 1 – May 31)
Candied Nuts
Candied Keto Pecans (2 Oz or 5 Oz)
All-Natural Sweeteners (Sugar Substitutes)
High Purity Stevia
FirstRate
Topnotch
---
9. Dessert Unlimited
Address: 1804 Market Center Blvd, Dallas, TX 75207, United States
Website: https://www.dessertunlimited.com/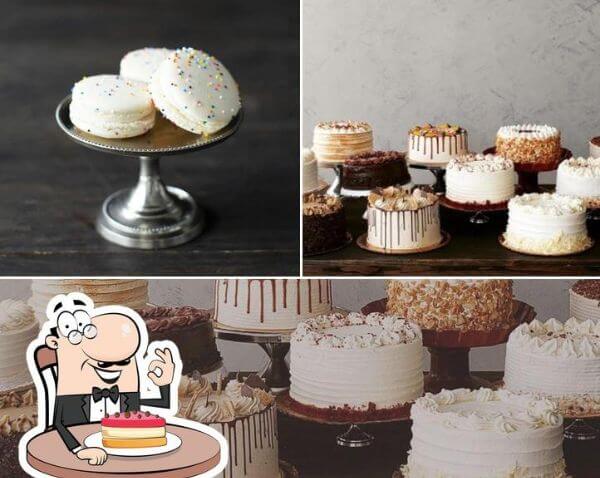 Phone Number: 214-258-5294 / 469-509-3883
Operating Hours: Monday-Sunday 12 AM – 12 PM
Imagine a rich, molten chocolate cake overflowing with dark chocolate ganache. Taking a bite of it sounds like a dream if you're on a gluten-free diet.
Luckily, Dessert Unlimited brings this dream to life. Thanks to its luxurious yet inclusive options, anyone can enjoy luxurious gluten-free chocolate cakes in Dallas, Texas.
Its Chocolate Molten Cake is a best-selling, MUST-TRY that you have to get!
But if you want a smaller bite, Dessert Unlimited also has gluten-free French macarons with tons of flavors to choose from.
9" Chocolate Flourless Cake – rich flourless chocolate cake glazed in dark chocolate ganache. Decorated with dark chocolate shavings.
Chocolate Molten Cake – a famous best-selling gluten-free treat! Fudgy, underbaked chocolate cake filled with dark chocolate ganache.
French Macarons
Raspberry
Passion Fruit
Lemon
Pistachio
Vanilla
Lavender
Salted Caramel
Chocolate
---
10. Sprinkles
Address: 4020 Villanova St, Dallas, TX 75225, United States
Website: https://sprinkles.com/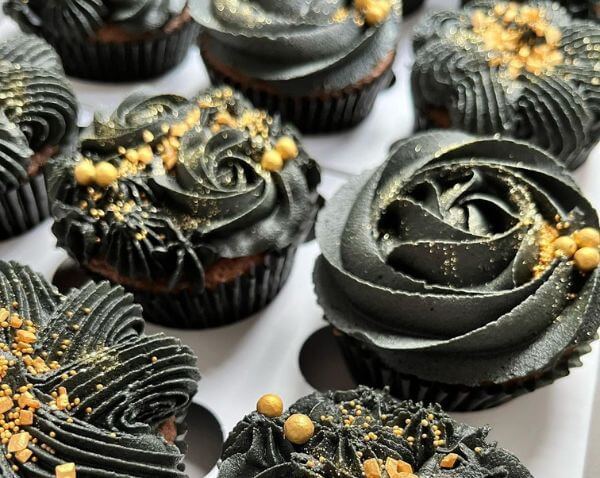 Phone Number: 888-220-2210
Operating Hours: Monday-Thursday 10 AM – 9 PM, Friday-Saturday 10 AM – 10 PM, Sunday 10 AM – 8 PM
Baking since 2005, Sprinkles makes celebrations a little better thanks to its premium cakes. With its nationwide shipping offer, even people looking for rich gluten-free cakes outside Dallas can have a delish fest!
Sprinkles' selection of gluten-free cakes proves that gluten-free desserts don't have to taste awful after all. With its gluten-friendly twists on your usual favorites, each baked treat will leave you begging for more.
If you're looking for something more bite-sized, there's a smaller gluten-free cupcake version for each layer cake. It's the real Sprinkles deal.
Layer Cakes
Red Velvet – southern style light chocolate cake with a cream cheese frosting.
Lemon Blueberry – lemon cake packed with wild blueberries stuffed with lemon cream cheese frosting.
Cupcakes
Red Velvet
Lemon Blueberry
Gluten-Friendly Chocolate Chip Cookie – buttery golden-brown cookie with semisweet chocolate chips
---
11. Pinch of Salt Pastries
Address: 280 Commerce St Ste 107, Southlake, TX 76092, United States
Website: https://www.pinchofsaltpastries.com/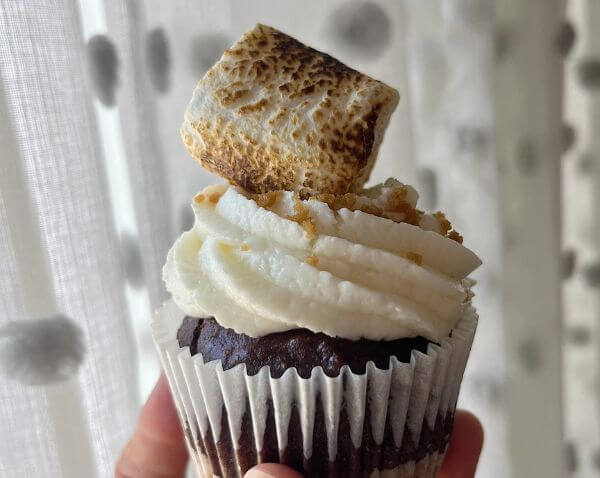 Phone Number: 817-251-9500
Operating Hours: Monday-Friday 9 AM – 4 PM, Saturday 9 AM – 2 PM
As a dedicated gluten-free kitchen with 100% gluten-free treats, Pinch of Salt proves that desserts are for everyone regardless of your special diet. That means no restriction should stop you from enjoying her gluten-free cupcakes!
While the store doesn't have a storefront yet, you can pre-order her sweet gluten-free treats in Dallas for pick up while you're there. Abby's cakes are most certainly to die for.
You can customize your cake or order a pre-made one like the stunning Texas Sun Cake. It's a gluten-free lemon cake with fresh grapefruit curd filling and vanilla Swiss buttercream. A beautiful Texas view baked into a cake.
Cupcakes
Cupcakes
S'mores Cupcakes
"Texas Sun" Citrus Cake
Bread
Brown Sugar Almond Bread, Loaf or Mini Loaf
Cinnamon Coffee Cake
Lemon Blueberry Pound Cake
Pumpkin Streusel Bread, Loaf or Mini Loaf
Donuts
Chocolate Sprinkle Donut with Vanilla Glaze
Peaches and Cream Donut
Bars
Berry Crumble Bars
Fudgy Brownie
Honey Almond Granola Bar
Salted Chocolate Chip Blondie
Cookies
Brown Butter Chocolate Chip Cookie
Brown Butter Snickerdoodle
Caramel Turtle Cookie
Chocolate Chip Cookie Sandwich
Espresso Chocolate Chip Biscotti
Frosted Sprinkle Sugar Cookie
Lemon Drizzle Sugar Cookie
Lemon Poppy Biscotti
Oatmeal Chocolate Chip Lactation Cookie
Oatmeal Cream Pie
Paleo Salted Chocolate Chip Cookie
Summer Flower Decorated Sugar Cookie
Sugar Cookie Decorating Kits
Muffins
Blueberry Streusel Muffin
Honey Pistachio Muffin
Others
Cake Pops
Cinnamon Roll Pan
Sausage And Cheddar Kolaches
Cakes
Chocolate
Brown Sugar Vanilla
Almond Vanilla
Confetti
Salted Caramel
Strawberry
Lemon
German Chocolate
Carrot
Red Velvet
---
12. E's Gluten-Free Texas
Address: 4315 Action St, Garland, TX 75042, United States
Website: https://www.egftx.com/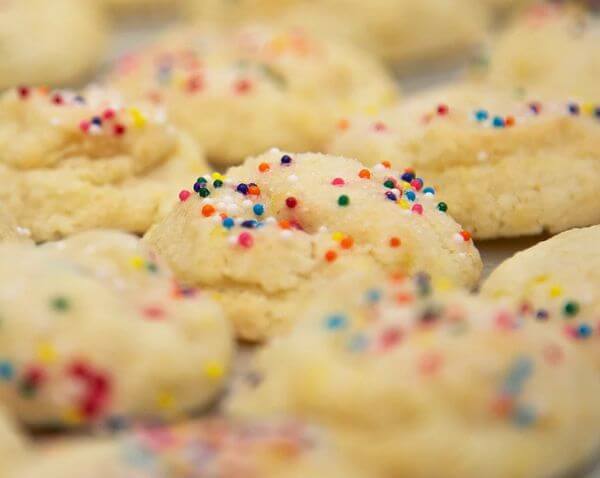 Phone Number: 817-296-6707
Operating Hours: Saturday 10 AM – 4 PM
Let's face it. Gluten-free tradeoff desserts in groceries often taste like… carboard. Bland and boring. But why settle for these if you could have a better gluten-free dessert with a special kick to it?
We're talking about E's Gluten-Free Bakery in Dallas, Texas. This locally owned business delivers the familiar feeling of eating a traditional cookie with that soft, moist texture. But this time, with a hidden lemon twist.
The best part is that you're not eating bad stuff like preservatives or artificial ingredients. Just a real, gluten-free pastry (with a zesty lemon kick) showing you "how good gluten-free can be!"
Gluten-Free Lemon Sugar Cookies (6 oz) – soft, delicious sugar cookies with a hint of lemon. No preservatives, gluten, soy, and cornstarch.
---
13. Emporium Pies
Address: 314 N. Bishop Ave. Dallas, TX 75208
Website: https://emporiumpies.com/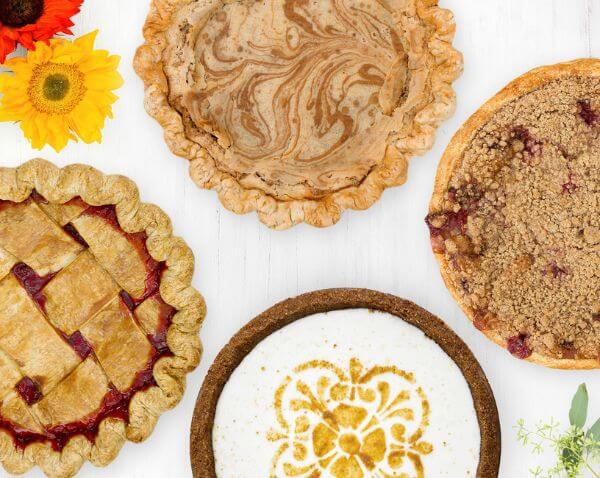 Phone Number: 469-206-6126
Operating Hours: Sunday-Thursday 11 AM – 10 PM, Friday-Saturday 11 AM – 11 PM
Craving for a crumbly, loaded pie today? Frankly, it's always a nice day for a pie stuffed to the crust with loads of tasty stuff.
If you're looking for the finest gluten-free pie in the city, Emporium Pies is your friend. Its deliciously handmade pies made fresh every day only use the highest quality of ingredients.
Rest assured, you're eating the best chocolate gluten-free pie anyone in Dallas, Texas, could find.
Smooth Operator Pie – Silky-sweet French chocolate on a pretzel crust topped with a chocolate rosette. It highlights the pristine balance of salty and sweet. Gluten-Free Available!
---
14. Corner Bakery
Address: 11700 Preston Rd Ste 880 Dallas, TX 75230
Website: https://cornerbakerycafe.com/
Phone Number: 214-891-1690
Operating Hours: Tuesday-Sunday 7 AM – 8 PM, Monday 7 AM – 3 PM
With over seven locations in Dallas, Corner Bakery is quite literally in every corner you turn. It's an ideal spot for you and your bunch when grabbing something to eat for any hour of the day, from brunch to dinner.
Anyone looking for a resto with a gluten-free bread option in Dallas, Texas, will find Corner Bakery a delight. Note: menus vary for each location.
Breakfast Scramblers – order without toast
All-American Scrambler
Veggie Scrambler
Anaheim Scrambler
Breakfast Sandwiches – order with a gluten-friendly option.
BBLT & Egg Sandwich
Bacon & Cheddar Panini
Anaheim Panini
Avocado & Spinach Breakfast Wrap
Bacon, Egg & Cheddar Breakfast Wrap
Sausage, Egg & Cheddar Breakfast Wrap
Sandwiches & Panini – order with a gluten-friendly option.
Uptown Turkey Avocado Sandwich
Turkey Bacon Ham Stack Sandwich
BBLT Sandwich
Tomato Mozzarella Sandwich
Ham & Swiss Sandwich
Chicken Pesto Sandwich
Rustic Italian Panini
Club Panini
Chicken Pomodori Panini
Entrée Salads – order without croutons or sweet crisps.
Chopped Salad
Southwest Salad
Caesar Salad
Harvest Salad
Mixed Greens Salad
Turkey Avocado Cobb Salad
Sides
CBC Chips
Carrot Sticks
DC Chicken Salad
Albacore Tuna Salad
Seasonal Fruit Medley
Caesar Salad (without croutons)
Mixed Greens Salad (without croutons)