One of the best destinations to get away to when you're feeling swamped is Austin, Texas. With its vibrant cultural scene and picturesque views, the Live Music Capital of The World will surely satisfy your inner travel junkie.
Part of being a travel junkie is, of course, enjoying a city's authentic cuisine. Austin delivers a bucket list of options for anyone on a serious food trip.
Whether you're in for savory barbecues, traditional Tex-Mex flavors, or crunchy tacos, there's so much to these that you can explore in the city's rich dining scene.
If you're health-conscious and worrying about fully enjoying Austin, you won't be disappointed with what the city has to offer. We promise! You can get a gluten-free fix for your sweet tooth, or maybe a savory vegan meal, too.
There are tons of choices regardless of your restrictions.
With that said, this list is all you need. Here are the top 14 best gluten-free bakeries in Austin, Texas, that you can visit for a healthy, delish dessert.
Note: While we used our best judgment based on available information online, there can be some modifications without prior knowledge. Information such as ingredients, recipes, locations, and preparation may change.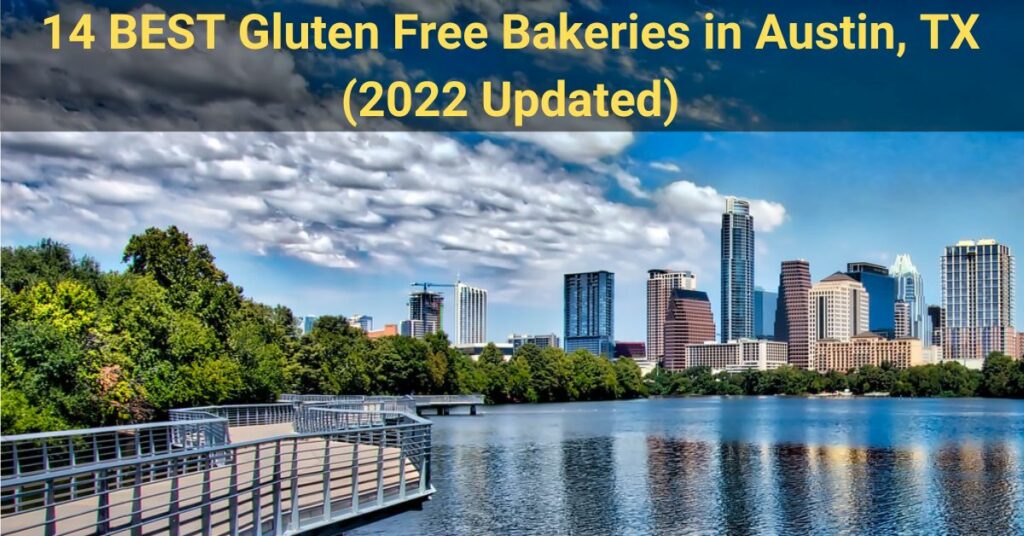 This post may contain affiliate links, which help keep this content free. (Full disclosure)
1. Zucchini Kill
Address: 701 E 53rd St Suite C, Austin, TX 78751, United States
Website: https://www.zucchinikill.com/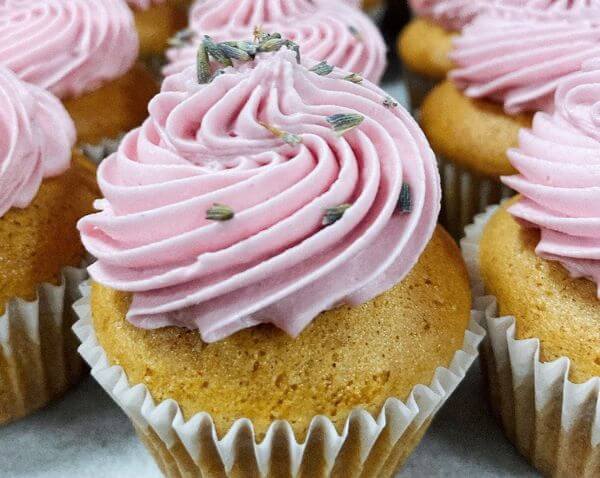 Phone Number: 737-215-5936
Operating Hours: Wednesday-Friday 3 PM – 8 PM, Saturday 10 AM – 8 PM, Sunday 10 AM – 6 PM
For a pretty cool name, Zucchini Kill also has desserts anyone would kill for! It's a women-owned, gluten-free, vegan bakery in Austin that bakes revolutionary desserts.
You can pick up one of their gluten-free bread in Austin so you can take it home for brunch. There's also a wide selection of gluten-free cupcakes at Zucchini Kill that are all crazily tasty!
Sweet Specials
Zucchini Cake with Scream Cheeze
Dawn of the Donut Cupcake
Chocolate Strawberry Donuts
6" Triple Chocolate Cake
Best Sellers & Cupcakes
Rebel Swrrrl Swiss Rolls
Chocolate Donut
Cinnamon Roll Donut
Cream Coffins
Left Over Swiss Roll Edges
Coffee Cake
Triple Chocolate Cupcake
Peach Gobbler Cupcake
Laven-Derketa Cupcake
Peanut Butter Cupcake
Smores Cupcake
Strawberry Abyss Cupcake
Zucchini Carrot Cake Cupcake
Pretty Vanilla Cupcake
Lemmy Berry Cupcake
Cookies
Rosemary Chocolate Chip Cookie
Chocolate Chip Cookie
Bread
Sorghum Sandwich Bread Full
Zucchini Bread Slice
YOU MAY ALSO LIKE: Gluten-Free Options at Penn Station
---
2. Sweet Charli Girl
Address: Mueller Farmers Market, Pick-up in Northwest Austin (Spicewood Springs/Mopac)
Website: https://www.sweetcharligirl.com/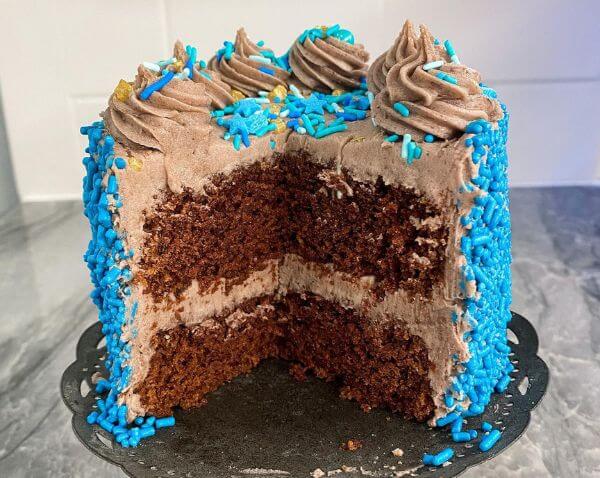 Phone Number: 512-771-5017
Operating Hours: Sunday 10 AM – 2 PM
Looking for classic gluten-free pies in Austin, Texas? There's no better place to get yours than at Sweet Charli Girl. It's a gluten-free bakery in Austin, chilling at Mueller Farmers' Market on Sundays.
Some pies are from their grandmother's recipe, reminding you of that warm feeling when eating a nice traditional pie made with love.
While all Sweet Charli Girl's pies look yummy, the Salted Caramel Chocolate Pecan Pie is a popular favorite you have to get!
Cookie Cake
Cookie Filled Cookies
Triple Chocolate Cookies
Funfetti Cookies
Chocolate Chip Cookies
Crumble Bars
Layer Cake
2-Layer Cake
Cupcakes (Full-Size or Miniature)
Vanilla Cheesecake
Chocolate Cheesecake
Lemon Cheesecake
Flourless Chocolate Cake
Chocolate Peanut Butter Bars
Candy Filled Brownies
Double Chocolate Brownies
Hot Cocoa Brownies
Sugar Cookie Bars
Molasses Cookies
Pumpkin Pie
Salted Caramel Chocolate Pecan Pie
Banana Cream Pie
Chess Pie
Chocolate Chess Pie
Coconut Cream Pie
Unbaked Pie Crust
Vanilla Petit Fours
Banana Bread
Pumpkin Bread
Zucchini Bread
Biscuits
Dodgy Cake
Vegan Strawberry Almond Tart
Vegan Layer Cake
Vegan Chocolate Peanut Butter Bars
Vegan Double Chocolate Brownie Bites
Vegan Breakfast Bars
RECOMMENDED: Gluten-Free Options at Caribou Coffee
---
3. Cupprimo
Address: 8650 Spicewood Springs Rd #105, Austin, TX 78759
Website: https://www.cupprimo.com/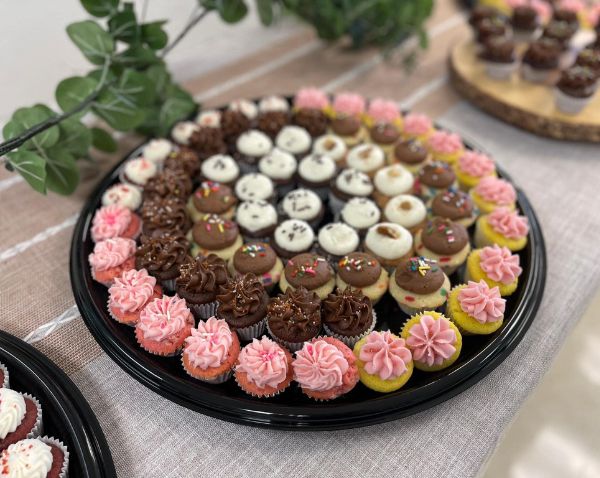 Phone Number: 512-335-7746
Operating Hours: Monday-Saturday 7 AM – 9 PM, Sunday 8 AM – 4 PM
Serving Austin since 2008, Cupprimo has been on the top of its game of serving gluten-free cupcakes to the streets of Austin. It prides itself on being the crème de le crème of Austin's cupcakeries.
Be their guest and see its wide selection of yummy gluten-free treats when visiting the city.
Cupprimo has an assortment of gluten-free cupcakes available daily. Customers can grab a box of cupcakes to eat at home. It's also a good idea to eat one with a cup of coffee at their store!
Note: Check Cupprimo's Facebook and Instagram pages for the weekly gluten-free menu.
Health Bliss
Primo Vanilla
Rainbow Sherbet
Chocolate Razz
Cherry Limeade
Dreamsicle
Double Chocolate
Lemon Berry
Strawberry
Reece's Rip-Off
Tuxedo
Salted Caramel
Strawberry Lemonade
Oreo
Margarita
Red Velvet
Chocolate Truffle
Baker's Choice
Lemon Raspberry
Choc-A-Salt
READ MORE: BEST Gluten-Free Bakeries in Rochester, NY
---
4. OMG Squee
Address: 4607 Bolm Rd. Austin, TX, 78702
Website: https://www.squeeclub.com/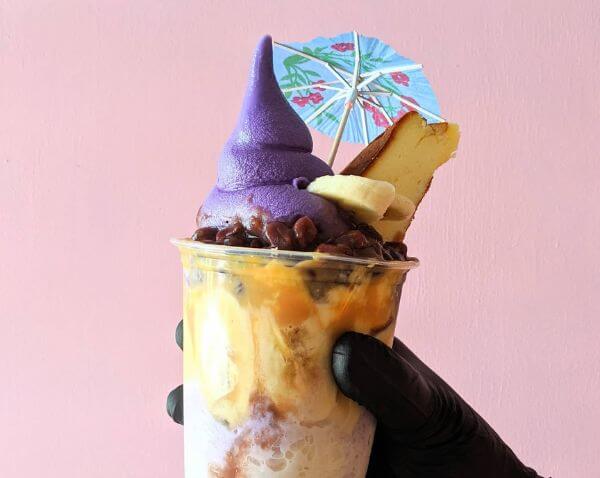 Phone Number: 512-435-9113
Operating Hours: Thursday 11 AM – 6 PM, Friday – Sunday 11 AM – 9 PM
Squee! is what you say when experiencing delight. Maybe after seeing a cute dog or eating a gooey cookie. Believe us. You'll also "squee!" after grabbing a bite of OMG Squee's Asian American gluten-free desserts in Austin.
Owner Sarah Lim has curbed baking Asian American desserts to a whole new level. Where else could you find a yummy gluten-free Butter Mochi Donuts as good as hers?
OMG Squee's 100% gluten-free kitchen invites you to visit them to understand what the word "squee" truly means.
Fun fact, BTW. You can get a glimpse of Sarah's story on Netflix's Queer Eye as one of Austin's Heroes. Clue? It's in season 6.
Mochi Donut Flavors
Black Sesame Churro – topped with black sesame and cinnamon
Tiramisu – coffee glaze topped with marscapone buttercream and cocoa powder
Ube Queso – Ube donut with cheese glaze
Coconut Pandan – vanilla, almondy taste of Pandan paired with crunchy coconut flakes
Lemon Butter
Miso Milk Caramel – the perfect blend of salty, savory, and sweet
Ube Choco Chip – chocolate chip mochi donut dipped in Ube glaze
Mexican Vanilla – cute Mexican classic donut
Rainbow Half Dozen – includes six flavors:
Cookies N' Cream
Rose + Raspberry
Yuzu Meringue Pie
Salted Pistachio
Fruity Pebbles
Milk Chocolate
---
5. Sugar Mama's Bakeshop
Address: 1905 S 1st St, Austin TX 78704
Website: https://www.sugarmamasbakeshop.com/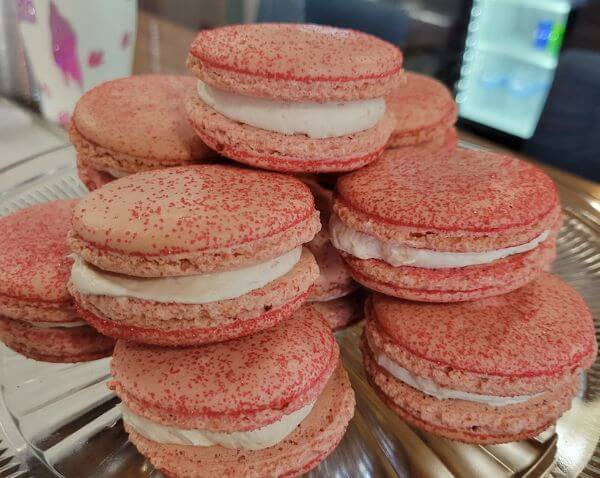 Phone Number: 512-448-3727
Operating Hours: Tuesday-Saturday 10 AM – 7 PM
You can count on Sugar Mama's Bakeshop when looking for jaw-dropping, gluten-free cupcakes in Austin, Texas. Its grand cupcake sets are a must-have addition to any special occasion you're having.
Sugar Mama's decorators go wild (in a good way!) in the kitchen when baking up your cupcakes. Their cupcakes look just as crazy good as how they taste.
Before ordering, let them know of your gluten-free or VGF (vegan and gluten-free) preference, and you're good to go.
Everything Cookie
Sweet Jane Cupcake
Fantastic Creatures Cupcakes
Party Pants Cupcakes
School Spirits Cupcakes
Superhero Cupcakes
Floral or Succulent Cupcakes
Auntie's Gluten-Free Flour or Pancake and Waffle Mix
---
6. Dream Bakery Café
Address: 203 Wells Branch Parkway #109, Austin, TX, 78728
Website: https://dreambakery.com/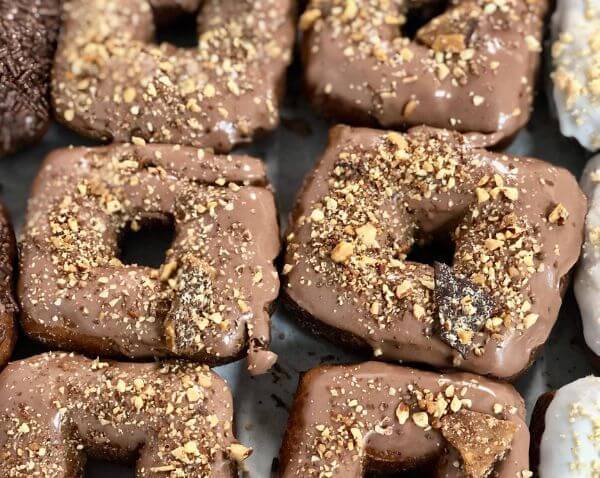 Phone Number: 512-494-4009
Operating Hours: Wednesday 10 AM – 3 PM, Thursday-Sunday 9 AM – 3 PM
If you're looking for a stellar team of cake designers crafting customized gluten-free cakes in Austin, Dream Bakery is what you need.
Whether you need a cake for a wedding, an office meeting, or just a little treat for yourself, they got your back.
Dream Bakery offers pre-made signature gluten-free cakes which you can customize with a simple message. Among their flavors, the Old-Fashioned Chocolate cake topped with a rich dark chocolate ganache drip looks (really) yummy.
You can customize a gluten-free cake with your choice of cake, fillings, and frostings. Just give them a call for a quote!
Signature Cakes
Classic Vanilla
Old Fashioned chocolate
Red velvet
German chocolate
Carrot cake
Custom Cakes – your choice of cake, fillings, and frostings. All cakes have four layers of cake with three layers of filling.
Cakes – chocolate, vanilla, funfetti, strawberry, red velvet, carrot, seasonal
Fillings – buttercream, chocolate buttercream, cream cheese, strawberry, raspberry, lemon, chocolate mousse, strawberry mousse, German chocolate, salted caramel, dark chocolate ganache, caramel and pecans, whipped cream
Frostings – buttercream (chocolate or dairy-free), cream cheese, dark chocolate ganache, white chocolate ganache, whipped cream fondant
---
7. Angel Donuts and Treats
Address: 8300 North FM 620 Building A, Suite 200 Austin, Texas 78726
Website: http://www.angeldonuts.com/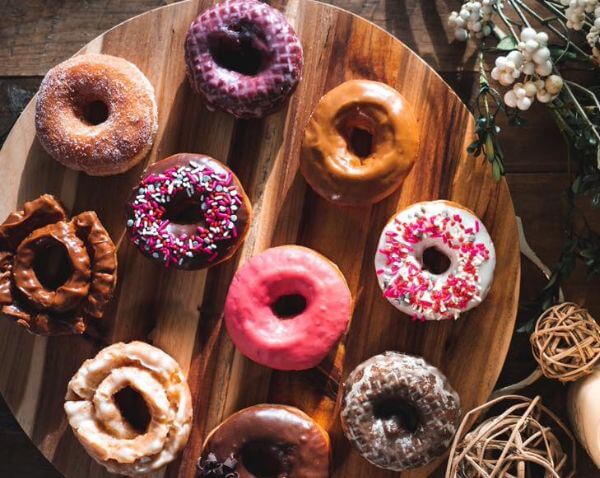 Phone Number: 512-330-4825
Operating Hours: Monday-Tuesday, Thursday, Sunday 7 AM – 4 PM, Friday-Saturday 7 AM – 8 PM
Standing inside the Trails at 620 is the heavenly bakeshop of Angel Donuts. Its modern and high-quality interpretations of classic treats say a lot about its name.
Anyone looking for a gluten-free, vegan bakery in Austin will be very thankful for the angels handcrafting its gluten-free pastries. There's a delicious, housemade gluten-free cookie for a small guilt-free treat.
Maybe some gluten-free cake balls to bring home to your bunch.
It's dessert time made simple at Angel Donuts and Treats!
The Halo Donut
Chocolate Iced
Cinnamon Sugar
Powdered Sugar
Gluten-Free Muffin
French Macarons
Cherry Chocolate
Chocolate Nutella
Crème Brulee
Espresso Macaron
Honey Lavender
Lemon
Vanilla
Seasonal
Gluten-Free Chocolate Chip Cookies
---
8. Mr. Natural
Address: 1901 E. Cesar Chavez Austin, Texas 78702
Website: https://www.mrnatural-austin.com/
Phone Number: 512-477-5228
Operating Hours: Monday-Saturday 8 AM – 8 PM
You're missing out a lot if you haven't tried a filling, gluten-free empanada. Thinking about where to get one? You'll find the answer somewhere along East and South Austin.
Mr. Natural is a gluten-free, vegan bakery in Austin offering a wide variety of baked goodies made with all-natural ingredients and no preservatives! Thankfully, its bakery has a lot of gluten-free pastries for your sweet tooth.
You can grab a quick gluten-free cookie for yourself or maybe a handful of gluten-free pumpkin empanadas for your pantry.
Gluten-Free Muffins
Banana Chocolate Chip
Cranberry Orange
Peach
Dark Chocolate
Blueberry
Gluten-Free Empanadas
Pumpkin
Sweet Potato
Pineapple
Gluten-Free Cookies
Texas Almond Cookies
Snickerdoodle
Chocolate Chip & Pecan
Mexican Wedding Cookies
Gluten-Free Cake Slices
Chocolate
Coconut
Carrot
Red Velvet
Others
Gluten-Free Bavarian Cones
Gluten-Free Brownies
Gluten-Free Chocolate Donuts
---
9. Thai Fresh
Address: 909 West Mary St. Austin, Texas 78704
Website: https://www.thai-fresh.com/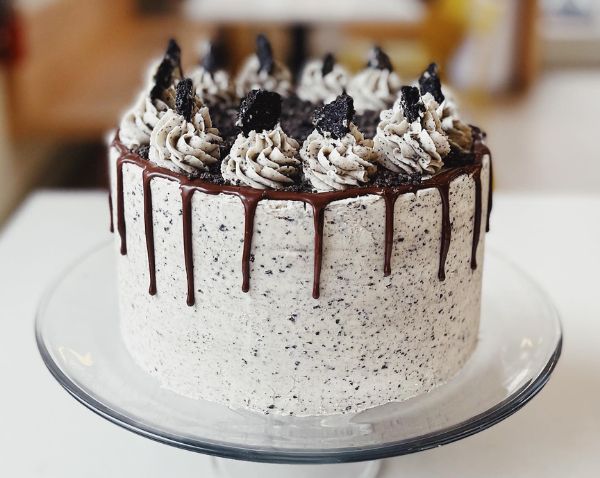 Phone Number: 512-494-6436
Operating Hours: Monday-Sunday 9 AM – 9 PM
The number of options at this Thai gluten-free bakery might blow your mind. It's a dream come true, sweet and healthy gluten-free heaven for anyone looking to satisfy their sugary cravings.
All items in Thai Fresh's bakery are gluten-free. With how the specialty cakes look, it's safe to say that it houses some of the finest gluten-free cakes in Austin, Texas.
If you want something for your family, a nice one-layer Cacao Cake sweetened with maple syrup and made with cacao is a great choice. Or stock up your pantry with gluten-free brownies and cookies for those midnight cravings.
Layer Cakes – Chocolate, vanilla, almond, strawberry, carrot, pandan, coconut, banana
Fillings – seasonal fresh fruit jam, chocolate ganache, coconut, caramel, cookie dough, lemon curd
Icing Flavors – vanilla, chocolate, mocha, espresso, peanut butter, strawberry, lemon, orange spice, almond, coconut, funfetti, mint, cinnamon brown sugar, pumpkin spice, cream cheese, refined sugar-free ganache
Specialty Cakes
Chocolate Olive Oil Gateau
Flourless Orange Honey Cake
Pistachio Rosewater Flourless Gateau
Cacao Cake
Pies & Tarts
French Silk Pie
Peanut Butter Fudge Pie
Seasonal Crumbled Fruit Pie
Pecan Pie
Pumpkin or Sweet Potato Pie
Flourless Sea Salt Chocolate Tart
Bars & Brownies
S'mores Bar
Lemon Bar
Magic Bar
Seasonal Fruit Crumble Bar
Mocha Raw Bars
Carmelitas
Salty Caramel Brownie
Double Chocolate Brownie
S'mores Brownie
Cookies
Classic Chocolate Chip
Vegan Chocolate Chip
Vegan Snickerdoodle
Chocolate Coconut Macaroons
Cowboy Breakfast Cookie
Gingerbread
Lemon Poppy Seed
Oatmeal Crème Pies
Others
Whole Sour Cream Coffee Cake
Cheesecake
Ice Cream Cake
Ice Cream – golden milk, cookie monster, Thai coffee/Thai tea, cake batter, vanilla bean, pandan, chocolate, lavender caramel, cookie dough, banana pecan, mint chip, black sticky rice horchata
---
10. Crema Bakery Café
Address: 9001 Brodie Ln, Ste B3 Austin, TX 78748
Website: https://cremabakerycafe.com/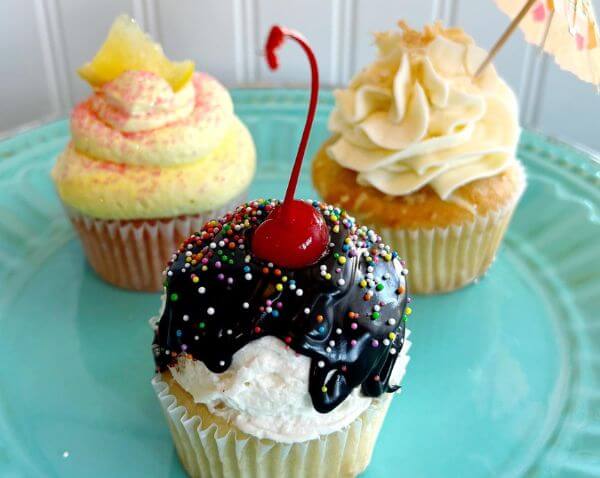 Phone Number: 512-282-1300
Operating Hours: Monday-Friday 7 AM – 5 PM, Saturday 8 AM – 5 PM, Sunday 8 AM -3 PM
Down in Southwest Austin is the nice one-stop-shop of Crema Bakery Café. Its scratch kitchen serves up amazing baked goods ranging from custom cakes to cake balls, all in a safe space that welcomes Austinites and tourists around the world.
Crema assures that you can taste the love that they put into their work. True enough, the bakers behind the scenes work in small batches to preserve quality in every bite.
Crema has lots of bite-sized gluten-free cupcakes and French macarons waiting for you at their intimate café. Just let them know of your gluten-free preference before ordering!
Gluten-Free Cupcakes
Double Vanilla
Double Chocolate
Red Velvet
Vanilla with Strawberry
Buttercream
Cookie Dough
Mostess
Salted Caramel
Peanut Butter
Chocolate
Oreo
French Macarons – classic French-style almond cookies with buttercream. Call them to choose your preferred flavors.
Gluten-Free Muffins & Gluten-Free Chocolate Chip Cookie
---
11. Capital City Bakery
Address: 2211 E. Cesar Chavez Austin, TX 78702
Website: https://ccbcurbside.square.site/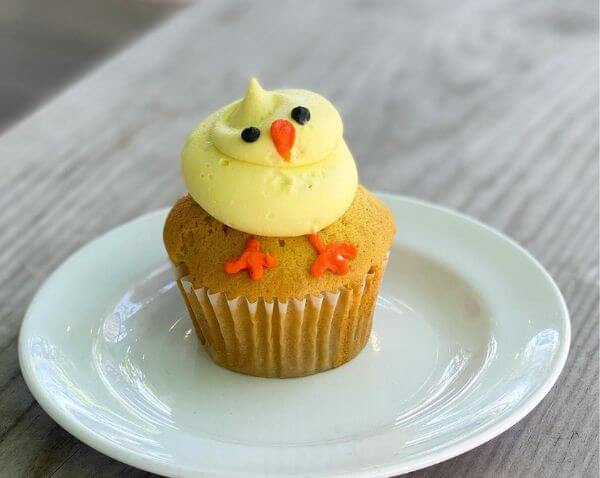 Phone Number: 512-893-0874
Operating Hours: Thursday 10 AM – 3 PM, Friday-Sunday 10 AM – 6 PM
One little bakeshop with a whole lotta love. Capital City Bakery has been making the hearts of Austin happy through its gluten-free, vegan pastries made from scratch. Did we mention that this is Austin's first all-vegan bakery food trailer?
It's a local, woman-owned business adopting a healthier approach to providing sweets. All baked goods are 100% vegan, cholesterol-free, and made fresh daily.
For a quick sweet tooth fix, you can pick up a serving of their mini gluten-free cheesecake or a gluten-free chocolate cupcake.
Mini GF Cheesecake
Gluten-Free Cupcake – gluten-free chocolate cake decorated with cream cheese buttercream.
---
12. Pie Jacked
Address: 1105 S Mays St #2000 Round Rock, TX 78664
Website: https://pie-jacked.square.site/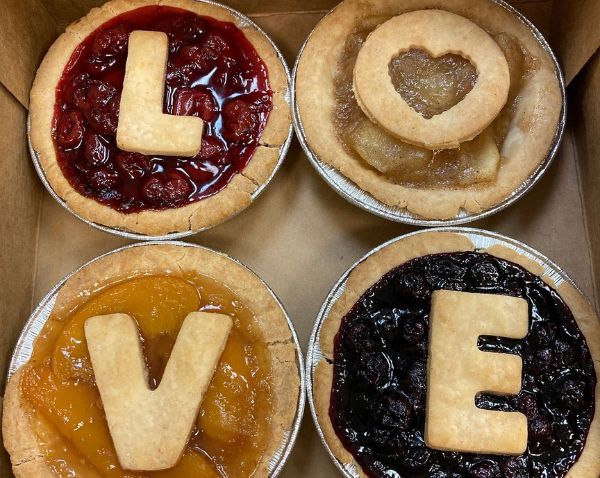 Phone Number: 512-815-7959
Operating Hours: Monday-Friday 10 AM – 6 PM, Saturday 10 AM – 2 PM
If there's one gluten-free bakery in Austin that really cares about making allergen-free treats, it has to be Pie Jacked. As the sign on the storefront says, "All the taste of tradition without the gluten, dairy, eggs, soy or corn!"
As a Top 8 allergen-free facility, Pie Jacked also values our gluten sensitive folks looking for gluten-free pies in Austin. That means anyone with gluten intolerance can indulge in Pie Jacked's wide variety of crusty pies.
Some best-selling gluten-free pastries we'd love you to try are the Biscuits, Cherry Sweetie Pie, and Cutie Pie (it's a chocolate pie!)
Seasonal Treats
Snack Pack Surprise Assortment
Nugget Box
Made To Order
Cutie Pie Sampler Pack
Cake
Cupcakes
Cookies
Sweetie Pies
Family Pies
Cutie Pie
Wednesday Doughnut Snack Pack
Coffee Cake – blueberry, cinnamon, salted caramel chocolate chip
Brownie – corner cut
Lemon poppy bread slice
Frozen Stocked Family Pans
Brownie
Coffee Cake – cinnamon, blueberry, salted caramel chocolate chip
Lemon Poppy Loaf
Frozen Stocked Pick-Up Items
Millet Oat Loaf
White Loaf
Biscuits
Millet Oat Burger
Millet Oat Hotdog
Buns – white burger, white hotdog
Clover Leaf Dinner Rolls
Cobbled Pudding
---
13. Russell's Bakery & Coffee Bar
Address: 3339 Hancock Drive Austin, TX 78731
Website: https://russellsbakery.com/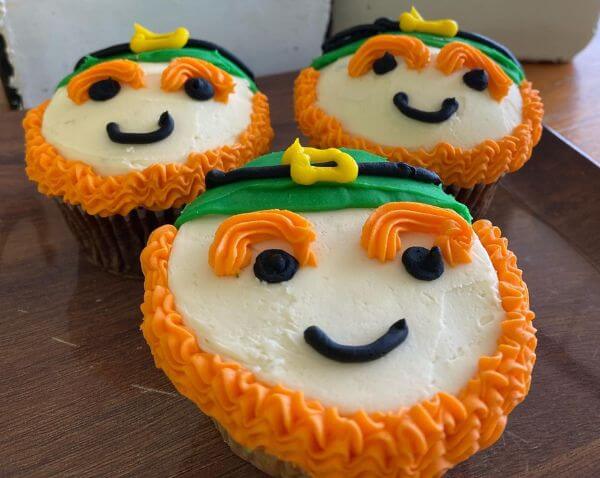 Phone Number: 512-888-9885
Operating Hours: Monday-Friday 7 AM – 5 PM, Saturday-Sunday 8 AM – 3 PM
For more than 23 years, Russell's has been a local favorite in Austin when it comes to anything sweet. Its fine selection of cakes, cupcakes, cookies, and other desserts makes it a great choice for any occasion.
Russell's is most loved for decorating lovely gluten-free birthday cakes in Austin. The decorators have exceeded the expectations of many customers with their craft.
Of course, there are other gluten-free treats on the menu, too, if you're in for something smaller. There's a gluten-free muffin you can share with a friend or two.
Pastries
Gluten-Free Lemon Poppy Seed Tea Loaf
Gluten-Free Chocolate Chip Cookie
Gluten-Free Banana Walnut Muffin
Mocha Divine/Flourless Cake – flourless chocolate cake finished with ganache.
---
14. Gluten-Free Yourself (GFY) Kitchen
Address: South Austin Drop Spot – Radio Coffee & Beer 4204 Menchaca Rd, Austin, TX, 78704
North Austin Drop Spot – Con Olio 1000 Research Blvd #130, Austin, TX, 78759
Website: http://gfykitchen.com/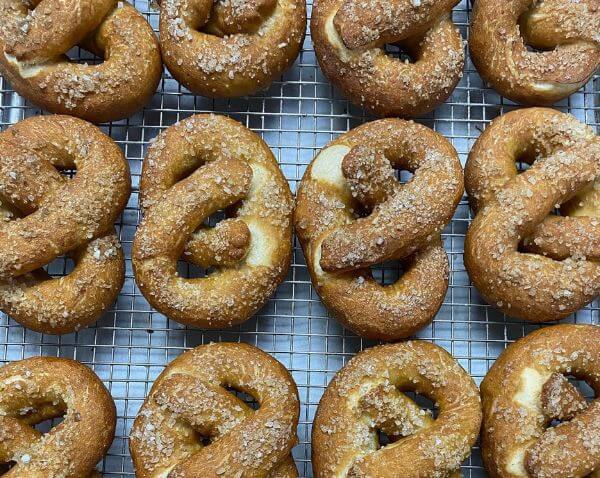 Phone Number: 201-780-8392
With lots of pick-up options and delivery partners across the city, it won't be a struggle to spot Gluten-Free Yourself in the streets of Austin. This gluten-free bakery wants to prove that gluten-free foods can be just as delicious when done right.
But if you feel like having gluten-free pizza while in Austin, check out Grove Wine Bar and Kitchen or Apis Restaurant in Spicewood, as GFY supplies them with its classic gluten-free pizza crusts!
Whether you're craving a crunchy Everything Bagel or an NYC Pizza Crust, GFY has you covered.
Note: Available gluten-free options vary per drop spot. We recommend checking GFY's website to see which spot is near for convenience.
Classic
French Loaves – available in gold (vegan)
Pullman – available in gold (vegan)
Baguettes – available in gold (vegan)
Rolls – available in gold (vegan)
Pizza Crust – available in gold (vegan)
Cinnamon Raisin Loaf
Bagels – Everything + Plain, Cinnamon Raisin
Gold (Vegan)
Bagels – Everything + Plain
Gold Pretzel
Muffins
Lemon Poppy
Morning Glory
Mr. Blueberry
Butter Rum
Cookies
Classic Chocolate Chip
Coconut Chocolate Chip
Rocky Road
Double Chocolate Espresso
Snicker Doodle
Peanut Butter
Oatmeal Raisin
Toaster Pies or "Pop Tarts"
Strawberry Lane
Very Blackberry
Brown Sugar Bae
Cherry Bomb
Apple Cinnamon