Penn Station is a popular American restaurant chain that specializes in submarine sandwiches. The majority of their menu comprises a mouth-watering spread of sub sandwiches ranging from cold deli classics to grilled options.
The restaurant prides itself on its high quality, freshly sourced ingredients, and outstanding service.
So what's gluten-free at Penn Station?
Unfortunately, there aren't many gluten-free options on the exciting Penn Station menu. The safest options include their hand-cut fries that are fried in separate fryers to ensure there is no cross-contact and their fresh green salads.
Other gluten-free options at Penn Station include their subs that you can get without the bread. Just ask the server to prepare your choice of sub in a lettuce wrap.
Bear in mind that this is extremely risky since the chances of cross-contamination are very high since the other sandwiches are also prepared on the same surfaces.
Penn Station doesn't have a dedicated gluten-free or allergen guide; this makes it challenging to find something safe to consume there. Moreover, since the restaurant is primarily a sub-shop, it limits the possible gluten-free options.
Suppose you have Celiac disease or severe gluten sensitivity. In that case, we highly suggest you stay clear of the lettuce-wrapped subs since the chances of contamination pose a significant threat to your health and well-being.
If you still end up at Penn Station, we advise you to practice extreme care and caution while sticking to the safest items, i.e., the fries and salads.
This article will be an in-depth dissection of the Penn Station menu. We will filter out all the possible gluten-free options so you don't have to.
Furthermore, we'll share some fantastic tips to avoid contamination and have a safe meal at Penn Station.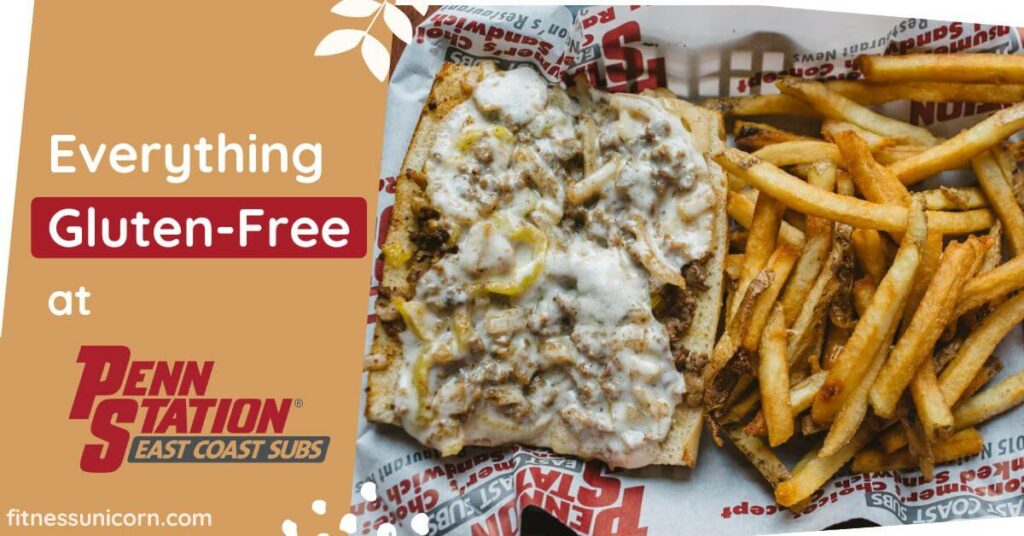 This post may contain affiliate links, which help keep this content free. (Full disclosure)
Gluten-Free Options at Penn Station
Since its conception in 1985, Penn Station has expanded to over 315 locations across 15 states. The restaurant strives to provide its customers with the best possible service and freshest ingredients.
Their menu is primarily based on a variety of submarine sandwiches that are available with different toppings and bread.
Unfortunately, Penn Station doesn't have any gluten-free bread. This leaves you with very limited options to eat if you have Celiac disease or severe gluten allergies.
If you don't have any health concerns, you can experiment by swapping out the bread for lettuce.
You must stay cautious to avoid cross-contact since the prep area is shared for all sandwiches, and the restaurant keeps its bread and other ingredients in the same place.
Let us now look at some of the gluten-free foods you can enjoy at Penn Station.
RECOMMENDED: Gluten-Free Options at Caribou Coffee
Fresh-Cut Fries
The fries at Penn Station are made fresh to order, and the best part is that they're fried in separate fryers, making them completely gluten-free and safe for consumption.
Salads
Penn Station offers an exciting variety of green salads prepared with the freshest ingredients, and everything is made to order. Ensure your server follows adequate protocols and uses clean utensils to assemble your salad.
Also, make sure to skip croutons on any salad.
Chicken Caesar
Classic Italian
Turkey Avocado
Cheesesteak
Dagwood
Club
Turkey Bacon Ranch
Subs
The submarine sandwich is the main star of Penn Stations' menu. You can order the subs hot or cold, grilled, and in different sizes. You can even build your own sub sandwich by choosing all your favorite fixings and sauces.
If you order one of the subs, make sure to swap out the bread for lettuce and only do so if you have no gluten-related health risks.
If you have Celiac disease or severe gluten sensitivity, we'd highly advise against ordering a sub sandwich since the risk of contamination is too high.
Cold Deli Classics – Club, Turkey & Provolone, Turkey Avocado, Ham & Swiss, BLT
Off the Grill – Cheesesteak, Reuben, Artichoke, Veggie, Pizza, Italian, BLT
Create Your Own Dagwood
Lighter Options – Artichoke & Veggie
RELATED: What's Gluten-free at Bonefish Grill?
Beverages
Penn Station offers some refreshing gluten-free beverages to cool you down on a summer day and compliment your sandwich perfectly.
Fresh Squeezed Lemonade
Fresh Brewed Iced Tea
Fountain Drinks
Fantastic Tips for a Gluten-Free Meal at Penn Station
Penn Station doesn't have a gluten-free or allergen menu. Hence, it gets a bit tricky to order items with the surety that they're free of gluten.
Moreover, there is an increased risk of cross-contamination due to the shared prep surfaces for sandwiches.
We've compiled a list of fantastic tips to help you navigate the Penn Station menu and avoid cross-contamination to enjoy a safe and healthy meal.
The Type of Restaurant
Whenever visiting a new eatery, it's vital to keep a few pointers in mind. If you can research a little before actually visiting, it'll help you gauge how allergy-friendly an eatery is and whether it's worth it or not.
Does the place have a dedicated gluten-free menu?
What kind of food is being served? Is it allergy-friendly?
What are the cross-contamination protocols like?
Is the staff trained and equipped to handle customers with allergies?
Does the place have dedicated prep surfaces and utensils for gluten-free prep?
If you have Celiac disease, you should have these questions answered before deciding to eat out anywhere. Your health is the number one priority, and you should be certain of what you're putting in your body. 
FIND MORE: Gluten-Free Options at A&W
Communication
Communicating your concerns prior to placing your order is paramount if you have Celiac disease or severe gluten allergies.
Let the manager know the severity of your condition so they can brief the staff accordingly and ensure protocols for your safety.
The staff at Penn Station is courteous and will ensure all your instructions are followed accurately. However, cross-contamination is always a risk due to the lack of dedicated prep surfaces.
FIND MORE: 14 BEST Gluten Free Bakeries in Austin, TX
Personalize your Order
Due to the lack of dedicated prep surfaces, extra care must be taken to avoid any sort of cross-contact.
In order to ensure protocols as best you can, here are a few precautions you can ask the servers to follow while preparing your order.
Ask for a single server to prep your salad or sandwich from start to finish to avoid any contamination and confusion.
Request the server to disinfect and clean the shared prep surfaces before prepping your order.
Request the server to place a barrier between your food and prep surface if they can.
Request the server to wear a fresh pair of gloves before prepping your order to reduce the risk of contamination.
Ask the server to fetch the ingredient from a fresh tub with clean utensils to ensure safety.
Ask for your order to be prepped first if you're with a large group of people.
These precautions will help you further ensure the safety of your meal and it will give you the peace of mind of knowing all the protocols have been followed adequately.
Keep it Simple
Remember to stick to simple dishes and food groups that you know are safe for you whenever you dine out. Avoid complex dishes you're unfamiliar with; they might contain gluten in hidden forms such as breading, thickeners, etc.
When in Doubt, Throw it Out
Always be confident in whatever you're going to order. Refrain from ordering anything you're not certain of because even trace amounts of gluten can cause an adverse reaction if you have severe gluten intolerance;
Hence if you're ever doubtful of a dish or ingredient, remember to avoid it because it's not worth risking your health over.
Avoid Rush Hours
Restaurant servers can be extremely attentive and helpful when a flood of orders does not overburden them.
If you visit during off-peak hours, the staff will be more accommodating towards your instructions and make an extra effort to avoid contamination. Hence, you should always avoid rush hours.
Cross Contamination Risk at Penn Station
Cross-contamination can be a real deal breaker for people with Celiac disease. It occurs when gluten-free food items come into contact with gluten directly or indirectly.
This can occur through contaminated gloves, utensils, pans, surfaces, and other food items. Cross-contamination is a serious health concern that restaurants must address through stringent protocols to ensure customers' safety.
The risk of cross-contamination at Penn Station is relatively high. This is because their kitchen is filled with bread products, and all of their subs are prepped on the same surfaces.
Even if you eliminate the bread, the risk will remain since the prep surfaces are constantly in contact with bread throughout the day.
The only positive at Penn Station is that they have separate fryers for their hand-cut fries. This makes them free of any contamination, meaning you can enjoy as many as you like without the fear of getting sick.
If you're a Celiac, we advise you to stay clear of Penn Station or practice extreme caution if you visit.
What is the Public Saying?
We surveyed the internet for reviews on the Penn Station by people with Celiac disease and gluten allergies. Public reviews are always a great indicator of how allergy-friendly a certain restaurant is.
We mostly came across mixed reviews; some people were full of praise while others were not happy at all.
People praised the scrumptious gluten-free fries and salads on offer, while others were critical of the lack of gluten-free bread. Some consumers mentioned swapping out the bread with lettuce to enjoy the delicious range of subs.
Overall, we found that Penn Station isn't very safe for people with Celiac disease and severe gluten sensitivity due to the lack of gluten-free bread and high chances of contamination.
But, you can give Penn Station a try if you're a casual gluten-free eater and don't have any health issues.
Gluten-Free Alternatives to Penn Station
Penn Station is a fantastic restaurant but lacks a gluten-free menu and food items. Here are a few restaurants that are similar to Penn Station but provide a broader range of options free of gluten.
If you're craving a gluten-free sub, do consider these places!
Subway
Subway is an extremely popular international chain serving some of the best fast food submarine sandwiches. In recent years they've introduced gluten-free bread for their customers who struggle with gluten allergies.
Subways gluten-free bread is prepared in a dedicated gluten-free facility, which means it is free of contamination and safe to consume. This allows you to enjoy almost all your favorite sandwiches without getting sick.
Almost all of their ingredients are free of gluten except a few. Here are the ingredients you need to avoid at Subway;
Chicken Teriyaki
Meatballs & Marinara
Regular Bread
Desserts
Firehouse Subs
Firehouse Subs is another famous sandwich restaurant based out of Florida. They have a user-friendly, detailed allergen guide that sorts all gluten-free items for you.
Moreover, their amazing gluten-free Ciabatta rolls allow you to devour almost all of your favorite subs. They boast both national and international locations.
Gluten-Free Subs (Hot & Cold)
Chopped Salads
Soups
Sides & Chips
Jersey Mike's
Jersey Mike's is also a popular American submarine sandwich restaurant with over 1900 locations. They offer an incredible gluten-free roll that allows you to enjoy the majority of their mouth-watering subs.
The staff is incredibly courteous and follows adequate cross-contamination protocols.
You can go through their detailed allergen menu to filter out all the possible gluten-free combinations.
Gluten-Free Subs (Hot & Cold)
Breakfast
Salads