Every dish at Flower Child is made with fresh, locally sourced ingredients. Whatever your dietary preference, you can find something there. Their menu features sugar-free, gluten-free, and dairy-free dishes.
However, does Flower Child offer any keto options?
In their Plates section, you can order a full customized plate featuring cauliflower risotto, broccoli with parmesan, some chicken for additional protein, and roasted almonds on top.
In this section, you can choose whatever combination of dishes you want from a predefined list.
While Flower Child offers a great variety of mouthwatering dishes, not all of them are keto-friendly. With this article, I aim to make your keto-ordering experience at Flower Child a little easier.
Let's begin!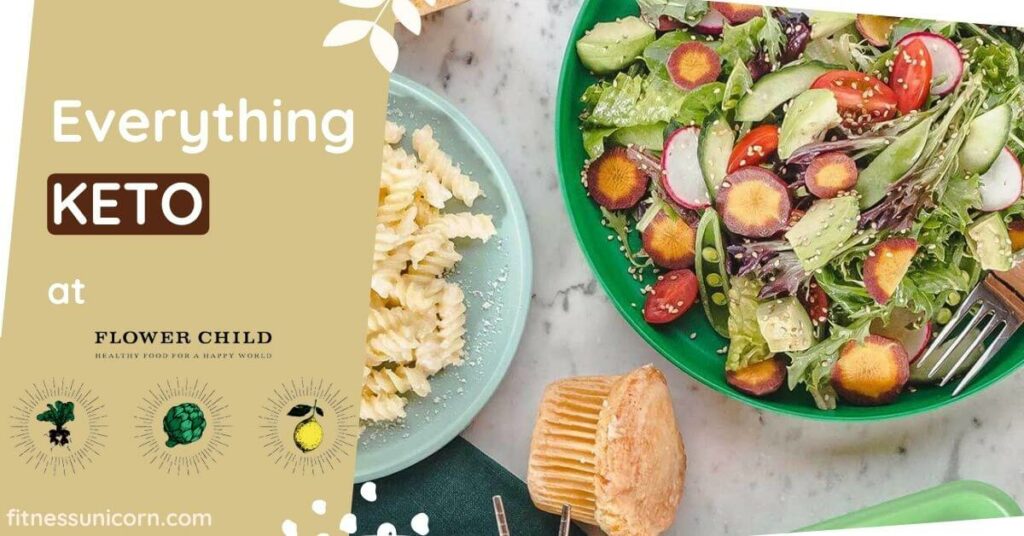 Tired of searching whether certain foods are keto? Download my keto cheat sheet with 210+ keto-friendly foods!
This post may contain affiliate links, which help keep this content free. (Full disclosure)
How to survive keto at Flower Child
Flower child appeals to the modern crowd that has varying dietary preferences, are attracted by aesthetic and positive messaging.
Whether you are vegetarian, vegan, or paleo you will find plenty of dishes that fulfill your dietary needs. Similarly, their menu also offers various dishes for someone following a keto diet.
All their dishes are made using simple and clean ingredients. For example, their protein section has all-natural chicken, sustainable salmon, non-GMO tofu, and grass-fed steak.
It seems they take care of the quality of their ingredients.
All their dishes are made fresh, so they don't have anything pre-made a week ago and still using it. No artificial flavor or preservative is present inside their dish. Their way of doing things appeals to health-conscious people.
YOU MAY ALSO LIKE: Keto-Friendly Options at Friendly's
Here are some tips you can use to make keto ordering a breeze at Flower Child:
● As a general rule, check a restaurant's online menu before visiting there. A physical menu is limited by space so not much information about the dish can be given.

Whereas, in the online menu, the ingredients, nutritional info as well as allergen info of the dishes are also mentioned.
While checking the online menu of Flower Child, don't get intimidated by their menu as per the location. The dishes on the menu at each location are the same.
● Head to the main menu to check the list of ingredients inside a dish. Also, check out their nutrition menu, here you will find all the dishes along with their nutritional value. When you scroll further down you will also find the allergen info of each dish.
If you are allergic to a certain ingredient, use their allergen menu to sort out the dishes with those ingredients.
● Do not order anything from the Bowls, Wraps, or desserts section of the menu. You will hardly find any keto-friendly dish there. Their Plates and side Items section also has fewer keto-friendly options.

The keto-friendly ones are mentioned below in the food options section of the article.
● Their soups, salads, and protein section have plenty of keto options. Almost all of the soups and salads offered at Flower child are keto-friendly.

Their Plates section also gives you the freedom to arrange a plate full of your choice of dishes. Similarly, you can also select the type of meat to get the protein.
● Ask for carrot or zucchini noodles in the place of traditional noodles.
Now that tips are out of the way, let's find out all the keto options Flower Child has to offer.
Keto options at Flower Child
Note: All the nutritional facts mentioned here are as shown on the Flower Child's website. The carb count and other nutritional counts will vary when you remove or swap certain ingredients from a dish.
In no particular order, here are filling and wholesome keto-friendly dishes with the nutritional information you can order at Flower Child.
FIND MORE: Everything Keto at Rooster's Wing's
Soup
There are plenty of keto-friendly soups present on their menu. The soup section is not mentioned on their main menu. Head to the nutrition info section to find the list of soups.
#1 Sprouted barley w/ beef & wild mushroom
Calories: 130kcal
Total fat: 3.4g
Net carb: 11g
Protein: 14g
#2 Butternut squash & parsnip
Calories: 280kcal
Total fat: 20g
Net carb: 16g
Protein: 5g
#3 All-natural chicken & organic brown rice
Calories: 160kcal
Total fat: 3.5g
Net carb: 15g
Protein: 16g
RECOMMENDED: Keto-friendly options at Chopt Creative Salad Co.
#4 All-natural chicken & white bean w/ roasted poblano
Calories: 160kcal
Total fat: 3g
Net carb: 13g
Protein: 12g
#5 Green curry cauliflower w/ coconut & Thai basil
Calories: 220kcal
Total fat: 14g
Net carb: 16g
Protein: 4g
#6 Thai chicken curry w/ mushroom, coconut & lime
Calories: 240kcal
Total fat: 11g
Net carb: 9g
Protein: 27g
ALSO READ: Keto at Publix (Bread, Snacks, Desserts & More!)
#7 Summer squash & organic tomato w/ sweet corn & thyme
Calories: 90kcal
Total fat: 2g
Net carb: 11g
Protein: 4g
#8 Chicken tortilla w/ organic blue corn
Calories: 130kcal
Total fat: 3.5g
Net carb: 12g
Protein: 9g
#9 Miso mushroom
Calories: 110kcal
Total fat: 3.5g
Net carb: 9g
Protein: 9g
#10 Butternut squash w/ lemongrass & Thai basil
Calories: 170kcal
Total fat: 11g
Net carb: 12g
Protein: 4g
#11 Tuscan chicken tomato fennel & kale
Calories: 160kcal
Total fat: 4.5g
Net carb: 10g
Protein: 15g
#12 Kimchee sweet potato
Calories: 70kcal
Total fat: 2.5g
Net carb: 9g
Protein: 4g
Salad
The nutritional value of the salad here is without the dressing. Substitute the dressing with a low-carb dressing option mentioned below.
#13 Chopped vegetable
Calories: 120g
Total fat: 5g
Net carb: 8g
Protein: 4g
This vegetable salad has organic greens, romaine, avocado, heirloom carrot, snap pea, radish, baby tomato, cucumber, and toasted sesame seed. It comes with ginger miso vinaigrette as a dressing.
#14 Turkey & avocado cobb
Calories: 420kcal
Total fat: 26g
Net carb: 14g
Protein: 32g
This salad contains romaine, arugula, red cabbage, avocado, tomato, cucumber, crunchy corn, pickled onion, and smoked almond. And it has gorgonzola vinaigrette as the dressing.
#15 Avocado caesar
Calories: 150kcal
Total fat: 11g
Net carb: 5g
Protein: 5g
This salad is made with romaine, parmesan bread crumb, chive, avocado caesar dressing. Opt out of parmesan bread crumbs to further reduce its carbs.
#16 Ginger miso crunch
Calories: 150kcal
Total fat: 8g
Net carb: 12g
Protein: 6g
This salad consists of carrot zoodles, zucchini, red pepper, Asian cabbage, mint, cashew, and sesame seeds. This salad is good for summer days when you want something fresh, crunchy, and creamy.
#17 Lemon-avocado dressing
Calories: 200kcal
Total fat: 21g
Net carb:2g
Protein: 0g
The lemon avocado dressing is low calorie, sugar-free, and dairy-free option. It has a tangy and creamy flavor. It will go well with vegetable salads.
RELATED: Everything Keto at Fuddruckers
Plates
While ordering from this section you get to choose what goes on the plate. You can choose 2-3 dishes.
#18 Roasted broccoli
Calories: 250kcal
Total fat: 16g
Net carb: 6g
Protein: 4g
It has lemon, garlic, and parmesan bread crumbs. You can order it as a side dish on top of cauliflower risotto. Just remove the bread crumbs and it will become a keto dish.
#19 Cauliflower risotto
Calories: 110g
Total fat: 2.5g
Net carb: 12g
Protein: 4g
It has lemon gremolata and toasted bread crumbs in it. You can also have some roasted almonds on top. While you order ask them to not add bread crumbs to your dish. This will further reduce its carbs count.
#20 Yuzu asparagus slaw
Calories: 200kcal
Total fat: 13g
Net carb: 11g
Protein: 6g
It has charred onion, savoy cabbage, and golden miso that give crunch and tanginess to your dish.
Protein
Any of these protein choices can be ordered independently or alongside the main dish.
#22 All-natural chicken
Calories: 140kcal
Total fat: 4g
Net carb: 0g
Protein: 26g
#23 Sustainable Salmon
Calories: 190kcal
Total fat: 10g
Net carb: 0g
Protein: 24g
#24 Grass-fed Steak
Calories: 180kcal
Total fat: 7g
Net carb: 0g
Protein: 27g
#25 Shrimp
Calories: 90kcal
Total fat: 1.5g
Net carb: 4g
Protein: 16g
#26 Organic, non-GMO Tofu
Calories: 150kcal
Total fat: 9g
Net carb: 2g
Protein: 15g
Sides
#27 Broccoli w/ parmesan
Calories: 90kcal
Total fat: 3g
Net carb: 4g
Protein: 5g
It comes with sauteed broccoli with parmesan on top.
#28 Sweet corn & quinoa
Calories: 320g
Total fat: 22g
Net carb: 14g
Protein: 9g
The sweet corn quinoa comes with greek yogurt. Avoid greek yogurt if they have sweeteners.
Drinks
I would suggest you choose plain water in place of sugary drinks. However here are some low carb drinks on their menu
Conclusion
Flower Child is a go-to restaurant if you care about the quality of ingredients, taste, and presentation of the dish. It has plenty of mouthwatering keto options, especially the soups section.
Refer to the tips I've shared in this article to make your food ordering process a breeze. I hope this article gave an idea of dishes you would want to try.
Let me know your favorite dish from this list!