Imagine a place where we can make our darkest, most creative desires about a salad come true. A dreamland for all the Salad lovers of the world. A place with the highest quality of ingredients and in great quantity too just for you to create and dress up your favorite Salad.
I, for one, know such a sanctuary rooted in health and taste, and it goes by the name of 'Chopt Creative Salad'. But what if you are on keto? Is it still worth your time? The answer is: Yes, definitely!
Two of the many other keto-friendly options at Chopt Creative salad are Kale Caesar and Mexican Caesar. While there are several salads on the menu full of keto staples like chicken, eggs, and avocado, both the classic kale Caesar and the Mexican Caesar are top picks.
A Keto diet is a hard diet. When nachos, pizza, beer, and other "carbage" are off your menu, it's not as easy to hang out with family and friends as it used to be. In other words, our social life can be cramped to its extinction while doing.
While trying to remain consistent in such a hard habit of healthy eating is hugely rewarding, a little mistake here or there can lead to greater havoc in your diet plan and even other aspects of your life. Especially when eating out and choosing from the menus paved down by the newer restaurants.
This article will enrich us with all the information required to prevent a keto disaster at Chopt Creative Salad Co. So read on.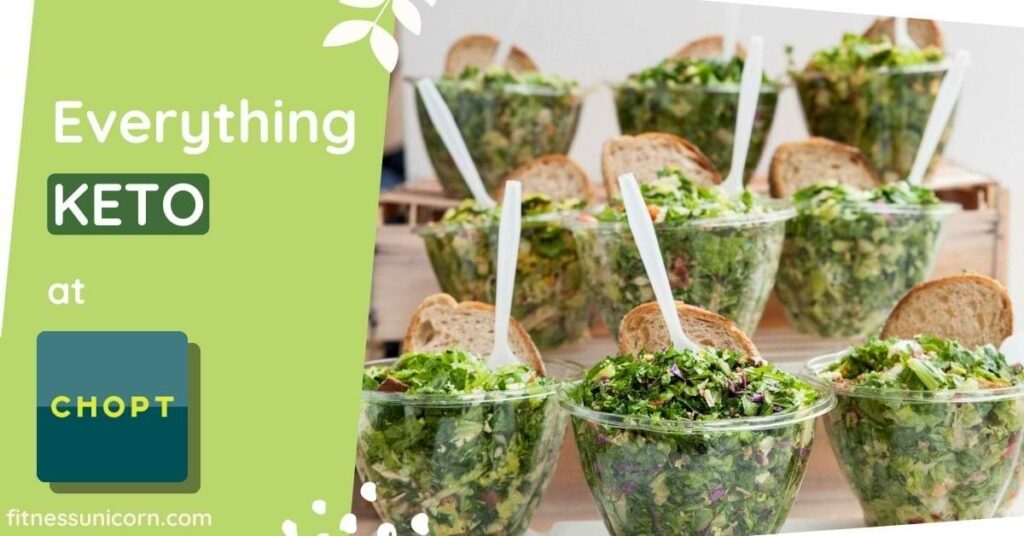 Tired of searching whether certain foods are keto? Download my keto cheat sheet with 210+ keto-friendly foods!
This post may contain affiliate links, which help keep this content free. (Full disclosure)
How to survive keto at Chopt Creative Salad:
Not all of the menu at any restaurant can be keto-friendly, and a lot of it is going to be overwhelmingly carb-oriented. And for that purpose, this article paves down how we can make the necessary tweaks to our food at this restaurant to get a lot more options to eat from.
Chopt Creative Salad has a motto of dreaming the new most inventive forms of salad, and the options of ingredients to add to your selection are relentlessly many. All the ingredients are chopped in proportions to make up a beautiful blend of delicious salad. But does this place cater to the standards of all the keto eaters?
Despite the abundance of sugary sodas, bread, and other heavy carbohydrate food items, it isn't impossible finding low-carb and keto-friendly foods at Chopt Creative Salad Company.
The kale Caesar has 12 grams of net carbs, while the Mexican kale Caesar has 19 grams of net carbs, which are both reasonable for a keto diet. If we want to get it even lower in carbs, we should order it without the croutons or tortilla chips while going light or medium on the dressing at the same time.
Low-carb items at Chopt Creative Salad include shrimp or FreeBird grilled chicken, avocado, grape tomatoes, English cucumbers, hearts of palm, and romaine lettuce.
The food offering the lowest quantity of net carbs here is the Jalapeno Yogurt Crema (0g net carbs), and the item that contains the most amount of net carbs is the Mediterranean Bowl (48g net carbs!)
Furthermore, Chopt is known for its twenty-three dressings because they are made from scratch and use high-quality ingredients.
You can see each ingredient and read the nutrition facts so you know what you are adding to your salad. While Chopt offers various ingredients, we can make simple tweaks of our own to create what's suitable for us.
Keep in mind that grains are too high in carbs to even consider when building your bowl. Switch to low-carb greens as a base, especially leafy veggies like spinach or romaine.
ALSO READ: Keto-friendly options at Flower Child
When it comes to protein, your pick should be grilled chicken. We're not sure of what to say about the roasted chicken, but their website says that it's higher in carbs for some reason (they might be coating it with sauces). So ask your server to swap roasted chicken with the grilled one.
As for other veggies to add, there are cucumbers, tomato (in moderation), and broccoli, all of which are good sources of fiber, but low in carbs.
When it comes to the dressings, you can't go wrong with the simple oil and vinegar for healthy fats and zero carbs. Mexican Goddess is another fantastic low-carb dressing here.
A person can tell whether a salad dressing meets the keto criteria by reading the product label. A keto-friendly salad dressing will either list fat or oil as one of the first ingredients on the label, indicating that the dressing contains a high amount of fat.
Some ingredients to look for in a salad dressing include olive oil, avocado oil, lemon or lime juice, herbs, spices, and vinegar, such as wine vinegar or apple cider vinegar.
If you order a wrap or a sandwich, make sure to leave the bread out of it making them viable for the keto diet.
This information is enough for us to make the necessary alterations in any specific thing we eat at Chopt Creative Salad. The next section is a complete list of all the keto-friendly options you have at Chopt Creative Salad Co.
Chopt Creative Co. Keto-Friendly Options:
All options are given below along with their net carb count.
Bowls
The only difference between bowls and salads here is the portion size. Carb count given below is based on a single bowl.
Sesame Ginger Crunch – 17g
Palm Beach w Grilled Chicken – 9g
Palm Beach w Shrimp – 9g
The Orchard – 12g
Classic Cobb – 9g
Kale Caesar – 10g
Housemade Dressings
Creamy Caesar – 2g
Buttermilk Ranch – 1g
House Vinaigrette – 0g
Mexican Caesar – 0g
Tex Mex Ranch – 1g
Chimichurri Ranch – 1g
Steakhouse Blue Cheese – 1g
Mexican Goddess – 2g
Greek Yogurt Tzatziki – 1g
Jalapeno Yogurt Crema – 0.5g
Creamy Lemon Herb Dressing – 2g
Extra Vergin Olive Oil – 0g
Red Wine Vinegar – 0g
Soups
Mexican Chicken Soup – 12g
Beverages
Black Tea – 0g
Green Tea – 0g
Regular Tea – 0g
Light Lemonade – 9g
SUGGESTED: Saladworks Low-Carb Options
Build Your Own Keto Bowl
As the name suggests, Chopt Creative Salad is very open to creative customizations and you can build your own bowl from scratch. The good news is that most of the veggies, meat, and toppings are low in carbs (1g-4g).
But you must AVOID the following items at all costs:
Cabbage & Herb Blend
Corn
Apples
Carrots
Sprouts
Sweet Potatoes
Beets
Warm Grains
Quinoa
Black Beans
Tortilla Chips
Chickpeas
Croutons
Cranberries
Crispy Wontons
Pita Chips
Panko Fried Chicken
Chickpea Falafel
Chopt Pre-Set Keto Bowls
Back in January 2020, Chopt came out with its diet-specific Warm Bowls for Paleo, Keto, and Whole30 consumers.
They welcomed New Year with a bang, and just in time for all the fitness resolutions! Currently, Chopt offers two Warm Bowls catering to those on the keto diet:
#1. MexiKeto Carnitas Bowl: It contains cauli rice with Mexican Goddess dressing, topped with Spicy Braised Pork, Cotija Cheese, Pickled Red Onions, Jalapeno Peppers, Cabbage & Cilantro Blend, and Toasted Pumpkin Seeds.
#2. AvoKeto Chicken Club Salad: You get a refreshing salad with Romaine as its base. It also contains Grilled Chicken, Avocado, Bacon, Grape Tomatoes, and Crispy Shallots topped with Chimichurri Ranch dressing.
ALSO READ: Miso Soup on Keto?
Conclusion
Chopt Creative Salad Co. has the potential to become your go-to dining place on keto! Plus, our bellies will no longer look like you're carrying twins as we rise from the dinner table. We can become an all-around badass.
You can grab their Keto bowls or build your own right from scratch. Apart from that, they feature soups, salads, and beverages that are well-suited for the low-carb diet.
The keto diet may force you to eat within the boundaries of your home! It's natural to be afraid of dining out especially when most restaurants feature carb-laden meals only. But with the right knowledge of nutrition and some smart substitutions, you can convert any restaurant into a keto-friendly place!
Happy Ketoing 🙂