Keto bread is one of the most recent trends in the low carb community! But is Franz Keto bread really keto?
According to USDA, a single slice of white bread contains as much as 13 grams of net carbs!
On the other hand, Franz keto bread has a total of 12g of carbs, all of which come from fiber (i.e. ZERO net carbs!).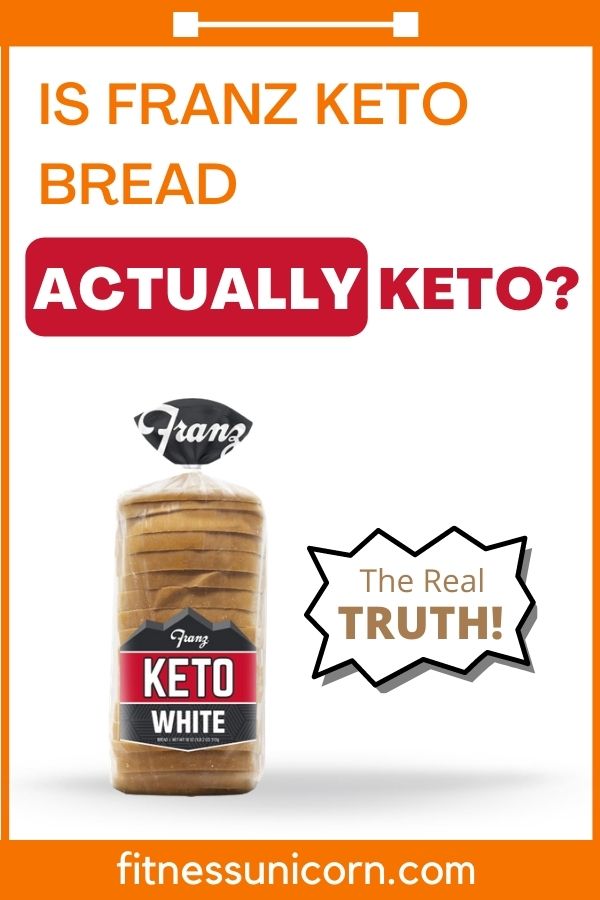 Tired of searching whether certain foods are keto? Download my keto cheat sheet with 210+ keto-friendly foods!
Doesn't this seem too good to be true?
Franz keto bread tastes almost like the original white bread! How does the company manage to keep it zero net carbs?
And if it's really zero net carbs, can I have as many slices as I want?
In this article, we'll find out the truth about Franz keto bread! I'll also share an easy homemade keto bread recipe straight out of my handbook!
This post may contain affiliate links, which help keep this content free. (Full disclosure)
Is Franz Keto Bread ACTUALLY Keto Friendly?
Franz keto bread has zero net carbs according to its nutrition label. However, it contains "modified wheat starch" which may have some hidden carbs depending on the way it was processed.
The two major ingredients of Franz Keto bread are:
Modified Wheat Starch
Oat Fiber
I've already talked about oat fiber being 100% keto-friendly since it's pure fiber.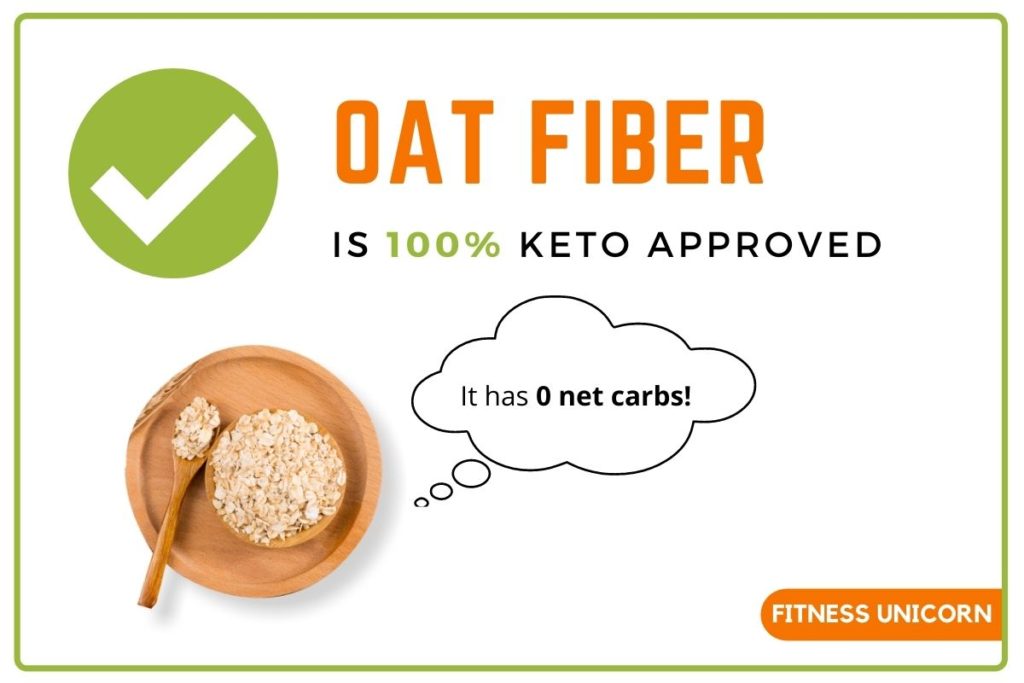 According to the label, Franz keto bread has ZERO net carbs because the number of carbs is equal to the amount of fiber. But this can't be really true!
The taste and the ingredients of Franz Keto bread clearly prove that there is something a little bit more than just fiber.
While counting net carbs, we always discount the carbs coming from dietary fiber.
But here's the less known truth in the keto community: Some forms of fiber can act like carbs and raise blood glucose levels.
And this is especially true when it comes to processed foods. You see, fiber added during manufacturing is quite different from natural fibers, and hence may have different impacts.
According to Diabetes Strong, some or even all of the fiber in processed foods can impact your glucose levels, and ultimately affect ketosis!
So to be on the safer side, count each slice of Franz keto bread as 1g net carbs!
Best Way to Eat Franz Keto Bread
Processed fiber items like Franz keto bread have a different impact on everyone, so you should experiment with small quantities first.
Ideally, have half a slice and check your blood ketone levels to make sure it doesn't interfere with the diet.
Warning: 12g of fiber per slice is a lot of fiber, and might not be easy on your stomach. Don't go all-in the very first time. Start small and observe how your body reacts to it.
I learned this lesson the hard way! When I had my very first fiber pizza on keto, I finished an entire pizza in one go! It gave me some really bad cramps in the following hours!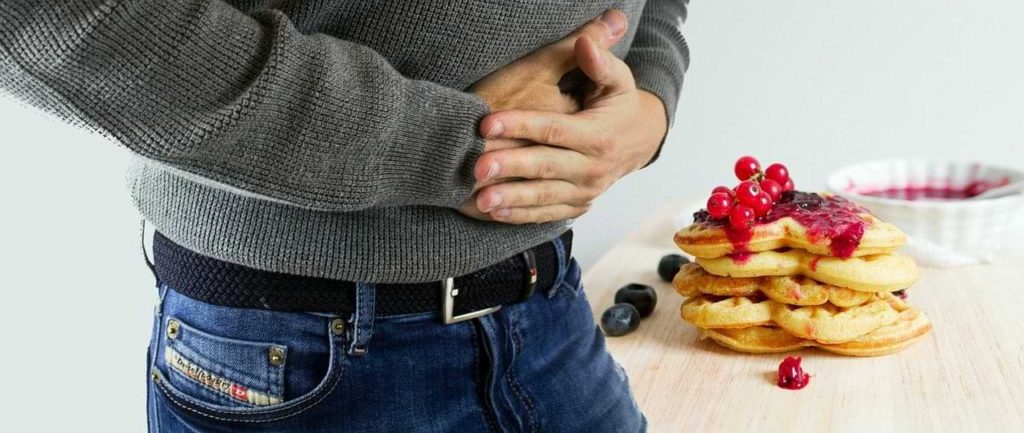 So if you are really craving some bread 'n butter sandwiches, Franz seems to be a good choice. Even though some ingredients are questionable, they can still satisfy your bread cravings without any damage to the diet!
Some beginners or people with less willpower will greatly benefit from this fibrous bread. It will keep you from jumping off the keto wagon!
I'm not really a "bread" guy but sometimes the cravings can be too intense and I just need a PB & Jello sandwich to get through a bad mood!
Some people will call Franz keto bread a "heavily processed" item, but then, white bread is anyways bad for your health either way! So it's no big deal. You can definitely enjoy Franz Keto bread on keto in moderation.
Carbs in Franz Keto Hamburger Buns
Are you sick of those lettuce-wrapped meat patties and craving an actual burger this time?
That's exactly why products like Franz Keto Hamburger buns sell so well in the market!
I get it, sometimes you just want to eat the "real" thing without giving a damn about your diet. And it's times like these where low-carb emulations of those foods can keep you from falling off the keto wagon!
A single Franz Keto bun (43g) contains 17g carbs, 16g of fiber, 2g fats, and 6g of protein, giving us just 1 gram of net carbs per serving.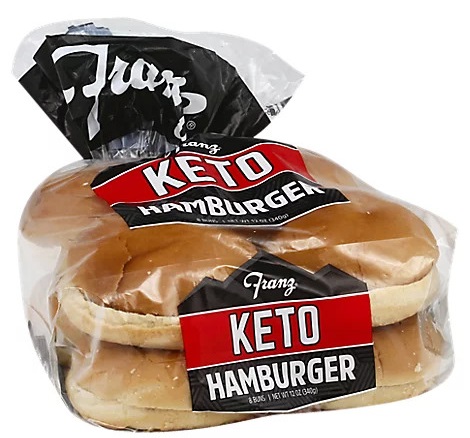 However, there's a slight catch!
Not all fiber is considered equal when it comes to the keto diet. Some forms of soluble fiber (also present in Franz Keto Buns) can interfere with ketosis.
They can act like real carbs and spike your blood glucose level, throwing you out of ketosis!
Processed foods are a very complicated subject. Most of you will do just fine with a single bun per meal, while others can have unpleasant effects such as stomach cramps and blood sugar spikes.
So can I have Franz Keto Hamburger buns on the keto diet?
Yes, you can easily accomodate a single bun on the keto diet. For the first time, you should test your blood ketone levels after having a small serving.
This way you'll find out whether it's the right pick for you!
These are the ingredients present in Franz Keto Hamburger buns (similar to Franz Keto bread):
Modified Wheat Starch
Water, Wheat Gluten
Wheat Protein Isolate
(Chicory) Vegetable Fiber
Oat Fiber
Soybean Oil
Contains 2% Or Less Of The Following:

Yeast
Vinegar
Salt
Enzymes
Enriched Wheat Flour (Wheat Flour, Niacin, Reduced Iron, Thiamine Mononitrate, Riboflavin, Folic Acid)
Preservatives (Calcium Propionate, Sorbic Acid)
As you can see, Franz Keto bread and buns are heavily processed food items. It may not be well suited for everyone.
If you are on strict keto, or just started with the keto journey, you are better off avoiding this stuff.
MORE: Are Hot Dogs Keto Approved?
Is It OK to Eat Keto Bread on the Ketogenic Diet?
Looking at the ingredients label of Franz keto bread, you may be worried about its health aspects!
First of all, this keto bread falls under the "dirty keto" category.
Dirty keto or "lazy keto" is a type of ketogenic diet where you don't really care about the nature of foods you eat, as long as they fit your macros.
Dirty keto-ers often rely on highly processed and packaged foods to satisfy their cravings, and still lose weight through ketosis.
There is no emphasis on clean, natural, whole foods and you just eat anything within your daily carb limit.
So if you have taken the "clean keto" pledge, this product isn't for you!
Having said that, even those following the "dirty keto" route, should still limit their intake of processed foods.
Any diet should include a serving of whole foods like fruits and veggies to get the required amount of minerals, vitamins, and antioxidants.
Franz keto bread is a heavily processed item and it is devoid of any nutrition. You should only consume it in moderation on the keto diet.
Franz Keto Bread Cancer Warning
There's a cancer warning on all Franz products and their website: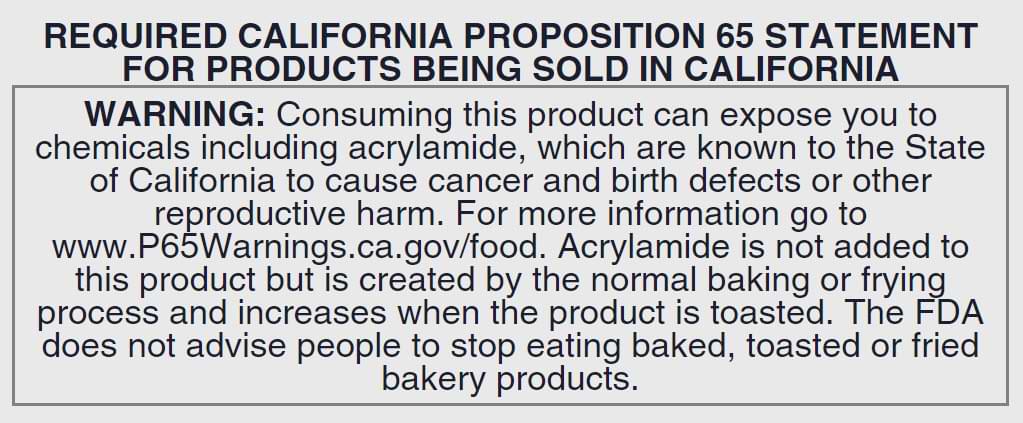 So does it make Franz Keto bread cancerous?
Not really!
The risk of getting cancer from Franz keto bread is SAME as getting it from any other cooked product!
Acrylamide is a chemical that is formed when plant-based foods are cooked at high temperatures. It can occur in ANY type of cooked food and does not depend on the surrounding environment.
Franz is required by law to mention this label on their products and their website.
It is a regional bakery with a strong presence in the state of California. And Proposition 65 mandates all companies dealing with plant-based products to provide this warning on their packaging.
"Acrylamide is listed as a chemical that is known to cause cancer under Proposition 65. Thus, the State of California requires products that contain acrylamide to provide a warning label about potential consequences." – Franz's Official Website
Millions of Americans safely consume Acrylamide on a regular basis through plant-based foods. However, extreme quantities of this chemical have been linked to cancer in some animal studies.
TRENDING: Are Dates Keto?
Easy Homemade Keto Bread Recipe
If you've been searching for an all-natural keto-friendly bread, your search ends here today!
I've tweaked this recipe over the years to the point of perfection! With just 2.5g net carbs per slice of bread, you'll make some amazing keto sandwiches.
What's more, each slice of bread has 22g of fat, giving it an excellent fat-to-carb ratio!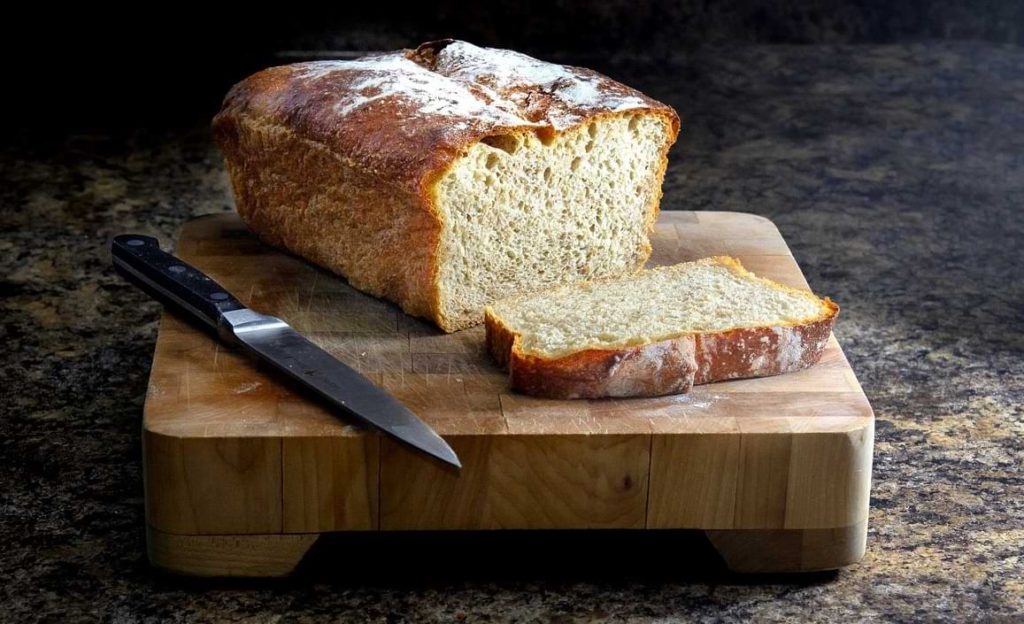 (This recipe yields one big loaf which gives you 12 slices. It has a cooking time of 40 minutes.)
Ingredients:
Non-Stick cooking spray
7 eggs
Half cup melted butter
One tsp baking powder
Half tsp xanthan gum
Two tbsp olive oil
Two cups blanched almond flour
Half tsp sea salt
Instructions:
Preheat your oven at 350 degrees F and lubricate a loaf pan with cooking spray.
Whisk your eggs for approx. 4 minutes, or until smooth. Add olive oil and butter and mix thoroughly.
Combine all the remaining ingredients and mix them into a bowl. Pour slowly into the previous mixture.
Stir thoroughly to form a thick batter.
Pour the batter into the loaf pan and level the top.
Finally, bake in the oven for roughly 40 minutes.
How to check if the bread is cooked?
Pick a toothpick and insert it into the center of your loaf. If it comes out clean, your keto bread is ready!
Nutritional Info
This loaf yields 12 slices of bread, and each slice contains:
Calories: 250
Fats: 22g
Carbohydrates: 5g
Protein: 8g
Fiber: 2.5g
Net Carbs: 2.5g
NEXT: Is Breyers Smart Carb Keto?
Conclusion
Is Franz Keto bread really keto?
Yes, Franz keto bread is keto-friendly but only in moderation. All of its carbs come from fiber and hence it contains ZERO net carbs.
But sometimes, the digestible fiber in processed foods can act like real carbs on keto. Consuming a lot of this bread can also give you major stomach cramps due to the high amount of fiber!
Experiment with small quantities and check your blood ketone levels to be double sure.
You can also make your own keto-friendly bread at home with the recipe shared in this post!