Cool Whip is so freakily delicious that I'm guilty of finishing an entire tub with just my spoon! Ever since I joined the low carb diet, I had been wondering is cool whip keto? I'm sure even you might be craving to dip your berries in that yummy cream!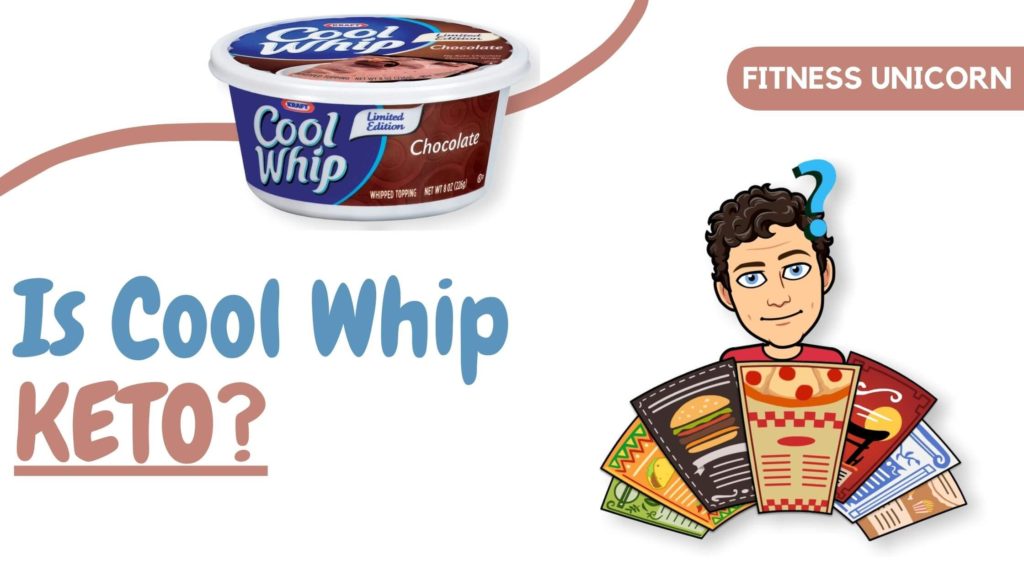 Tired of searching whether certain foods are keto? Download my keto cheat sheet with 210+ keto-friendly foods!
Before you go running to the store to get your own tub, here's everything you may need to know about enjoying cool whip on Keto diet. I'm also giving you my super simple homemade cool whip recipe that's high fat and low carb.
This post may contain affiliate links, which help keep this content free. (Full disclosure)
What is Cool Whip
Cool Whip is a creamy and fluffy topping and a common recipe ingredient from Kraft Heinz Company. It is one of my favorite toppings for desserts that can be eaten as a dessert in itself! Frozen cool whip almost tastes like real ice-cream without all those sinful carbs. You can also enjoy it with pies, cobblers and even fresh fruits like berries.
Cool whip isn't overly sweet and its soft and fluffy texture literally melts in your mouth. The brand has been around of years and health-conscious people really love it. It has very little carbs and fats but tastes just like a frozen ice cream.
This soft cream is much better than the canned whipped cream and gives you more bang for your buck. The texture if a bit thicker than whipped cream, but it's heavenly for those with a sweet tooth. It comes with Original, Extra Creamy, Light and Sugar Free variants to cater to different groups of people.
Suggested: Beef Jerky on Keto?
Is Cool Whip Keto Friendly?
Whipped cream is a high-fat and low carb delight that fits well on the keto diet. But is the store bought Cool Whip keto?
If you are doing the strict keto diet, any processed foods can't make it to your shelf and hence you should directly skip to the homemade recipe section in this post! However, if you've welcomed some of those processed foods into your diet, you might be interested to know how much of it is okay to consume.
When determining whether a particular food is keto, we have to always consider the quantity in question. For example, 1 tbsp of something might be keto approved but if you eat the whole jar, be ready to say goodbye to ketosis.
Here is the nutrition profile for the Original Cool Whip per serving: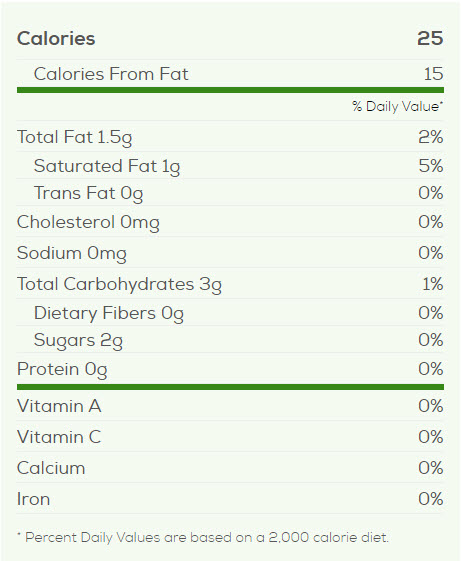 Is Cool Whip Keto Friendly? Here's the direct answer:
A serving of 2 tablespoons (9g) of Cool Whip is keto friendly as it gives 1.5g of fat and 3g of carbs.
3g of carbs is a fairly low amount considering that our keto diet ranges from 25g to 40g of carbs. But if you've exhausted your carb quota for the day, the same serving of cool whip would become NOT so keto friendly. You should always consider your day's meals before deciding whether you can have something extra.
And if you are going on a wild spree and thinking of having more than 3-4 tablespoons, make sure you adjust those carbs in other meals of the day. For example, if you had 2 servings of Cool whip to satisfy your evening cravings, you need to cut those extra carbs from your dinner!
What About Sugar Free Cool Whip?
My above answer is based on the Original variant of Cool Whip since it is the most common one. Now I'll review the Sugar Free Cool Whip to determine whether this "seemingly" healthier version is a Keto godsend!
The words "sugar free" can trick us into believing that its free from carbs and compatible with the keto diet. But that is strictly far from the actual truth! There is actually no difference between the two variants when it comes to counting carbs.
Here is the nutritional profile for Cool Whip Sugar Free per serving of 2tbsp (9g):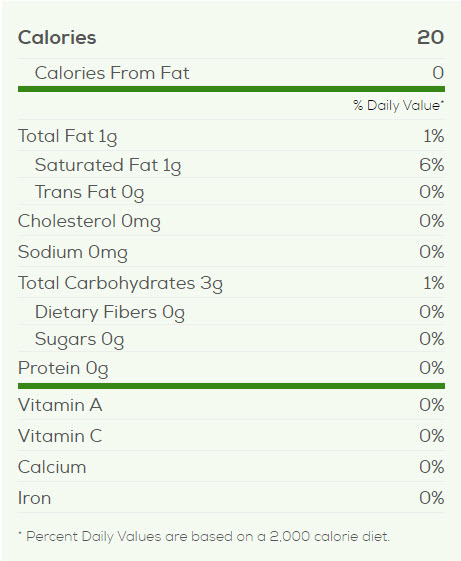 One serving will give you 3g of carbs just like the Original variant. Hence the sugar free version doesn't make much of a difference for those on the keto diet. On the other hand, if you are a diabetic, stay away from this variant as it contains high fructose corn syrup which can easily spike your insulin. It also contains Xanthan Gum which you might be well aware if you've been into the keto diet.
So why did they launch the sugar free version in the first place? Well, it's good for health conscious people as it is low in sugar and has slightly less carbs than the original one. It means you can enjoy the rich fluffy taste without getting all that extra sugar in your diet. With all the "sugar detox" rage going around the world, people are shifting to such alternatives to satisfy their taste buds!
The best part about their sugar-free version is that it doesn't even feel sugar-free. It surely tastes a little bit artificial but you can go for it if you want something that's not overly sweet. I also love to add some cocoa powder to the cool whip which makes it an instant chocolate mousse cake! The 8 oz. tub costs roughly around $1, which isn't too pricey. It comes in a resealable container and stays fresh in the refrigerator for two weeks after thawing.
( Did you know if Buttermilk is Keto?)
Is Reddi Whip Keto Friendly?
Now if you've loved Cool Whip before, you might have also heard about the Reddi Wip widely available in the market. Both of these are delicious and fluffy whipped toppings that are used to make awesome desserts.
I love topping my milkshakes with the original Reddi Wip that just makes them all the more awesome and also gives that lovely mustache (kids love it!). It adds a really nice touch to the desserts. If you are allergic to gluten then this is the perfect topping for your pies since this is a gluten-free product.
Reddi Whip tastes equally good but it has a small amount of sugar, which can be bothering to the Keto lads. So is it really keto? Let me take you to the nutrition stats of Reddi Whip: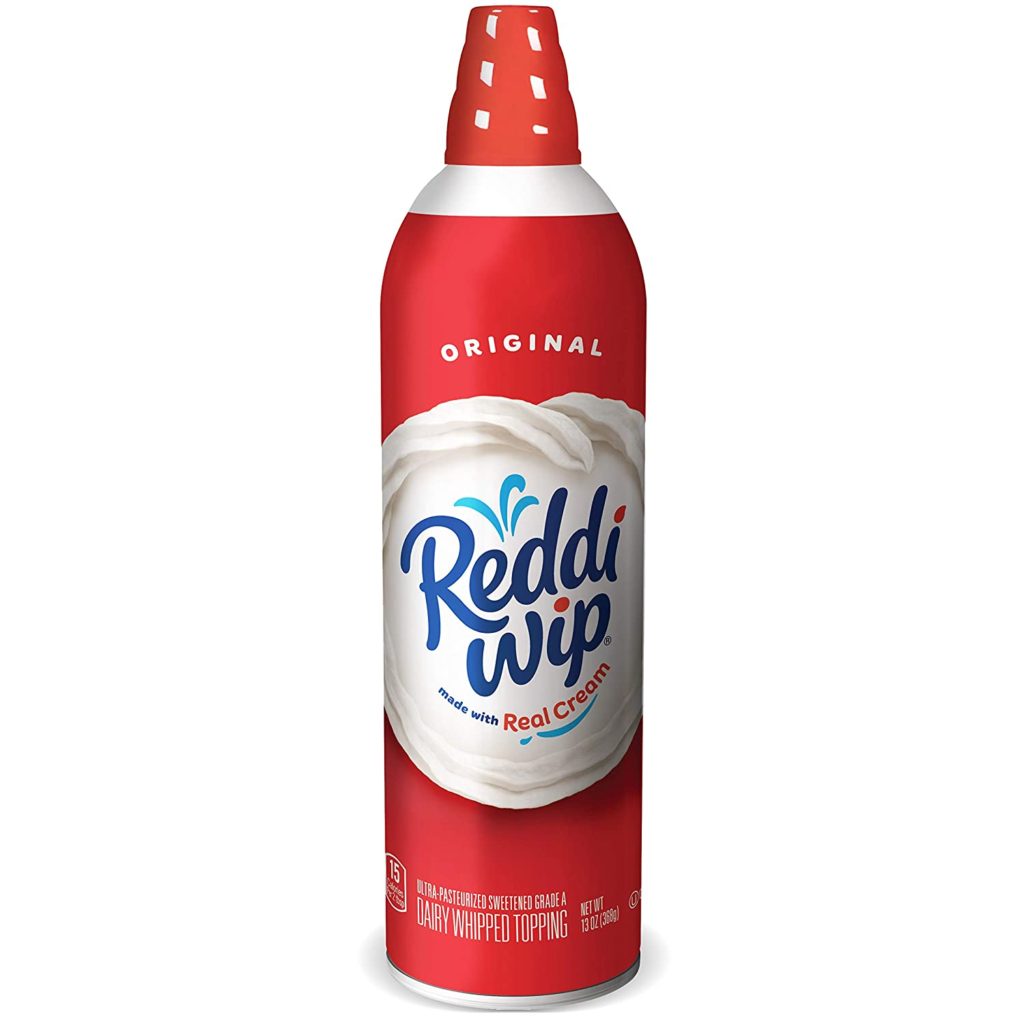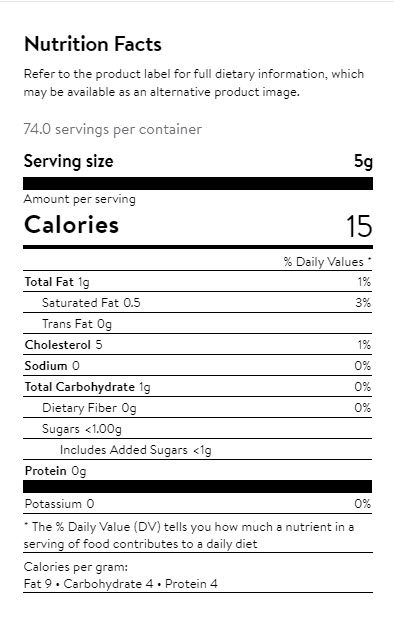 Here's the quick answer: A 2 tbsp serving of Reddi Whip contains 15 calories and 1 g of net carbs, which makes it keto-friendly.
On the plus side, it is free from sweeteners like Maltodextrin that can spike your insulin and throw you out of ketosis! And it is made from actual milk compound instead of unhealthy hydrogenated oils found in most competing brands.
Reddi Whip currently offers 5 variants: Non-Dairy Almond Milk, Non-Dairy Coconut milk, Original, Fat-Free, and the Extra Creamy version. But before you go running to the store to get the almond milk or the coconut milk one, mind you that they have more sugar than the dairy version (to compensate for the lactose sweetness)!
Reddi Wip vs Cool Whip
Since I'm a big fan of toppings on my desserts and milkshakes, I've tried almost all the whipped cream offerings out there! But these two are on the top of my list any day! I personally can't choose between the two but here are a few key differences between these toppings.
Cool Whip is made with water, corn syrup, and hydrogenated oils, having little to no whipped cream, and tastes a bit artificial as well. So the Reddi Wip wins the battle of being more natural and healthier. Also from a Keto point of view, Reddi Wip is much more accomodating as it gives you 1g of carbs per serving compared to 3g of Cool Whip!
Cool Whip comes in an 8oz or 16oz tub whereas the Reddi Wip comes packaged in an aerosol can, which also has a longer shelf life. Cool Whip comes frozen and has to be defrosted, so if you are impatient like me it might be a test for you! Once thawed, it stays good for 2 weeks.
When it comes to taste, Reddi Wip is hands down the ultimate winner! It is super creamy and airy thanks to the presence of actual cream which literally melts in your mouth. Cool Whip has a much thicker texture but it tastes pretty good despite feeling artificial. Top it on your desserts and it won't ever go bad in the freezer, which goes to show how artificial it is, but hey! occasional indulgence isn't too bad.
So who's the winner? Well, Cool Whip almost feels like an ice cream without the guilt of all that sugar! It's great for recipes and toppings and doesn't go bad in the freezer. On the other hand, Reddi Wip is way more easier to use, much more natural and lasts much longer! So I give my winning tag to the fluffy cream in the aerosol can!
Make Your Own Keto Cool Whip
Even if low in carbs, the store-bought cool whip is loaded with preservatives and hydrogenated oils, which makes it quite unhealthy. This is the most interesting part of this post as I'm giving you a super simple 3 ingredient recipe for your own alternative of a Cool Whip (which is much healthier!)
You can enjoy this whipped cream with a spoon (you'll love it!) or you can top it on your favorite keto desserts! Just think of those numerous recipes that you couldn't enjoy due to high sugar whipped creams in the market? I've got just the right fix for you today!
I'm not a fan of very fancy recipes that require tons of ingredients just to make it slightly better. I'd rather have a simpler version which tastes 99% same. My version of keto whip requires just 3 ingredients: heavy whipping cream, a keto sweetener of your choice and vanilla extract.
Ingredients
✔️ Take 2 cups heavy whipping cream. Your cream should be cold before whipping so that it whips really well. Make sure it's a high quality whipping cream with a mximum fat percentage to complement your Keto diet.
✔️ 1 tspn Vanilla extract. You don't need fancy artificial stuff to add that wow factor in your whip! Just a small amount of vanilla extract can rock all your keto recipes. Result? You get mind-blowing taste with negligible carbs!
✔️ 15 drops of Stevia. I personally prefer the liquid version as it keeps your recipe really smooth with fewer sugar alcohols. Depending on your taste buds, you might want to add more. But start with 15 drops and see how it tastes.
Recipe
Take a metal bowl and keep it in the freezer for 10 minutes (it seriously helps!)
Mix all the ingredients in the bowl.
Beat the mixture for 10 minutes at a good speed. But make sure you don't overbeat!
Voila! Your own healthy and delicious Keto cool whip is ready! Store it in an airtight container for up to 6 days.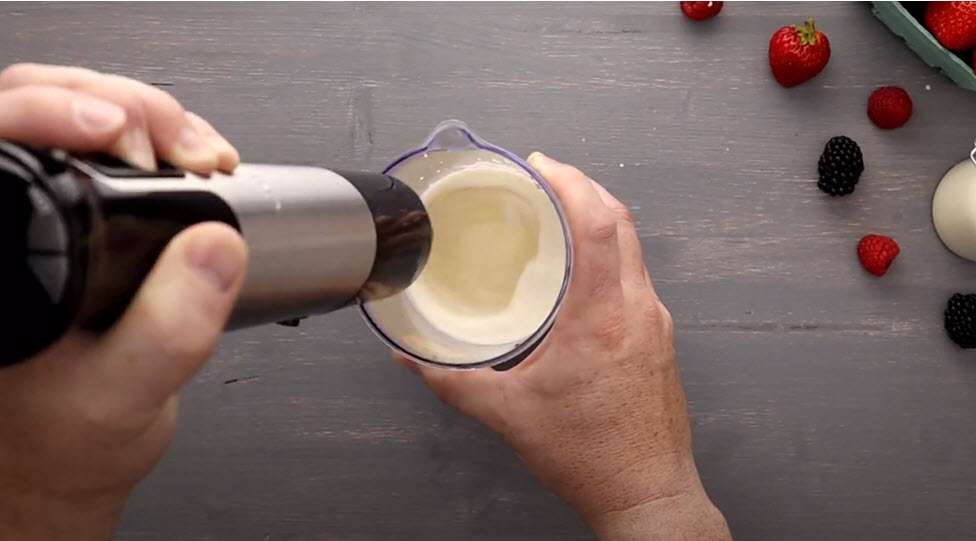 I prefer using a standing mixer, but you can also go the hand-mixer route. Just start slowly in that case to avoid spilling the cream.
You can add 1 tspn of Cinnamon to enhance the taste. If you are a mint person, definitely swap the vanilla with mint extract (it tastes heavenly!). Other than stevia, you can also use 2 tbspn of Swerve sweetener or Lokanto.
Cool Whip Ideas & Dessert Recipes
Whether you choose Cool Whip, Reddi Wip, or my freakishly amazing homemade recipe, I'm going to share some of the best uses for your cream! I honestly find the homemade cool whip so delicious that I can eat unlimited spoonfuls. This cream is so versatile that you can use it with berries, keto recipes, and even your favorite keto desserts like these peanut butter cookies.
Now that you've decided to enjoy that delicious fluffy foam cream, here are a few recipe ideas to double the fun!
Peanut Butter Cup Pie
Peanut butter is one of my favorite go-to keto elements! You can literally throw it into any recipe and it turns out heavenly! If you're also a nut butter fanatic like me, this cup pie is worth a try along with the Keto whip. There's a beauty in the high-fat diet, that we can enjoy all those lovely rich and creamy foods which are usually frowned upon in the weight-loss community!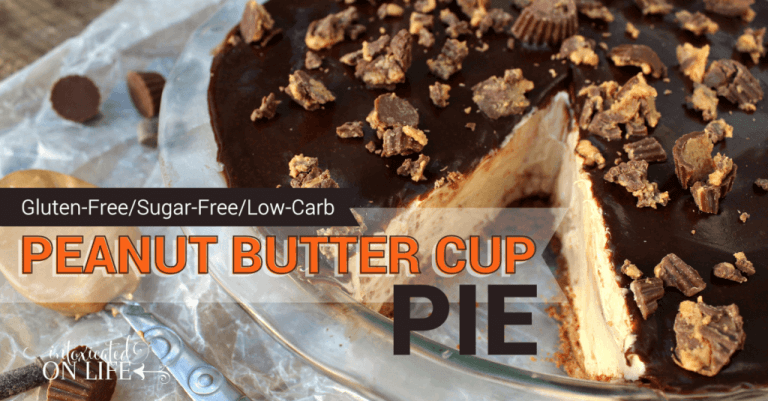 This simple recipe requires the following ingrdients:
7 tablespoons almond flour
1/2 cup coconut flour
2 tablespoons cocoa
1/2 teaspoon salt
1/4 teaspoon cinnamon
3 tablespoons Truvia
5 tablespoons coconut oil
Get the complete recipe from Intoxicated on Life
Rich Chocolate Cream Pie
Thinking about what to make for the coming weekend? Look no further! Enjoy your Keto cool whip with this simple yet delicious delight! This recipe is free from gluten and can be made Vegan, Paleo or Keto.
Unlike other pie recipes, this one can actually be enjoyed fresh from the fridge. In fact, it tastes so well when chilled! There's no peeling or slicing required to make this rich chocolate cream pie. What I really like the most about this recipe is that she has explained exactly how you can make the Keto version with simple swaps, for example, replacing the syrup with a sugar free maple syrup.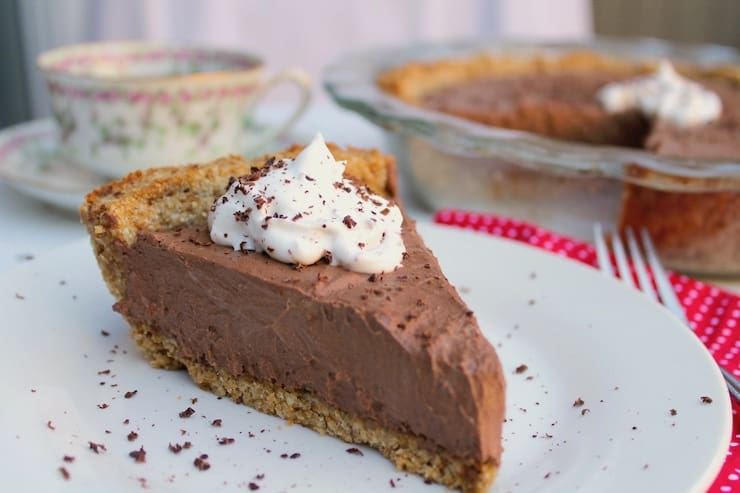 A single slice of this pie will set you back by just 6g of net carbs from the day! That's a fair barter for the heavenly taste you get!
Here are the ingredients required for this recipe:
2 cups almond flour
2 tbsp ground flax seeds
2 tbsp warm water
1 tsp baking soda
Maple syrup
1/3 cup coconut oil softened
dash sea salt
1 tbsp coconut oil (to grease the pan)
5 5.4oz cans coconut cream
2/3 cup cocoa powder
1/2 tsp vanilla extract
Get the complete recipe from Healthy Eats Real
Vanilla Keto Milkshake
Who doesn't love a chilled milkshake on a hot summer day? Now imagine a scoop of your Keto cool whip on top of it! I bet you must be already drooling..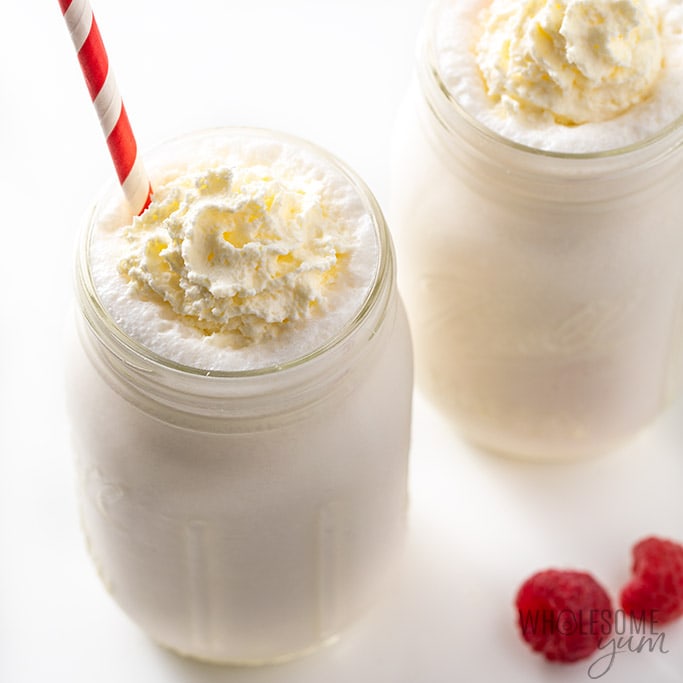 This Vanilla keto milkshake has only 4 ingredients that are always available in the pantry, which means you can make it anytime you want! So you are just 5 minutes away from this deliciously rich and creamy milkshake with a dash of cool whip to tingle your taste buds!
Here are the ingredients required:
Coconut Milk
Heavy Cream
Monk Fruit
Vanilla Extract
Ice Cubes
Get complete recipe from Wholesum Yum
Conclusion
A serving of 2 tablespoons (9g) of Cool Whip is keto-friendly as it gives 1.5g of fat and 3g of carbs. But it all comes down to your portion size. If you have more than one serving you'll need to cut down on carbs from other meals in the day.
Reddi Wip seems like a more promising alternative with just 1g of carbs per serving. It is also much more natural and healthier than Cool Whip. The best option according to me is to make your own Keto cool whip with just 3 simple ingredients: heavy whipping cream, sweetener and vanilla extract.