Keto is a highly meat-oriented diet, because where else can you get such high-fat and low carb foods? But what about vegetables? Is Okra Keto friendly?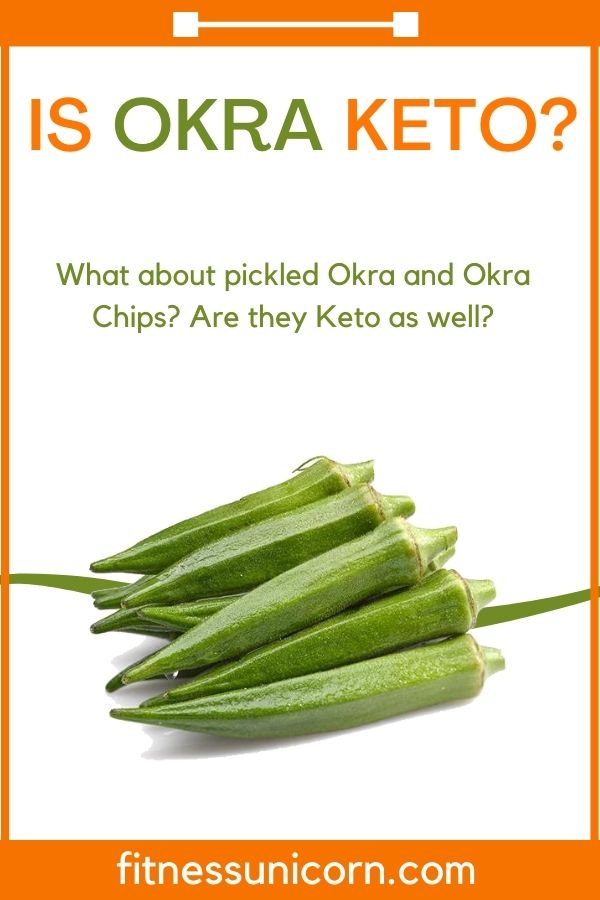 Tired of searching whether certain foods are keto? Download my keto cheat sheet with 210+ keto-friendly foods!
It's a common myth that you can't have veggies on a keto diet! However, this couldn't be further than the truth!
You can have plenty of non-starchy vegetables that grow above the ground (no tubers!)
In fact, having a sufficient amount of veggies is an essential requirement for a healthy keto diet!
You can get all the macros from meats, but when it comes to minerals and vitamins, nothing beats a good old fashioned salad.
Okra is a very versatile vegetable that goes well with almost any recipe! It has a good amount of fiber and provides a lot of healthy vitamins.
In this article, we'll look at how Okra fits into the keto diet and how you can make the most out of it! I'll also share a few other veggies that are keto-compliant.
This post may contain affiliate links, which help keep this content free. (Full disclosure)
Is Okra Keto Approved?
A half-cup (80g) serving of boiled Okra has just 1.6g net carbs and hence it is very keto-friendly. It is also rich in several vitamins and electrolytes such as potassium.
It contains 3.5g of carbs and 2g of fiber per serving, thereby leaving just 1.6g net carbs on the table.
If you are on a vegetarian keto diet, Okra is a great low-carb source of fiber that fits well within the keto format.
It also has potassium which is a great remedy for beating the keto-flu. You need a really good amount of electrolytes (potassium, magnesium, and sodium) while on a keto diet!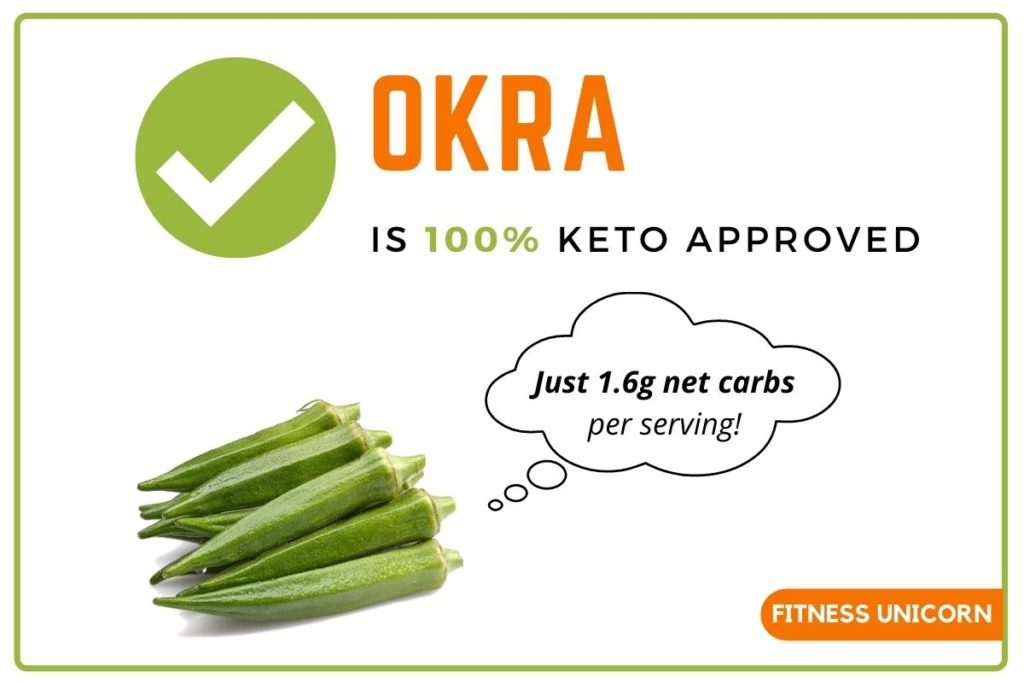 Okra isn't a very famous name (such as broccoli or asparagus) and hence it is often left unnoticed in the grocery store!
But it's a common staple in the Indian diet where the majority of the population is vegetarian.
Okra is also rich in antioxidants and phytonutrients that fight free radicals in your body and reduce inflammation.
As always, quantity is a major factor when deciding whether a food is keto-friendly or not! Even buttermilk can be Keto IF used sparingly (2 tbsp) in recipes.
Net Carbs in Okra
A 100g serving of raw, uncooked Okra has 4g of net carbs.
It has 7.4g of total carbs out of which 3.2 comes from fiber. When calculating net carbs, we always deduct fiber from overall carbohydrates.
Here's an example to simplify the calculations for you: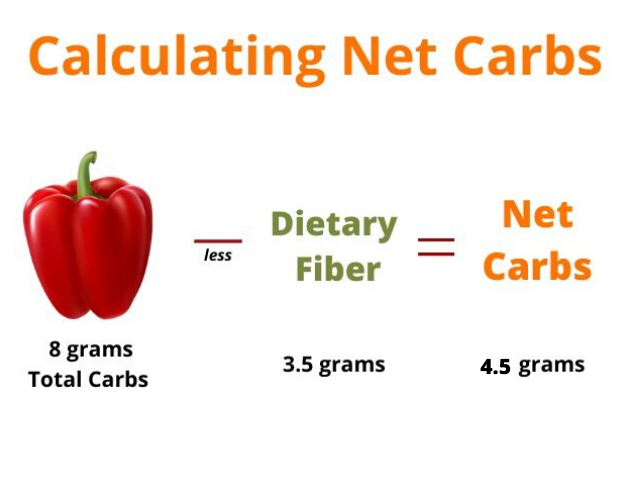 So Okra is a low-carb high-fiber vegetable that is well suited for keto. It is rich in minerals and vitamins and has a high water content that helps prevent dehydration.
Potassium in Okra is an essential element when going through the keto-flu.
There are way more benefits of having Okra on keto which I'll dicuss later in this post!
Is Pickled Okra Keto Friendly?
When considering Okra as a snack, we only think about frying it. But let me tell you that this green veggie is capable of much more!
Pickled Okra is a delight for foodies like me! It's perfectly crunchy, rich in flavors, and also has a bit of sourness.
In fact, hot pickled Okra along with Ranch dressing makes a terrific keto snack! You can also use tzatziki sauce for a milder taste.
A bunch of ranch-dipped pickled Okras will consume just 5g net carbs from your daily quota.
But since it's a low-fat meal, make sure you eat fatty foods to balance the macros for the day.
It's quite easy to make a jar of pickled Okra at the comfort of your own home! The trickiest part is waiting for the damn process (you've got to be patient!)
Pickled and fermented products are a great source of electrolytes and probiotics respectively. Saurkeraut is fermented cabbage which adds a lot of flavor to my keto meals.
Are Okra Chips Keto Friendly?
Store-bought Okra chips have 7g of net carbs per pack of 25g. It is too much for a keto diet and hence Okra chips are NOT Keto-friendly.
With so many brands in the market, you may be lucky to spot a low-carb version!
According to keto chips standards, it is keto-friendly only if it has less than 4g net carbs per pack!
That said, you can make your own version with way fewer carbs but double the crunch! 😉
Here's a beginner-friendly recipe for homemade cheesy Okra Chips:
Ingredients required:
Black Pepper
Salt
Garlic
Cheddar Cheese
Okra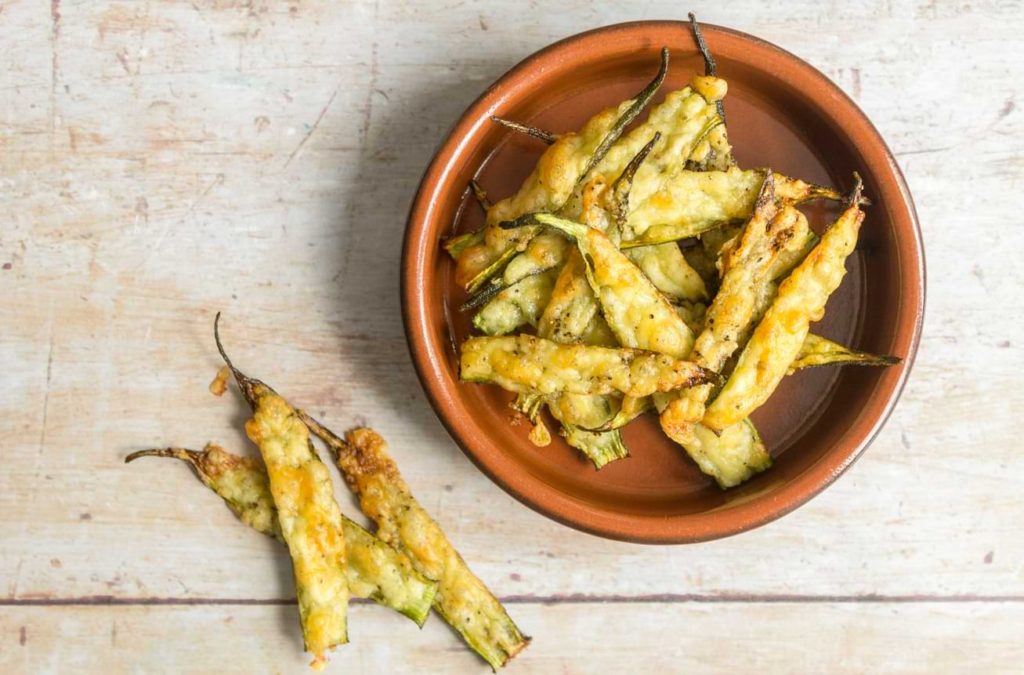 These cheesy yet crunchy Okra chips are 100% keto-friendly and help break the monotony of your regular keto meals!
A 5-pod serving gives you under 60 calories and a mere 2g net carbs, making it a great keto munchie!
Get the complete recipe from Carb Manager
Okra and its Health Benefits
Okra is known by various names including Lady's finger, Bamya, and Bhindi (in India). Its scientific name is Hibiscus esculentus (I can be a geek sometimes!)
It's a highly versatile vegetable and you can have it cooked, raw, fried, or even roasted!
Okra initially originated from Southeast Asia and West Africa as it's suited to warmer climates.
Fun fact: Okra seeds are used in many health supplements sold in the market!
Okra is deep green in color, thanks to the abundance of chlorophyll! It is the lifeblood of plants and contains tons of health properties for human beings as well.
Without any further ado, let's look at various health benefits of eating Okra on a Keto diet.
Healthy Blood Sugar
Okra is low in carbs and has a great amount of fiber! That's why it is a fantastic food for maintaining your blood sugar levels.
Whether you are a diabetic or practicing the keto diet, a high blood sugar level can stall your hard-earned progress.
Okra ranks pretty low on the glycemic index, thanks to the fiber!
Studies on mice revealed that Okra can actually lower our blood sugar levels in a healthy way!
Eating okra lowers the absorption rate of sugar in our digestive tract, leading to better blood sugar control and sustained release of energy.
Did you know that Okra seeds are a massive powerhouse of antidiabetic properties? Various studies have proved the same!
Lowered Risk of Heart Disease
Okra is rich in flavonoids which contribute towards good heart health!
Bad cholesterol (or LDL) can stick to the walls of your arteries and prevent the smooth passage of blood. That's why high cholesterol gets a bad rep in the health community.
Thankfully, Okra can greatly help by lowering your blood cholesterol!
Okra contains a gel-like substance known as mucilage. As weird as it sounds, it actually does a great job of getting cholesterol out of your system!
It binds with the cholesterol in our blood so that it can be excreted out of our body. Think of it like a sweeper who puts the garbage (bad cholesterol) out of our house!
I have another mice study to back this up: In an 8-week study, 3 different groups of mice were given 1% and 2% okra powder and a high-fat diet without any okra, respectively.
Guess what? The mice having okra excreted out more cholesterol and the control group!
Okra is also rich in Polyphenol that lowers inflammatory markers linked with various heart diseases.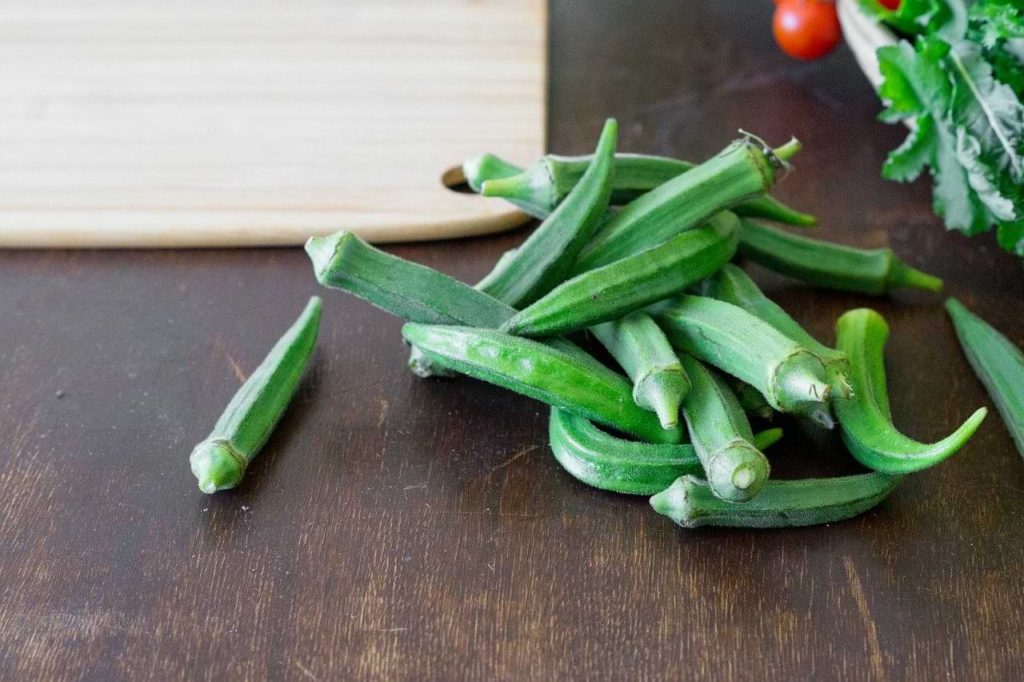 Beneficial in Pregnancy
Vitamin B9 or Folate is a highly essential vitamin for pregnant women.
It lowers the risk for a certain problem that may occur in a developing baby inside the womb.
400 mcg per day is the recommended dosage of Folate for all pregnant women to avoid any complications.
However, even after doctor's recommendations, women still lack sufficient amounts of Vitamin B9 in their diets.
A survey of 12,000 adult women revealed that the average consumption of this vital nutrient was only 245 mcg per day!
That's where Okra comes in handy! A 100g serving of Okra has enough Folate to fulfill up to 15% of a women's daily intake requirement.
Anticancer Properties
Did you know that Okra can also prevent the growth of human cancer cells?
Well, this is one of the excellent properties of this keto-friendly superfood!
Lectin is a protein found in Okra, which is known to inhibit the reproduction of cancer cells in humans. In fact, a study found that Okra can prevent the growth of breast cancer cells by an alarming 63%!
However, all of these studies are done in a very controlled environment with purely extracted components.
They are not 100% accurate in real life but they still show a significant reflection of real-world scenarios!
Keto-Friendly Vegetables Guide
Keto diet has been a very controversial diet among the fitness community!
It has divided people into two groups:
One, who looks at the high-fat consumption and keep on worrying whether it's safe.
Second, who just ignores the "One" and continues with the high-fat, low-carb lifestyle to reap unbelievable results!
If you are reading this, I can bet a rat's ass that you belong in the second one, just like me!
Whether you are on keto, or simply watching out your carbs, you have plenty of non-starchy veggies to munch on!
A salad a day keeps the doctor away! (haters will say that it's Apple!).
Anyways, you should stick to dark, leafy green vegetables and avoid all types of roots and tubers. Let's look at some of the promising options!
Spinach
With ZERO net carbs per serving, spinach is a keto-er's delight!
It is the most common salad ingredient which also acts as a "filler" in many keto recipes to increase quantity without increasing those sinful carbs!
Just like Okra on keto, spinach is also a highly versatile food. You can use it in salads in its raw form, roast it, sauté it, or even bake it into chips!
Creamed spinach is one of the most popular keto recipes out there with a healthy dose of vitamins!
The combination of spinach and cream cheese tastes absolutely delicious! Even if you dread raw spinach, creamed spinach will completely change your opinion!
If you want all the health benefits of spinach without the bitter-ish taste, always go for baby spinach!
Creamed spinach is a beginner-friendly recipe that takes less than 15 minutes of your kitchen time!
Ingredients:
3 tablespoon butter
Half cup Heavy cream
3 oz Cream cheese
One tsp Italian seasoning
A pinch of Sea salt
A pinch of Black pepper
4 cloves minced garlic
10 oz spinach
Instructions:
Take a pan and saute garlic in the butter on medium flame (till you get the fragrance).

Add chopped spinach and saute for 2-3 minutes. This will make the spinach wilt and soften.

Now add all the remaining ingredients and stir gently until the cheese melts. Let it cook for few more minutes till it thickens.
Voila! You have your creamed keto spinach ready to be served!
This recipe yields 4 servings and one serving is a half-cup.
Nutrition:
Each half-cup serving of creamed spinach has 275 Calories | 26g Fat | 4g Protein | 4g Net Carbs
Cauliflower
Cauliflower is the show stopper in our keto universe!
It has made its way into most low-carb versions of otherwise unhealthy foods such as pasta, pizza crust, noodles, etc.
Cauliflower contains just 1.5g of net carbs per half a cup. It has a nutrition profile similar to Broccoli.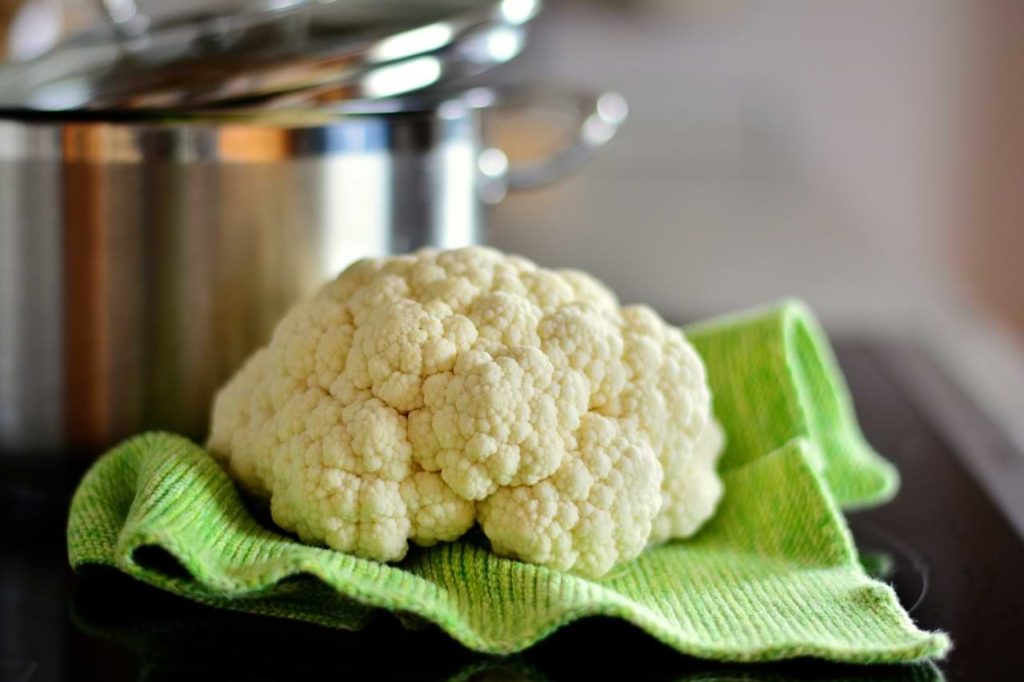 It is rich in Vitamins K and C, promotes heart health, and also lowers the risk of cancer.
Check out this compilation of 25 amazing cauliflower keto recipes that'll make you a fan of this flowered veggie!
Broccoli
Broccoli has a great crunchy texture which can be used to replace pasta and rice on the keto diet.
This green flowered veggie serves as a healthy base for most keto recipes!
With just 2g net carbs per half-cup serving, it ranks high in the keto-friendly food index.
It's called a superfood because it is rich in fiber and protein and super low in calories and carbs! On a keto diet, you can use it in just about anything—casseroles, stews, soups, salads, you name it!
Other keto-compliant vegetables that deserve a mention are Eggplant, Asparagus, Bell Peppers, Cabbage, Zucchini, and Avocado.
Conclusion
Is okra keto friendly?
Okra is keto-friendly because it a half-cup serving of boiled Okra has just 1.6g of net carbs. It is also a great source of fiber, potassium, minerals and other vitamins in the keto diet.
You can have Okra in many ways: roast it, fry it, steam it, or simply have it in the boiled form in salads.
Vegetables are equally important in a keto diet as they provide essential micronutrients that are lacking in meats and steaks.