Is there anything more delightful than potatoes in a rich CREAMY sauce? And what is its completely GLUTEN-FREE? Today I proudly present to you my highest rated recipe for gluten free scalloped potatoes!
Since I'm not a fan of complicated stuff, this recipe is quite easy to make! I'm totally in love with the thick and creamy gluten-free sauce thats layered in these potatoes.

Last week, I had a sudden craving for some cheesy-creamy potatoes. I quickly ran to the supermart and grabbed the gluten free scalloped potatoes box.
As you can guess, the gluten-free one cost me almost DOUBLE the money and the taste was not even worth the price! And just like most of the ready-to-eat dishes from the supermarket, this one also tasted kind of "artificial".
This leads me into a quest for the best gluten-free scalloped potatoes recipe. I have perfected this one over the months, and today I'm going to share it with you guys… 😉
This is a delicious side dish that anyone can enjoy, not just restricted to those on a gluten-free diet. It is perfectly suited for special occasions and holiday menus (always been a part of my Christmas Eve spread!)
This post may contain affiliate links, which help keep this content free. (Full disclosure)
Scalloped Potatoes VS Au Gratin Potatoes
Contrary to popular belief, Au Gratin potatoes are quite different from scalloped potatoes. Here are the reasons:
Scalloped potatoes are slightly thicker than the au gratin potato.
Au Gratin Potatoes are always layered with cheese and topped with bread crumbs.
Scalloped potatoes have a more creamy sauce and do not have the breadcrumb topping (and hence they are gluten free). They sometimes contain cheese, however not always.
That said, let's quickly jump to the ingredients.
Ingredients for Gluten Free Scalloped Potatoes
3 lbs. of yukon gold potatoes, peeled and thinly sliced (1/8 inch thick)
One cup 2% milk (or dairy-free substitute)
One tbsp unsalted butter
One garlic clove (large, minced)
One tbsp fresh thyme
One cup shredded white cheddar cheese (aged)
1/2 cup grated parmesan cheese
A dash of nutmeg
Salt & pepper to taste
How to Make Gluten Free Scalloped Potatoes
Step 1: Slicing the Potatoes
Wash & scrub the potatoes with a brush to get rid of any dirt.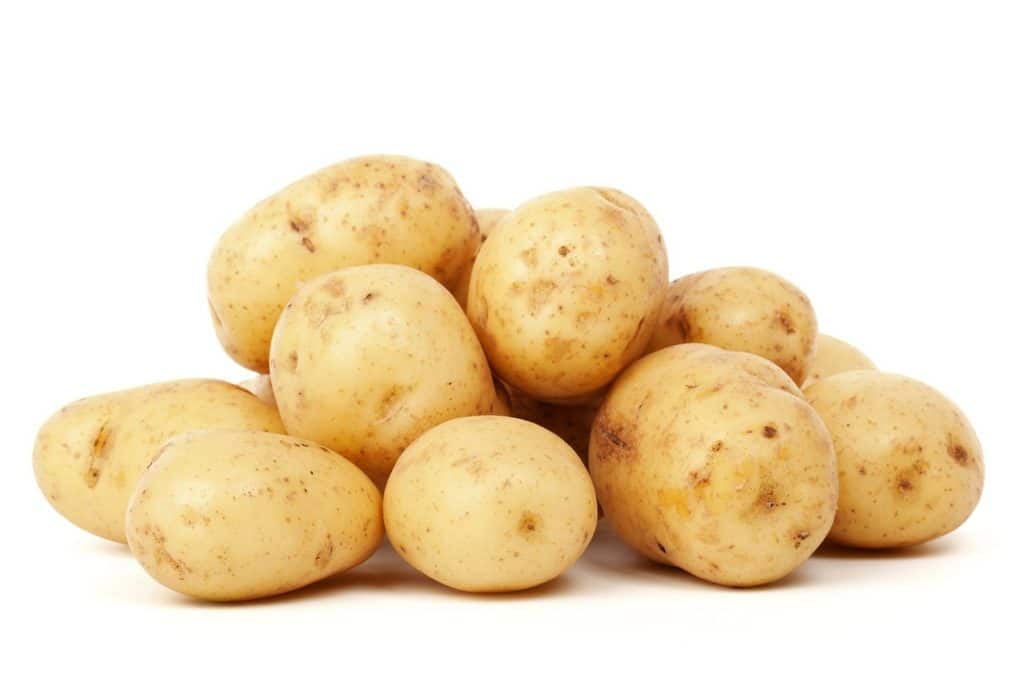 Peel the potatoes and slice them into 1/8″ thick slices. I prefer to use a mandoline for this, but you may use a slicer or simply a knife.
Tip: To ensure the right thickness, stack 2 quarters on top of each other and line up next to the potato. If your potato slice is thicker than this, you need to keep cutting!)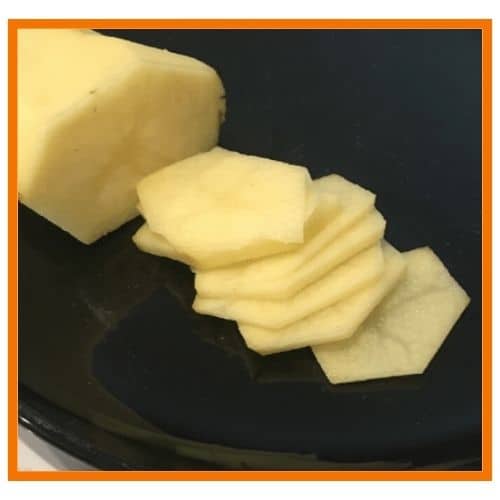 Once the potatoes are sliced add them to a big bowl of cold water. This will allow some of the starch to get out of the potatoes, and also prevent them from browning. Pat dry the slices before adding them to a dish.
RECOMMENDED: Gluten-Free Options at Golden Corral
Step 2: Making the Sauce
In a small sauce pan add milk, garlic cloves, nutmeg and some fresh thyme. After it comes to a boil, add butter. Stir it smoothly till the butter melts, and keep it aside.
But I want a thicker sauce…
Don't worry, I've got you covered! Just follow these steps to make a rich creamy sauce for your gluten free scalloped potatoes:
Take 2 tbsp milk from the existing mixture and place it in a bowl along with 1 tbsp of cornstarch (you may also use rice flour or sweet rice flour).
Using a fork, mix the mixture together until there are no lumps left.
Pour the cornstarch sauce back into the milk mixture and stir together.
Cook the sauce for 1 minute to achieve a thick consistency.
Step 3: Layering & Baking
Layer the potatoes, cheese, toppings, seasonings and add more potatoes on top.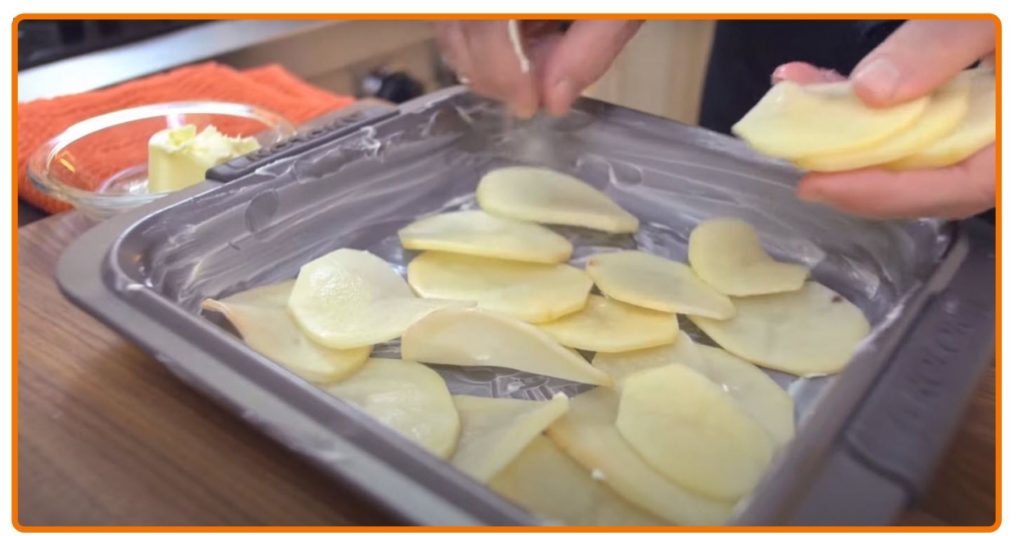 Pour the prepared milk mixture over the layered scalloped potatoes.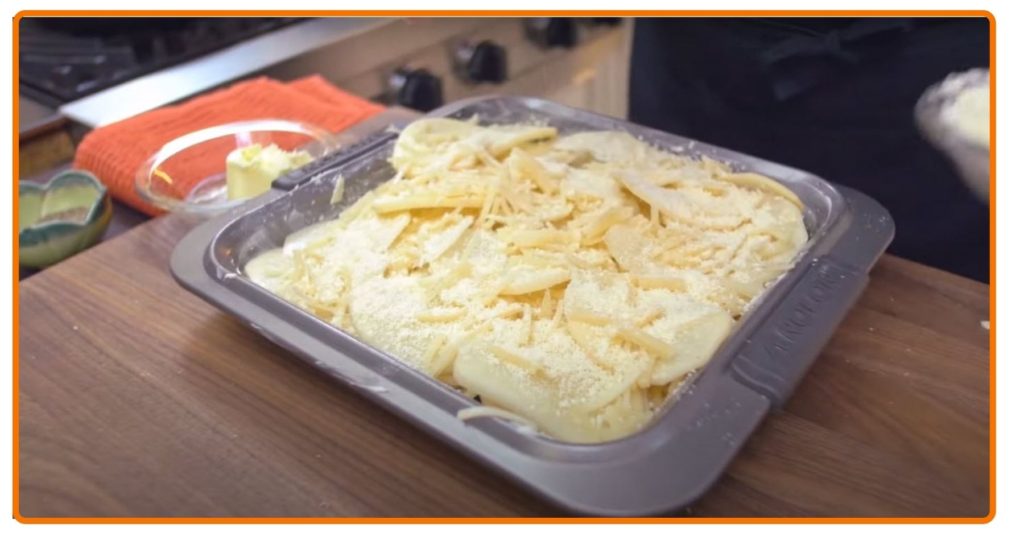 Finally, add some more cheese on top and place it in the oven to bake it nicely till the top turns brown.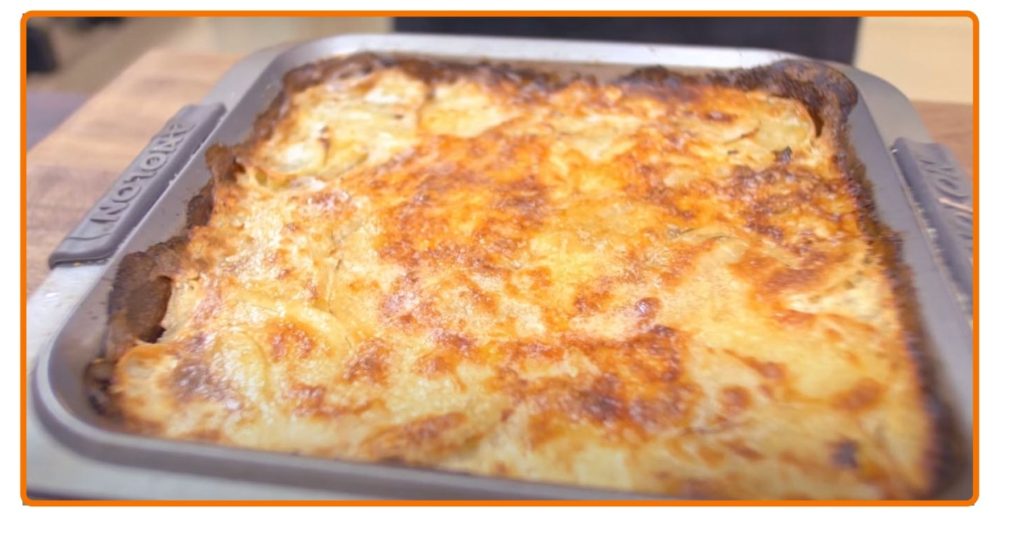 Gluten Free Scalloped Potatoes Recipe STEP by STEP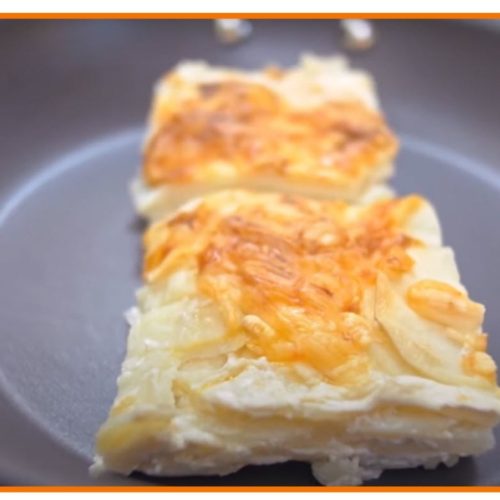 Gluten Free Scalloped Recipe
This is the easiest scalloped potatoes gluten free recipe with a thick and creamy sauce.
Ingredients
3

lbs

Yukon gold potatoes

1/8 inch thick slices

1

cup

2% milk

or dairy-free substitute

1

tbsp

butter

unsalted

1

clove

large garlic

minced

1

tbsp

fresh thyme

1

cup

aged white cheddar cheese

shredded

1/2

cup

parmesan cheese

grated

1

pinch

nutmeg

salt & pepper
Instructions
Preheat oven at 350 degrees F.

Spread cooking spray on your baking dish

Put thinly sliced potatoes in a large bowl with water and set aside.

In a sauce pan add milk, garlic cloves, nutmeg and some freshthyme. After it comes to a boil, add butter. Stir it smoothly till the buttermelts, and keep it aside.

Place half the potato slices to the prepared baking dish. Sprinkle salt and pepper.

Layer with half the shredded white cheddar cheese and half the parmesan cheese.

Add the remaining potatoes and sprinkle salt and pepper.

Pour the sauce over the potatoes evenly.

Top it with the remaining white cheddar cheese and parmesan cheese.

Bake it uncovered for 35 minutes or until the top looks golden brown.
Nutritional Info
Serving Size: 1/2 cup
Calories: 126
Sugar: 2 g
Sodium: 113 mg
Fat: 4.2 g
Saturated Fat: 3.1 g
Carbohydrates: 17 g
Fiber: 1 g
Protein: 7 g
Cholesterol: 14 mg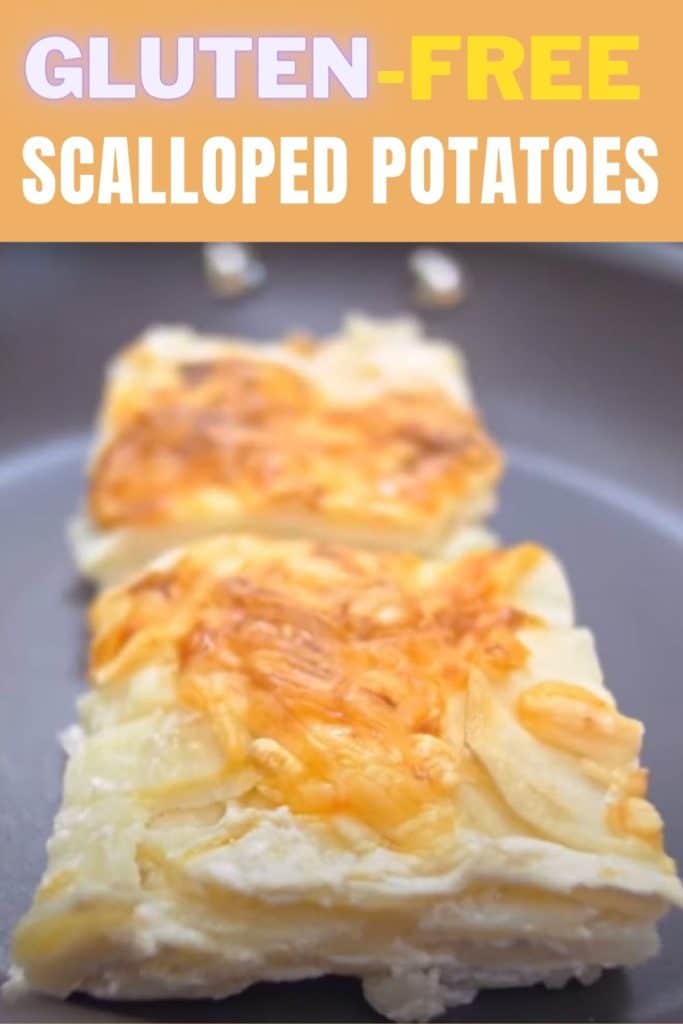 Cooking Tips for Scalloped Potatoes
To stay away from gluten in any way, make sure your utensils and cooking surfaces are gluten-free as well. Make sure to scan the labels for gluten!
You could also top these potato slices with some ham to enhance flavor and increase saltiness a bit.
The long baking time of gluten free scalloped potatoes is perfectly justified with the nice golden brown texture on top!
Gluten Free Scalloped Potatoes with Heavy Cream
You can use either a full cup milk or half a cup milk and half a cup of heavy cream, all ingredients remaining the same.
TRENDING: Gluten Free Low Carb Peanut Butter Cookies
Gluten Free Scalloped Potatoes Without Cheese
You can make your vegan + gluten free scalloped potatoes by substituting milk, butter and cheese with your favorite dairy-free alternatives and relish the same taste!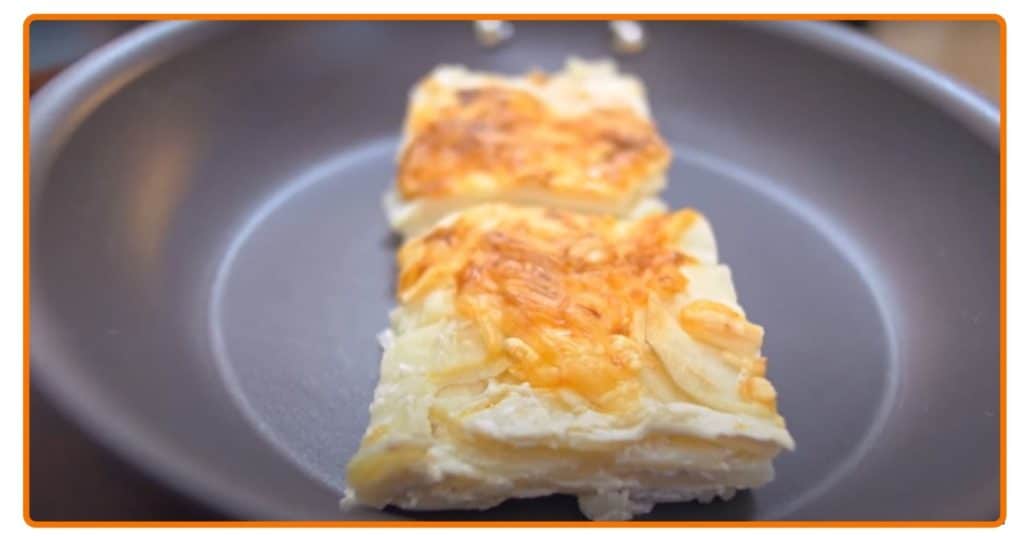 Here are the replacements I suggest:
For butter, use non-dairy margarine
For milk, use any dairy-free milk such as cashew milk
For cheese, use cashew cheese, almond cheese, etc.
Cheesy Scalloped Potatoes Recipe FAQ
How to prevent the potato slices from turning brown?
After slicing, potatoes may turn brown if left out in the open air. Place them in a bowl of water to prevent this from happening. You can refrigerate the bowl for up to 24 hours.
Can you prep the scalloped potatoes in advance?
You can surely prep the gluten free scalloped potatoes ahead of time and reheat before serving. Feel free to make the casserole up to 1 day before planning to serve. Refrigerate the sauce in a container and store the potato slices in a bowl of water.
How to reheat the leftover dish?
When serving the leftovers, add a layer of cheese on top and reheat in the oven at 350 degrees for 15 minutes. The cheese will prevent your scalloped potatoes from burning.
Can I Freeze Gluten Free Scalloped Potatoes?
Scalloped potatoes can be frozen for up to 5 weeks. In order to prevent frosting, place them into a freezer zip-lock bag. Don't forget to add extra cheese on top prior to reheating the dish! Sadly, the flavor and texture won't be the same as the freshly prepared one, but they still taste quite good.