If we were not hungry already, we are now! Golden Corral really has the full package, broccoli, carrots, beans, chicken, and pot roast, you want it? You can have it!
Their vast menu really serves the people, but the question is, is anything gluten-free at Golden Corral?
Golden Corral has plenty of gluten-free options on its menu such as chicken, beef, pork, turkey, fruit, and vegetables. However, there are a few items you want to be aware of and avoid before deciding what to order.
Things like bread, sandwiches, gravy, and certain sauces should be avoided at all costs.
But if you have extreme gluten sensitivity or celiac disease, it is best to steer clear from Golden Corral as there is always a possibility of cross-contamination.
In their allergen statement, Golden Corral state that they cannot guarantee any transfer of ingredients, thus it is always best to speak to the restaurant manager prior to ordering for any queries.
Continue reading for an in-depth overview of the gluten-free options at Golden Corral.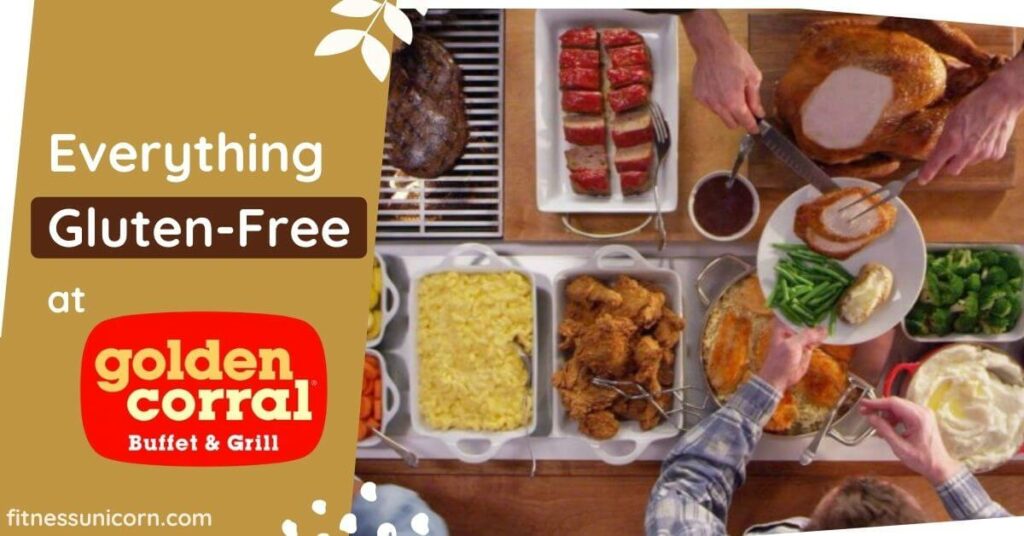 This post may contain affiliate links, which help keep this content free. (Full disclosure)
Golden Corral Gluten-Free Options:
This family-founded restaurant was established in 1973. To date, the company is situated in almost 500 locations and it only took a decade for the success to be immeasurable.
Around that time there was a growing concern about eating habitats and lifestyle, so Golden Corral introduced salad bars, becoming one of the first restaurants to offer this.
Let's take a closer look into what is or isn't gluten friendly at the restaurants!
Beef
Barbacoa
BBQ beef
BBQ beef ribs, boneless
Garlic herb butter sirloin
Garlic Parmesan sirloin
Hot dogs with onions and peppers
Lemon rosemary sirloin
Menudo
Picadillo
Ribeye
Sirloin steak (12 oz, 8 oz)
Sirloin steak strips
Slow smoked sirloin
Smoked beef short ribs
Smoked brisket
Smoked Texas bbq beef
ALSO READ: Raising Cane's Gluten-free Options
Bread
Unfortunately, every bread option on Golden Corral's menu contains gluten, as much as we all love it. If you are gluten intolerant or suffer from celiac disease it is highly suggested to steer well away from bread.
Breakfast
Toppings (all)
Applesauce
Bacon
Syrups (all flavours)
Cheese grits
Chorizo and eggs
Corned beef hash
Frozen vanilla yoghurt – No sugar added
Grits
Hash brown casserole
Hominy
Honey
Made to order eggs
Omelet
Sausage links
Scrambled eggs
Skillet hash browns 
Steak and eggs 
Strawberry cheesecake topping for French toast
FIND MORE: Can I Dine at Dave & Buster's on a Gluten-Free Diet?
Chicken/Turkey:
Arroz imperial
Baked bbq chicken legs
BBQ chicken (all)
Buffalo wings with Frankis RedHot sauce
Carved Turkey (dark meat)
Carved Turkey (white meat)
Carved Turkey breast
Chicken wings with mango habanero (10 pc portion)
Chicken cacciatore
Chicken cobb salad (grilled)
Chicken enchiladas
Chicken lemonata
Chicken machaca
Chicken strips
Chicken wings (all)
Golden roasted chicken (white and dark meat)
Grilled bbq chicken
Grilled sweet buffalo chicken
Hot & mild buffalo chicken legs and wings
Mini corn dogs
Nashville hot fried chicken thighs
Pulled bbq chicken
Rotisserie chicken
Roasted grilled bone-in chicken
Smoked bbq Turkey breast
Smoked chicken (white and dark meat)
Smothered grilled chicken
Spicy garlic chicken legs and wings
Spicy ranch chicken breast
Sweet buffalo chicken thighs
Turkey sausage
Desserts
Butter pecan ice cream
Candy corn
Soft serve (all flavours)
Chocolate chips
Chocolate covered raisins
Chocolate fountain
Chocolate fudge
Chocolate pudding
Chocolate syrup
Cinnamon imperials
Macaroon cookies
Cotton candy
Flan
Fruit shaped candy
Gummy bears
Hot caramel, fudge
Jellybeans
Marshmallows
Gelatin (all flavors)
Low fat strawberry yoghurt
sherbet (all flavours)
Yoghurt (all flavours)
Sugar free ice cream (all flavours)
Candy oranges
Snackums
Sour worms
Sprinkles
Toasted coconut
Truffles with peanuts/ sprinkles
Whipped topping
Fish/Seafood
Baked fish (all kinds)
Carved salmon
Shrimp skewer (all flavours)
Salmon lemonata
Shrimp and grits
Shrimp topped baked fish with lemon herb butter sauce
Fruit
Lucky for us, every fruit that Golden Corral has on their menu is gluten-free and 100% nutritious! So, you can eat your heart out without worrying about whether or not you can eat it.
Pork
Baby back pork ribs
BBQ pork (all kinds)
Bacon
Sausage (all flavours and kinds)
Glazed ham
Fatback
Country style bbq boneless ribs
Grilled bbq pork
Grilled ham steaks
Pork burnt ends
Pork fillets
Pork pasole
Sausage and egg skillet
Sliced ham
Smoked baby back ribs
Smoked back ends and pieces
Smoked bbq pork (all kinds and flavours)
Smoked Pitt ham
Smoked pork spare ribs
Smoked pulled pork
Smoked sausage (all flavours)
Sides
Arroz con leche
Baked potatoes, beans
Carrot soufflé
Charro beans
Mashed potatoes (all)
Potatoes (all) except scalloped potatoes
Cheese enchiladas
Creamed spinach
Sautéed onions (all)
Sautéed onions and peppers
Fries (all)
Golden bite
Rice (all)
Plantains
Potatoes chips (all)
Sweet potatoes (all)
Peppers
Sweet corn pudding
Taco shells
Tater tots
Tortilla chips
Soup
Broccoli and cheese soup
Brunswick stew
Cajun chicken soup
Chicken tortilla soup
Green chilli stew
Go-To Breakfast
Bacon
Fresh fruit
Sausage link / patty
Southwest breakfast bowl with tots/ grits/ hashbrowns
Turkey sausage
Two egg breakfast (all)
Salad, Toppings And Dressings
Every topping on their menu is gluten-free except for the ginger dressing which does contain gluten. It is important to keep this in mind, especially if you love ginger!
Salad: What To Avoid
When ordering a standard salad, be sure to order it without the buffalo lettuce wedge as it contains gluten. Every salad on their menu is gluten-free except for the following:
BLT salad
Caesar salad
Croutons
Dried onions
Macaroni salad
Pasta salad
Rice noodles
Seafood salad
Sesame sticks
Spinach artichoke dip
Sandwiches
As a result of all the bread on Golden Corral's menu containing gluten, unfortunately, you would have to avoid every sandwich on the menu.
Sauces
The only sauces you need to watch out for are the alfredo sauce, every flavour of gravy, mushroom sauce, and smokehouse bbq sauce, you can choose from the rest!
Vegetables
The most important thing to note here is that the beans do contain gluten. If you are wanting to have green beans with your meal, specify 'fresh' green beans. Otherwise, avoid the following;
Asian stir fry vegetables
Black-eyed peas
Cabbage (kettle cooked)
Collard greens (all)
Fried green tomatoes
Fried mushrooms
Fried pickles
Beans (all) except fresh beans
Spinach
Tempura battered squash and zucchini
Turnip greens
Veggie burger
Beverages
This is the easiest part of the meal. When ordering from Golden Corral, you can order any beverage on the menu with a gluten-free conscious mind!
Tips For A Gluten-Free Meal At Golden Corral
Managing certain dietary preferences when you are eating out can be daunting, but they shouldn't be. There are many restaurants out there that accommodate everyone, especially those who are gluten-intolerant or have celiac disease.
Despite that, the main question being posed is, how do you really know if the appropriate procedures are being adhered to avoid cross-contamination or that the food is 110% safe?
Here are a few tips and tricks for when you are eating a gluten-free meal at Golden Corral.
Do Your Homework
Prior to going to the restaurant, be sure you have done your research on what is gluten-free and what is not. There is nothing worse than craving spicy chicken wings and then finding out at the restaurant that they are not gluten-free!
So, tip number one is to always do your homework before paying the restaurant a visit.
Speak To The Manager
An important statement Golden Corral made in their allergen statement is that if you have any questions about their food, how it is handled, and the ingredients, you can speak to the manager.
They will have full insight into what is going on in the kitchen and whether or not you would be able to have a certain meal or not.
Be Clear About What You Want
It is one thing mentioning to them that you are gluten-free but to them that could just mean that the ingredients need to be gluten-free.
They may not think about the fact that you want your food cooked on a clean surface with clean utensils, so always be sure to be very clear about your requirements and how you want your food prepped.
If the server does not understand your needs, ask the restaurant manager and explain to them that you cannot have any flour or bread crumbs could be detrimental.
Dine Early or Dine Late
This is simply, that the less busy the restaurant, the less risk there is of cross-contamination or meal mix-ups. Additionally, you will be able to get hold of the manager or staff a lot easier than if it were busy.
Cross Contamination Risk
Cross-contamination is when the gluten-free food/ ingredients you ordered have been in contact with gluten. When we are going out to eat, this is the most important thing to be aware of, regardless of where you are for your meal.
For example, if your gluten-free roasted potatoes are cooked in the same oven as a meal that contains gluten – they could be contaminated, putting you at risk.
Even the tiniest bit of gluten could trigger a reaction that can cause long-term damage to your gut. If you are at all unsure of the food you have been served, rather send it back than risk it.
What People Are Saying?
We have sourced numerous reviews from the internet about Golden Corral and the gluten-free food that they offer. The good news is that majority of the reviews are positive.
One happy customer mentioned how they went to the restaurant with apprehension due to the fact of having celiac disease, but the manager left them feeling at ease and reassured that their food was being prepared accordingly.
However, another customer mentioned how their gluten-free menu in the restaurant isn't as comprehensive as the one online and just note that the green beans do contain wheat. Be sure to ask for fresh green beans which are gluten-free.
Another customer mentioned that the managers at the restaurants are always happy to have a chat with you and give you all the necessary information/ advice you need for your gluten-free meal at Golden Corral.
All in all, there were mainly positive reviews from the customers at Golden Corral and their gluten-free experience.
ALSO READ: BEGINNER Friendly Gluten Free Scalloped Potatoes
Gluten-Free Alternatives To Golden Corral
Olive Garden
Who doesn't love a hearty dish? This delicious Italian Restaurant chain offers something for everyone. Every one of their Rotini dishes is gluten-free, regardless of whether it is with marinara, meat sauce, or even cheese shavings!
Panera
Panera appears to be the pandora's box of gluten-free dishes. They have a wide array of gluten-free options, ranging from sweet to savory.
They have mainly adored for their South West Chicken Tortilla Bowl as well as their incredible triple chocolate biscuit with walnuts which we know are often hard to come by!
Papa Johns
Everyone deserves to satisfy their pizza cravings, regardless of their dietary preference. Papa Johns is currently testing out a new gluten-free pizza base at a very great price too.
For just under $10, you can order a small pizza with two toppings of our choice – talk about a bargain if you ask me!