You can't go wrong with steak because it's the most keto-friendly food on earth! Slices of high-quality beef are usually grilled or fried after they are cut into thick slices. For those on a keto diet, steakhouses are the perfect stop. So, what are the keto-friendly options at Saltgrass Steak House?
Most of the cuts are keto-friendly at Saltgrass Steakhouse provided that you stay away from sauces and dressings. Whether you're craving an appetizer like the Range Rattlers, a lunch item like the Wagon Boss Center-cut Top Sirloin, or your treasured red wine, the options are endless. Furthermore, all food is highly customizable depending on your taste!
The good news is that carbohydrates are always low in meat and cuts. But one must avoid many pitfalls when dining at a steakhouse.
On a diet like keto, deciding what kind of sauces, appetizers, and side dishes will suit your way of eating can be daunting. We can help you with that! We cover everything Keto at Saltgrass Steak House in the following article.
Not only will you find the best low-carb food here, but you'll also learn all the tricks and tips you need to know about eating at a restaurant while maintaining your keto goals!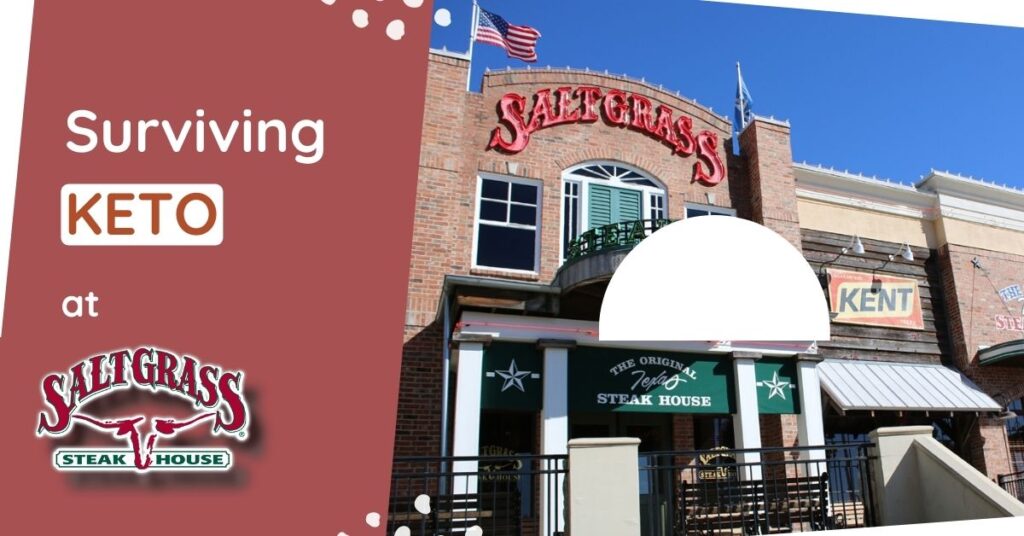 Tired of searching whether certain foods are keto? Download my keto cheat sheet with 210+ keto-friendly foods!
This post may contain affiliate links, which help keep this content free. (Full disclosure)
How to Survive Keto at Saltgrass Steak House
Honestly, Saltgrass Steak House makes it easy to go keto. The restaurant offers a wide assortment of steaks, salad, low-carb sauces, as well as low-carb vegetables.
The first Saltgrass Steak House was established in 1991, the restaurant lies along a historic route used by cattle herders in order to drive their cattle down to the Gulf Coast in order to graze on salt grasses. Teams of riders pass by the original restaurant every year as they make their way to the Houston Livestock Show and Rodeo. So Saltgrass Steakhouse has been on the scene for a few decades!
Steak isn't all they serve at this place and their menu goes way beyond that. Additionally, they offer shrimp, chicken, pork, ribs, salad, and a lot more! Nonetheless, the steaks here are amazing!
A full bar featuring beer, wine, and other fine drinks is also available at this steakhouse. There are so many varieties that people on a low-carb diet can easily find what they are looking for (god bless the happy hour!)
Among the things you should keep in mind is to avoid sauces that are high in carbohydrates. In some instances, steaks are smothered in BBQ sauce, gravy, and cocktail sauces, which significantly increases their carb content.
In addition, rice and baked potatoes are served as meals. Both rice bowls and potatoes have approximately 30g of carbs, which is more than the allotted limit of carbs you should eat all day. So I highly recommended that you stay away from such temptations.
Since rice is not suitable for keto, replace it with cheese, vegetables, or bacon on your plate and you'll have a perfectly nutritious low carb meal!
They offer a wide selection of non-alcoholic and alcoholic beverages, which is where most people give in! But keep your portions in check and always choose hard liquor over any other alcohol.
You must always exercise self-control because once you have had a glass of margarita or beer, it is almost impossible to resist another.
Unfortunately, there are no keto-friendly desserts at Saltgrass Steak House, which may disappoint sweet-toothed diners.
An ideal way of satisfying these cravings is to have a can of diet or zero coke. It contains no carbs, sugar, or calories, and doesn't spike your blood sugar either.
Let us now take a closer look at all the keto-friendly and low-carb options available at your nearest Saltgrass Steakhouse.
ALSO READ: Everything Keto at Ono Hawaiian
Keto-Friendly Options at Saltgrass Steak House
It's one of those restaurants that are a keto paradise! They have a huge variety of options which means even the picky-eater in you will be entertained here!
Note: Their website doesn't provide a nutritional guide for their menu. So it's not possible to give you the exact net carbs in each of the following items. But I've included dishes anywhere from 5-15g of net carbs.
ALSO READ: Keto-friendly options at Beans and Brews
Appetizers
Range Rattlers
Fried Mushrooms
Queso Fresco With Brisket
You can choose between Buffalo Sauce and Avocado Lime Sauce as options for appetizer dressings.
Keto-Friendly Salads
Steak Salad
Grilled Chicken Salad
Grilled Salmon Ceaser Salad
Eggs can be added to salads to increase protein content without increasing carbohydrate intake.
Low-Carb Dressings and Dipping Sauces
White Balsamic Vinaigrette
Honey Mustard
Chunky Blue Cheese
Thousand Island
Ranch Dressing
Make the most out of less sauce, and don't overdo it. When it comes to dining out on a keto diet, sauces and dressings are always the tipping points.
Lunch and Early Dining Options
Tenderloin Tips
Chicken Laredo
Classic chopped steak
Grilled chicken breast
Wagon boss center-cut top sirloin
Gulf Coast Steak & Shrimp
Pat's Ribeye
Bacon-wrapped filet
Atlantic salmon
Blackened redfish
Cajun Ribeye
Bone-in Ribeye
Texas T-Bone
New York Strip
Maudeen's Center-cut Filet
RECOMMENDED: Gluten Free options at Saltgrass Steak House
Keto-Friendly Sides
Broccoli
Brussel Sprouts
Onions
Asparagus
Greenbeans
Sauteed Mushrooms
While these side dishes are low in carbs, it is best to avoid overindulging them as they can add to your overall calorie intake.
Keto-Friendly Beverages at Saltgrass Steak House
The Prisoner Red Blend
Machete By Orin Swift Red Blend
Earthquake By Michael David Winery Zinfandel
Amalaya 'Miracle' Malbec
Siesta By Ernesto Catena Malbec
Bud light
Coors Light
Michelob Ultra
Miller Lite
Diet Coke
Coke Zero
Bottled Water
Saltgrass Steakhouse certainly caters to its keto clientele by providing both alcoholic and non-alcoholic beverages.
Tips to Stay Low-Carb at Saltgrass Steakhouse Restaurant
What can you do if you exhausted your carb quota for the day already? Dont worry, your meals can also be filled up by adding zero-carb options such as bacon, pork rinds, and fried eggs.
Among the low-carb vegetables served at Saltgrass Steakhouse are broccoli, asparagus, Brussel sprouts, and green beans. You can avoid overdoing the carbs by choosing these instead of the tempting high-carb sides!
You have to remember that when you pick a dressing, the whole dish plus the dressing adds up the carb count. Just don't go crazy with the dressing and use it moderately since it might go over your carb limit.
You will find nothing designated as Keto-Friendly or Keto-unfriendly. What matters is how many carbs you consume each day.
For example, if you are not allowed to exceed 25g of carbs per day, you cannot consume 20g of carbs at one meal and say that it is keto-friendly because as a result, you would be left with only 5g worth of carbs for the rest of the day. So make sure to balance your carb intake while staying within your keto carb limit.
Conclusion
When it comes to choosing meals that fit your daily carb limit, Saltgrass Steakhouse is an excellent choice
There is a wealth of keto-friendly options at this restaurant, which includes steaks, chicken, ribs and a lot more! Overall the place seems like a good choice for a keto outing. By implementing the tips and tricks mentioned above, you can quite easily enjoy a meal and still stay under your carb limits.
If only they could make some modifications to their dessert items to make them keto-friendly, that might make people more inclined to go there, but other than that, it's certainly a treat for anyone on a low-carb diet.
Alas, we have provided you with all of the tools you need in order to walk into Saltgrass Steakhouse while also maintaining your keto goals.
NEXT READ: PDQ's Complete Keto Guide