Fogo de Chao, the Brazilian Steakhouse is not someplace you'd like to miss out for a good keto outing. On top of that, you will not have to sacrifice either the taste or flavors while choosing a low-carb meal that suits your needs. With steaks, seafood, salads, and cheese, they have all the keto options you'll love to have.
Their Beef Ancho Steak, Pork Picanha, and Smoked Salmon, all come for absolutely zero carbs. They also have side dishes like Hummus, Chickpea Trio Salad, Green Beans, and many more, with all of them fitting under your carb limit. And, to drizzle over them are their low carb sauces like Hot Sauce or Horseradish, which do not spike the carb count of your meal.
I'll make things even simpler for you as I take you through this keto survival guide for Fogo de Chao. We'll look at all possible strategies to minimize your cab intake at this Brazilian Steakhouse. Without any delay, let's get straight into it!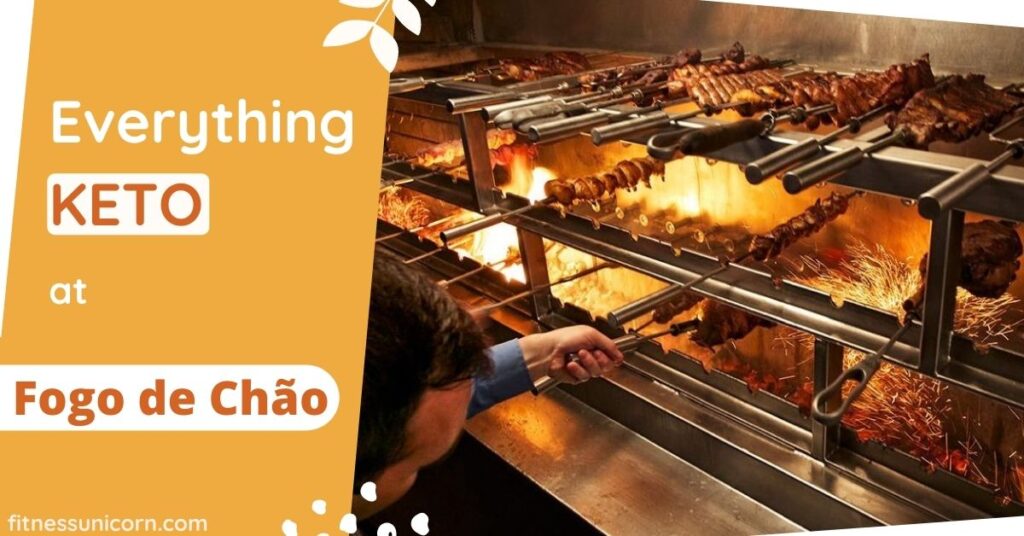 Tired of searching whether certain foods are keto? Download my keto cheat sheet with 210+ keto-friendly foods!
This post may contain affiliate links, which help keep this content free. (Full disclosure)
Surviving Keto at Fogo de Chao
Fogo de Chao provides you with an ample number of keto-friendly dishes to choose from. You just have to pick the right ones to not let your keto streak break on your next outing here. I'll share some tips and tricks with you to prevent you from falling for those carbohydrates mmm.
When you talk about steaks, they are well and truly keto-friendly. Their high protein and fat content make them a perfect keto dish. But, you just have to go easy on the sauces especially the sugary ones like BBQ sauce or even Honey Mustard for that matter.
Their meats are known to be well-marinated, tender, and cooked to perfection till they turn pink. Do not indulge in any meat that is either deep-fried or battered with an outer covering of bread. Since bread is high in carbs, it should be avoided if you do not want to slip on your keto journey.
The highlight for me here is their 'Market Table'. It is a colorful palate of fresh and flavorful ingredients inspired by Brazilian Farmlands and traditional Southern Brazilian Cuisine. You can pick from all the options Market Table has, but do pick the ones mentioned below in the article since they are low in carbs.
Fogo De Chao serves fresh seafood, which has always been my comfort food on keto. It's also the most reliable cuisine when trying out new restaurants. After all, how bad can someone cook a Salmon?
Shrimp and Salmon are the two low-carb seafood options that stand out at Fogo De Chao. Other than being comfort food, Salmon is rich in Omega-3 fatty acids and packed with a host of vitamins (including Selenium).
Shrimp is another low-carb high-protein seafood that pairs extremely well with creamy sauces!
Fogo de Chao also has keto-friendly side dishes along with low-carb sauces. What else can one wish for on a keto outing?
While choosing the dressings, you need to be mindful of the fact that your total carb count will be the dish, plus the dressing. So, do not lather the dish with too much dressing since it might cross the desired carb limit.
For their beverages, you can choose from coffee, water, or other zero carb packaged drinks like coke zero, diet coke, etc.
Without further ado, let's dive straight into the various keto-friendly options that are available for us at your favorite, Fogo de Chao.
ALSO READ: Saladworks Keto-Friendly Options
Keto-Friendly Options at Fogo de Chao
Fogo de Chao has plenty of low-carb options to please your appetite. Let me take you through all of them –
Keto-Friendly Steaks
Picanha ( 1g )
Filet Mignon ( 0g )
Beef Ancho ( 0g )
Chicken, Lamb and Pork
Cordeiro ( 0g )
Costela de Porco ( 9g )
Frango ( 0g )
Lombo ( 0g )
Linguica ( 0g )
Pork Picanha ( 1g )
Keto-Friendly Seafood
Smoked Salmon ( 0g )
Chilean Sea Base ( 0g )
Pan Seared Salmon ( 0g )
Jumbo Shrimp Cocktail ( 6g )
Low-Carb Seasonal Recipes at Fogo De Chao
Seasonal Hummus ( 4g )
Butternut Squash ( 6g )
Chickpea Trio Salad ( 12g )
Apple Manchego Salad ( 0g )
Mixed Greens ( 3g )
Green Beans ( 4g )
Cold Smoked Salmon ( 0g )
Basil Dressing ( 3g )
Red Onions ( 10g )
Capers ( 1g )
RECOMNENDED: Sea Food Options At California Fish Grill
Keto-Friendly Side Dishes & Sauces
Black Beans- Feijoada Bar ( 8g )
Homemade Hot Sauce ( 2g )
Chimichurri ( 3g )
Horseradish Sauce ( 1g )
There are other keto-friendly dishes also available here that you can enjoy without worry like Mojopork (1g), Caramelized Onions (0g), Polenta Plate (6g), Roasted Vegetables (0g), Lamb Sirloin (0g), Salami (1g).
Note – When on a keto diet, your daily allowed carb limit is 20-25g net carbs. So, even though I have listed meals that contain 15g net carbs, consume them only when you've eaten 10g carbs altogether from the other meals of your day.
Conclusion
You'll be a very happy customer at Fogo de Chao if you are looking for a keto-friendly meal that fits your daily carb limit. Since it is a Brazilian Steakhouse, it has dishes that are high in protein and fat content that are a perfect fit for any keto diet.
They have steaks, seafood, salads (along with customizations), and various types of dressings to go with them. Just go according to the plan mentioned in the article and you should be good to go.
With that, I have provided you with almost every weapon you need in your bag to continue your keto journey here at Fogo de Chao. Still, if you need more information about the various nutritional components of any particular dish form the menu, you can scroll through this nutrition guide and clear all your queries.
Also Read: