Whether you are gluten-sensitive, or you've intentionally given up the sticky substance, you are not alone. As more and more people pick up gluten-free eating, restaurants have also been adjusting to this shift.
And Outback Steakhouse is no exception! Their hundreds of locations across the U.S. provide an authentic fast-casual restaurant for the gluten-sensitive crowd.
Outback boasts an expansive gluten-free menu, offering a selection of seafood, steaks, sides, salads, and a terrific gluten-free dessert. They also provide a gluten-free kids menu, featuring a small portion size and a gluten-free dessert sundae.
Be mindful: the risk of cross-contamination in fast-food restaurants, even those with gluten-free menus, is critically high, and it's highly improbable that the staff behind the counter or in the kitchen have been trained to avoid it.
So, keep your ordering simple and instructions clear for the best outcomes.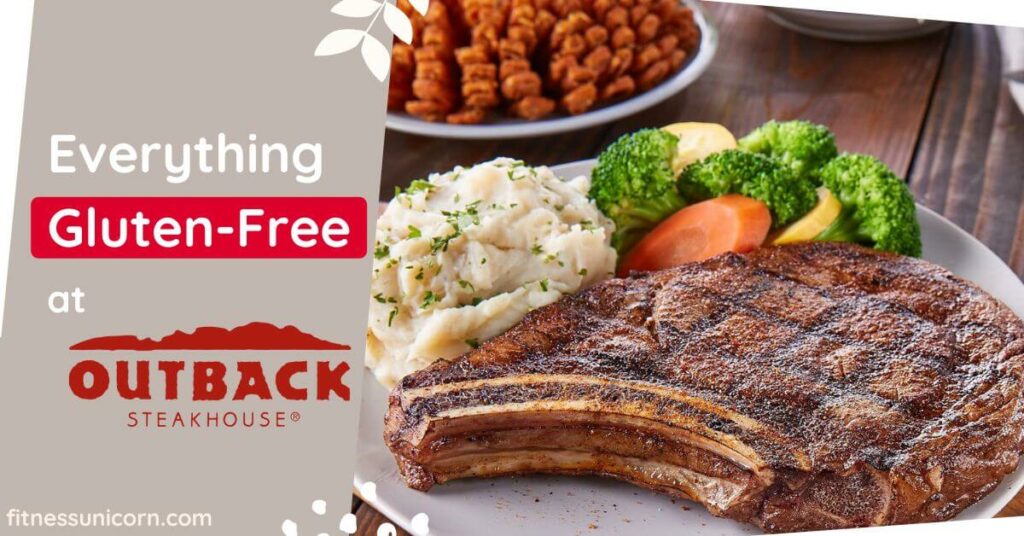 This post may contain affiliate links, which help keep this content free. (Full disclosure)
Gluten-Free Options at Outback Steakhouse
An Australian-inspired restaurant company, Outback Steakhouse serves many delicious dishes such as steak, chicken, ribs, pasta, and seafood at unbeatable prices.
There is a reputation among the company for providing high-quality food served in a warm and welcoming environment.
Outback Steakhouse actually does an excellent start by providing a wide variety of gluten-free options on its menu. Their website features a lot of information about their company policy and procedures.
They also proudly demonstrate their work in creating a gluten-free friendly environment in their restaurants.
They are cautious about washing their cooking equipment, washing their hands, changing gloves, and making all efforts to accommodate a gluten-free meal for all parties safely.
But, be sure to let the server be aware of any allergies or other dietary restrictions to ensure the necessary precautions are met. However, there should be no trouble finding an entirely gluten-free meal at Outback Steakhouse.
Refer to the following lists for a more detailed description of the gluten-free menu.
RELATED: Does Blaze Pizza's Have Anything Gluten-Free?
Gluten-Free Big Bowl Salads at Outback Steakhouse
Aussie Cobb Salad: Avoid croutons and crispy chicken.
Brisbane Caesar Salad: Avoid croutons.
Gluten-Free Dressings at Outback Steakhouse
Ranch
Caesar
Honey Mustard
Tangy Tomato
Creamy Blue Cheese
Light Balsamic Vinaigrette
All dressings are Gluten Free except mustard dressing and blue cheese dressing.
Gluten-Free Steak at Outback Steakhouse
Victoria's Filet Mignon
Outback Center-Cut Sirloin
Ribeye
Bone-In Prime Ribeye
Melbourne Porterhouse
Gluten-Free Add-Ons at Outback Steakhouse
Grilled Onions
Roasted Garlic Butter
Grilled Shrimp
Steamed Lobster Tail
Gluten-Steak Combos at Outback Steakhouse
Sirloin & Grilled Shrimp
Sirloin & Grilled Chicken
Ribeye & Grilled Shrimp
Filet Mignon & Lobster
Skip the Aussie fries. You might opt for vegetables with no seasoning or a baked potato instead.
RECOMMENDED: Firehouse Subs Gluten-free Options
Gluten-Free Chicken, Ribs & Chops at Outback Steakhouse
Drover's Ribs & Chicken Platter
Grilled Chicken On The Barbie
Alice Springs Chicken
Pineapple & Pork Medallions: Avoid crispy toppings
Baby Back Ribs
Skip the Aussie fries. You might opt for vegetables with no seasoning or a baked potato instead.
Gluten-Free Seafood at Outback Steakhouse
Perfectly Grilled Salmon
Lobster Tails
Botany Bay Tilapia
Gluten-free Steakhouse Potatoes & Sides at Outback Steakhouse
Homestyle Mashed Potatoes
Baked Potato
Sweet Potato
Fresh Seasonal Veggie
Fresh Mixed Veggies
House Salad: without croutons
Caesar Salad: without croutons
Although attention to cross-contamination may differ between locations, the staff at Outback is generally well trained.
However, be sure to talk to the appropriate person before ordering since most sites are busy during peak hours, leading to cross-contamination issues because the waiters and staff might not have enough time to fully pay attention to you.
Yet the most caring and supportive server can slip up during rush hour. Therefore, you should schedule your visit appropriately to avoid peak hours.
YOU MAY ALSO LIKE: Pizza Ranch's Gluten-free Menu Items
Gluten-Free Meal Tips at Outback Steakhouse
Here are some tips for making gluten-free eating a breeze at Outback Steakhouse:
Avoid fried foods
We do not recommend that customers with allergies eat fried foods or foods cooked directly on the grill, as these are shared surfaces, and the risk of cross-contact is higher.
Talk to the chef about precautions
Beef, chicken, fish, and shellfish should be ordered cooked on the grill over a wood fire or in a separate pan, without seasoning, seasoned with salt and pepper.
Salad should be ordered without croutons or blue cheese but with olive oil and vinegar. Side dishes: green beans, broccoli, asparagus, and mixed vegetables should be ordered without seasoning and seasoned with salt and pepper.
Make sure the staff is aware of your allergies
Also, inform your wait staff of any allergies you may have before placing your order. There is also a risk of cross-contact with allergens; during regular cooking procedures, food may come in contact with ingredients containing allergens.
Outdoor gluten-free eating is challenging. The fact that a restaurant offers a gluten-free menu doesn't mean the food is always safe. The most important thing you can do is educate the staff and ask many questions.
Nothing is gluten-free by default
Do not assume that a menu is safe if you are sensitive to gluten. Ask questions about the preparation and cross-contamination. If gluten-containing ingredients are present, ask for a menu with fresh ingredients in stock.
Cross Contamination Risk
Direct cross-contamination occurs when naturally gluten-free food comes in contact with a food or food residue containing gluten.
However, cross-contamination happens when food touches a utensil, work surface, or hands that have previously been exposed to gluten and have not been adequately cleaned.
In both cases, the naturally gluten-free food is contaminated. Therefore, its consumption represents a health risk for the person with gluten intolerance.
Restaurants offering gluten-free menus must verify ingredients and ensure that no cross-contamination with gluten-containing ingredients occurs during food preparation, cooking, and serving.
When a restaurant considers avoiding cross-contamination, it needs to think about crumbs.
First, look around the kitchen to check where the crumbs can be found: on the counter, in the microwave, on cutting boards, or in the corners of metal baking dishes. Every area where there are crumbs is a potential cross-contamination area.
Food products stored in bulk storage units can be contaminated if one person uses the same spoon to pick up several items. There is no guarantee that chefs will have been so careful.
In addition, flour dust in the air around these storage containers can be a challenge.
The gluten-free meats at the counter are sliced using the same utensils, which may not have been washed in between orders, and sliced meats are piled up on the counter.
Chefs check the food's temperature with only one thermometer. Sometimes the same spoons are used to serve multiple dishes. Deep-fried food cooked in oil where other breaded foods have been fried.
Meat is cooked on a grill that has not been cleaned after cooking gluten-free food. Gluten-free pasta can be cooked in the same water as regular pasta and rice in a gluten-containing broth.
Gluten-free cereals can be ground in equipment that has been used to process regular grains.
There is always a chance food may get contaminated if it comes in contact with a gluten source, no matter the precautions and the care of the staff and the chef. Even when the restaurant has the strictest gluten safety standards and measures.
What people are saying
Based on opinions and reviews from around the internet and personal feedback, we have created the below reviews on Outback Steakhouse.
One guest awarded the restaurant a poor rating. He used to consider Outbacks a secure dining experience. But unfortunately, this one was different; he had a severe allergic attack after eating there, and he doesn't recommend the restaurant to anyone else.
Another user gave this restaurant 2 stars. But unfortunately, things turned out differently. His wife with Celiac disease picked up a gluten-free meal from the gluten-free menu and ended up with shrimp served on a piece of bread.
A visitor reported a successful experience after receiving an excellent meal and service. The kitchen manager checked with her several times and discussed it with the chef. They assured her of maintaining separate fryers, so there were no cross-contamination risks. All the precautions made: gloves are being changed, steaks are being cooked on foil, and cookware is being changed to new clean ones.
Gluten-Free Alternatives to Outback Steakhouse Restaurant
Do not fancy eating in Outback Steakhouse and look for other gluten-free restaurant options. For example, you might be interested in one of these restaurants:
Bonefish Grill
We are assuming that you appreciate fresh seafood and are looking for an upscale restaurant to dine in. You will be surprised by Bonefish Grill's gluten-free menu because the vast majority of the food at the restaurant is gluten-free.
You can start with one or three appetizers or a salad, then choose a seafood dish accompanied by several sauces or a steak or chicken dish.
Some possible gluten-free choices include:
Edamame Appetizers and Josephine Mussels
Bonefish House Salad or Classic Caesar Salad
Selection of grilled fish with a gluten-free sauce
Lily's Chicken or Minion Fillet
Wendy's
When searching for a gluten-free fast food restaurant, Wendy's is the first choice of many people with celiac disease or gluten sensitivity.
Wendy's, reports that most of the chain's baked potatoes consist of no gluten-containing ingredients. The chain also states that its Chili, Chocolate and Vanilla Frostys are all gluten-free.
You can eat the salads at Wendy's without croutons! You can also order a hamburger or cheeseburger without a bun.
However, when ordering, make sure the people behind the counter are aware of changing their gloves and avoiding cross-contact with gluten-containing products.
You can eat the fries in some Wendy's locations, but you should check to see if they are fried in the same oil as the gluten-containing products.
Arby's
The fast-food franchise Arby's, which the same company like Wendy's owns, offers a reasonably comprehensive gluten-free menu.
You can dine at Arby's on most meats, and the Farmhouse Salad with Roast Turkey if you're gluten-free but you have to avoid the buns. The chocolate, jamoka swirl, and vanilla shakes are also gluten-free.
Unfortunately, Arby's fries and potato cakes are prepared in the same oil as gluten-free items, so they are not safe. To avoid gluten cross-contamination, it is very important that you interact with the staff behind the counter.
Burger King
Both the menu items and the ingredients on Burger King's gluten-free list are listed. It can be difficult to determine which dishes are gluten-free if there is no gluten-free label.
There are some items listed at the website that are gluten-free, such as the "spring mix Romaine" and the "lettuce." However, the site does not tell you if a prepared salad is cross-contamination safe.
Still, if you're really starving, and you have some experience dealing with Burger King staff, the list might offer you some options.
A gluten-free bun may be able to be placed in a no-bun hamburger with gluten-free fries you just need to confirm that no common grill is involved.