Founded in 1993, Beans & Brews Coffee House resides near Salt Lake City's beloved Liberty Park, where the Laramie family opened a shop. As with high-altitude baking, the family perfected the technique of roasting at high altitudes.
As soon as they figured out the process, their reputation for offering smooth coffee in a welcoming neighborhood environment flourished.
It has now become a staple around the state of Utah as well as its friends, Idaho and Nevada, to call us Beans & Brews, or Beans for short.
So what do Beans and Brews have that's keto-friendly?
For both food and beverages, Beans and Brews has a good variety of low-carb options. In terms of low carbohydrate options, their 3-Cheese Egg Bites and Hash Waffle are excellent choices.
Keto-friendly beverages include both hot and cold choices to suit each taste. Examples include Iced Tea, Cold Brew, American, and a lot more!
You cannot go wrong with Beans and Brew's keto-friendly options. We promise you won't leave the place without trying a few items on the menu.
Besides amazing drinks, this place also serves delicious meals so that you can fill your belly up before leaving.
Before you give in to your carb cravings at this place, read this list of all keto-friendly treats at Beans and Brews.
Let's get started!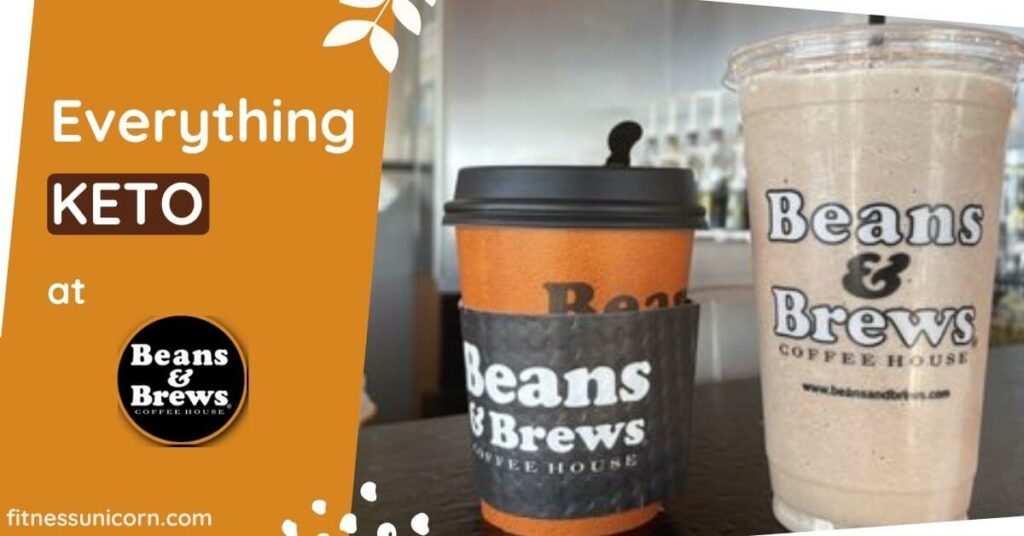 Tired of searching whether certain foods are keto? Download my keto cheat sheet with 210+ keto-friendly foods!
This post may contain affiliate links, which help keep this content free. (Full disclosure)
How To Survive Keto at Beans and Brews
The good news is that you won't have any problems eating at Beans and Brews when you are on a keto diet. Most people know that coffees have low amounts of carbs, with some having none at all. If you stick with just coffees alone, this is true.
But don't jump to conclusions too quickly as many coffee drinks contain a lot of carbohydrates. This is primarily due to the sugar added to espresso drinks.
The menu offers carb-heavy meals as well. However, you can only choose a few dishes from the menu that meet the keto standards.
If you're interested in something else while keeping to your keto diet, you can also do that. However, this might be a difficult situation to navigate.
The question is, If the menu contains other meals, how can you eat them while keeping your carbs under control?
There is a very popular hack that is quite useful known as portion control. Let's say you want to eat a sandwich. Now we know that bread is rich in carbs and one sandwich may contain around 20g of net carbs.
So what do you do? You can split the sandwich in half which means you are eating only 10g of carbs making it somewhat keto-friendly.
What you can also do is take away the bread from the sandwich or the burger, and just eat the ingredients inside it.
However, keep in mind that these are hacks for people who want to indulge in carb-rich foods but also maintain their ketosis.
Although these techniques are effective, you may not know the exact number of carbohydrates that you are eliminating from your diet.
In this case, it would be prudent to select foods whose carb contents you are familiar with such as the ones we will be listing below.
Below, we will provide an overview of the best keto-friendly meals and beverages served at Beans and Brews Restaurant.
YOU MAY ALSO LIKE: Keto-friendly at Boar's Head
Keto-Friendly Food Options at Beans and Brews
#1 3-Cheese Egg Bites
Carbs: 6g
Fiber: 0g
Total Fats: 14g
Protein: 16g
Calories: 200 cal
These savory 3-cheese egg bites are made with cage-free eggs and are a superfood snack or breakfast that is both nutritious and delicious. These egg bites are low in carbs and high in protein which makes for an ideal keto-friendly snack.
#2 Kettle Chips
Carbs: 15g
Fiber: 0g
Total Fats: 9g
Protein: 2g
Calories: 150 cal
These are the perfect side to any sandwich. Crispy and salty, they make the perfect companion to any meal.
#3 Hash Waffle
Carbs: 11g
Fiber: 2g
Total Fats: 4.5g
Protein: 2g
Calories: 100 cal
There is nothing better than potato hash served in the form of a crispy waffle- the best breakfast side of all time.
Tea's at Beans and Brews
#1 The Republic of Tea
Carbs: 1g
Fiber: 0g
Total Fats: 0g
Protein: 0g
Calories: 0 cal
As one of the nation's leading tea retailers, Beans stocks a wide array of teas from the Republic of Tea – and around those are herbal teas, black teas, green teas, and rooibos teas. You are sure to find a new favorite among all the delicious options available
#2 Iced Tea
Carbs: 1g
Fiber: 0g
Total Fats: 0g
Protein: 0g
Calories: 0 cal
With a Republic of Tea iced tea blend brewed from a distinctive blend of teas and served over ice, it is a refreshingly smooth drink (and low in calories!) they are both perfect for summer or winter. There is a natural sweetness to this tea as well as a full-bodied character that makes it perfect for the addition of a slice of lemon.
Brewed Drinks at Beans and Brews
#3 Cane & Cream Cold Brew
Carbs: 11g
Fiber: 0g
Total Fats: 3g
Protein: 1g
Calories: 70 cal
The cold brew that we are known for is full of flavor and a splash of cream, just enough to increase its full body and sweetness.
#4 Cold Brew
Carbs: 0g
Fiber: 0g
Total Fats: 0g
Protein: 0g
Calories: 0 cal
Their cold brew process has been perfected over a long period of time. They now offer cold brew made of their signature High-Altitude Roasted beans that over twelve hours of brewing create a smooth-tasting cup that is full-bodied and an excellent place to begin the day.
ALSO READ: Saltgrass Steakhouse KETO Friendly Options
#5 Eye Opener
Carbs: 1g
Fiber: 0g
Total Fats: 0g
Protein: 0g
Calories: 10 cal
Do you feel like you are having a slow morning? There is a solution for you. Try the French roast brew with two shots of espresso for a quick and satisfying start to the day. Have one for each tired eye.
#6 Americano
Carbs: 1g
Fiber: 0g
Total Fats: 0g
Protein: 0g
Calories: 0 cal
An Americano is created by adding a shot of espresso to a mug of piping hot water in order to create a coffee drink as strong as a drip. However, it possesses a rich taste and aroma that is the product of an espresso.
#7 Brewed Coffee
Carbs: 0g
Fiber: 0g
Total Fats: 0g
Protein: 0g
Calories: 0 cal
This is a typical Beans coffee that is known for its high-altitude roasting, which gives it a smooth and intense flavor. This product is made from high-quality Arabica coffee beans, which give a unique taste that you cannot find anywhere else.
RELATED: Caribou Coffee Keto-Friendly Options
#8 Espresso
Carbs: 1g
Fiber: 0g
Total Fats: 0g
Protein: 0g
Calories: 0 cal
Contains a great deal of flavor, aroma, and potency! For this extra-dark, extra-delicious pick-me-up, They steam their beans at high altitudes, finely grind them, and then force water under high pressure over them.
RECOMMENDED: Keto at 7-Eleven [All Snacks & Drinks]
Conclusion
As you can see, Beans and Brews has a lot of delicious keto-friendly items to choose from on their official website. If you want to experiment with dishes not mentioned in this article, use your common sense and do your research beforehand.
In the end, maintaining your ketosis while being at Beans and Brews would not be so hard as long as you stick to the keto-friendly meals mentioned in this article.