Looking for one of the best bangs for your buck when your cravings are at their peak? Look no further than Boar's Head! They offer a variety of options for breakfast, lunch, and dinner.
Regardless of whether you are on keto, vegan, paleo, or any other diet, there is something inside for every taste.
So what's keto-friendly at Boar's Head?
A wide variety of low-carb options are available at Boar's Head. There are a number of delicious products that you can choose from, such as flavorful beef, turkey, chicken, bacon, and more.
Despite the fact that you can have virtually 90% of the items at this place, if you follow the basic keto principles such as not eating bread, consuming minimal sauces, and not eating sweets, you will be fine.
Getting your food while on keto is pretty straightforward, all you need to do is follow this guide and stay away from all the high carb items so that you don't destroy your ketosis.
We have broken down everything you need to know about diet at Boar's Head in this article. Not only will you find the least-carb options, but you'll also discover a few common pitfalls to keep in mind on your keto journey!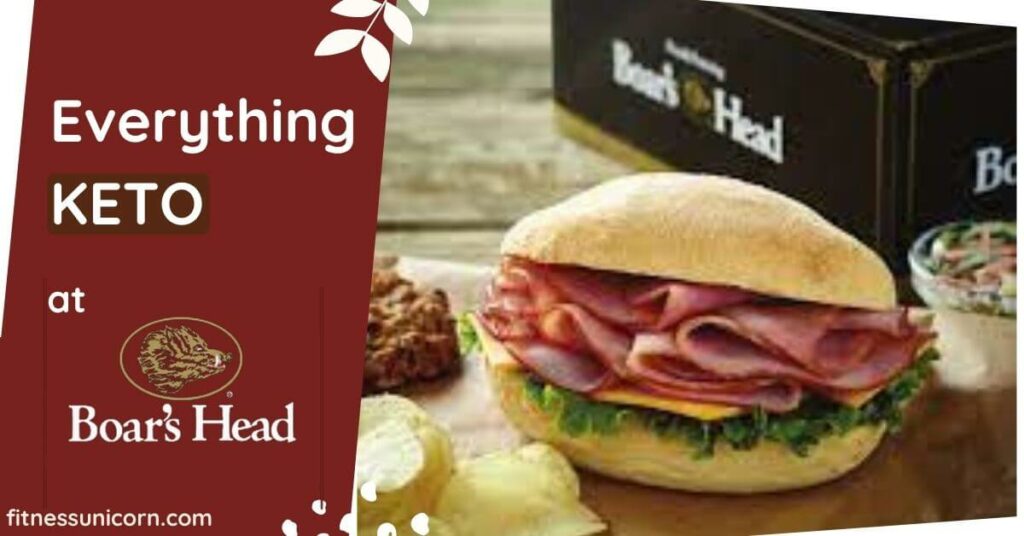 Tired of searching whether certain foods are keto? Download my keto cheat sheet with 210+ keto-friendly foods!
This post may contain affiliate links, which help keep this content free. (Full disclosure)
How To Survive Keto at Boar's Head
Frank Brunckhorst established the Boar's Head company in the year 1905 with the intention of selling cold cuts.
As Boar's Head products were gaining in popularity, Brockhorst opened a factory for manufacturing their products in 1933 with Bruno Bischoff and Theodore Weiler.
With only three employees, the company's first plant in Brooklyn was started in a small building.
There are many types of cheese that are offered by Boar's Head, as well as many types of meat, including black forest ham, roast beef, and salami.
The Boar's Head family of companies launched its new "EverRoast Oven Roasted Chicken Breast" in August 2009 with a national advertising campaign, and in 2012 its "Bold" line of global meats and cheeses was launched.
In addition to the mustard, horseradish, and barbecue sauce, the company also offers a line of condiments.
Boar's Head is also known for its limited selection of pickles that are made by hand. One of these pickles won the Overall Best Pickle Award on America's Test Kitchen in 2017.
There are many options when it comes to beef, chicken, and turkey. Bold Ichiban Teriyaki Style Chicken Breast, for example, contains only 2 grams of carbohydrates. Top Round Pastrami, on the other hand, has no carbs.
In other words, all the meat options are extremely low in carbs by default. Whether you ruin your ketosis or not depends upon what you add to your meat such as sauces and breading.
However, you can get away with some portion control even if you are the adventurous type and desire more carbs.
Let us now deconstruct all of the keto-friendly options that you can enjoy at Boar's Head without delay.
ALSO READ: From Soups To Beverages at Old Spaghetti Factory
Keto-Friendly Turkey Dishes
Bold Pit Craft Slow-Smoked Turkey Breast ( 1g )
Bold Aloha Sunshine Pineapple Roasted Turkey Breast ( 1g )
Bold Blackened Turkey Breast ( 2g )
Cajun Style Smoked Turkey Breast ( 1g )
Bold Chipotle Chicken Breast ( 1g )
This collection of Boar's Head Delicatessen meats and cheeses exhibits a collection of international flavors inspired by destinations from around the world.
The sweet, savory, and spicy tastes of their food offer a wonderful variety of options for those who wish to enjoy their premium product.
RELATED: EVERYTHING Keto at Juice It up
Low-Carb Beef at Boars Head
1st Cut Cooked Corned Beef Brisket ( 0g )
1st Cut Pastrami Brisket ( 2g )
Corned Beef Top Round ( 0g )
Top Round Pastrami ( 0g )
London Broil Top Round Roast Beef ( 0g )
Boar's Head Beef's range of delicious products is just the beginning. With a variety of tender, flavorful and juicy cuts at your fingertips, Boar's Head brings you everything from seasoned filets to corned beef, including the original Boar's Head Pastrami.
They are all perfect for piling high on keto-friendly sandwiches.
Chicken items
Bold Ichiban Teriyaki Style Chicken Breast ( 2g )
Bold Chipotle Chicken Breast ( 1g )
All American Bbq Seasoned Roasted Chicken Breast ( 2g )
Blazing Buffalo Style Roasted Chicken Breast ( 0g )
Everroast Oven Roasted Chicken Breast ( 0g )
From the distinctive flavors of All American BBQ and Bold Chipotle Chicken to the traditional taste of Golden Classic Chicken, Boar's Head Chicken products will delight your palate.
Hummus, Dips, and Spreads
French Onion Greek Yogurt Dip ( 2g )
Tzatziki Greek Yogurt Dip ( 1g )
Everything Bagel Hummus ( 5g )
Roasted Red Pepper Hummus ( 3g )
Boar's Head Traditional Hummus ( 2g )
Boar's Head Hummus is non-GMO* and gluten-free and crafted with only the highest quality ingredients. In addition to the premium ingredients, they are also adding many savory spices to enhance each flavor.
These include steamed chickpeas, sea salt, olive oil, tahini (crushed sesame seeds), and roasted sunflower seeds.
ALSO READ: EVERYTHING Keto at Beans and Brews
Keto-Friendly Condiments
Bold Fiery Chipotle Gourmaise ( 0g )
Pepperhouse Gourmaise ( 2g )
Deli Dressing ( 0g )
Delicatessen Style Mustard ( 0g )
Kosher Dill Pickle Chips ( 0g )
Boar's Head's thoughtfully crafted collection of condiments can be used to compliment any dish. Along with their fine, delicatessen meats and cheeses, they have come up with a signature flavor and side dish to complement their unique flavors.
FIND MORE: EVERYTHING Keto at PDQ in 2022
Keto FAQs
Can You Eat Too Much Fat On Keto?
Yes, eating too much fat can be an issue. It can also depend on your individual goals, for example, if you want to lose weight, you need to be at a caloric deficit, so anything over your daily requirement could hinder your goals.
You will turn a calorie deficit into a calorie surplus if you eat too much fat. Even though most people will have difficulty overeating on a low carbohydrate, high-fat diet, it can still happen.
Calculate your macronutrients using the keto calculator to determine how much fat, protein, and carbs you should consume each day.
Can You Eat Too Much Protein On Keto?
Yes, too much protein intake can also be an issue. On a keto diet, you need to make sure your protein intake is moderate: Too much protein can actually inhibit fat burning.
Protein can be converted into glucose if you eat more than the body needs.
It is a process occurring in the body called gluconeogenesis in which it utilizes non-carbohydrate sources of glucose to produce energy.
How? Your body uses glucose instead of fat when it can because glucose is easier to access than fats- even if it has to burn protein instead of carbs.
In other words, on average, your daily calorie intake should be around 20 percent protein. Depending on your size, that equates to 60 to 120g per day or a gram of protein per kilogram of body weight.
Conclusion
So there you go, folks. Boar's Head has some great keto-friendly food options. Their menu includes a large number of low-carb options. Therefore, we chose only the best.
In conclusion, Boar's Head would be considered one of the best go-to places in terms of keto-friendly options.
It is easy to walk in and walk out with plenty of keto-friendly items without worrying about carbs since it offers a wide range of low-carb options.