Located in both the United States and Canada, the Old Spaghetti Factory is an Italian-American restaurant chain.
OSF International, based in Portland, Oregon, owns the Old Spaghetti Factory restaurants in the United States, while The Old Spaghetti Factory Canada Ltd. operates the Old Spaghetti Factory restaurants in Canada.
According to the company's website, in 2003 alone, it operated 45 restaurants in 14 states as well as in Japan and generated revenues of $105 million.
If you go to an Italian restaurant, it would be difficult not to think of pasta and pizza. You certainly won't want to eat that on a Keto diet.
Would you be surprised to learn that Old Spaghetti Factory offers lots of keto-friendly dishes? You can tweak some of them to enjoy them on a low-carb diet, while others are already keto-friendly!
From salads like Caeser Salad and Spinach Salad to appetizers like Chicken Wings to Diet Coke and Iced Tea. Keto dieters will find plenty of low-carb choices at the Old Spaghetti Factory.
A small portion of soup can also be consumed within the allowed carbohydrate range.
A combination of Italian and American food is served at Old Spaghetti Factory. From the perspective of a ketoer, the menu seems pretty diverse!
They provide low-carb dishes, such as the New York steak, but they also have very high-carb dishes, such as the Seafood Fettuccine Alfredo, which contains 129 grams of carbohydrates.
It may seem like this is all turning too overwhelming at the moment, but let us do our best to help you dispel any doubt. Here, you'll find out everything you need to know about Old Spaghetti Factory's keto menu.
Not only will we provide you with low-carb options, but we will also provide you with tips to ensure you will make the most of your visit while minimizing carbs as well!.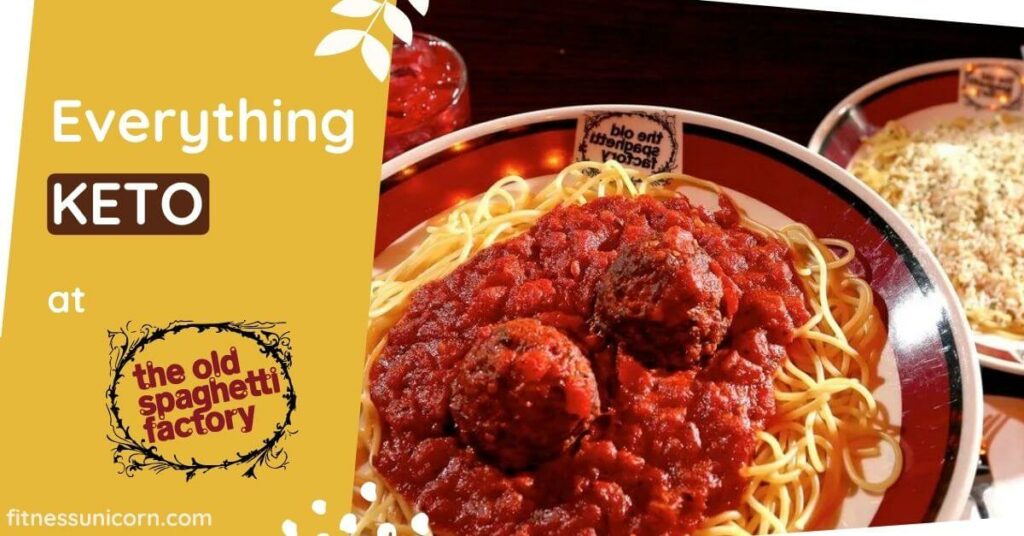 Tired of searching whether certain foods are keto? Download my keto cheat sheet with 210+ keto-friendly foods!
This post may contain affiliate links, which help keep this content free. (Full disclosure)
Surviving Keto at The Old Spaghetti Factory
The restaurant made Portland their home until 1984 when they moved to our current location on the South Waterfront. Portland, Oregon, opened its first Old Spaghetti Factory in the Baggage Building on 2nd and Pine in January 1969.
A trolley car from the original Old Spaghetti Factory was found in a field near Reed College in Portland, Oregon. The trolley car was refurbished and started serving as a unique dining area at the first Old Spaghetti Factory location.
They've since had the trolley car at all of their restaurants across the country. They moved the original car with them when they relocated to Portland.
Old family recipes rarely made it to the menu, such as the Spaghetti with Mizithra Cheese and Browned Butter.
The first Old Spaghetti Factory owner, Guss Dussin, was told he must add one more item to the menu in order to obtain a business license. The recipe for Mizithra cheese was Guss's suggestion to his family.
The dish remains the most popular item on the menu to this day.
They have locations from Honolulu to Louisville in today's Old Spaghetti Factory family. You can enjoy your favorites at more than 40 old-fashioned restaurants in 13 states.
With the assistance of their Japanese partners, the company began operating Old Spaghetti Factory restaurants in Nagoya and Kobe in Japan in the early 1980s.
There are a number of keto options for you at The Old Spaghetti Factory, contrary to what you might expect when it comes to Italian food. If you're in need of appetizers, chicken wings are at your disposal.
The chicken and shrimp salads are also not to be missed when it comes to the greens section.
Pasta is one of those things you should always avoid when it comes to food. There is no way around it! When you add gravy and other toppings, the carb count goes way beyond your daily carb limit.
One cup of uncooked pasta has 25 grams of carbs.
There is also gluten-free pasta available at The Old Spaghetti Factory. However, it is not the same as low-carb pasta. Granted, gluten-free items are not made with grains (a major source of carbohydrates).
However, gluten-free items are not always low in carbohydrates. An example of this is gluten-free pasta, which contains even more carbohydrates than regular pasta.
There are four grains included in the meal — corn, millet, buckwheat, quinoa, and rice.
Moreover, the Old Spaghetti Factory also serves pizzas, however, since the crust is high in carbs, it is not possible to consume them on a ketogenic diet.
It is still possible to satisfy your Italian cravings with seafood, steak, chicken wings, and other side dishes.
The Old Spaghetti Factory offers a respectable range of keto-friendly options, so let's explore them now.
RECOMMENDED: Keto-Friendly Options at Rooster's Wing's
Keto-Friendly Options At The Old Spaghetti Factory:
Soups
Minestrone Soup ( 15g )
Clam Chowder ( 13g )
Baked French Onion Soup ( 15g )
Keto-Friendly Salads
Ceaser Salad ( 12g )
Spinach Salad ( 14g )
Low-Carb Appetizers
Meals
Sides
Broccoli and Mizithra ( 8g )
Sautee Mushrooms ( 9g )
ALSO READ: EVERYTHING Keto at Boar's Head
Keto-Friendly Sauces At The Old Spaghetti Factory
Low Fat Balsamic ( 6g )
Ranch ( 1g )
1000 Island ( 2g )
Blue Cheese ( 1g )
House Italian ( 1g )
Beverages
Unsweetened Iced Tea ( 0g )
Diet Coke ( 0g )
Water ( 0g )
RELATED: Keto-Friendly Dishes at Friendly's
What To Avoid At The Old Spaghetti Factory When It Comes To Keto
Some keto-friendly items can be a little confusing, even if you know that bread, pasta, and potatoes aren't allowed.
In theory, shrimp can be considered keto-friendly (since it has zero carbs), but how about Shrimp Scampi at the Old Spaghetti Factory? Other chicken dishes here also raise similar questions.
The following options are ones that you would be better off avoiding:
You must avoid all spaghetti, for instance, Spaghetti Meatballs are delicious but it contains a whopping 100g of carbs. Which is clearly not a keto-friendly meal.
Seafood, including shrimp, is quite low in carbohydrates. Seafood Fettuccine Alfredo, however, has 129g of carbs. This is one you definitely want to stay away from.
In the same way as Spaghetti, all pasta plates must be avoided since they contain a surprisingly high amount of carbohydrates, which are in no way keto-friendly.
Can you eat spaghetti on a keto diet?
As a traditional spaghetti dish, milled wheat noodles are used to make long, thin noodles. Pasta like this usually has a high carbohydrate content of 43g per 1 cup serving, making it a poor choice for a ketogenic diet.
Despite being gluten-free, brown rice pasta is not low carb. Corn and rice are also gluten-free pasta options but aren't keto-friendly. The carb content in spaghetti can be drastically reduced, however, if you substitute low-carb noodles!
Conclusion
While the keto-friendly options at The Old Spaghetti Factory are not that big, you should be able to satisfy your hunger while at this restaurant and also maintain your ketosis.
In any case, this is sufficient information to ensure you enjoy a keto-friendly dinner here. You can scroll through their official nutritional information here if you are interested in finding out more about the different nutritional components of your food.