Do you also fancy Gourmet Cuisine? La Madeleine has a huge variety of drool-worthy gourmet dishes to make you go gaga. From savoury dishes to the bakery, they have something for everyone.
But, is there anything for you that's well and truly Keto-friendly? Let's find out.
La Madeleine has many low-carb dishes to serve you, just like their Grilled Entree Chicken. It contains as low as 5g of net carbs, what else do you want?
They also have a good amount of breakfast options, salads, soups, and to your utter surprise, even pastries.
When on a keto diet, people tend to be hesitant on eating outside. But, with the right knowledge ( that I provide you here ), it'll be a walk in the park for you.
You can even consume dishes containing 17-18g of net carbs, till you keep your day's count below 25g of carbs.
It might sound a Lil overwhelming right now. But trust me, it won't be once you finish reading the article. I'll take you through all the keto-friendly options and some bonus tips as well.
They will surely help you continue your keto streak while dining here, at La Madeleine.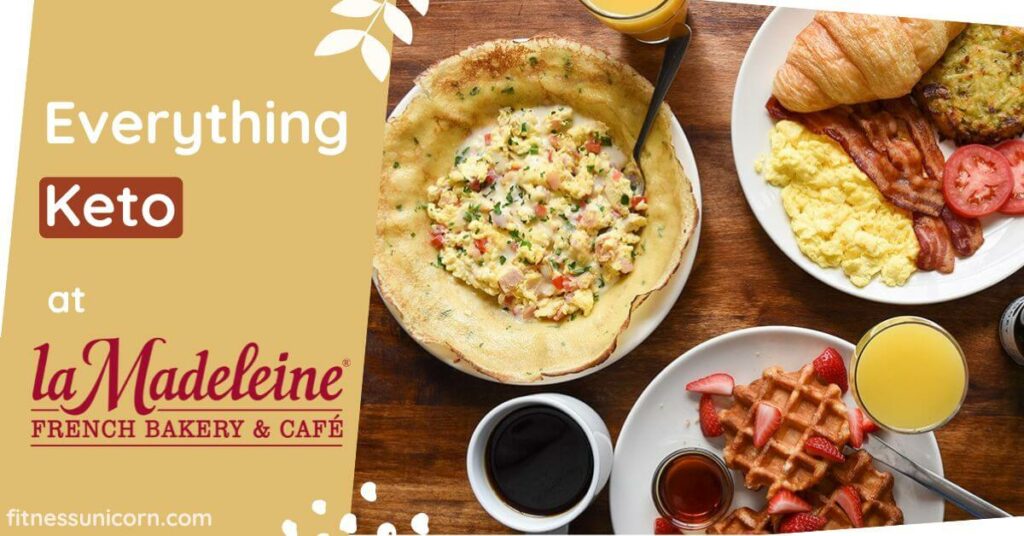 Tired of searching whether certain foods are keto? Download my keto cheat sheet with 210+ keto-friendly foods!
This post may contain affiliate links, which help keep this content free. (Full disclosure)
How to survive keto at La Madeleine
La Madeleine has been the go-to gourmet cafe for many Americans over the past years. It was established in 1983 and has since been opened at 86 different locations in the U.S.
It has everything on the menu, from starters to salads to sandwiches to homemade soups. Pastries and bakery items are also plenty.
To your surprise, each and every sub-category of the menu has keto-friendly options for you. For example, you can have 'Oatmeal' for breakfast, for just 9g. Then, you can have their ' Cream of Mushroom ' soup, again for just 9g.
Leave all of that, you can even have French Vanilla & Fruit Parfait, just for 14g. As I said, there is something for everyone.
Although, there are some guidelines which you should follow. La Madeleine does have a wide variety of sandwiches, but as you might know, bread is not really keto-friendly. But guess what, lettuce is.
And, lettuce acts as a perfect substitute for bread to bring the carb count drastically.
Two slices of sandwich bread consist of 24g of carbs, which is actually more than your allowed carb limit for the whole day. Lettuce, on the other hand, has just 3g of carbs per 100g, and you can wrap your sandwiches in lettuce, without worry.
Also, there are dishes mentioned below that contain 17-18 grams of net carbs. These dishes should only be consumed when you have consumed 10 or even lower carbs from your other meals of the day.
With this information in mind, let us now have a look at all the keto-friendly options available at La Madeleine.
La Madeleine Keto Friendly Options
As I told you in the last section, La Madeleine is not less than keto heaven. They have an ample number of keto-friendly dishes. Without thinking much, let's now have a look at all the keto-friendly options available here-
Breakfast
RECOMMENDED: Are There Keto-friendly Options at Bar Louie?
Oatmeal Toppings
Almonds ( 1g )
Blueberries ( 2g )
Brown Sugar ( 11g )
Pecans ( 1g )
Strawberries ( 2g )
Salads
Salad Add-Ons
Soups
French Onion Cup ( 9g )
Fresh Fruit Salad Cup ( 15g )
YOU MAY ALSO LIKE: Roosters Wings Keto-friendly Options
Sandwiches ( Lettuce-Wrapped )
A La Carte
Bakery
Pastry
Coffee & Tea
-> They also have teas which fit well under your carb limit. These include Iced Tea and Mango Iced Tea, both carrying 2g of net carbs.
Alternative Restaurants to La Madeleine
La Madeleine has plenty of keto-friendly options. Still, if you feel it lacks something, I'm providing you with some alternatives you can try.
Corner Bakery Cafe
Corner Bakery Cafe is a chain of cafes that specialize in pastries, bread, breakfast dishes, gourmet sandwiches, homemade soups, salads, and pasta.
Founded in 1991, it has been serving gourmet food across the states for quite some time now.
Some of the keto-friendly dishes at Corner Bakery Cafe are –
-> They also have packaged low-carb drinks such as Diet Coke, Diet Pepsi, and Coke Zero that you can enjoy without hesitation. Also, tea and coffee are very low on carbs, so you need not worry.
-> Again, just like La Madeleine, you will have to avoid the bread in your sandwich. You can choose either to make a salad bowl out of its contents or just wrap it in lettuce.
Both these ways are extremely efficient in bringing the carb count down by around 25g ( The number of carbs in two slices of bread ).
Panera Bread
Panera Bread Company is an American chain store of bakery-café fast-casual restaurants with over 2,000 locations, all of which are in the United States and Canada. They also have some gourmet keto-friendly dishes you can relish.
Some of the keto-friendly dishes at Panera Bread are –
Egg Whites ( 1g )
Over Easy Egg ( 0g )
Scrambled Egg ( 1g )
Broccoli Cheddar Soup ( 12g )
Cream of Chicken and Wild Rice ( 14g )
Homestyle Chicken Noodle Soup ( 8g )
Thai Chicken Soup ( 12g )
Ten Vegetable Soup ( 10g )
Caesar Salad-Half ( 7g )
Caesar with Chicken- Half ( 9g )
Pickle Spear ( 1g )
Summer Fruit Cup ( 13g )
Tomato Basil Cucumber Salad ( 8g )
-> Along with all these dishes, you can enjoy a few drinks alongside. There are packaged drinks available, like Diet Coke, Diet Pepsi, Coke Zero and of course, Tea and Coffee.
Also, do not forget that dressings contain carbs too. So, before you ask for extra sauces, think twice. Only consume them when you can afford them, not money-wise but calorie-wise.
Conclusion
La Madeleine definitely does not disappoint us with all the keto-friendly meals it has for us. Every part of the menu has some low-carb dishes that can be enjoyed on a keto diet.
From breakfast options to soups, to dressings, to even pastries, it is definitely a place to consider for your next keto outing.
As talked about in the article, you can even customize stuff according to your convenience. Ditch the bread, add lettuce and there's your keto-friendly sandwich ready.
If you crave sugar a bit more than others, then they have some low-carb drinks for you.
The thing that impressed me the most is that La Madeleine also has keto-friendly desserts. I mean, WOW. You do not have to worry about the dopamine you craved throughout your keto diet.
All this is good news, but don't be too lenient either. There are various types of dressings and sauces available here. Some of them might be loaded with carbs and sugar. So, give it a thought before going all in with those sauces.
Also, keep a count of the carb intake from the other meals of the day, and consume your carbs here accordingly.
With all this information, I hope I have provided you with a clearer and broader picture of keto, especially keto at La Madeliene.
If you still have some questions about the nutritional aspects of any dish, feel free to visit La Madeleine's official nutrition guide.
Till next time,
Happy Ketoing 🙂