Bar Louie is one of America's favorite spots for drinks and food. It is well known for its beer and cocktails. Nevertheless, the question remains – do they have meals that are suitable for those following a low-carb diet?
You've come to the right place if you're wondering the same!
Are there keto-friendly options at Bar Louie?
There are limited keto-friendly options available at Bar Louie, most dishes are full of carbs, so you might have to be a bit careful and picky when you are at this restaurant.
Having said that, we are here to help. We are going to walk you through this complete ketogenic guide for Bar Louie.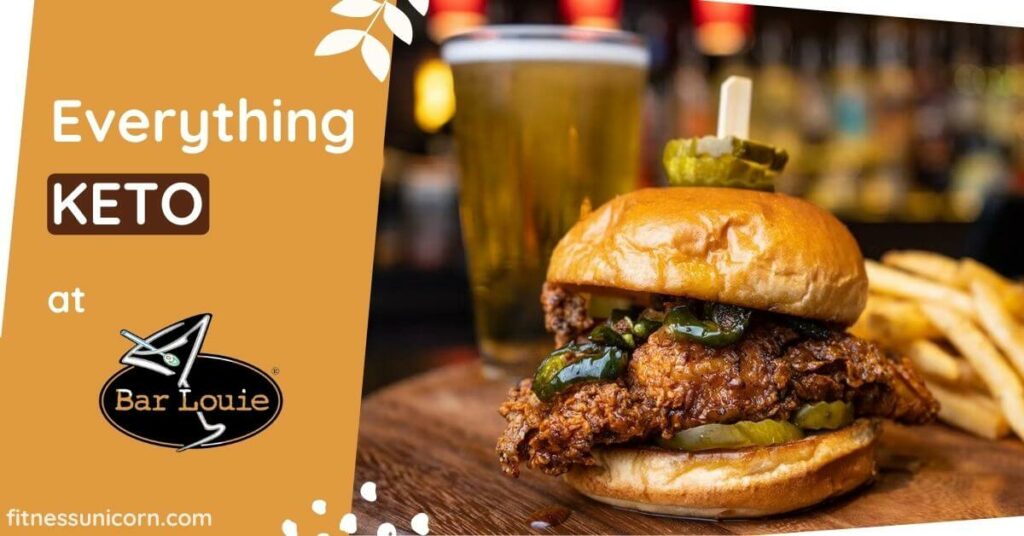 Tired of searching whether certain foods are keto? Download my keto cheat sheet with 210+ keto-friendly foods!
This post may contain affiliate links, which help keep this content free. (Full disclosure)
How to Survive Keto at Bar Louie
The Bar Louie chain was founded in 1990 and operates bars and restaurants across the United States. From a number of locations in both urban and suburban communities, Bar Louie serves food, beer, and cocktails.
As of now, there are estimated to be 73 locations, the majority of which are found in upscale lifestyle centers, as well as hotels and entertainment venues.
Franchises are also given out by the company. The company has its headquarters in Addison, Texas, and its CEO is Tom Fricke. Since June 2010, Sun Capital Partners has been a significant investor in the company
From the name of the restaurant, it may seem that this place specializes in alcoholic drinks, which is true to some extent. But you can find a few keto-friendly dishes on the menu.
The menu consists of a variety of sections, including bar bites, flatbreads, sandwiches, burgers, sides, desserts, and beverage options. In addition, the restaurant offers a selection of kid-friendly options on its kids' menu.
As we mentioned, the keto-friendly options at Bar Louie are pretty limited, but there are options like the Blue Wedge and Chicken Crispy. This would go great with a low-carb vegetable salad or ranch sauce.
Now that we have that out of the way, let's see the menu of Bar Louie and how to navigate it.
RECOMMENDED: Everything Keto at Rooster's Wing's
Keto-friendly Food Options At Bar Louie
Keto-Friendly Starters
#1 French Onion Soup
Calories – 435kcal
Fat – 30g
Net carb – 14g
Protein – 22g
#2 The Blue 'Wedge'
Calories – 635kcal
Fat – 58g
Net carb – 15g
Protein – 13g
#3 Crispy Chicken
Calories – 150kcal
Fat – 10g
Net carb – 2g
Protein – 21g
#4 Shrimp
Calories – 265kcal
Fat – 10g
Net carb – 2g
Protein – 38g
Calories – 305kcal
Fat – 24g
Net carb – 10g
Protein – 8g
RELATED: Keto-Friendly at Maggiano's Little Italy
Low-Carb Drinks
Bud Light ( 12g )
Coors Light ( 6g )
Miller Lite ( 4g )
Dos Equis Lager Especial ( 13g )
Modelo Especial ( 13g )
Stella Artois ( 14g )
Corona Premier ( 3g )
The Dirty ( 1g )
Diet Coke ( 0g )
ALSO READ: EVERYTHING Keto at Smokey Bones
Keto Tips for Bar Louie
You can use one of these tips when looking over the menu to make your experience easier when ordering food:
Choose low-carb vegetables as sides and avoid the high carbs side dishes mentioned on the menu. For example, avoid their french fries or mac and cheese. They are loaded with carbs, you can instead ask them for a bowl of vegetables such as broccoli, asparagus, lettuce, etc.

Some of their dressings and dips, for example, BBQ sauce and jalapeno honey dip, may contain significant amounts of carbohydrates. They should either be eliminated or replaced with other suitable alternatives.

If you want to try out any of the dishes not mentioned in this article, be careful and ask the staff if they can make a particular dish low carb for you by replacing certain ingredients. After all, it doesn't hurt to ask even if they say no.

If you're going to their restaurant, be sure to look at their online menu first. Each dish includes a description of all the ingredients. It makes it easier to find keto dishes. Additionally, this will eliminate any confusion about what you wish to order when you are at the table.

Avoid all flatbreads as they are made with grains, and we all know grains are not a friend of keto dieters due to their carb content.

Tell your server if any of the people in your group has a food allergy before placing an order. This will allow them to take extra precautions during the preparation of your order.

The website links to a pdf file that contains information about their allergens and nutritional requirements. Reading the list can assist you in avoiding foods that contain allergenic ingredients if you suffer from allergies. Also, if you continue scrolling a little more, you will see a chart showing you the nutrition facts for each dish.
A nutrition calculator is not available on the website. In order to determine the net carb content of a dish, you will have to use another online calculator.
Should you find all of this too time-consuming, please refer to the food options section. Under each keto-friendly dish, we have provided the nutritional value after calculating it.
ALSO READ: Keto-Friendly Grilled Options at Urban Plates
Can You Have Alcohol On Keto?
What you eat and how much alcohol you consume can influence your body's metabolism and weight.
The ketogenic diet can be combined with the consumption of alcohol, but it is crucial to understand how alcohol and this diet affect your body in relation to each other.
The goal of a ketogenic diet is to minimize carb intake and achieve a state of ketosis. When there are insufficient carbohydrates for your body to burn, ketosis will occur.
This will lead to your body burning fat in its place. Ketones are acids converted by the liver into fuel your body can use, which are used as energy sources. Your body burns fat instead of carbohydrates when you follow a ketogenic diet.
A caloric deficit will result in weight loss, as your body will consume fewer calories than is required for maintaining your present weight. In conjunction with a caloric deficit, a ketogenic diet will lead to weight loss.
Alcohol contains calories that contribute to your daily calorie intake. You can still lose weight if you have a caloric deficit even if you consume some alcohol daily.
It is important to have a caloric deficit if you wish to lose weight, but alcohol may affect your state of ketosis.
It is important to know that there are drinks that have low carbohydrate content, including wine, light beer, and pure spirits, so you can pair them easily with low carb mixers such as seltzer water, diet soda, or sugar-free tonic water.
No matter what your diet is, it's best to avoid adverse health consequences by limiting alcohol consumption.
Conclusion
Bar Louie has a very limited selection of keto-friendly items. We have outlined a few of them as well as suggested some tips you may consider implementing at this restaurant.
Do not forget the tips outlined below, stay away from the high carb sauces, bread, and drink, and you might still come out of Bar Louie in ketosis.
If you want to know more about what this restaurant has to offer, you can visit their website or check out their nutritional info right here.