Beans are no doubt loaded with tons of fiber! But are black eyed peas keto friendly?
Peas and beans are very healthy food for any diet. They have plenty of micronutrients and are super rich in protein and fiber.
However, one thing they are also rich in – is carbs!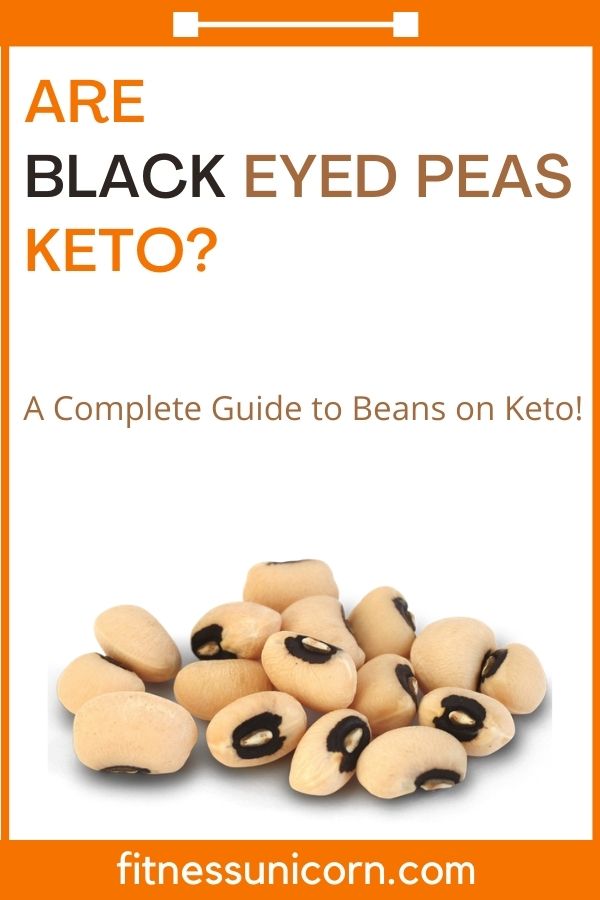 Tired of searching whether certain foods are keto? Download my keto cheat sheet with 210+ keto-friendly foods!
In this article, we'll find out whether you can have black-eyed peas on a keto diet. We'll also look at other promising alternatives!
This post may contain affiliate links, which help keep this content free. (Full disclosure)
Are Black Eyed Peas Keto Approved?
Black eyed peas are not keto-friendly because a single one-cup serving contains 24 grams of net carbs.
A keto diet allows you only up to 20-30g of net carbs per day (depending on your personal factors.)
Unfortunately, the beans are a very high-carb commodity and you are better off without them!
You have to stick to the keto pyramid which lays down the breakup of your calories on the ketogenic diet.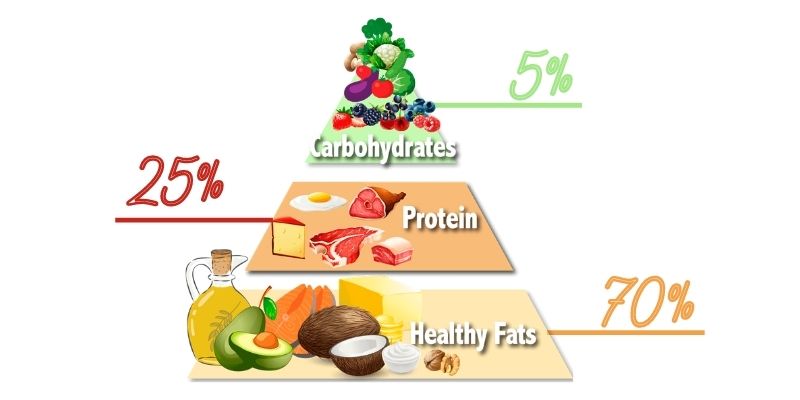 You should consume no more than 5% of your daily calories from carbohydrates.
Having said that, black-eyed green peas do not fit into the keto pyramid and a single serving can completely exhaust your daily carb limit!
It contains less than 1 gram of fat, which very poor as per the keto standards.
Even if you decide to have half a cup of black-eyed peas (12g net carbs), there are two challenges staring right at your face:
You risk getting kicked out of ketosis with so many carbs in one meal!
You need to get all your fats within the remaining carbs for the day (160g of fats within 10g of carbs? Almost impossible!).
Also, beans have a very high glycemic value, meaning that they can easily spike your blood sugar.
This will further slow down ketone production and might even throw you out of ketosis!
But don't get disheartened as I have plenty of alternatives for my lovely audience!
Black soybeans and Green beans are the two keto-friendly alternatives to the black eyed peas on the keto diet.
I'll also share similar tasting low-carb foods that can easily replace the black-eyed peas in most of your recipes!
Are Black Eyed Peas High in Carbs?
A single cup (170g) of black-eyed peas contains 35 grams of carbs and 11 grams of fiber.
This leads us to a whopping 24g of net carbs per serving!
Beans come in all shapes and sizes but the majority of them are filthy rich in carbs!
Let's look at some beans that are actually doable on the keto diet and won't make a dent in your carb budget for the day!
Read: Is Okra Keto?
Which Beans are Keto-Friendly?
There are only two beans that you can easily have on the keto diet: Black Soybeans and the Green Beans
All other beans are packed with carbs and minimal fats, leaving them out of the keto race!
Green Beans
Keto is a highly carb-restrictive diet and you have a very limited variety in food.
Luckily, these crunchy and light green beans make it to the list of keto-friendly vegetables!
A 100g serving of green beans contains just 4 grams of net carbs.
You can easily pair them as a salad with any meat-based dish. If you are a vegetarian, there are plenty of green beans keto recipes for lunch, breakfast, dinner, or even snacking.
Green beans cooked in butter make a terrific side dish that tastes amazing with any keto recipe!
For a quick keto snack, saute green beans in oil and top it with some fresh herbs.
But since green beans are more of a "vegetable", we have another option on the keto diet: the Black Soybeans
Suggested: Is Buttermilk Keto?
Black Soybeans on Keto
Black Soybeans are simply black-colored soybeans! They taste somewhat similar to the black-eyed peas on keto diet.
And you can also use them to replace your regular black beans (with much lower carbs!)
Black soybeans make a lip-smacking keto chili with tomatoes, ground beef, pepper, and some seasoning.
Ask anyone about having beans on keto, and they'll most probably run away from you! That is because most of the beans we know are packing a ton of carbs.
Thankfully, black soybeans are a rare variety with just 1g of net carbs per half-cup serving!
Here is the complete macro breakdown of black soybeans (half-cup):
Calories: 120
Fat: 6 grams
Sodium: 30mg
Carbs: 8 grams
Fiber: 7 grams
Sugars: 1 gram
Protein: 11 grams
You are getting 11g of protein and 6g of fats for a mere one grams of net carb. That's quite a steal deal as per the keto standards!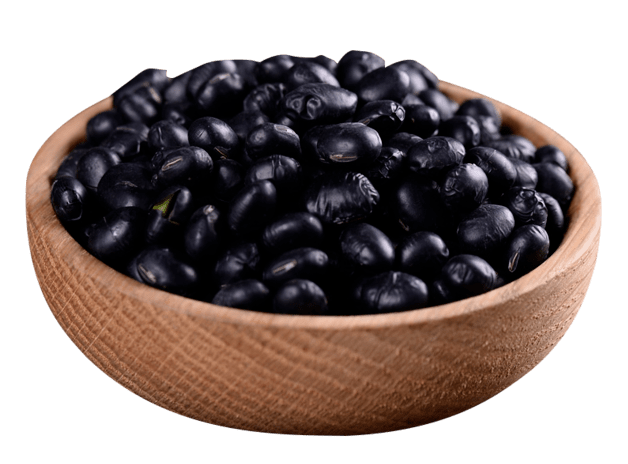 On the other hand, a half-cup serving of regular black beans takes away 13g of net carbs from your daily carb quota!
Black soybeans are rich in both types of fatty acids: Omega 3 and Omega 6
Having a good ratio of both the fats is crucial on a keto diet, for optimum functioning of your body!
Vegetarians often complain about not getting a "complete" source of protein. This is because most sources of plant protein have an incomplete amino acid profile.
Luckily, black soybeans have all the right kinds of amino acids, making it a complete protein package!
They are also a powerhouse for fiber, vitamins, minerals, and antioxidants! In fact, a study found out that black soybeans can alleviate symptoms of depression.
Always check for nutritional labels when buying canned beans. They are sometimes loaded with "hidden carbs" that make them sweeter (and more sell-able!)
You might have come across articles saying soybeans are bad for your hormones.
But let me remind you that studies have found no truth in those rumors and millions of people still consume soy on a daily basis.
To be double sure, don't go overboard with the black soybeans on keto!
They're great to add variety to your diet but don't try to get all your macros from these little beans.
Related: Is Miso Soup Keto?
Beans Substitutes for Keto Diet
Beans get a bad rep on keto, and the reason is their unreasonably high carb content!
We just saw that there are two keto-friendly beans, but what if you could have a similar taste with fewer carbs?
We have plenty of low-carb veggies that can almost replicate the taste of black-eyed peas on keto!
And the good news is that you can use them in a 1:1 replacement for all your keto recipes.
Mushrooms
Mushrooms are a very low-calorie and low-carb item that can easily replace black-eyed peas on the keto diet.
They are jam-packed with tons of vitamins, minerals, and antioxidants, making them a complete health booster!
Each single-cup serving (70g) of raw mushrooms contain:
Calories: 15
Fat: 0.2g
Sodium: 4mg
Carbohydrates: 2.3g
Fiber: 0.7g
Sugars: 1.4g
Protein: 2.2g
That's just 1.6g net carbs per serving, making it a very keto-friendly food item.
While mushrooms are kind of "watery-bland" in flavor, they are very versatile and blend well with most dishes.
And they have a very high water content which makes them quite hydrating as well! They go well with low carb chilis, stews, and curries.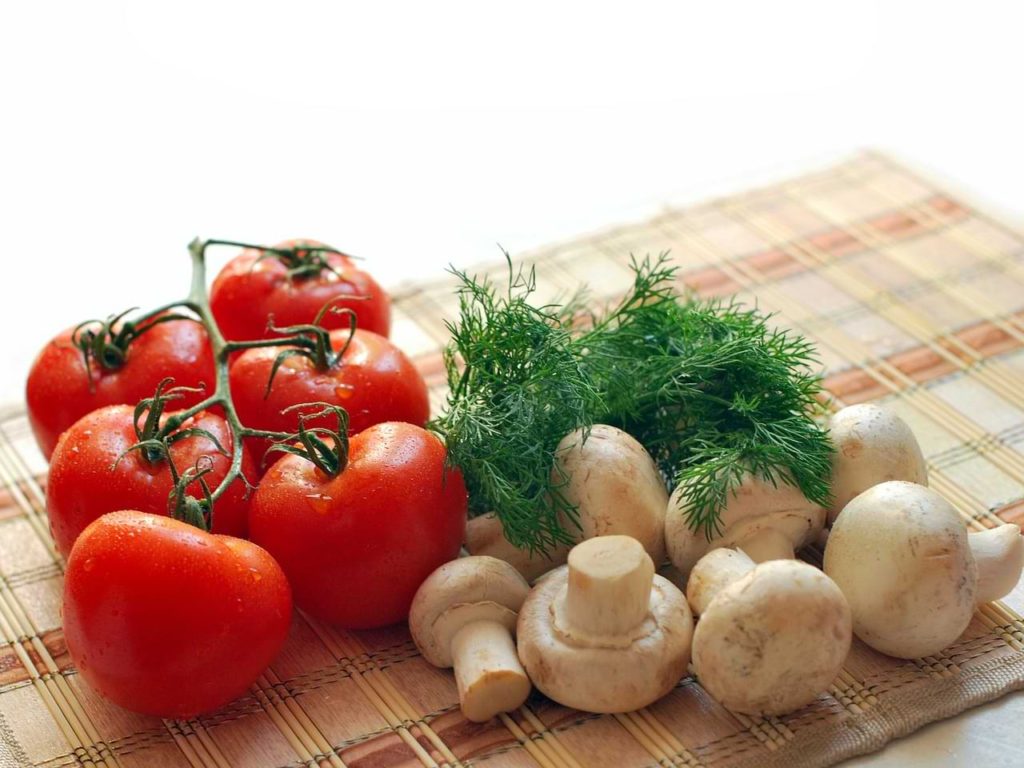 Oven-roasted mushrooms are one of my favorite low carb delicacies, prepared with a balsamic marinade!
Here is the full recipe:
Ingredients:
One lb Baby portobello mushrooms (chopped in halves)
Two tablespoons Olive oil
Two teaspoons Balsamic vinegar
Two teaspoons fresh thyme (chopped)
Two teaspoons fresh parsley
Half tsp Garlic powder
3/4 tsp Sea salt
1/4 tsp Black pepper
Instructions:
Preheat your oven to 380 degrees F.
Thoroughly mix all the ingredients in a bowl, except the mushrooms.
Now add in the mushrooms and toss them so that they are well coated.
Spread out the mushrooms evenly so that they are touching the surface of your pan.
Bake them for about 20 minutes or until they become soft.
Voila! You have the perfect keto-friendly mushroom recipe ready to be served!
Eggplant
Eggplants are often used to replace beans on the keto diet.
It is such a versatile veggie that you can use it in place of pasta, potatoes, and many other items that are STRICTLY prohibited on keto.
A one-cup serving (82 grams) of Eggplant has just 1.9g of net carbs.
This means you can have plenty of this veggie without making a serious dent in your daily carb budget!
In fact, you can enjoy Eggplant in various forms such as grilled, sauteed, roasted, fried, etc. But that's not all!
Eggplant makes an excellent Mediterranean dip called Baba Ganoush. And it is super keto-friendly as well!
Think of it as a much more ketofied version of our beloved hummus (made with carb-laden chickpeas!)
Here are all the ingredients that go into making this terrific keto-friendly dip:
1 large eggplant
Greek yogurt 
Tahini
Extra virgin olive oil
Lemon juice
Minced garlic
Ground cumin
Salt & pepper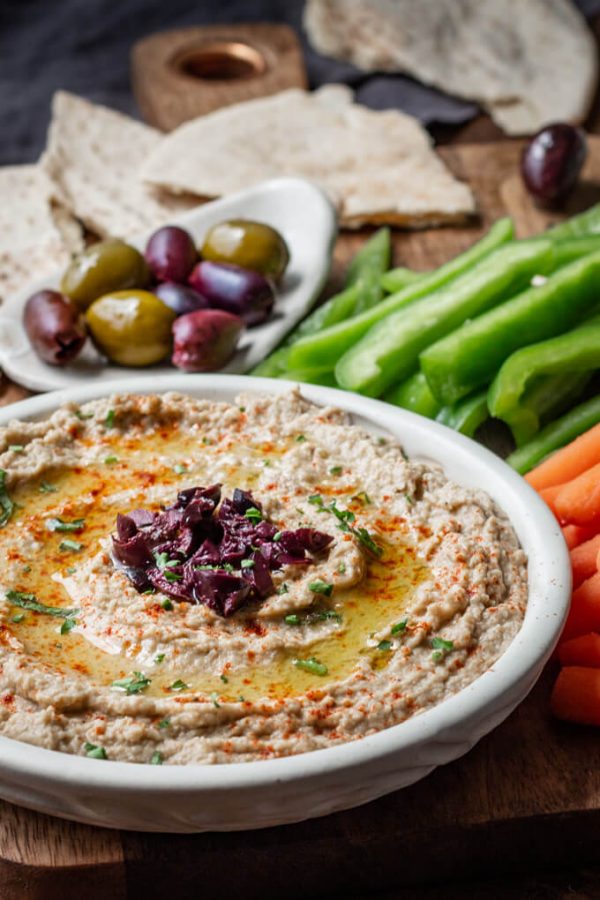 Get the complete recipe from Low Carb Maven.
[More:
Is Tahini Keto?
]
Avocado
We just can't talk about keto and NOT mention this superfood!
You'll find avocado in 8 out of 10 low carb recipes on the internet. Though biologically it's a fruit, we mostly use it as a vegetable!
As per USDA, a 100-gram serving of Avocados contains just 1.5 grams of net carbs.
A freshly made bowl of guacamole (yummy!) beats any bean dip on the keto diet!
Avocado is a powerhouse of healthy monounsaturated fats along with various essential vitamins and minerals.
With a whopping 8 grams of fiber per serving, it'll keep you satiated for much longer and keep cravings at bay.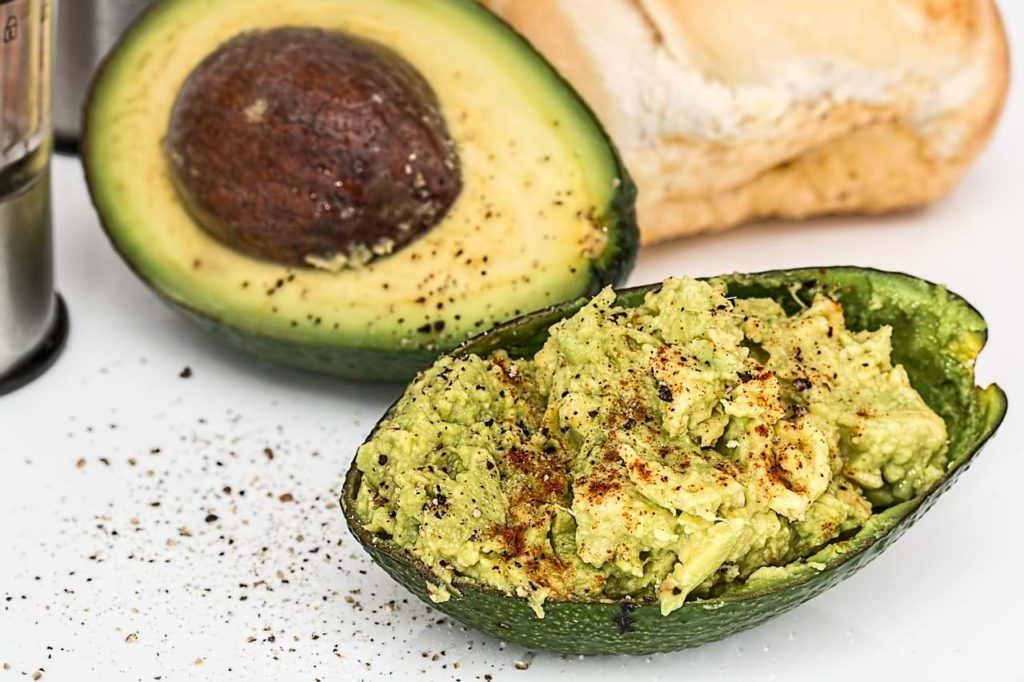 I frequently make this refreshing keto guacamole which can be enjoyed as-is without any other ingredient!
Ingredients:
4 avocados (peeled)
1/4 cup chopped tomatoes 
Lime juice of half lemon
2 tbsp chopped cilantro
Half jalapeno (chopped)
Half onion (chopped)

Salt to taste
Instructions:
Scoop out the avocado in a bowl.
Now add lime juice and toss it well.

Add in the salt and mash the avocados till you get a smooth

paste.
Throw in all the remaining ingredients and mix well.
That's it! This lip-smacking keto guacamole is ready in just 4 steps!
The recipe yields 10 servings and each serving contains 115 calories, 2g net carbs, 1g of protein, and 1g fat.
As soon as you see a bowl of guacamole, the next thing that comes to mind is "Tortilla chips!"
Thanks to the availability of low carb tortillas, you can now make your own cirspy tortilla chips in less than 5 minutes!
All you need is a mission's carb balance tortilla wrap cut into pieces. Now fry them until crisp, and voila! You have your own homemade keto tortilla chips to serve along with the freshly prepared guacamole!
More: BEST Strategies for a Keto Cheat Day
Ground Meat
Ground meat is another bean alternative that is also quite rich in proteins!
The ground beef goes in really well with most of the keto recipes.
Check out this collection from Delish having 26 keto-friendly ground beef recipes!
Boiled Peanuts
Boiled peanuts are a much-loved snack for the Southerners! You can always spot an old lady selling these on the roadside.
You'll be shocked to know that green boiled peanuts have ZERO net carbs! Yes, I know it seems too good to be true.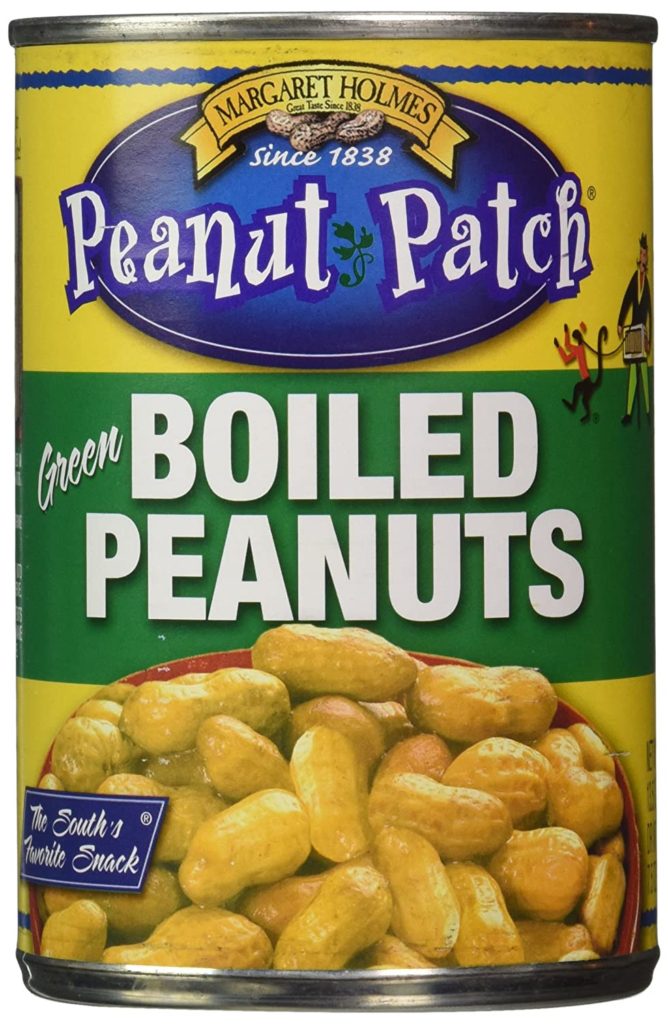 Check out my in-depth guide: Boiled Peanuts on Keto
Conclusion
Are black eyed peas keto approved?
Black-eyed peas are not at all keto because a single cup contains 24 grams of pure net carbs.
Black soybeans and green beans are the only two beans worth considering on the keto diet.
For a similar taste (and fewer carbs!), you can try mushrooms, avocados, ground beef, boiled peanuts, and eggplant in your keto recipes.