Finding food in standard restaurants can be a challenge for gluten intolerant people. Luckily, Black Bear Diner's gluten-free menu is perfect for people looking for a cozy American meal without worrying about their gluten issues.
Black Bear Diner is one of the country's most popular authentic restaurants. It has quickly expanded its activities, including more dining options in different parts of America.
Is there anything gluten-free at Black Bear Dining, though?
Unfortunately, Black Bear Diner doesn't have a specific gluten-free dining menu as per their allergen information.
But, you can still browse the menu to choose items that can reduce your exposure to gluten, depending on how strict you are about possible contamination.
Check out the complete gluten-free menu for the best picks at Black Bear Diner.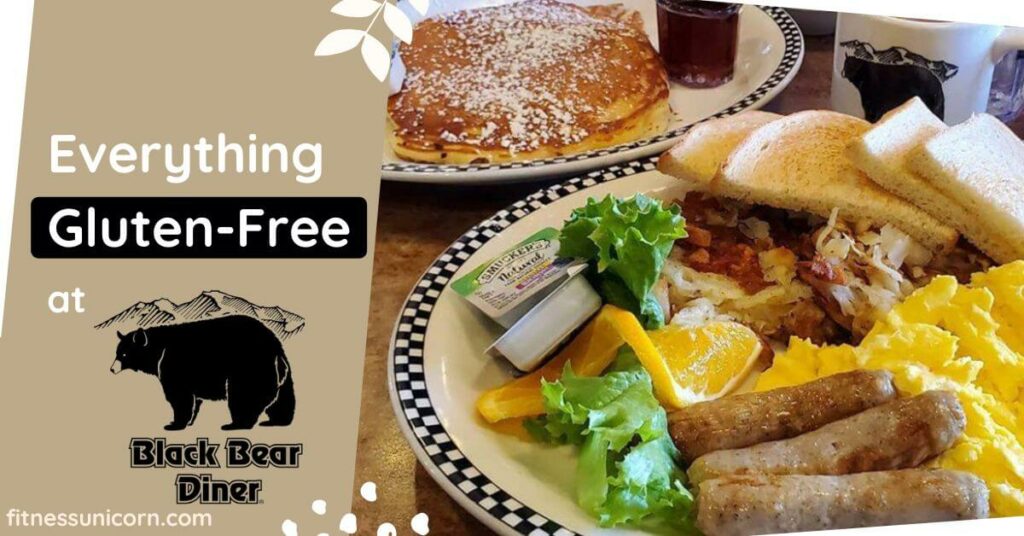 This post may contain affiliate links, which help keep this content free. (Full disclosure)
Black Bear Diner Gluten-Free Options
Two hungry guys named Bob Manley and Bruce Dean dreamt of establishing a diner that would feature simple, homemade meals.
So, with all the limited funds they had, Black Bear Diner was successfully launched in Mount Shasta, California, in 1995.
It now has around 139 restaurants across 14 states of America. Widely acknowledged as one of the famous Family Restaurant markets, Black Bear Diner placed 242 on the list of Top 300 Future Franchises for 2017 Worth Tracking.
Black Bear Diner is famous for many reasons. First, it houses lovely decorations such as the bear statue in each location.
Then, you have a menu featuring American favorites that remind anyone of homemade coziness and tasty dishes for breakfast, lunch, dinner, snacks, and desserts.
These dishes include the best-selling BIGFOOT Chicken Fried Steak & Eggs, Bob's Big Bear Burger (their most giant burgers), the kids' menu, and freshly baked bread.
It boasts a wide range of flash-baked bread, soups, salads, beverages, and other desserts. Even though it's famous for the "BIGFOOT Chicken Fried Steak & Eggs," there's also breakfast all day!
The menu indeed features lots of options for lunch and dinner. Pricing ranges from $4.99 to $17.99.
The dishes can't be certified as gluten-free due to the risk of cross-contamination, so this might not be the best choice for anyone with severe allergies.
Here are the gluten-free options you have at Black Bear Diner:
Breakfast
Black Bear Diner's Fruit Bowl is the perfect gluten-free option if you're looking for something sweet and light to start your day. It's a bowl of chopped fruits filled to the brim, served cold.
Fit & Focused Acapulco Scramble
Fit & Focused Chicken Apple Sausage Scramble
New York Steak & Eggs : (order without housemade biscuits)seasoned Choice steak served with 3 eggs.
The Volcano: (order without sweet cream pancakes)
Joe's Hobo Omelette: Smoked ham, link sausage & thick-cut smoked bacon, jack cheese, cheddar cheese, spinach & onion
Bruce's Meat Lover's Omelette: Smoked ham, thick-cut smoked bacon, link sausage & jack cheese
California Omelette: Avocado, mushroom & jack cheese
Denver Omelette: Smoked ham, bell pepper, onion & cheddar cheese
Vegetarian Omelette: Mushroom, onion, tomato, bell pepper, spinach & jack cheese
Shasta Scramble: Avocado, spinach, tomato, onion, bell pepper & jack cheese
Hickory Smoked Ham
Corned Beef Hash
No Meat, Just the Eggs, Please
Thick-Cut Smoked Bacon
Classic benedict: (order without Split English muffin)
California Bacon benedict: (order without Split English muffin)
Fruit bowl
Lunch
It can be challenging to enjoy a burger when you're gluten intolerant. No worries! You can always order one of their burgers and ask it to be served without a bun or in a lettuce wrap.
Make sure to inform your server about your gluten allergy so they can prepare your meal well.
California Burger: (Order with a gluten-free bun or a lettuce bun)This burger is made with meat, avocado, Jack cheese, and toppings.
Sub Gardenburger
Balsamic Vinaigrette Dressing 
RELATED: Gluten-Free Options at Taco Cabana
Dinner
Looking for a healthier option? Caesar Salad is the perfect alternative. It's a mix of lettuce, cheese, and Caesar dressing. Ask for no croutons and double-check if the dressing is gluten-free.
Pesto Salmon(Order with green beans)
Caesar Salad: (order without croutons)
Seasonal Veggies
Fruit bowl
Dessert
Ordering desserts can be quite of a problem for gluten intolerant people. Don't stress, though. Black Bear Diner's chocolate shake is the best way to end your meal. It has all the chocolate ice cream and milk you could ever want!
Chocolate Lava Cake
Brownie Sundae
Chocolate Milkshake
Beverages
Iced Tea
Assorted Juices
Fresh Squeezed Orange Juice
Arnold Palmer
Lemonade
Pepsi
Dr. Pepper
Sierra Mist
Mountain Dew
Mug Root Beer
RECOMMENDED: Gluten-Free Options at Godfather's Pizza
Tips for a Gluten-Free Meal at Black Bear Diner
Let the Waiter Know Your Dietary Needs
More restaurants are now offering a wide range of gluten-free options, which is especially beneficial for gluten intolerant people.
Be sure to let the staff know that you're gluten intolerant. You need to know that the staff has fully understood your dietary requirements.
Gluten-Free Doesn't Mean Everything Is!
Black Bear Diner is known for its extensive menu of breakfast, lunch, and dinner. There are choices for all three meals of the day! Unfortunately, many of these contain gluten.
If you want to reduce your exposure to gluten as much as possible, eat dishes that don't contain massive traces of gluten. You can request certain meals to be modified to meet your dietary needs.
Most of the main menu are sandwiches, burgers, fried foods like chicken strips, and fries which all contain gluten.
While there's only one type of gluten-free bun at Black Bear Diner, you can always forgo the bread/bun and have it served on a plate instead. Although, this may be somehow inconvenient.
Black Bear offers mostly gluten-free frozen desserts like milkshakes and ice cream. Avoid the Oreo Cookies & Cream milkshake.
Here's a list of gluten-free food to avoid at Black Bear Diner:
All burgers and sandwiches come with wheat bread, rolls, wraps, cookies, etc.
Veggie and meat patties that contain gluten
Anything fried with breadcrumbs like crispy chicken, breaded meat, and fries
Milkshakes containing gluten-rich ingredients such as cookies
Cross-Contamination Risk
Black Bear Diner takes pride in its allergen-friendly options. The diner offers a wide variety of gluten-free items, and it takes appropriate measures to prevent gluten cross-contamination.
However, there's always an inevitable risk of cross-contamination in any restaurant. Black Bear Diner is no exception.
Gluten is a protein found in grains like wheat, barley, and rye. It can be present in other foods, too, such as oats, soy sauce, and processed meat.
Cross-contamination happens when gluten comes into contact with gluten-free food, causing an allergic reaction in gluten sensitive people.
It can happen at any stage of food preparation, from cooking to packaging. So, gluten sensitive people need to know the risks of eating at a restaurant like Black Bear Diner.
While the diner takes steps to prevent cross-contamination, there is always some risk involved. Hence, it's crucial for people with gluten sensitivities to make an informed decision before dining at Black Bear Diner.
What People Are Saying
We have compiled the following reviews found online for Black Bear Diner, based on client feedback and personal ratings. It has 6 reviews on Find Me Gluten Free, with a final rating of 3 stars. This shows a below average customer experience.
• A few positive reviews mentioned its gluten-free desserts and breakfast. However, most negative reviews are about the low staff levels and cross-contamination at some locations.
• One negative review from a user is about how they faced a terrible gluten-free accommodation from the staff. The waitress made fun of the allergy and warned people not to go there if they had celiac disease.
• One guest rated the restaurant with two stars. They said that nothing was as expected since there was only one gluten-free item on the menu. The server was also unhelpful.
• In contrast, one visitor had a positive experience. This user mentioned that they had the Udi gluten-free bun brand and chocolate lava cake which were both good.
Gluten-Free Alternatives to Black Bear Diner
There's no better place than Black Bear Diner when looking for the most pleasing dining décor. However, as you might have noticed, there's only a limited range of gluten-free foods. So, it makes sense to ask for other gluten-free alternatives.
We did some research and found the following restaurants as your best alternatives to Black Bear Diner:
Denny's
Denny's is a chain of American restaurants that offer gluten-free options for people with gluten sensitivity and celiac disease.
You can find comprehensive lists of all gluten-free dishes and meals that can be made gluten-free upon request on their website.
Some locations have a dedicated gluten-free menu. Items include pancakes, waffles, eggs, and burgers which are all prepared to meet the needs of people with gluten intolerance.
Denny's continues to commit to providing delicious and safe dining options, as the number the gluten intolerant people increases.
Red Robin
Dining out can be hard for people with gluten intolerance. Fortunately, more restaurants now offer more gluten-free options to accommodate this growing population. Red Robin is one such restaurant.
While there isn't a special gluten-free menu, there are still some items that can be tweaked to meet your needs.
For instance, you can have your burger wrapped in lettuce instead of a bun. The fries are cooked in a dedicated fryer to avoid cross-contamination.
Additionally, the servers are trained to be aware of gluten-free options. This should alleviate your worries about your dietary needs.
Next time you're in for a casual dining option that can satisfy your gluten-free diet, be sure to check out Red Robin!
IHOP
IHOP is definitely one of the most popular breakfast chains in the United States. Did you know that they now offer gluten-free options for their gluten sensitive customers?
Yup. All pancakes, waffles, and French toast can be made with gluten-free ingredients. There is also a tasty range of gluten-free cereals and sides.
Whether you're searching for a hearty breakfast to start the day or just a casual meal with friends, IHOP guarantees something for everyone. There's also a dedicated-gluten free menu, perfect for all three meals of the day!
Best of all, you can enjoy this without worrying about gluten.
Hard Rock Café
It's fantastic that Hard Rock Cafe offers a comprehensive gluten-free menu for adults and children. However, the risk of cross-contamination can't be entirely eliminated.
Some items on the menu include wings, Baby Back Ribs, BBQ Chicken, California-Style Cobb Salad, and Fresh Beet Salad. Burgers can be enjoyed with gluten-free buns!
Kids can have French Fries or Chicken Breast with Broccoli. Have an Ice Cream or a Hot Fudge Brownie to finish your meal.