Godfather's Pizza is a national pizza chain that has been operating since the 70s. The place is famous for its pan pizzas, and other menu items including salads, pasta, and sandwiches.
Are there gluten-free meals?
Yes! In the recent years, Godfather's Pizza has expanded its menu, including some gluten-free options. But, they can be limited.
The restaurant offers both cheese and pepperoni pizza on a gluten-free crust. There's also a selection of tasty, gluten-free pasta on the menu.
However, anyone with severe gluten sensitivity or celiac disease should know that Godfather's Pizza doesn't offer a special gluten-free menu. Thus, the risk of cross-contamination can be high.
As such, it's important to speak with the manager or staff before ordering. Just so you can ensure that they can accommodate your meal accordingly.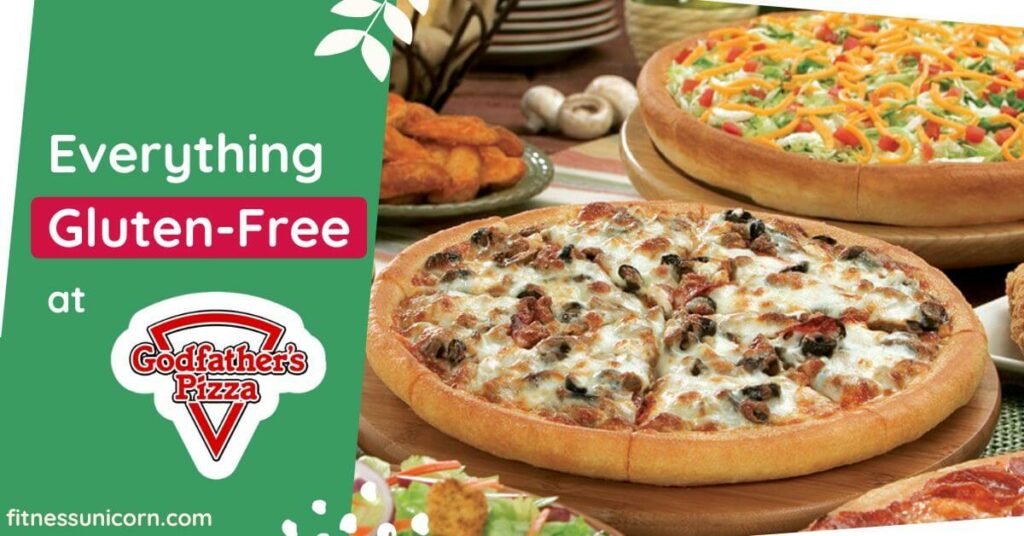 This post may contain affiliate links, which help keep this content free. (Full disclosure)
Gluten-Free Options at Godfather's Pizza
Founded in 1973 in Omaha, Nebraska, Godfather's Pizza is one of the nation's premier pizza brands. Gregg Johnson (who also launched Minsky's Pizza Restaurants) built the pizza parlor in 1974.
William Theisen later bought it and sold it as his first franchise.
After selling the business to Pillsbury in 1985, Theisen stopped managing the company directly. In 1986, Herman Cain was appointed CEO and president of the company.
Cain and his executive vice president, Ronald B. Gartlan, acquired Godfather's brand in 1990 in a buyout costing $100 million. It was America's fifth largest pizza chain during this time, which was two ranks down from its third place in 1985.
Pantera's Pizza also bought many Godfather's Pizza locations around this time.
Godfather's Pizza features a variety of gluten-free items, from pizza made with modified dough to appetizers like salad, wings, and chips. You'll never leave the restaurant empty-handed!
The items are offered upfront. You no longer need to struggle when visiting and piecing items together from the fringe. Customers can enjoy the same favorites everyone else enjoys.
With a brief understanding of the restaurant's background, let's look at its gluten-free options.
ALSO READ: Black Bear Diner Gluten-Free Options
Salad Bar
Having a convenient salad bar lets you build your own salad instead of explaining what's allowed and whatnot in your salad.
Although a slight risk of cross-contamination on the shelf is possible, talk to the manager on how to ensure that the food is safe from cross-contamination.
You can also pick up a to-go salad bar on your way home. Your order should include items from the salad bar, too.
There's always something to satisfy your cravings and fill you up at Godfather's Pizza, no matter what you're craving. The manager will work closely with you to ensure that your meal has no gluten before it gets to your table.
Other than making sure that your meal is safe, they'll work on taking good care of you.
It is becoming more common for restaurants to accommodate dietary restrictions. In the future, you might have more options at these restaurants like Godfather's Pizza!
Classic Wings
The Classic Wings is another great option that's available every day at Godfather's Pizza. It's the perfect treat if you wanna stop by with friends during happy hour or when there's a game!
There's also a variety of savory, gluten-free sauces you can drizzle your Classic Wings with. Ask the manager about this first before ordering.
Gluten-Free Specialty Pizza
The pizza is made according to your specifications and with your preferred toppings. All care is taken to eliminate cross-contamination, just to ensure that the dough is gluten-free.
Their famous marinara sauce is then ladled on top. After that, you can tweak your pizza to be as good as the regular one by adding in your favorite toppings and some cheese!
FIND MORE: Does Taco Cabana have anything gluten-free though?
Potato Wedges
Although potato wedges aren't typically on the menu of an Italian-American fast food restaurant, they're actually a nice alternative for gluten sensitive people. It's served either as a side dish for the chicken wings or as an appetizer.
Any craving for salty, fried food will surely be satisfied as these are served hot and fresh!
Tips For a Gluten-Free Meal at Godfather's Pizza
Before trying out those items we mentioned, prepare yourself first for a gluten-free experience at your restaurant of choice by following our tips.
Clearly State Your Dietary Requirements
It may be difficult for people unaware of gluten-free eating to comprehend the kinds of health issues that gluten can cause.
In most cases, they aren't properly informed of celiac disease, wheat allergy, gluten intolerance, and certain autoimmune diseases worsened by gluten.
It is advisable to sound as confident as you can when explaining your needs. Otherwise, they'll assume that you're just trying to be fashionable. So, they won't take your order seriously as how it should be.
Using words like "gluten allergy" and describing it as "severe" are the recommended ways you can do to communicate your needs for the staff to avoid gluten contamination.
Although this isn't technically accurate to your specific situation, framing your words this way allows servers to be more cautious when dealing with your order.
There's a higher chance for you to receive safe, gluten-free food.
Do Your Research First
There's no better way to decide on a restaurant than by reading blog posts from past visitors who may have experienced gluten problems (or not)
Gluten-free blogs are an excellent source of reliable information about gluten-free living. They're designed by people who go through the same struggles, so they can be extremely picky with the food they promote.
YOU MAY ALSO LIKE: 21 BEST Gluten-Free Bakeries in Los Angeles
Cross Contamination Risk
Cross-contamination happens when gluten-containing items come into contact with gluten-free food. It occurs in many ways: during food prep, cooking, and storage.
Cross-contamination can cause serious health problems for people with celiac disease or non-celiac gluten sensitivity.
Even the slightest traces of gluten can trigger an immune reaction in the gut of a celiac, causing inflammation and other symptoms. In some cases, this could even lead to hospitalization.
Thus, people with gluten intolerance need to know the risks of cross-contamination and how they can be avoided.
When preparing food at home, use separate utensils and cutting boards for gluten-free and gluten-rich food. If you think of dining out, be sure to inform the server of your dietary restrictions. Ask about the risk of cross-contamination, too.
Taking these precautions helps protect your health by minimizing the potentially harmful effects of cross-contamination.
Godfather's Pizza is particularly risky for gluten cross-contamination due to their way of preparing pizza. Since the dough and toppings are all prepared in the same area, the chance of these items encountering each other is high.
Additionally, the pizzas may be cooked in a shared oven, which further increases the risk of cross-contamination.
As a result, anyone with celiac disease or gluten sensitivity is better off at another place without the risk of cross-contamination.
What People Are Saying
Below are some of the most honest online reviews from gluten-sensitive visitors at Godfather's Pizza to help you make a decision.
Many users mentioned that Godfather's Pizza has been their favorite place for a long time, thanks to its delicious and hearty pies. But, the restaurant is off-limits for those with gluten sensitivities.
The restaurant recently introduced its new line of gluten-free pizzas. After trying them out, visitors said that they're pretty darn good.
Thin and crispy crust with plenty of flavorful toppings. The best of it all? It's just as filling as other regular pies.
Other reviewers agree that the overall quality of the gluten-free pizzas is on par with the regular pizza. The pizzas are also affordable and can easily be ordered online or by phone.
Whether you're sensitive to gluten or not, their pizzas are definitely worth a shot. The users tell people to head over to Godfather's Pizza and enjoy a slice, or two, of deliciousness.
Some visitors said that it can be a challenge to find a good pizza place if you suffer from gluten sensitivities or celiac disease.
While there can be a lot of available frozen and delivery options, most pizzas are still not up to the standards of taste and quality that traditional pizzas offer.
YOU MAY ALSO LIKE: Gluten Free Options at Chuck E Cheese
Gluten-Free Alternatives To Godfather's Pizza
You can always opt to check out other restaurants with more gluten-free options if you don't like Godfather's menu.
Outback Steakhouse
As a pioneer of gluten-free restaurants, Outback continues to be one of the best restaurants of its kind.
A range of superb, flavorful beef cuts are available at Outback.On the gluten-free menu, customers can choose between the filet mignon served with baked potato or a center-cut sirloin.
There's also a grilled chicken or grilled tilapia for visitors with a light appetite.
If you wish to top off your gluten-free dish with a sweet dessert, try the sweet potato brownies drizzled with warm sauce and ice cream or with a chocolate thunder sauce. Nothing can be more fulfilling than these desserts.
Five Guys
Among the biggest burger destinations in the United States is Five Guys.
A number of visitors report that the restaurant is generally safe and gluten-free, as long as you inform the staff before placing an order.
You can enjoy burgers without the buns by wrapping them in lettuce instead. Five Guys' dedicated fryer should make it possible for you to enjoy the fries, too!
Flower Child
Every dish at Flower Child is prepared with the freshest ingredients. The menu includes sugar-free, gluten-free, and dairy-free options for people with varying dietary preferences.
Gluten-free salads, bowls, and wraps are among the dishes they offer. The main menu features gluten-free items marked with a 'GF' symbol.
Other gluten-free options on the menu include ginger miso crunch which consists of zoodles, carrots, red pepper, Asian cabbage, etc.
The Chicken Enchiladas in the Bowls section can also be a good choice. They're made with roasted corn, guajillo chile, poblano crema, and a lot more!
Domino's Pizza
It's true that finding a good pizza place can be challenging, but not at Domino's. Luckily, the restaurant is starting to roll out its gluten-free crust for our gluten-intolerant diners. Though, it only comes in a small size for now.
There are heaps of ingredients and sides available on the menu.
For the sauces, choose from BBQ, Garlic Parmesan White, Robust Inspired Tomato, or Hearty Marinara. Toppings include American Cheese, Italian Sausage, Grilled Chicken, Ham, Pepperoni, and Mushrooms (there's a lot more!) '
To upgrade your meal, get some sides like Barbecue Chicken Wings, Roasted Red Peppers, or the Classic Garden Salad. As you can see, dining at Domino's can be a big treat.
Blaze Pizza
Blaze Pizza offers two gluten-free, 11" pizza options: Keto and Vegetarian. You can also choose from three types of dough: cauliflower, gluten-free, or keto.
After decorating your pizza with some cheese and toppings, couple it with a hearty salad. Pick from BLT Cobb, BLT Wedge, Buffalo Blue, Butternut Squash, Classic Greek, and Tomatoes & Mozzarella.