If you grew up in the U.S., chances are you have spent more than one birthday playing around and munching on the food at Chuck E Cheese. Not only is it a great place with a cozy ambience, the food is also reasonably priced.
But what if you have decided to ditch wheat and gluten? Does it mean everything from their menu is off the table (literally speaking)?
Chuck E Cheese has a very accommodating menu that caters to majority of dietary restrictions. And gluten is NO exception!
Chuck E Cheese has a dedicated gluten-sensitive menu. The highlight of the menu is their gluten-free free pizza made from tapioca flour, potato starch and other gluten free ingredients.
The best part is that it tastes a lot like your regular pizza!
By packaging separately and sourcing from certified gluten free facilities, Chuck E Cheese tries its best to not let anyone's fun day turn sour because of a medical emergency.
Moreover, they have a detailed list of ingredients used to prepare each item on their menu with each food allergen mentioned separately to avoid any confusion at all.
However, if you have a severe allergy to gluten, it is best to avoid Chuck E Cheese.
Despite all the precautions taken by the restaurant, Chuck E Cheese clearly mentions on its website that the pizzas are prepared in a shared kitchen which increases the risk of cross contamination.
With all said and done, let's look at the best gluten-sensitive options Chuck E Cheese has to offer!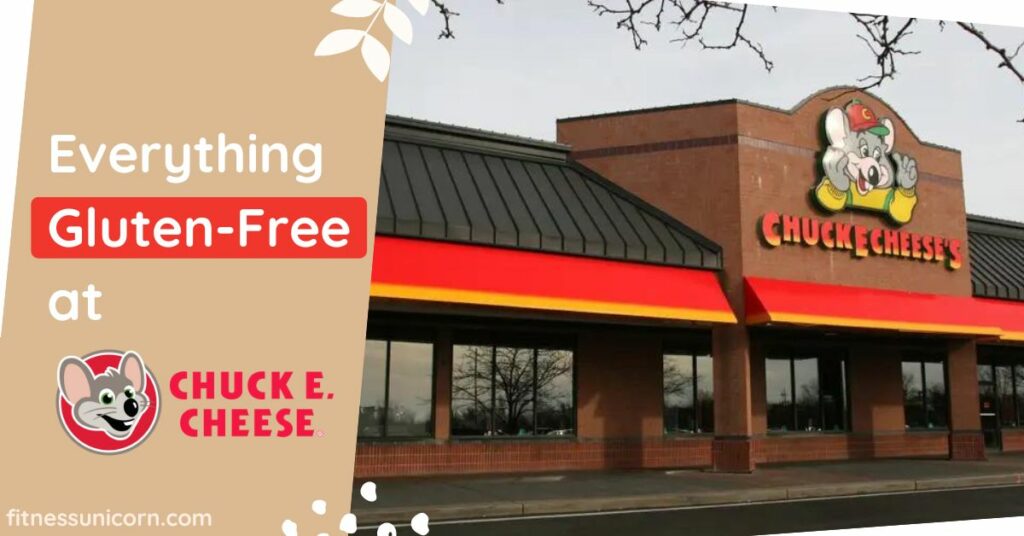 This post may contain affiliate links, which help keep this content free. (Full disclosure)
Gluten Free Options at Chuck E Cheese
Chuck E Cheese was one of the first establishments to combine arcade games, animation and food for the whole family.
A birthday at Chuck E Cheese is an American childhood classic since ages.
With amazing birthday packages which include party setups, delicious food, tons of games and character shows, Chuck E Cheese is not only a child favorite but also preferred by parents.
The fun and friendly environment have not only made it a classic hangout spot but also secured it a space in pop culture.
Having spread joy for so many years to hundreds of thousands of children across state borders, Chuck E Cheese decided it did not want to anyone to be at a disadvantage due to dietary restrictions.
With that in mind, they developed a gluten free menu.
In 2012, Chuck E. Cheese's vice president of research and development Joe Elliot is quoted to have said, "With the gluten-free menu we're launching nationally today, we believe we have dramatically reduced the chances for cross contamination in our gluten-free products."
Chuck E. Cheese is a big believer in maintaining transparency when it comes to ingredients in menu items. This is one of the primary reasons why they have a detailed ingredient and food allergen fact sheet available publicly on their site.
RECOMMENDED: What's gluten-sensitive at Sbarro?
Gluten Free Pizza:
Chuck E. Cheese offers an individual sized gluten free pizza.
The best part is that it is individually prepackaged in a sealed plastic bag and comes with a pizza cutter separately sealed in another plastic bag. This is to reduce the risk of cross contact and ensure maximum safety for the consumer.
If you are serving this to a child, kindly make sure an adult is available nearby to help the child securely open the pizza and consume it without hurting themselves.
The gluten free pizza is made using smart flour, red pizza sauce and cheese. Now you might be wondering what exactly is smart flour and is it really gluten free?
According to their official website, smart flour is made using tapioca flour, sorghum flour, amaranth flour and Teff flour. All of these ingredients are completely free of gluten.
INGREDIENTS:
tapioca flour
sorghum flour
amaranth flour
teff flour
water
potato starch
modified tapioca starch
sorghum flour
olive oil
sugar
Agave
flax seed meal
Yeast
Salt
xanthan gum
guar gum
baking powder (sodium acid pyrophosphate, sodium bicarbonate, cornstarch, Monocalcium phosphate)
baking soda
canola oil
tomato puree (water, tomato paste)
spices
citric acid
garlic powder
onion powder
low moisture mozzarella cheese
FIND MORE: Gluten-Free Options at Schlotzsky's
Quick Tips For A Gluten Free Experience At Chuck E. Cheese
To ensure that you have a wonderful experience at Chuck E. Cheese without your celiac disease becoming a problem for you and spoiling your fun, we have compiled a list of quick and easy tips.
Follow these tips and you can save yourself a lot of hassle.
Always Talk To Your Server:
We have said it before and we will say it again; your server is your best friend. Treat them as such and they will make your visit an absolute pleasure.
Be kind, be polite but convey your dietary restrictions very clearly to the person serving you. Mention that you are sensitive to gluten and can only consume menu items available on the gluten free menu.
All waiting staff at Chuck E. Cheese are well versed in menu items which are gluten free so talking to them about your allergies can help make your visit go a lot smoother.
Moreover, they can also communicate to the kitchen staff who are preparing your food. This will help in minimizing the risk of cross contact with items which contain gluten.
Ask, Don't Assume:
There is no harm in asking multiple questions about the availability of gluten free options. Don't be shy or embarrassed when asking questions which can potentially prevent you from falling sick.
A dish whose main ingredients seem to be gluten free is not always gluten free. For example, the fries at Chuck E. cheese are clearly marked as non-gluten free despite potatoes being gluten free.
This is because fries are cooked on the same equipment used to cook other items which contain gluten and are also handled by staff members who handle gluten items.
This increases the risk of cross contact and making you sick.
Here's a detailed list of menu items which are completely off limits for those with gluten sensitivity.
Pizza Dough
Ciabatta Rolls
Garlic Sesame Sticks
Tri-Color Tortilla Strips
Cheese Crackers
Wheat Crackers
Club Crackers
Garlic Butter Croutons
Rice Noodles
Gourmet Macaroni & Cheese Pasta Salad
California Pasta Salad
Cinnamon Stick Dough
Cinnamon Spread
Apple Dessert Pizza Dough
Shortbread Topping
Vanilla Buttercream Cakes
Chocolate Cakes
Cheesy Breadsticks
Buffalo Wings
Boneless Buffalo Wings
Chicken Nuggets
Select Single-Serve Novelty Ice Cream Offerings
Wonton Strips
Crispy Onions
Call Ahead. Pre Plan!
Always call in advance to make a booking and be very clear in your communication regarding your gluten sensitivity. This will give the staff plenty of time to prepare for your meal.
During rush hour, it can become difficult for the members of staff to accommodate your specific dietary needs.
Reconfirm Your Order:
After ordering, repeat your order with your server and ensure that your dietary needs have been clearly communicated.
Rechecking your order is a great way to prevent any miscommunication.
Cross-contamination – What Is It And How To Avoid It?
If you have an allergy to gluten or you are new to the gluten free world, you must have heard the word cross contamination a billion times. So what exactly is cross contamination and why is it a risk for you? Let
Many times, items which are considered to be gluten free come into contact with gluten from other sources.
For example, if gluten free pizza dough is made using the same utensils as the ones used to make or store regular pizza dough, the gluten free pizza dough would no longer remain gluten free. Hence it will be a risk to is consume it.
There is even a risk of cross-contact before ingredients make it to the kitchen, such as during the growing, processing, and manufacturing processes.
Hence, it is prudent that gluten free items are cooked and stored away from any items which may contain gluten.
Chuck E Cheese tries to minimize this risk by sealing and securing their gluten free pizza. This individual packaging not only helps to avoid cross contact in the kitchen but at the table as well.
At a restaurant such as Chuck E. cheese, bread crumbs are very common and the tiniest of these crumbs can pose a risk to those with celiac disease. Hence, the separate packaging of gluten free items is a wonderful mechanism.
However, despite all these measures, it is impossible to completely eliminate the risk of cross contact. Given the risk, if you have a severe allergy to gluten, it is best to avoid even the gluten free menu.
Moreover, dishes such as fries at Chuck E cheese are also considered as items which contain gluten. Despite the key ingredient being potatoes, which are generally considered to be gluten free, the fries cannot be considered gluten free.
You might be wondering what is up with that. The reason is that fries are fried in the same oil and made with the same utensils which have been used for preparation of the non- gluten free items on the menu.
Hear What Fellow Gluten Intolerant Chuck E Cheese Fans Are Saying
While ingredient fact sheets and allergen information on the websites of restaurants can be pretty helpful, nothing beats honest reviews from people like you.
We tried to find reviews from all over the web for the gluten free menu at Chuck E. Cheese and here is what we found.
Most of the people were great fans of the individual bag and sealed pizza. Others commented on how the servers are well aware of gluten allergies and the risk of cross contamination.
One of the reviewers noticed how the staff is careful and makes sure the crumbs don't come in contact with gluten free food.
Most reviewers were generally happy that despite their allergies, they could feel included in celebrations at Chuck E. Cheese and were really grateful for that.
Almost none of the reviewers reported feeling sick after eating at Chuck E. Cheese and most of them reported that the gluten free pizza tastes very similar to the traditional pizza.
However, it is extremely important that you clearly communicate your dietary needs to the staff and manager. Most reviewers agree that the best way to do this is to convey your needs before you go.
While booking a party, make sure to tell the person taking your booking about your dietary needs.