Sbarro's website explicitly reads: "we offer limited gluten free options on our menu." Does this really provide any sort of reassurance that one can eat gluten-free safely at Sbarro?
For those looking for a definitive (and practical) guide to eating gluten-free while dining, we've got you covered.
The term "gluten-free pizza" might seem like an Oxymoron in itself! Because both these things rarely go together.
Thankfully, we have come a long way in terms of recognizing the dietary needs of a larger portion of the population.
Many restaurants (including pizzarias) can now craft quality food from flour-based recipes with alternatives like cauliflower, chickpea, buckwheat, and brown rice flour.
Cauliflower pizza isn't a health trend just for superficial reasons!
Now the question arises: What's gluten-sensitive at Sbarro?
We'll explore all of Sbarro's menu in a comprehensive manner to pinpoint the safest options (even for those with Celiac) and make clear what to avoid.
We will also touch on alternative dining options below, tips you can implement to ensure your safety as a patron, and what the general public (the most reliable source of information) has to say on Sbarro.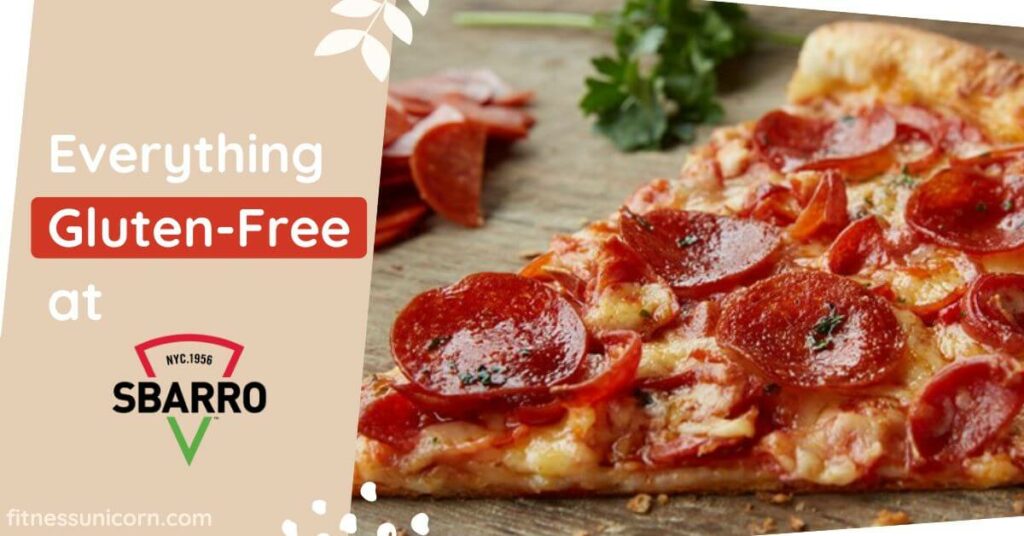 This post may contain affiliate links, which help keep this content free. (Full disclosure)
Gluten-Free Options at Sbarro
Sbarro is a pizza chain, initially based in Brooklyn, New York (founded 1956) and said to specialize in 'New York style' pizza.
The restaurant has hundreds of locations across 28 different countries and is met with mixed reviews and flak for their pricing and portion sizes.
Before we dive into Sbarro's menu items that are gluten-free, we should take a minute to look at their website directly, which under the "Nutritional Information" for US residents reads:
"we do offer items such as garden salad, fruit salad, tomato & cucumber salad, roasted potatoes, mixed vegetables and yellow rice that do not contain gluten."
That being said, at the same time – they offer no assurance that cross contamination has not taken place.
This information is listed on their website as a disclaimer that "unfortunately [they] cannot guarantee that certain items are 100% gluten-free, due to the fact that [they] work with [wheat] flour."
They do mention that if you have any specific concerns related to dietary needs (including allergies or intolerance) to mention it to the specific location you dine at so they can speak with you directly.
Again, this sadly does not offer much in the way of assurance when it comes to the safety of someone with Celiac Disease or a severe allergy to gluten or gluten-containing grains.
We once again implore those with more severe allergies to gluten to check with restaurant staff and the restaurant themselves, as we cannot guarantee absolute safety for people dining at restaurants where cross contamination is possible.
Unfortunately, all of the bread or flour based products on the menu are not gluten-free, and despite the restaurant chain's growing popularity over the years, there is no indication of them offering a gluten-free flour for patrons with Celiac.
This means pizza, garlic bread/sticks, sandwiches, breaded items, and desert items like cookies are totally off limits.
Those with a milder digestive intolerance may be able to eat some of the 'sides' like fries – but it should be noted that the same fryers are used for breaded wheat items like onion rings and jalapeno poppers.
RECOMMENDED: Gluten-Free Options at Schlotzsky's
Sides & Starters
Fries: Fried, thin-strip potatoes. Crunchy and extra crispy fries. *Please note these are not explicitly gluten-free, as they may be cross-contaminated due to fryer use with other breaded products.
Cheesy Fries: Crunchy, fresh french fries with melted cheddar cheese atop. Again, please note this item is inherently gluten-free, but likely to be cross-contaminated due to the fryers being shared.
Potato Chips: Plain, Lays Original Potato Chips, which are certified gluten-free.
Steamed Mixed Vegetables: An assortment of mixed vegetables, lightly steamed.
Sausage & Peppers: Italian style sausage, peppers and vegetables. Optional add-ons: avoid breaded chicken, or any toppings which may contain gluten.
Oven-Roasted Potatoes: Delicious, sliced potatoes – oven roasted with salt, black pepper, and garlic. A good alternative for those who cannot have french fries due to the possibility of cross-contamination.
Mixed Rice & Vegetable Rice
Corn Grits
Breakfast Menu
Scrambled Eggs: Made fresh every morning, from freshly cracked eggs.
Oven-Roasted Bacon Slice: Bacon strips, baked in our oven fresh every morning.
Oven-Roasted Sausage Link: Italian-style sausage, roasted in the oven.
Salads
All salads come with the option of a variety of dressings (all of which are indicated as being gluten-free) and aside from the fruit salad, come with the option of croutons* (which need to be avoided by those sticking to a gluten-free diet).
Dressings:
Fruit Salad (Small or Large): A delicious mix of watermelon, cantaloupe, honeydew melon, strawberries, white grapes, and blueberries.
Caesar Salad (Small or Large): Romaine and iceberg lettuce, grated romano cheese, croutons*, topped with caesar salad dressing.
Chicken Caesar Salad (Small or Large): Romaine, croutons*, parmesan cheese, paired with grilled chicken.
Chicken Delight Salad (Small or Large): Freshly cut green peppers, red peppers, broccoli, black olives, and grilled chicken topped with feta cheese and Italian dressing.
Tomato & Cucumber Salad (Small or Large): A mix of tomato wedges, cucumber and onion slices tossed in an Italian dressing.
Greek Salad (Small or Large): A fresh mix of greens with tomatoes, black olives, radishes, topped with feta cheese and a Greek dressing.
Garden Salad (Small or Large): Served fresh and crisp, this salad is filled with fresh juicy tomatoes, cucumbers, romaine lettuce, iceberg lettuce, shredded cabbage, and carrots.
FIND MORE: Gluten Free Options at Tijuana Flats
Pizza
Sbarro offers one gluten-free pizza option: a 10" gluten-free thin crust pizza, with your choice of toppings and sauce.
Of course, these are still baked in the same oven as the non-gluten free pizzas, so this needs to be taken into consideration depending on the severity of your allergy.
Toppings:
Mozzarella Cheese
Pepperoni
Italian Sausage
Grilled Chicken
Ham
Bacon
Italian Beef
Asiago Cheese
Ricotta Cheese
Provolone Cheese
American Cheese
Black Olives
Jalapenos
Mushrooms
Pineapples
Red Onions
Yellow Onions
Spinach
Tomatoes
Red Peppers
Green Peppers
Eating Gluten-Free At Pizzerias
Be Conscious of Cross-Contamination: Dedicated Ovens
One of the primary concerns among those with Celiac Disease (or any severe allergy/intolerance), is the risk of cross-contamination.
This becomes increasingly more so when you're dealing with something like pizza, a primarily wheat-based dish.
Often, 'gluten-free' at these kinds of establishments doesn't ensure any kind of safety protocol with respect to using different or "dedicated" ovens.
This means that the same risk is involved as if you were to order fries at a restaurant where they use the same fryer for breaded onion rings.
For individuals with a mild gastrointestinal reaction, this may be fine. Individuals with a severe, life-threatening reaction cannot afford to take the same risk and always need to act accordingly.
As we've discussed before, it is absolutely vital you speak with restaurant staff and kitchen crew to ensure you advocate for your dietary needs.
If they cannot accommodate you (or seem unsure as to the level of safety in place for gluten-free patrons) you need to look elsewhere to satisfy that pizza craving.
Your health is your priority, and you need to explicitly make it clear to staff that you have a serious health concern.
Most restaurants, even pizzaria chains, are now aware of Celiac Disease and the mounting evidence against gluten as a problematic allergen.
Never feel uncomfortable or annoying when you reach out to confirm safety protocols, or ask staff to use different gloves/equipment when preparing your meal.
Simply ordering a 'gluten-free' dish like salad isn't enough to ensure you don't wind up with a cross contaminated meal.
Pizza in particular is considered a very "high-risk" food for people, with 53 percent of gluten free samples having detectable levels of gluten.
It is essential we make this clear to anyone considering dining at a pizzeria or restaurant such as Sbarro.
Wheat flour is a finely granulated product, which means particles can be in the air and on surfaces – without being visibly detectable.
If the restaurant is not entirely gluten-free (I.E. they still serve wheat based pizza) there are some question you can use to better protect yourself:
Where are gluten-free pizzas prepared? Are they cooked in the same ovens as the non-gluten-free pizza? Is it a dedicated kitchen?
Are surfaces and prep areas cleaned or sanitized prior to your food being prepared on them?
Are gluten-free pizzas cut with a dedicated pizza cutter?
Are all the pizza toppings gluten-free? Which ones contain gluten?
Is the gluten-free dough prepared on-site, or is it received pre-made?
Can staff members wash hands/use separate gloves prior to preparing my gluten-free pizza?
Is gluten-free flour used when they roll out the dough for the pizza?
Are convection features turned off or not used to prevent wheat flour from circulating around? 
RELATED: BEST Gluten-Free Bakeries in Tucson, AZ
What Do People Think of Sbarro?
Unfortunately, things don't look too positive for Sbarro when it comes to reviews from the gluten-free public.
Even the general public seems to have recurring negative experiences at Sbarro – including several dozen reviews at multiple locations mentioning unsatisfactory dining or food poisoning.
One review goes as far as to compare their pasta dishes to "high school cafeteria level quality." Another review boldly reads: "a disgrace to Italian pizza."
The quality, sadly, seems to vary quite dramatically from location to location.
While some customers paint Sbarro in a positive light, others mention that their only gluten-free pizza option is 10" and overpriced for what you get: a fairly dry and bland crust.
In fact, most of the reviews fixate on how expensive Sbarro is compared to the actual quality of the food.
People do mention that staff were aware of gluten-free and Celiac protocols to follow such as changing gloves or washing hands.
However, both the website and the public explicitly advise people to be cautious depending on the level of concern.
All of the pizzas are baked in the same oven, and given that the flour being used is predominantly wheat-based (semolina) – the risk factor for those with Celiac Disease is quite high in comparison to restaurants with dedicated ovens.
A Gluten-Free Alternative to Sbarro
With countless pizzerias, pizza chains, and even independent pizza places now offering a variety of gluten-free options, you no longer have to feel left out (or eat a tasteless, bland, cardboard alternative).
Two Boots Pizza
Born in NYC's East Village in 1987 by two film lovers – Two Boots offers a huge variety of pizzas, all of which can be made gluten-free using a rice flour or cornmeal crust.
With multiple locations across New York and the rest of the country (Nashville), Two Boots provides assurance to their gluten-free and Celiac customers.
Inspired by New Haven-style pizza and an added, original New Orleans spin, Two Boots offers fun, film-themed pizza in a vibrant, colorful dining environment.
In terms of what pizza they serve, you'll never be starved for options at Two Boots – vegan, veggie, and meat lovers can all rejoice.
With themed pizzas named after Seinfeld, Big Lebowski, and John Waters characters – you can grab a slice of "The Divine" featuring capicola, red onions, jalapenos, and mozzarella.
For those who are gluten sensitive and adhering to a strict plant-based or vegan diet, Two Boots offers nine options: gluten-free vegan cheeses, chicken, and meat alternatives.
"V for Vegan" features a tribute to V for Vendetta and the occupy wallstreet movement with a (Daiya) non-dairy cheese base, artichokes, mushrooms, red onions, and basil pesto.
With high ranking reviews across various social media platforms and user-based review sites like Yelp, Two Boots appeals to the gluten-free, vegetarian, and vegan alike.
While the vast majority of reviews indicate that the restaurant is extremely safe (staff is knowledgeable about cross contamination), the 'negative' or one-star reviews do mention ordering during rush hour online or through UberEats as the reason the "GF" option got missed or glossed over.
Most people don't seem to get sick (even those that mention a severe allergy or Celiac).
The gluten-free pizzas are baked separately, manufactured separately, and staff exert extra care into washing hands, utensils, and wearing gloves.
The level of care and craft present at Two Boots seems to make them a preferable option to Sbarro when it comes to finding a good gluten-free slice in NYC (or across the country).