Jet's Pizza is a famous American pizza place established in 1978 by founder Eugene Jetts. Since its conception, Jet's Pizza has expanded to over 380 locations spread across 19 states.
Jet's Pizza is known for its Detroit-style pizza. Their buttery crust is crispy on the outside, light and airy on the inside. They
serve a wide variety of toppings to tantalize your taste buds. Unfortunately, pizza is your worst nightmare if you're on a ketogenic diet. The number of carbs in one slice of pizza will ravage your hard-earned ketosis.
So what's Keto-friendly at Jet's Pizza?
The most keto-friendly dish from Jet's Pizza's menu would be their traditional bone-in wings. Wings are a keto savior when it comes to pizza places.
A single serving of Jet's scrumptious wings will come with 8 wings at the expense of 8-12g of net carbs depending upon the sauce you choose. Avoid all sorts of sweet sauces; they're packed with sugars (the forbidden fruit).
Other keto-compliant options from their menu that you can order as-is include a selection of their fresh salads. Other than that, you can modify a few of their dishes to make them keto-compliant without compromising on the meal's flavor.
Jet's has a compact menu like many pizza places. Most items are loaded with carbs which will misalign with your diet regimen.
Hence, it is important to be vigilant and know how to navigate the menu to keep below your daily carbohydrate quota.
This article is going to be an in-depth scrutinization of Jet's menu to extract all the keto-friendly options. We've gone through the hassle of picking out everything low-carb that Jet's has to offer!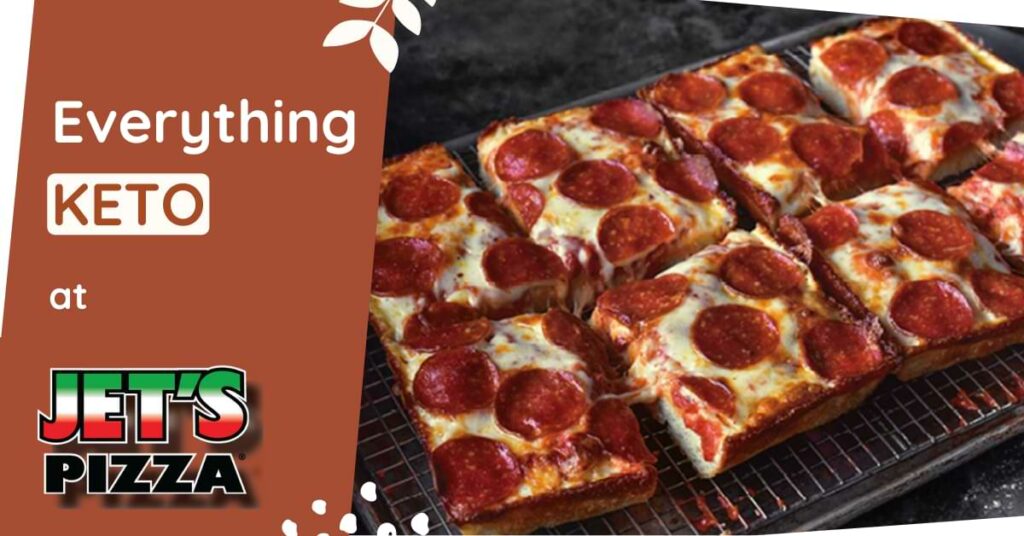 Tired of searching whether certain foods are keto? Download my keto cheat sheet with 210+ keto-friendly foods!
This post may contain affiliate links, which help keep this content free. (Full disclosure)
How to Survive Keto at Jet's Pizza
Having to dine out while being on a ketogenic diet can be a very stressful experience. You know, you've worked extremely hard to maintain your ketosis, and any mistake could lead to all of it going to waste.
But all of this anxiety and stress around foods can be dealt with if you plan your meals ahead of going to a restaurant and study their nutritional guides.
Jet's Pizza has a complete nutritional guide available on their website, which even lets you make your custom meals and gives out their nutritional value.
This makes it highly convenient for you to calculate your carbs to ensure you stay below your daily limit.
Using these tools and some base knowledge about keto, you can easily order yourself a keto-friendly meal at Jet's without worrying about your carb intake.
To maintain a state of ketosis, you have to stay under 20-25g of net carbs per day. This daily limit leaves limited options for you to enjoy, but we're here to make the most out of them.
Jet's Pizza has a relatively concise menu consisting of all the fan favorites you would expect to find at a typical pizza parlor. Some of these include a variety of crusts to choose from, salads, wings, desserts, and calzones.
They're known for their premium cheese and fresh ingredients, giving their food added oomph.
The problem arises when you have to pick out something that will satiate your appetite while being keto-friendly at the same time. Even though Jet's has limited keto-compliant options, you can always modify certain items to fit the keto bill.
Low-carb options at Jet's that you can order straight off the menu include their bone-in wings and their salads (minus croutons). But if you really feel like having pizza, you can call the waiter and ask them to make you a crustless pizza.
By substituting the crust with a layer of meat or cheese, you'll be getting rid of all the excess carbs while still enjoying a hearty meal.
Before we detail the various Keto-friendly options at Jet's, let us go over some of the menu items you need to avoid at all costs, no matter how much they tempt you. These items are rich in carbs and will knock you right out of ketosis;
Hand-tossed pizza crust
Detroit-style pizza crust
NY-style pizza crust
Wing Sauces: BBQ, Honey BBQ, Sweet Red Chilli
All kinds of bread
All their desserts
Anything with dough or pizza crust in it
Chances are your friends will be munching down on all of these agonizingly tempting items, but you must grab hold of these temptations. These items are too high in carbs and will surely destroy your diet.
Now let's have a look at some of the keto-friendly menu items you can devour stress-free.
RECOMMENDED: Keto Friendly Options at Giordano's Pizza
Jet's Pizza Keto-Friendly Options
All of the following nutritional information has been taken from the Jet's Pizza official website. They provide a detailed macro and micro-nutrient breakdown for their customers, so you know exactly what's in every dish.
Let's dive into the Keto options Jet's Pizza has to offer;
#1 Jet's Bone-in Wings
Net Carbs: 1g
Total Fats: 6g
Proteins: 6g
Calories: 80 kcal
*Nutritional info is for 1pc of wings
Jet's delicious bone-in wings are prepared fresh to order and are an absolute delight to have. You can enjoy these wings plain or with mild or hot buffalo sauce.
The best part is that they won't harm your keto as long as you stay clear of the sweet sauce flavors.
#2 Salads
Net Carbs: 1-6g
Total Fats: 4-8g
Proteins: 5-12g
Calories: 80-170 kcal
*Nutritional info is per serving of salad
Jet's offers a variety of fresh salads that can be topped with various keto-friendly salad dressings. You can order three types of salads that you can order if you just want a light snack;
Antipasto Salad (1g net carbs)
Garden Salad (2g net carbs)
Greek Salad (5g net carbs)
#3 Salad Dressings
Net Carbs: 1-6g
Total Fats: 1-28g
Proteins: 0-1g
Calories: 20-260g
You can vamp up your salads with a variety of delicious flavor-packed dressings that include;
Blue Cheese Dressing (2g net carbs)
Catalina Dressing (5g net carbs)
Greek Dressing (6g net carbs)
Italian Dressing (2g net carbs)
Ranch Dressing (1g net carbs)
Fat-Free Raspberry Vinaigrette (5g net carbs)
#4 Dipping Sauces
Net Carbs: 0-3g
Total Fats: 21-46g
Proteins: 0-2g
Calories: 190-430 kcal
You can enhance your eating experience by accompanying your wings with some of Jet's famous dips;
Ranch Dressing
Greek Dressing
Garlic Butter Dip
#5 Cauliflower Crust Pizza
Net Carbs: 13g
Total Fats: 15g
Proteins: 16g
Calories: 260 kcal
*Nutritional info is for 1 slice of pizza
Cauliflower crust pizza isn't keto-friendly because it has hidden carbs in the form of rice flour, rice starch, tapioca starch, and sugar. But if you can't avoid temptation, a single slice of cauliflower crust pizza will not ruin your ketosis.
If you'd ask me, you'd be better off having a crustless pizza than a single slice of cauliflower pizza (which won't suffice to satisfy your cravings anyways).
RELATED: Keto at Mazzio's Pizza
Customizations For Keto
Crustless Pizza
Jet's Pizza doesn't officially have a crustless pizza on its menu, but you can always ask the waiter to customize your order to suit your preference.
Just ask the waiter to replace the carb-packed crust with a layer of cheese or meat, and you'll have a scrumptious, rich meal without the notorious carbohydrates.
You'll be able to enjoy all the flavors of their amazing pizza and satiate your pizza cravings!
Deli Boat & Jet's Boat
Jet's has its own take on calzones in the form of their 'boats'. You get all the pizza toppings and cheese that are enclosed in their pizza dough.
You can either ask the waiter to skip on the pizza dough or just have the fillings served as a salad bowl.
ALSO READ: Keto-Friendly Options at Cici's
Conclusion
Jet's Pizza is a cozy spot to chill with family & friends. It doesn't have many keto-friendly options, but if you're smart about your choices, you can easily order yourself a meal that will be satisfying and keto-compliant.
When you visit Jet's, be sure to have a look at their nutritional guide. It'll give you a good sense of what to avoid and what's safe to eat.
Communicate your requirements to the waiter, so they know exactly the kind of meal you require.