Who doesn't love a thick pizza with hearty toppings and a movie on a Friday night? Pizza is the way to most of our hearts and luckily for us, Marco's pizza shares that love with everyone.
Their extensive menu ensures that there is something for all. The real question is, are there any gluten-free options at Marco's Pizza?
Marco's Pizza has a fairly large gluten-free arrangement on its menu, considering they are a pizza restaurant.
The majority of the gluten-free options come from making your own pizzas, calzones, or pizza bowls but also include salads, chips, and beverages.
There are a few items on the menu you want to avoid completely, and that are the subs, desserts, and sides as they all contain some form of gluten or wheat!
If you suffer from any sort of gluten intolerance or celiac disease, it is best to have an open communication policy when ordering from Marco's pizza.
In such a large franchise, there is always the risk of cross-contamination between allergens despite the strict protocols they may adhere to.
This is also mentioned in their nutrition and allergen disclaimer and it's something to keep in mind when ordering from them. Continue reading for an in-depth overview of all the delicious meals Marco's Pizza can offer on a gluten-free diet.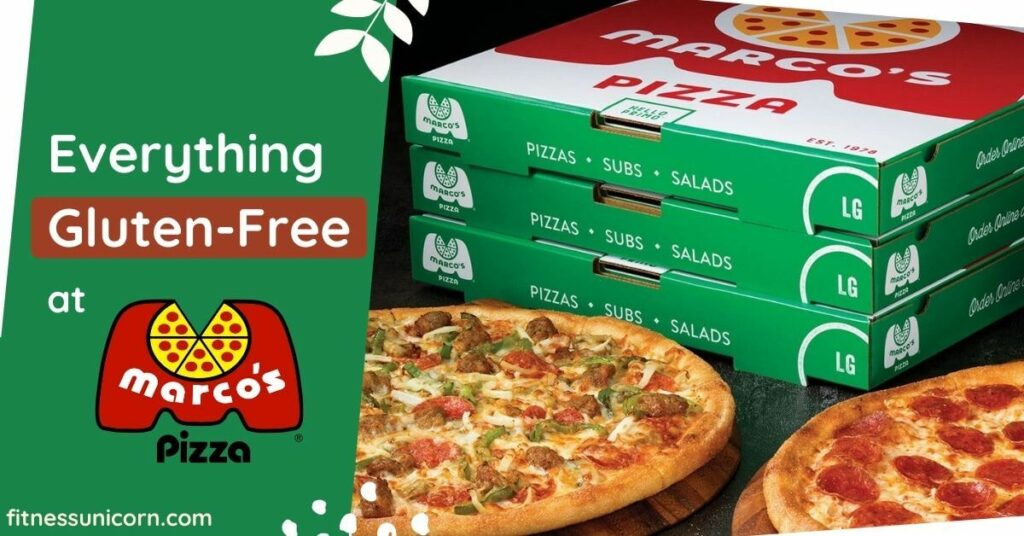 This post may contain affiliate links, which help keep this content free. (Full disclosure)
Marco's Pizza Gluten-Free Options
Marco's Pizza is an American restaurant chain that was founded 44 years ago in Oregon, Ohio by an Italian immigrant, Pasquale Giammarco.
They specialize in Italian-American cuisine and have over 1000 restaurants in an estimated 34 states, employing over 20 thousand people!
They aren't just loved for their great heritage, but also their well-priced, high-quality ingredients. Many customers believe that Marco's Pizza gives them a bang for their buck!
Please note that the below gluten-free items are subject to the specific branch and it is recommended to speak to the restaurant manager before ordering your gluten-free meal.
Let's take a deeper dive into their vast menu and see what is gluten-free.
Specialty Pizza Bowls
The buffalo chicken pizza bowl
Build Your Own Pizza Bowl/ Calzone – Toppings
Bacon
Banana peppers
Black olives
Cheddar cheese
Classic pepperoni
Extra cheese
Feta cheese
Fresh spinach
Garlic sauce
Green olives
Green peppers
Grilled chicken
Ground beef
Ham
Italian sausage
Mushrooms
Old world pepperoni
Onions
Pineapple
Red onions
Salami
Shaved Parmesan cheese
Tomato slices
Signature pizza sauce
Salads
Unfortunately for us, there is only one salad on their menu that is gluten-free and that is their delicious Greek salad. This is inclusive of the dressing that comes with the salad.
However, if another salad has caught your eye, speak to the manager and enquire about how they could adapt it to make it gluten-free. If you are more skeptical, rather don't risk it and stick to the Greek Salad (you can't go wrong with it)!
Dipping Sauces
Blue cheese cup
Jalapeño ranch dip sauce
Ranch cup
Extras
Caesar dressing
Crushed red pepper packets
Garlic Parmesan sauce
Garlic sauce cup
Greek dressing
Icing packet 
Fat-free Italian dressing 
Parmesan cheese packets 
Ranch dressing 
Tangy bbq sauce cup 
RELATED: Marco's Pizza on the Keto Diet?
Chips
Cheetos, crunchy original
Doritos, cool ranch/ nacho cheese
Frito's, original
Lays, BBQ/ classic/ kettle-cooked/ sour cream & onion
Beverages
This is the easiest part of the meal. When ordering from Marco's Pizza, you can order any beverage on the menu without worrying about whether it contains gluten or not!
Local Delight – Breakfast
Chocolate milk, low fat organic
Milk, reduced fat organic
Local Delight – Smoothies
Strawberry banana smoothie
Strawberry smoothie
Local Delight – Coffee
Lattes (all kinds)
Standard coffee
Local Delight – Latte Add-Ons (12,16, 20 Oz)
Flavored sauces (all)
Flavored syrups (all, including sugar-free)
Vanilla powder
Build Your Own Big Square Deal Pizza / Deep Pan Pizza / Large Pizza / Medium Pizza / Small Pizza
Cheese

Cheese
Extra cheese
Lite cheese

Crust Toppers

Garlic butter
Parmesan cheese

Sauce

Extra sauce
Garlic Parmesan sauce
Lite sauce
Signature pizza sauce
It is important to keep in mind that the majority of the cheeses, toppings, and sauces are all gluten-free regardless of the type of pizza/ pizza bowl/ calzone you desire.
Subs: Avoid
Unfortunately because of the nature of the meal, all subs contain gluten and will not be able to be ordered from someone who is gluten-intolerant or celiac.
Desserts: Avoid
Marco's pizza is yet to offer a gluten-free dessert. So, as much as we know you would love to have a CinnaSquare or Double Chocolate Brownie, you might have to just sit this one out.
Sides: Avoid
As much as we know the cheese on the CheezyBread is gluten-free, the bread itself is not. Every item on the sides menu contains some form of wheat/ gluten. Thus, it is better to steer away from these when ordering your next meal.
Tips For A Gluten-Free Meal At Marco's Pizza
It is always challenging to choose a restaurant that meets your dietary needs, especially when they have to be strict. The important thing to remember is that restaurants have evolved and made effort to accommodate most dietary preferences.
With that said, it is crucial to understand and more importantly, trust the process being undertaken to ensure that your meal is being handled the appropriate way.
Below you will find a few tips and tricks you can take with you when you are planning on eating at Marco's Pizza.
Plan Ahead
Most restaurants these days have a detailed nutritional menu online, breaking down each item on their menu and what they consist of. Before your dinner plans, hop onto the Marco's Pizza website and browse the menu.
Conveniently, Marco's Pizza has an allergen menu on its site which breaks down which items do or do not have that particular allergen. It is easy and inclusive for all.
If your dietary preferences go beyond the particular allergen, you can have a look at their interactive menu which gives nutritional information on each food item.
Additionally, call the restaurant during their off-peak hour and speak to the restaurant manager. Ask questions about how the food is prepared and how they ensure cross-contamination doesn't occur to the best of their ability.
For example, do they have an area dedicated to preparing gluten-free food? Do they have separate utensils or wash and reuse? These are all important questions that can offer you some peace of mind.
RECOMMENDED: Tips for a Gluten-Free Meal at Bonchon
Speak To The Manager
The best thing to do when arriving at Marco's Pizza is to inform your server or manager of your gluten intolerance or celiac disease. This way they are aware and can be extra cautious when handling your drinks and food.
If you are unclear or apprehensive when it comes to a meal or item of food on the menu, rather speak to the restaurant manager than just assume that it is gluten-free. Playing it safe is always better than dealing with the consequences.
Be Clear About What You Want
Every person handles their allergens differently. Some don't mind a little bit of gluten and to others, it can pose a great risk to their health.
By making this distinction to your server, you are allowing them to relay the message and make sure that the food is being handled with care.
Explain to them that you want your food and drinks handled on clean counters with clean utensils, away from ingredients that may potentially contain wheat or gluten.
Additionally, explain the risks involved if an accident may occur and that you cannot consume anything with these certain allergens.
Dine Early or Dine Late
The easiest way to avoid mistakes in the kitchen is to miss the rush hour! When restaurants hit their peak hour, things in the kitchen can get a bit chaotic and a little bit messy.
By eating early or dining late, you are reducing the risk of cross-contamination and more likely going to enjoy your meal without worrying!
RELATED: Gluten-Free Options at Popeyes
Cross Contamination Risk
Marco's Pizza is highly aware of cross-contamination and the risks it can pose to their gluten-free/ celiac customers. Cross-contamination is essentially when one allergen gets transferred to another, accidentally.
This can occur in fast-paced, high-volume kitchens and preparation areas.
For example, when one is preparing a gluten-free pizza on the same counter as a wheat-made pizza, cross-contamination occurs. Thus, putting you at a risk.
In their nutrition and allergen disclaimer, Marco's Pizza state the hard efforts they go through to prevent the transfer of allergens but it is not always guaranteed that this will not happen.
They recommend informing your server or the restaurant manager about the allergy before the order so they can take extra precautions when preparing the meal.
If at any moment you are unsure of your meal and how it was made, it is best to send it back and request something else. It is not worth the risk if you are uncertain.
What People Are Saying?
We have sourced multiple different reviews from the internet about Marco's Pizza and the gluten-free food that they offer. The good news is that they average a 4-star rating according to previous gluten-conscious customers.
One customer has a 'make your own pizza bowl' with all the delicious and gluten-free toppings, making the meal just as pleasurable to order as it was to eat.
They also included that the staff was very helpful and friendly which is always a relief!
Another customer mentioned that the gluten-free crust is just as good, whereas another one said it was 'passable'. It is important to remember that we all have an acquired taste for certain things and what may work for one may not work for another.
Interestingly, a customer mentioned how Marco's Pizza have a dedicated area for all gluten-free food as well as a dedicated pizza cutter.
All-in-all, the reviews provided gave a sense of reassurance and relief when it came to eating at Marco's Pizza on a gluten-strict diet which is always a positive note to end on!
Gluten-Free Alternatives To Marco's Pizza
Two Cities Pizza Company
Based in Mason, Ohio – Two Cities Pizza Company give Marco's Pizza a run for their money. With positive 5 star reviews and delicious gluten-free pizza. They are an absolute must-try when looking for an alternative to Marco's Pizza.
Their gluten-free pizza base is tasty and the crust is melt-in-your-mouth soft. It is important to note that they do not have a gluten-free menu but gluten-free options are available.
Fireside Pizza Company
While again, they do not have a dedicated gluten-free menu like Marco's Pizza. Fireside Pizza Company does offer gluten-free alternatives and gluten-free pizzas.
It is a beloved bar/ restaurant for locals and serves delicious food with good service.
Customers have mentioned their food to be tasty, wholesome, and not soggy (which is always a plus)!
However, if you are concerned about cross-contamination it is probably best to steer away from here as most meals are made in the same oven.