It's hard to crunch out loud when your lifestyle demands you to pertain to a gluten-free diet. Today's menu dissection is all about Bonchon's.
Bonchon was founded by Jinduk Seo, who dreamed of serving his crunchy, and juicy South-Korean fried chicken worldwide, and very rightly so. Their chicken is all about traditional and authentic flavors with a modern twist.
But the million-dollar question is: Is there anything gluten-free at Bonchon's? I'll cut you the slack; there are gluten-free items hidden within Bonchon's menu, but their range is quite narrow.
You'll also have to keep an eye out for items that might get contaminated with potential gluten particles during the cooking process (we'll get to this later).
Rest assured, here's all you need to know about Bonchon's and what you can do to adhere to your gluten-free lifestyle.
So what's gluten-free at Bonchon?
You won't come across an expansive gluten-free menu at Bonchon's, but there are limited items that you can scavenge through their menu.
There are 4 sides that won't flare up your gluten allergy: seasoned french fries, pickled radishes, kimchi, and kimchi coleslaw. Their menu highlights allergens, this will make it easier to identify gluten-containing items.
Moreover, with a few tweaks, you can conjure up some other gluten-free dishes too.
Bonchon is known for its Korean-fried chicken that they serve in the form of drumsticks, wings (bone-in and boneless), and chicken strips.
However, these items (along with their seasoned fries) are probably fried in the same oil as the rest of the fried chicken which acts as a contaminant.
Fried chicken restaurants, despite attracting a lot of visitors, are notorious for serving a void of ambiguity regarding gluten-free items.
Since almost everything is fried in the same oil, the risk for cross-contamination also goes up significantly – this will result in gluten-free items losing their integrity.
With limited side options on hand and the potential risk of cross-contamination, it's better if you avoid Bonchon's to preserve the sanctity of your hard-earned diet regimen. No food is worth risking your health over.
If you have Celiac disease or severe gluten sensitivity it's better if you find alternate options. However, if you do end up at Bonchon's one way or the other, opt for the pickled radish, kimchi, or coleslaw.
This article will rummage thoroughly into Bonchon's menu. After conducting hefty research rounds, we've shortlisted a few items that are gluten-friendly at Bonchon's.
Moreover, some keto-friendly tips are coming your way so make sure to read till the end.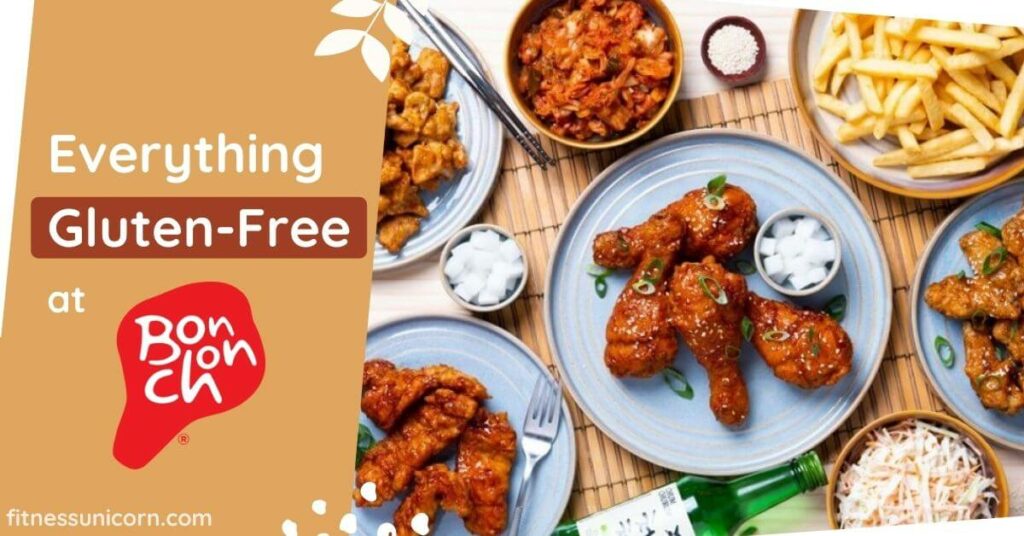 This post may contain affiliate links, which help keep this content free. (Full disclosure)
Gluten-Free Options at Bonchon
BonChon has a complete nutritional guide and allergen menu available on its website. After carefully researching their menu we've come up with a list of gluten-free items at BonChon so you won't have to.
Salads
The salads at Bonchon aren't advertised as gluten-free. If you eliminate a few ingredients and ask the staff to follow strict cross-contamination protocols you'll end up with a delicious gluten-free salad that would surely satiate your appetite.
Ask the server to put on a fresh pair of gloves and use clean utensils to prepare your salad. Also, request that the ingredients are fetched from a fresh batch to eliminate the risk of contamination.
But, if you suffer from Celiac disease you should avoid the salads because it's not worth jeopardizing your health over.
Sesame Ginger Salad (skip the sesame ginger dressing)
Caesar Salad (skip the croutons and dressing)
RECOMMENDED: EVERYTHING Gluten-Free at Baja Fresh Mexican Grill
Kimchi
You can snack on Bonchons' delicious kimchi while enjoying a drink with your buddies. Their kimchi is made in-house with the best napa cabbage available!
Kimchi Coleslaw
Bonchons kimchi coleslaw is another great gluten-free side that you can munch on. Its crunchy, spicy, sour, and umami goodness will leave you longing for more.
Seasoned Fries
Bonchon has some amazing seasoned fries. But, these fries are only gluten-free if they're prepared in a dedicated fryer that is free of gluten contamination. Hence, make sure to double-check with the staff.
Pickled Radish
The sweet and sour pickled radish at Bonchon is great to munch on if you can't have anything else off the menu.
Edamame
Edamame is an extremely popular East Asian side dish that is gluten-free. It is prepared by lightly salting boiled soybean pods. You can snack on Bonchons edamame while you enjoy the company of your friends.
Steamed Rice
The steamed rice at Bonchons is completely gluten-free. You can pair the rice with kimchi and enjoy a little snack that won't trigger your allergy.
FIND MORE: Gluten-Free Options at Pollo Tropical
Tips for a Gluten-Free Meal at Bonchon
Bonchon has a complete allergen menu that will help you identify dishes that contain wheat and other gluten-containing ingredients.
Korean cuisine uses soy sauce in the majority of its dishes which makes them unsafe for people with gluten allergies as soy sauce contains wheat.
You must have some base knowledge of ingredient compositions because items that might seem gluten-free may contain gluten indirectly. Therefore, we've come up with a few tips that will help you order gluten-free every time you go out.
Know The Type Of Cuisine
Knowing the type of cuisine at the restaurant you're visiting is essential. Bonchon is famous for its authentic Korean-style fried chicken and we all know that fried chicken places are like a petri dish for gluten.
Moreover, they also serve Korean dishes that may seem to be gluten-free but contain soy sauce (contains gluten), which makes innocent-looking dishes like Bulgogi unsafe for consumption.
This makes fried chicken and Asian restaurants a tough place to eat gluten-free. Consequently, it's better to just avoid them altogether.
Inform the Restaurant
Always remember to mention your gluten disorder to the waiting staff so they can make the necessary adjustments to make your meal gluten-free.
Stress on the importance of cross-contamination and how it's extremely important for your health. This will keep the staff vigilant while preparing your order.
Don't Over Complicate Things
It might be enticing to order those fancy dishes that you can barely pronounce right. But the truth is a lot of these dishes might seem gluten-free but they have gluten in some form or the other.
For instance, Bulgogi at Bonchon seems gluten-free from its description but, it contains soy sauce which makes it not so gluten-free.
Ask your waiter in detail about all the ingredients that go into a certain dish and always stick to the simple dishes when you're visiting a restaurant you don't know too well.
If in Doubt, Throw it Out
If you're doubtful about a dish or an ingredient, it's better just to avoid it altogether. It's not worth it If you suffer from severe gluten sensitivity or celiac disease. Only consume items that you're certain about.
Avoid Rush Hours
Mistakes are possible no matter how courteous and accommodating a restaurant is. The risk for these mistakes goes up during rush hours. With the heavy influx of orders, it's not easy to keep track of orders with special instructions.
Therefore, it's wise to avoid rush hours because the risk for cross-contamination increases.
Cross Contamination Risk at Bonchon
Cross-contamination is every Celiac's worst nightmare. You could order everything perfectly, making sure each ingredient is gluten-free, yet your food might have come into contact with other food, utensils, or used gloves.
This will contaminate your meal. You might not notice anything if you're only gluten-free for the health benefits. But, it could be disastrous for someone who suffers from Celiac disease.
Therefore, cross-contamination protocols are extremely important, especially in places like Bonchon. Being a fast-food restaurant that serves fried chicken and east Asian cuisine, the risk for cross-contamination is significant at Bonchon.
The kitchen and prep stations are in constant contact with gluten-containing items therefore stringent cross-contamination measures are necessary.
Here are a few tips to avoid cross-contamination while ordering at Bonchon;
Inform the staff and manager about your gluten sensitivity.
Ask if they have a gluten-free menu and if they can make adjustments to their dishes.
Inquire about the stringency of cross-contamination measures.
Request that a single chef prepares your meal from start to finish.
Request the kitchen staff to wash their hands and put on fresh gloves before preparing your meal.
Ask them to use clean pans and utensils to limit contamination.
Ask them to fetch ingredients from fresh tubs (if possible).
If you follow these tips while ordering, the staff will realize the importance of cross-contamination and make sure your order is gluten-free.
Gluten-Free Alternatives to Bonchon
Since there are limited gluten-free options at Bonchon; here are a few alternatives you can visit to satiate your cravings.
Zaxby's
Zaxby's is another popular fried chicken joint that offers a few gluten-free items that won't disappoint. Here are some of the items that you can enjoy at Zaxby's without triggering your gluten allergy;
Traditional Naked Wings (ask them to fry them in fresh oil in a separate fryer)
Wings Sauces – Original Sauce, Insane Sauce, Ranch
Fresh Salads
Celery Sticks
Chick-fil-A
Chick-fil-A is another American favorite. They specialize in chicken sandwiches which are unfortunately off-limits. The best part about Chick-fil-A is that they have gluten-free buns!
Yes, you heard that right, gluten-free buns. They also have a separate fryer for their waffle fries that keeps them safe from contamination. Here are some gluten-free options at Chick-fil-A;
Greek Yogurt Parfait
Chick-fil-A Waffle Fries
Hash Browns
Scramble Bowls
Grilled Filet Market Salad
Cobb Salad
Grilled Chicken Nuggets
Tokyo Joe's
If you're looking to satiate your Asian food cravings, Tokyo Joe's is the place for you. They have amazing plant-based gluten-free options that will satiate your cravings.
The best part about Tokyo Joe's is that they offer build-your-own bowls where you can select every ingredient that goes into your bowl. This ensures the safety of your diet.
Here are a few gluten-free items at Tokyo Joe's;
Nikko Salad
Sushi – Tuna Roll, Salmon Mango Roll, California Roll
Build Your Own Bowl