Popeyes Louisiana Kitchen is an intensely popular international fast-food chain. Founded in 1972, Popeyes has grown to over 3400 locations across 30 countries worldwide.
They're extremely popular for their southern-style fried chicken and flaky butter biscuits.
Popeyes is serving up some of the best soul food in America. Their menu ranges from juicy fried chicken and succulent chicken tenders to a selection of delectable sides like mac n cheese and mashed potatoes with gravy.
Even though Popeyes is an extremely popular place to enjoy some soulful chicken, the fact remains that fast food joints don't cater all that well to people with dietary restrictions.
So if you or a loved one has Celiac disease or gluten sensitivity, the gluten-free options at Popeyes are fairly limited.
So what's Gluten-free at Popeyes?
The limited gluten-free items at Popeyes include most of their famous sides including Cajun Rice, Red Beans & Rice, and Coleslaw.
The good thing about Popeyes is that they have a detailed allergen and gluten-free menu that will make your life a lot easier.
Popeyes also has naked chicken tenders, but they're probably fried in the same oil as the rest of the fried chicken which acts as a contaminant. Fried chicken places are notorious for not having gluten-free items.
All of the main attractions like chicken and seafood are breaded and deep-fried. With so many gluten-rich items in the kitchen, the risk for cross-contamination also goes up significantly.
With the limited options on hand and high risk of cross-contamination, it's better to just steer clear of Popeyes. No food is worth risking your health and well-being over.
If you have Celiac disease or severe gluten sensitivity it's better if you find alternate options. But, if you do end up at Popeyes it's better to have the safest option (cajun rice) or have nothing at all.
Just order a drink and enjoy the company of your friends.
This article is going to be an in-depth scrutinization of Popeye's menu. After thorough research, we've compiled a list of items that are gluten-friendly at Popeyes.
Moreover, we'll be discussing some tips and tricks to avoid consuming gluten no matter where you eat.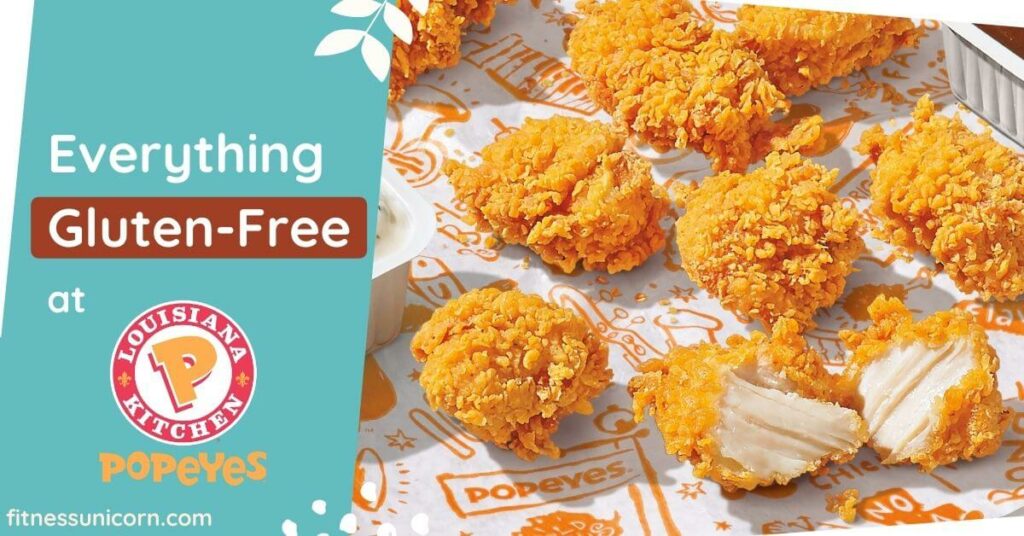 This post may contain affiliate links, which help keep this content free. (Full disclosure)
Gluten-free Options at Popeyes
In recent years Popeyes has grown exponentially in popularity due to social media. In 2019 they launched their fried chicken sandwich that broke the internet.
People were lining up in queues all over America to get their hands on this exclusive sandwich. Popeyes went through three months of supplies in one week.
Before we look at the gluten-free options on offer, it's important to remember that you can never be too sure when dealing with a severe auto-immune disorder like Celiac disease.
You must carry out your own research before ingesting anything from their menu. You should also notify the staff that you're gluten-intolerant so they too can take the necessary precautions before preparing your order.
Let us now take a look at the limited gluten-free menu items on offer at Popeyes.
Cajun Rice
You can enjoy a side of Popeyes' famous Cajun rice that contains ground beef and chicken gizzards, giving the dish added oomph.
Calories: 170 kcal
Fat: 5g
Protein: 7g
Carbs: 25g
RELATED: Grilled Options at Baja Fresh Mexican Grill
Red Beans & Rice
Delicious Cajun-style red beans are served over a bed of seasoned rice. This is a fan favorite side at Popeyes and the best part is that it's gluten-free!
Calories: 230 kcal
Fat: 14g
Protein: 7g
Carbs: 23g
Corn on the Cob
Who doesn't love some grilled corn on the cob? Seasoned with Popeyes' delicious blend of cajun spices, this makes for the perfect gluten-free snack.
Calories: 190 kcal
Fat: 2g
Protein: 6g
Carbs: 37g
Coleslaw
If you love coleslaw, you'll definitely love this one too. A blend of delicious crispy veggies with mayonnaise.
Calories: 220 kcal
Fat: 15g
Protein: 1g
Carbs: 19g
Signature Sauces
There's a wide selection of gluten-free sauces at Popeyes, but unfortunately, nothing gluten-free to enjoy the dip with.
Sweet Heat
Mardi Gras Mustard
Blackened Ranch
Cocktail Sauce
Creamy Horse Radish
ALSO READ: Gluten-Free Options at Pollo Tropical
Drinks
You can enjoy the soft drinks on offer stress-free.
Coke
Fanta
Sprite
Dr. Pepper
Sweet Tea
Naked Chicken Tenders*
The naked chicken tenders at Popeyes are free of any gluten-containing ingredient. The problem is that they're cooked and prepped with all the other menu items which make cross-contamination almost certain.
If you don't have any severe allergies or gluten-related conditions you can ask the staff to make them for you using fresh oil. But, this is only if you don't have any medical condition. So if you're going to go for them, do so at your own risk.
Tips & Tricks for a Gluten-Free Meal at Popeyes
Even though Popeyes has a dedicated gluten-free menu on their website, you must have base knowledge about ingredients and cooking methods that will help you differentiate gluten-containing items from non-gluten items.
It's essential to remember a few tips when visiting any restaurant on a gluten-free diet. These pointers will help you stay clear of gluten contamination so you can enjoy eating out without compromising your health.
What Kind of Restaurant is it
Before you visit any restaurant it is paramount that you know what kind of food they serve and whether they're open to special requests and customizations.
Fast food establishments are notorious for not having stringent cross-contamination protocols. Something could be branded as gluten-free while being prepped and cooked with the normal menu items.
Hence, it is extremely important to practice caution and be wary of the place you're going to visit. Places like Popeyes where 95% of the menu contains gluten should be avoided altogether if possible.
Hence, remember to always research the restaurant's gluten-free policy beforehand.
Communicate with the Staff
Always remember to communicate your dietary preference to the restaurant staff. Even if the restaurant has measures in place to avoid cross-contamination, a subtle reminder can go a long way.
It is essential for the waiter to know that any amount of gluten will make you sick. This will allow the cooks and waiters to take precautionary measures to ensure you enjoy a gluten-free meal free of contamination.
Keeping it Simple
When you're not quite sure what's safe to order – stick to the simple dishes that are prepared with gluten-free ingredients. For instance, salads, lettuce wraps, and cheeses.
Stay away from ambiguous dishes that might contain hidden gluten in the form of thickeners (soups and sauces).
When in Doubt, Throw it Out
If you're not 100% sure of something on your plate, don't consume it. No matter how good something might look, it isn't worth risking your health over if you're not sure of it.
Avoid Rush
Most places are swamped with customers during rush hours. This means the likelihood of contamination and mistakes goes up drastically. Even places with stringent anti-gluten measures can mess up when there's a flood of orders coming in.
Hence, it's better to plan your outings accordingly to avoid rush hours.
Cross Contamination Risk at Popeyes
Cross-contamination happens when gluten-free food items come into contact with gluten-containing items, utensils, or gloves that have been used to handle other food.
This is an issue for people with severe gluten sensitivity and celiac disease. The risk of cross-contamination at Popeyes is extremely high since they're a fast-food restaurant that specializes in fried chicken.
This means the kitchen is filled with gluten-rich ingredients that are being handled with the same utensils as other ingredients.
For instance, Popeyes may not have separate fryers for gluten-free items (naked tenders) which will lead to contamination because of indirect contact with a gluten-containing item (fried chicken).
This is a serious concern for individuals with Celiac disease as it may put their health at serious risk. Therefore, it is paramount that you go to any restaurant prepared and follow the following tips to avoid cross-contamination.
Make it clear to the staff that you suffer from Celiac disease or Gluten intolerance.
Ask for their gluten-free menu and how they prep their gluten-free meals.
Don't be shy to ask how strictly they follow their gluten-free measures.
Ask to meet the chef and explain exactly how you want your meal prepped.
Ask for a single chef to prepare your meal from start to finish to avoid any confusion.
Politely ask the chef to wash their hands and put on a fresh pair of gloves before preparing your meal.
Ask for clean utensils to be used to avoid cross-contamination.
Ask the chef to use ingredients from a fresh batch to ensure there has been no contact with gluten beforehand.
Following these steps will ensure that you're being served gluten-free food.
Establishments like Popeyes might not be able to fulfill these requests because fast-food restaurants usually operate with ingredients that have been prepped elsewhere.
Therefore, if they cannot guarantee these steps it would be wise to visit a different restaurant.
What is the Public Saying?
Popeyes is extremely popular amongst the general population. You could say they've acquired a cult following in recent years. But, the population with Celiac disease and other gluten-related disorders are not happy with Popeyes.
After scanning the internet for reviews by people who follow the gluten-free diet; we've concluded that Popeyes is not diet-friendly at all. The internet is flooded with 1-star reviews by people with gluten sensitivity.
Most of the reviews mention the lack of gluten-free options and the lack of awareness of gluten-related disorders. People also mentioned poor cross-contamination protocols and indifference from the managers.
All this feedback reiterates the fact that if you strictly follow that gluten-free diet, Popeyes is not the place for you.
Gluten-Free Alternative to Popeyes
Here are some alternatives to Popeyes if you're looking to grab a quick meal that is both gluten-free and delicious!
Chipotle
Chipotle offers amazing customizable menu items – you can choose every ingredient that goes into your meal. Moreover, they have an amazing staff that will follow all the necessary protocols to ensure a gluten-free meal for you.
Here are some of the scrumptious gluten-free items you can enjoy at Chipotle;
Burrito Bowls
Salads
Corn tortilla tacos
Subway
Like Chipotle, Subway to has a fully customizable menu. You can choose all of the ingredients that will go into your dish. Ask the server to fetch ingredients from a fresh tub for you with clean utensils and you'll be good to go.
My go-to is their amazing salad whenever I'm trying to avoid gluten.
Chick-fil-A
If you're craving a chicken sandwich Chick-fil-A is the place for you. They've introduced a gluten-free bun (the gluten-free dream). You can order a grilled chicken sandwich with gluten-free bread and you'll be good to go.
Other gluten-free options include;
Salads – Southwest Salad, Cobb Salad
Waffle Fries
Grilled Chicken Nuggets