For some healthy and tasty salads, wraps and grain bowls, the girls have always found MAD Greens your special place when you visit Colorado or Texas, or when at Home in Arizona.
At Mad Greens, you get delicious meals, but like all of us here, you have joined the great keto gang to improve your metabolism. Your girlfriends haven't though, but you would love to continue to go to MAD Greens with them.
Now, the all-important question is does MAD Greens have keto-friendly diets?
From the menu, Salads, Mac Bowls, Grain Bowls, Wraps, Juices, Soups and Sides, Extras and Salad Dressings are on the table, but as we all know, we only need low carb diets. And from the listed options it can be difficult.
At Mad Greens, you can have some salads, soups & sides, dessert, and wonderful salad dressings that are all low in carbs. However, the variety of diets is very limited across the listed options.
In the salads, you only have two options, but with various salad dressings to pick from.
You can definitely retain coming to MAD Greens for your keto lifestyle but there are alternative restaurants that can help maintain your ketosis.
In this article, we have detailed and listed everything that is keto-friendly from the salads to the sides.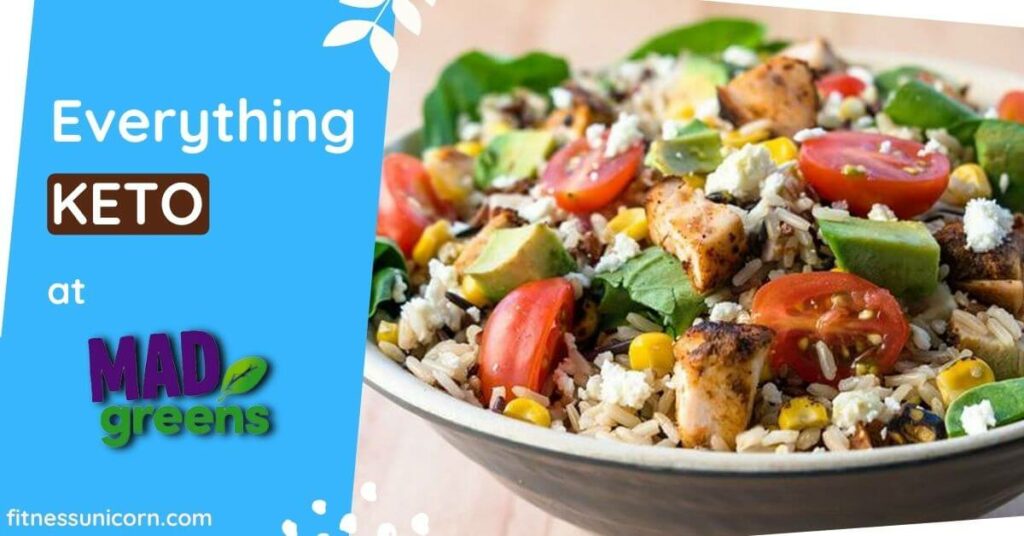 Tired of searching whether certain foods are keto? Download my keto cheat sheet with 210+ keto-friendly foods!
This post may contain affiliate links, which help keep this content free. (Full disclosure)
How to Survive Keto at MAD Greens
MAD Greens is a top fast-food casual franchise based out of Colorado but present in Texas and Arizona that provides quick, healthy and delicious salads, bowls, wraps, and sides amongst others.
Founded in 2004 by Marley Hodgson and Dan Long, this dining place has become a solid restaurant that has positioned itself as a place for all healthy consumer diets.
However, from a keto perspective, MAD Greens comes short with no bowls and wraps that are low carb.
As we have earlier said, MAD Greens provides some keto salads, but no bowls and wraps as most of the salads, bowls and wraps are far above the recommended carb amount (>20g), with some far into the >40g region.
To maintain your ketosis, run away from the following because there are high in carbs and will take you out of your ketosis, faster than you can think.
Any Grain and Mac Bowls
Any Wraps
Any Juices
Pasta Salad (Mark Twain)
Bread (Warm Pita Bread)
Chocolate (Chocolate Brownie)
Crunch Blondie
Marshmallow Bar
Caramel Cookie
Soda Drinks
RECOMMENDED: Keto-Friendly options at Huhot Mongolian Grill
MAD Greens Keto-Friendly Options
(Note: The restaurant doesn't have an official nutrition guide on its website, so all the data below is collected from the restaurant menus and third-party sources.) For the purpose of this section, we have sub-divided it into the different meal options
Salads
Ty Cobb
Made with the finest of ingredients, the Ty Cobb salad is made with Romaine, Avocado, Tomatoes, Bacon, Red Onions, Eggs, and Southwestern Chicken with Blue Cheese Dressing to give you moderate carbs and a high-fat diet.
Athena
For a moderate carb, protein and high in fat diet, Athena can be a great choice. With Romaine mixed and cooked with red onions, tomatoes, cucumbers, feta cheese and some house grilled chicken, marinated with red wine vinaigrette for better taste.
ALSO READ: Keto-Friendly Options at California Chicken Cafe
Soups & Sides
Cheesy Chicken Tortilla
This soup is made for all who love some spicy meal with some chickens to play around with. In addition, roasted green chiles, crushed tomatoes and corn masa are used to make this delicious soup
Cowboy Caviar
More aside than anything, the Cowboy Caviar is made of Edamame, roasted red peppers, corn and some bacon marinated and dipped in Cilantro Chili Lime, a great high fat, low carb salad dressing.
Cream of Jalapeno
Gluten-free and vegetarian diet favourite that comprises Jalapeno peppers, garlic, bell peppers, onions and tomatoes that are best served with delicious salad (say, Athena)
Hummus Trio
The Hummus Trio is made up of roasted garlic hummus, roasted red pepper hummus and spicy avocado hummus that are made with some of the best vegetables or fruits.
Roasted Garlic Hummus
Made with lemon, tahini, garlic, chickpeas and served with slices of carrots and celery
Roasted Red Pepper Hummus
With some roasted red pepper blended with chickpeas, herbs and spices, you are in for a treat.
Spicy Avocado Hummus
Comes with a good and tasty mix of top fruit, avocado, and some fresh jalapenos and chickpeas
RELATED: Chicken Express KETO Friendly Options for Low-Carb Diet
Desserts
Sea Salt Caramel
Corn Syrup, heavy cream, sugar, sea salt and some flavourings for improved tasted
Drinks
Fresh Brewed Iced Tea
A good drink made with specially sourced tea bags, mint and some lemon for sharp taste.
Salad Dressings
Cilantro Chili Lime
This dressing comes in with a high in fat and low in carbs profile with the use of cilantro, chilli, lime juice, sea salt, healthy oil and other ingredients. Some garlic is used to increase taste and give additional nutrients.
Red Wine Vinaigrette
Just like Cilantro Chili Lime, this dressing is high in fat, and low in carbs and is made with red wine vinegar, honey, olive oil, and some black pepper. It can be a great addition to your salad to increase taste and bring that red wine taste without adding too many carbs to your serving or diet.
Sriracha Almond Vinaigrette
With some sea salt, black pepper, and your major source of wonderfulness, sriracha sauce expect some magical experience with your Athena or TY Cobb salad. In addition, you get some important fat and protein to sustain your ketosis.
Blue Cheese
Sour cream, Vinegar, Cumin, buttermilk and of course, Blue cheese, this dressing is a popular American side sauce that can serve as a dip and is great with any salad.
Creamy Ginger
Made with a nutritious root ingredient, ginger, Creamy ginger is a good natural and healthy dressing that's great within your keto diet regime. In addition to Ginger, rice vinegar, healthy oil, syrup and some salt to taste.
Honey Mustard
Cider vinegar, lemon juice, olive oil, garlic and Dijon Mustard, this dressing comes with a killing taste, especially with honey for countering support
Port Wine Vinaigrette
Mixed and cooked with olive oil, cider vinegar, port wine, and some healthy oil, this is one hell of a top dressing that your keto self would love.
Ranch
A popular American salad made with buttermilk, salt, onion, mustard, and some great herbs and spices that are high in fat and very low in net carbs per serving.
Roasted Jalapeno Ranch
This creamy dressing made with sour cream, jalapeno, lime juice and garlic powder is the stuff made of tasty heavens. With the support of almond milk and olive oil, you can be sure of a wonderful healthy treat.
Balsamic Vinaigrette
Just balsamic vinegar, honey, Dijon mustard, olive oil, and garlic to give you a fresh dressing taste for your favourite keto salad.
Sherry Molasses Vinaigrette
With red wine, Dijon mustard, olive oil, and sea salt, you are getting a tasty salad dressing that's highly nutritious.
Caesar
A golden mix of Dijon mustard, Parmesan cheese, garlic, and olive oil forms one of our favourite salad dressings with very low net carb per serving and just enough fat and protein.
Citrus Hoisin
Hoisin sauce comes together with soy sauce to create a unique tasting dressing that will be great with other salads.
Chipotle Caesar
Made with Dijon mustard, adobo sauce, olive oil, garlic and red wine vinegar.
Ginger Soy
Formed by mixing soy sauce, garlic sauce, rice wine vinegar, and maple syrup to make a tasty and wonderful salad dressing.
Conclusions
You are going to miss the Grain and Mac Bowls and the Wraps, and the Soda Drinks are off-limit. At MAD Greens, you are in for only some salads, soups, sides, extras, salad dressings and singular desserts and drink options.
Therefore, your options at MAD Greens are limited. Nonetheless, MAD greens will provide you with some of the best salads and salad dressings with some nutritious and tasty soups and sides to go with.
So, even when on Keto, MAD Greens have some great options. All the information used to inform the list of keto-friendly options is based on the menu options provided at MAD Greens.
Also, all the meals selected are below the 20g net carb serving limit (singular), so go have some great bites. Like we always say, Happy Ketoing.