Uncle Julio's is a popular high-end restaurant specializing in Mexican cuisine. The restaurant boasts a variety of scrumptious dishes made from the freshest ingredients.
Each dish is hand-crafted with great care and commitment. Julio's has a cozy and rustic ambiance that is perfect for get-togethers, dates, and much more.
So what's Gluten-Free at Uncle Julio's?
Even though there isn't a dedicated gluten-free menu at Julio's, most ingredients are gluten-free, and the customizable nature of the menu allows you to come up with various gluten-free creations.
Other gluten-free options at Julio's include their scrumptious appetizers, mouth-watering fajitas, enchiladas, grilled specialties, and a massive variety of tacos.
Julio's also has an amazing open bar serving up some exciting drinks that are both alcoholic and non-alcoholic.
This place has everything for everyone, whether it is your first time trying Mexican food or whether you consider yourself a Mexican food connoisseur!
You should practice extreme caution when visiting Julio's if you have Celiac disease or severe gluten sensitivity.
This is because the restaurant doesn't have dedicated kitchen space for gluten-free meal prep, which makes cross-contamination almost unavoidable. Remind the staff to practice adequate protocols to ensure a safe meal.
This article will analyze Uncle Julio's menu; we'll be filtering out all the gluten-friendly options on offer so you won't have to. We'll also discuss a few handy tips to avoid contamination when you order.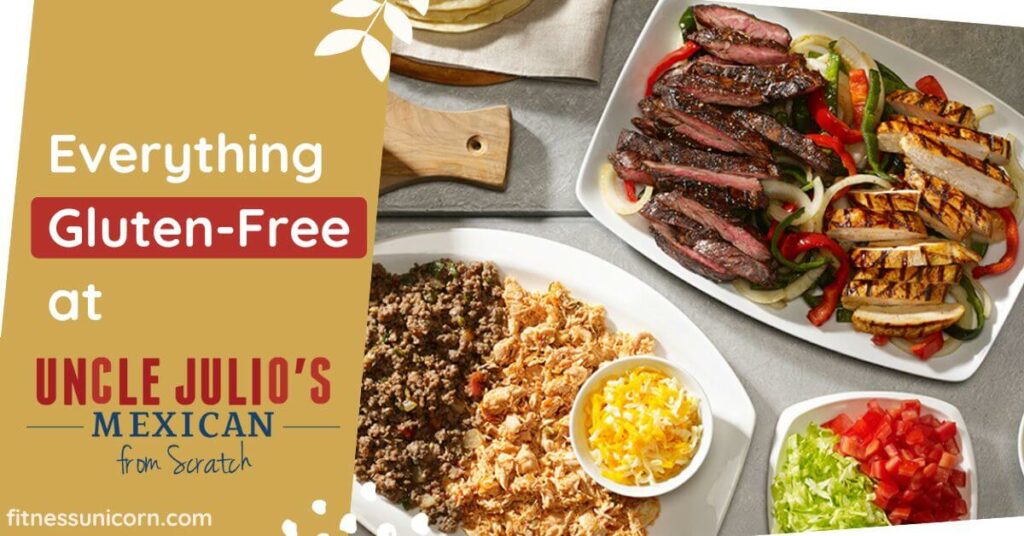 This post may contain affiliate links, which help keep this content free. (Full disclosure)
Uncle Julio's Gluten-Free Options
Uncle Julio's was established in 1986 by Russel Rusty Fenton to serve high-quality authentic Mexican food to the people of Dallas Texas. Since then, Uncle Julio's has had over 29 restaurants in several states across the United States.
Everything from the guacamole to the Steak Fajitas, the Bacon Wrapped Camarones plate, the Chocolate pinata, and margaritas are freshly made from scratch. They have exciting new flavored margaritas every month!
The stars of their menu are the Chocolate Pinata and the Fajitas.
The Chocolate Pinata is a striking chocolate sphere filled with churros, pineapple, strawberries, and raspberries served with a chocolate dip that can be easily smashed and enjoyed by 4-5 people.
It is a popular option for adding fun to birthdays and graduation dinners.
There is not a separate menu for gluten-free items at Uncle Julio's however if you tell the waiters about your gluten sensitivity, they will provide you with gluten-sensitive alternatives in several dishes.
Gluten-free options include Cameron Diablo, which is 6 spicy mesquite grilled jumbo shrimps, served with Mexican butter, guacamole, salsa, Mexican rice, and frijoles a la charra.
You can also try Cheese & Onion Enchiladas which are served with a delicious New Mexico red sauce. Not in the mood for enchiladas then how about Gluten sensitive Bacon Wrapped Camerones?
6 jumbo shrimp are stuffed with Monterey Jack, and fresh jalapeno, they are then wrapped in bacon and grilled.
Mexican butter, guacamole, pico de gallo, Mexican rice, and frijoles a la charra served with this dish take this dish to the next level.
On Tuesdays, Julio's offers a taco bar where you can top your corn tortillas with all the delicious offerings of your choice to make the perfect gluten-free taco.
If you dislike shrimp then you should try their Pechuga De Pollo. Pechuga De Pollo has drilled chicken breasts that are served with guacamole, pico de gallo, Mexican rice, frijoles a la charra, peppers, and onions.
If you want to go for a vegan gluten-sensitive option then Uncle Julio's Lettuce Cups are a great option for you.
Tips for a Gluten-Free Meal at Uncle Julio's ®
You may dine out safely after reading the helpful recommendations and tips provided in the following article. There is no need to worry about going out to eat at your favorite restaurant anymore.
Uncle Julio's always makes sure to prepare food for everyone since they are conscious of the fact that every person has different eating preferences and that going out to dine might be challenging if you have celiac disease, gluten-sensitive enteropathy, or food allergy, or any other dietary restrictions.
Without further ado, let's get to the most amazing tips you can use to order a gluten-free meal at your preferred restaurant.
RECOMMENDED: What's Gluten-Free at Taco Bueno?
Don't assume anything is gluten-free
You must be proactive if you are avoiding meals that contain gluten. Always research the cafe or restaurant you plan to eat at.
To learn about their menu or the kind of foods they provide, you must put forth some effort and conduct some preliminary research.
You can browse their websites online and look for menu items or prepared foods that are gluten-free.
For instance, Uncle Julio's® restaurant offers a special gluten-free menu, but you still must confirm that the food items they are presenting under the gluten-free menu are actually gluten-free or are cooked in a gluten-free environment to prevent any future troubles.
Even though oats are marked as gluten-free, but if they pick up gluten, they will no longer be gluten-free.
For this reason, it's always important to gather important information about the ingredients being used in your gluten-free meal, as well as relevant information about how it was prepared and stored.
Nothing is worth putting your health at risk for! Do your research on the menu & procedures followed at the restaurant before you go rather than relying on the claims made by establishments that provide gluten-free foods or beverages.
Tell your server about your dietary requirement
Ask the restaurant staff if there are any gluten-free meal options available. The majority of consumers are hesitant to mention their dietary restrictions and related worries when placing an order.
It is very crucial that you let the staff, server, and chef know about your concerns and food preferences so they may take all necessary precautions to provide you with a meal that is "gluten-free."
Inform them about it so they will understand how vital it is for you to eat gluten-free food and the negative effects it has on your health.
Even though Uncle Julio's ® has a specific gluten-free menu, it is still important to let the server know what you need to prevent any miscommunication and allergic reactions.
FIND MORE: P.F. Chang's Gluten-Free Options
If in Doubt, Throw it Out
Never put your health at risk for anything. If you are unsure that either your meal is properly prepared or safe to consume, err on the side of caution and discard it.
It is always preferable to avoid something if you are doubtful about it or unsure about your meal, or if you see something weird that shouldn't be in your meal.
It is not worth consuming anything you are unsure of, particularly if you have celiac disease or are allergic to gluten.
Avoid Rush Hours
You might have heard that haste makes waste. When dining out, the staff's communication and coordination are crucial, but it doesn't help if they don't pay attention to the details, especially during busy times.
One misstep can cause everything to fall apart, making future regrets pointless.
Due to the high volume of orders submitted during peak hours, there is a greater likelihood that staff members will forget your particular dietary needs and any other concerns you might have shared with them, which could result in mistakes.
It is always best to visit Uncle Julio's at off-peak hours if you have any plans to do so. A helpful hint is to just Google the name of any restaurant to find out its peak and off-peak hours.
Cross-contamination at Uncle Julio's restaurant
People with celiac disease or gluten sensitivity have to be conscious while dining out as little contamination with gluten can endanger their health.
Cross-contamination may result if a gluten-free food item becomes contaminated with a gluten-containing food item or cooking utensils that are used in preparing the food. It is of utmost importance to avoid cross-contamination at any point.
Although Uncle Julio's Mexican restaurant does not have a specific gluten-free menu yet it offers some gluten-free options for customers with gluten sensitivity.
Corn tortillas and steak fajitas without marinade along with rice and beans are among the most ordered gluten-free options at the restaurant.
Uncle Julio's restaurant does not have a separate cooking area for preparing a gluten-free meal. Even the utensils used in preparing a gluten-free meal are commonly shared with other regular foods.
Although, the staff makes sure to clean the grill before making gluten-free steaks. Still, there is a great risk of contamination if steak or meat comes in a marinated form.
Chips served are also made in a shared fryer Flour tortillas are also made in the same utensil in which corn tortilla is being made which increases the chances of contamination.
Therefore, cross-contamination may result in serious harm to the allergic patient.
All in all, it can't be stressed enough while ordering food to take precautionary measures to avoid the risk of any contamination to ensure a gluten-free meal.
Otherwise, the allergic reaction may occur as a consequence of cross-contamination.
YOU MAY ALSO LIKE: Gluten Free Options at Chuck E Cheese
What people are saying?
We found mixed reviews of people with celiac disease or gluten sensitivity regarding Uncle Julio's gluten-free options. Some people liked the restaurant. They found the staff quite accommodating and friendly.
They shared that owing to their gluten allergy, the manager was called by the server to take the order and the manager told them about the safest gluten-free options at the restaurant.
Moreover, people were contented and they didn't get any symptoms afterward.
On the other hand, a large number of people were not happy with the restaurant stating that they find the staff quite negligent about their disease.
The staff was quite uncertain about gluten-free options at the restaurant and didn't pay much attention to the said gluten allergy.
For instance, upon stressing to give gluten-free tortillas, they mistakenly served tortillas made with flour instead of corn. They fall sick due to cross-contamination. In addition to this, there were limited options for gluten-free meals.
Uncle Julio's Mexican restaurant used shared utensils for both regular menus and gluten-free options. This can be life-threatening for allergic customers.
The majority were of the view to avoid eating out at the restaurant as health is the top priority.
Other Gluten Free Restaurants
Senza Gluten Restaurant
Senza gluten restaurant in New York City is serving a population that is specifically allergen to gluten since 2014. They tried their best to develop new tastes using traditional techniques.
If you are suffering from celiac disease and cannot eat cake, pastries, and other desserts, then there is good news for you.
You can have PIATTO DI BISCOTTI CON CIOCOLLATO FUSO which is a shortbread cookie plate served with warm chocolate sauce and a scoop of pistachio ice cream.
PANNA COTTA is another delicious dessert that contains Greek yogurt and marinated strawberries.
TORTA AL CIOCOLLATO is also an appetizing chocolate cake that is topped with almond cream and vanilla bean ice cream. All these ingredients are safe for gluten allergens.
If you are a mushroom lover, you should try COSTOLETTE DI VITELLO which cost just 47$. They are marinated and then grilled veal chop, which is topped with wild mushrooms and truffle oil.
Served with spinach and roasted red potatoes. Another main coarse dish is fish salmon, which is named SALMONE ALLA GRIGLIA. These are salmon fillets that are served with polenta and string beans.
POLLO ALLA PARMIGIANA is the main course dish for gluten allergens because chicken breast is pan-fried with mozzarella and tomato sauce and served with spaghetti Pomodoro.
Classic lasagna is prepared here, especially for patients suffering from celiac disease. It is layered with Bolognese sauce and cheese.
Senza gluten assures that it is a 100% gluten-free restaurant, all ingredients used in making different recipes are gluten-free. Even pasta is made from corn.
There is not a single grain of wheat, rye, barley, and oats. All gluten allergens are invited to taste our recipes.
Shojin Organic and Natural
Shojin Organic and Natural is located in Washington, Los Angeles in Culver City. It serves different desserts, noodles, special tasting, and sushi recipes for celiac disease patients.
Shojin Shiso Gyoza is a special tasting dish that is pan-fried pot stickers filled with mushrooms and vegetables and served with soy-free dynamite sauce.
Dragon rolls are also made from ingredients that are gluten-free as avocado, mushroom crab, and cucumber. PORK SHUMAI DUMPLING is served in the bamboo steamer and served with Japanese, mustard.
Miso radicchio Caesar is dressed in garlic miso oat cream and topped with crunchy garbanzo.
HAKATA TONKOTSU RAMEN is brown rice noodles with chili oil and vegan egg. It contains broccoli and Beni shoga and black garlic oil. This is soy-free, gluten-free, and onion free.
Sweet orange chicken is a low-carb option with no brown rice and more vegetables; cauliflower, zucchini, and served with kale. GREEN DYNAMITE is a summer dish, it's a refreshing and spicy dish.
EDO HAUKUSAI ROLL is a sushi roll and a good low-carb option, if you are weight conscious you can go for it. It contains red cabbage, soy chicken, and pepper. All these dishes are prepared for gluten allergens.