Twin Peaks is a popular American sports bar and restaurant founded in 2005. It is known for its casual tavern-like atmosphere and delectable food made from scratch.
Twin Peaks is a fantastic place to visit with friends and catch up over a live ballgame.
Since its conception, Twin Peaks has grown to over 90 locations across the United States, serving up some of America's favorite dishes complemented by live sports coverage on their multiple flat screens spread across the restaurant.
Twin Peaks boasts an expansive menu with everything you could possibly imagine. Ranging from unique starters, wings, fresh salads, juicy burgers, tasty tacos, fat sandwiches, hot entrees, sides, and hearty desserts.
So what's gluten-free at Twin Peaks Restaurant?
Now, Twin Peaks doesn't have a dedicated gluten-free menu, and the restaurant clearly states that they prepare all of their dishes on shared prep stations.
This leaves the door open for cross-contamination and possible exposure to gluten.
They do have a detailed allergen guide and a few dishes that are free of wheat. If these are prepared with proper protocols, they should be safe for consumption for the casual gluten-free eater.
Some of the gluten-free items at Twin Peaks include their selection of fresh green salads, scrumptious bone-in wings, grilled meats, and a few delicious sides to go with your meal. Everything is fresh and made to order.
You'll just have to ensure adequate contamination measures are being implemented to ensure the safety of your meal.
Twin Peaks might not be the best place for you if you suffer from Celiac disease or have severe gluten sensitivity. With much of the menu containing gluten and a shared kitchen for all the dishes, the risk of contamination is too high.
Hence, it's better to avoid eating out at Twin Peaks since nothing is worth risking your health.
This article will be an in-depth scrutinization of the Twin Peaks menu. We will be filtering out all of the possible gluten-free items so you won't have to.
You can go through this write-up and see what's safe to eat! We'll also discuss a few handy tips that will allow you to avoid contamination and stay safe.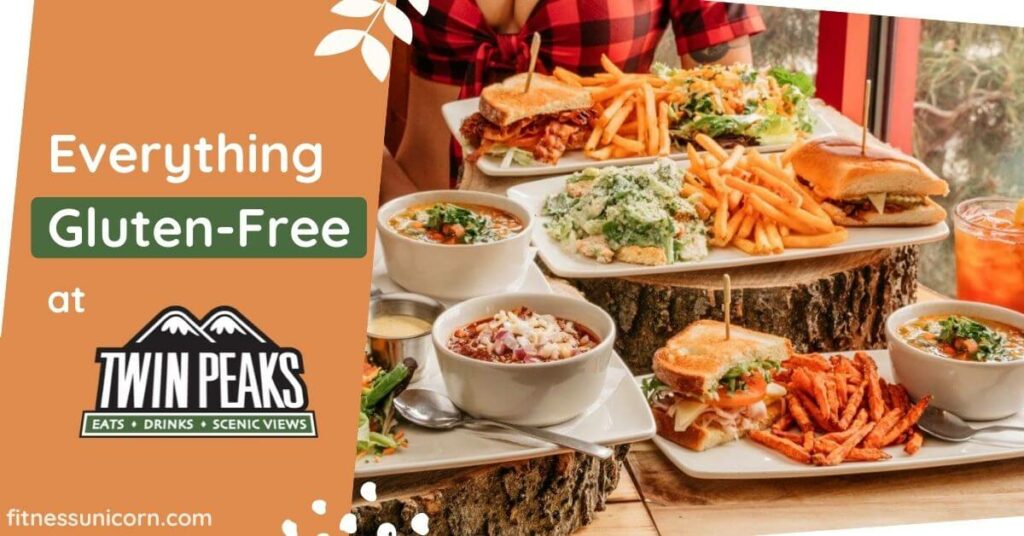 This post may contain affiliate links, which help keep this content free. (Full disclosure)
Gluten-Free Options at Twin Peaks Restaurant
Although the Twin Peaks menu is extensive and boasts an impressive variety of items, the gluten-free options are fairly limited. There is no official gluten-free menu, and the majority of the items are not safe for consumption.
We've devised a list of possible gluten-free items after going through their allergen guide with wheat-containing and cross-contaminated items marked.
The menu items are all prepared on the same prep surfaces, and fried items are cooked in the same fryers. Hence, the risk of contamination is significantly high.
If you have Celiac disease or severe gluten allergies, we would highly advise against visiting Twin Peaks.
If you casually follow the gluten-free diet and won't have any health issues due to contamination, then you could have a decent gluten-free meal at Twin Peaks.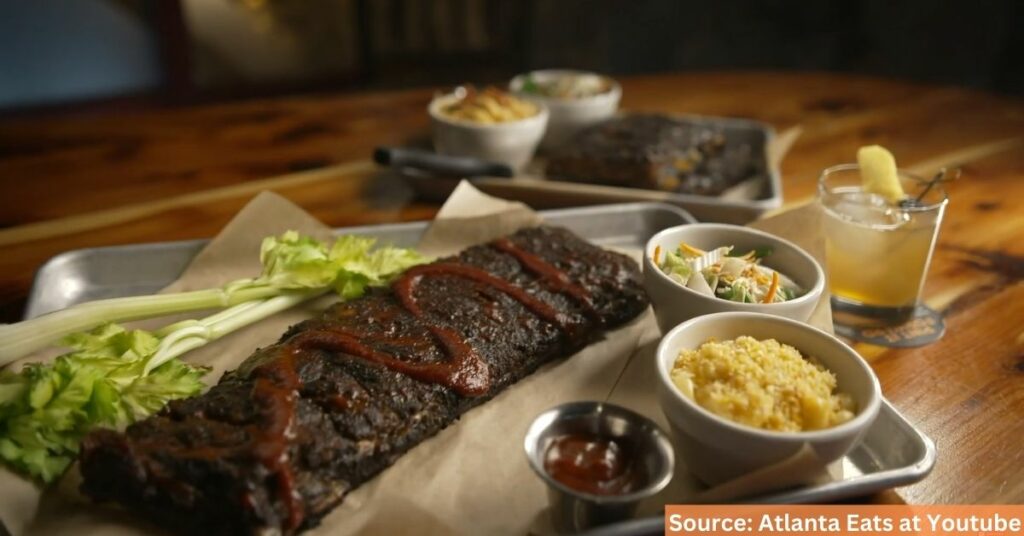 Listed below are some items free of wheat and cross-contamination as per the Twin Peaks guide.
Wings
You can enjoy the scrumptious, juicy wings made to order at Twin Peaks. The wings are complemented by Twin Peaks' delicious gluten-free sauces and rubs. Remember to stay away from the breaded options since they contain gluten.
Bone-In Naked
Smoked & Grilled
Wing Sauces & Rubs
Twin Peaks has an exciting variety of sauces and rubs to flavor up their delicious wings. The best part is that most of these sauces are gluten-free!
Garlic Parmesan
Lemon Pepper Rub
Nashville Hot
Pineapple Habanero
Smoky-Sweet BBQ
Spicy Cajun Rub
Spicy Garlic
The Reaper
The Classic
Ranch & Blue Cheese Dressing
YOU MAY ALSO LIKE: On the Border's Gluten-free Menu Items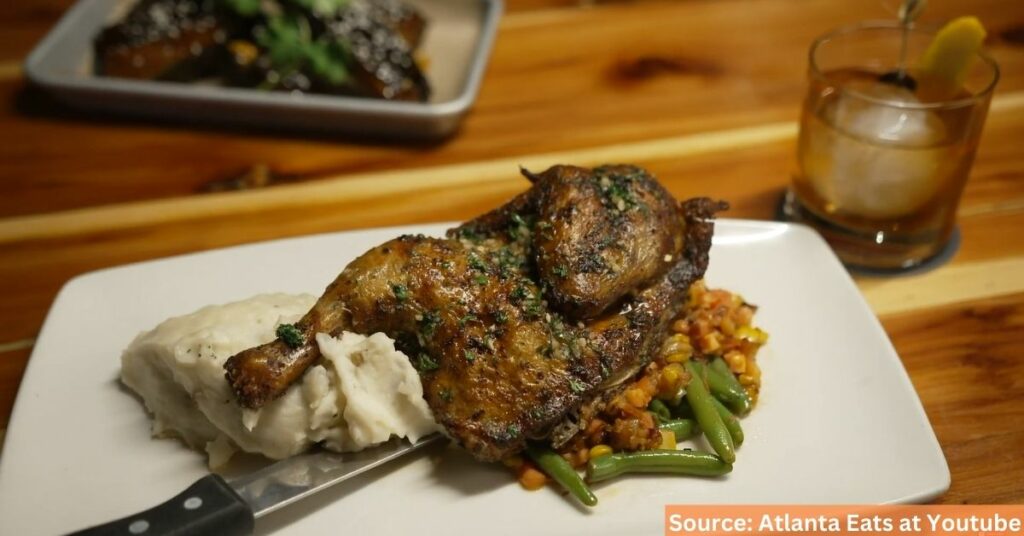 Burgers & Sandwiches
Burgers, tacos, and sandwiches aren't exactly the food you'd want to eat on a gluten-free diet for obvious reasons (the bread).
But, if you're really craving one, you can always ask the server to swap the bread out for some lettuce wraps to make it gluten-free.
You can easily enjoy a delicious gluten-free lettuce-wrapped burger, taco, or sandwich if adequate contamination protocols are followed.
Burgers
Billionaire's Bacon Burger
Avocado Smash Burger
Cheeseburger
The Hangover
The Smokestack
Sandwiches
Smoked Pork Cubano
Pulled Pork
Texas-Style Cheesesteak
Philly Cheesesteak
Tacos
Street Tacos
Crispy Mini Beef Tacos
Blackened Fish Tacos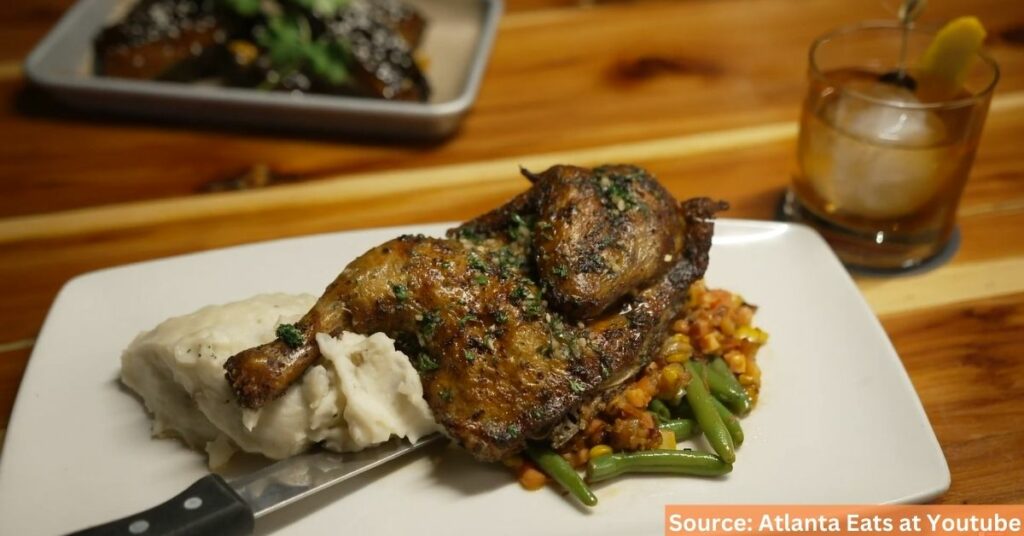 Salads
If you're not in the mood for a full meal or looking for something healthy, then Twin Peaks salads are the perfect option for you. These refreshing fresh green salads can be made gluten-free by eliminating croutons.
Chicken Caesar Salad
Chicken Cobb Salad
Steak Salad
House Salad
YOU MAY ALSO LIKE: What's Gluten-free at California Pizza Kitchen?
Hot Dishes
If you're looking for something more hearty at Twin Peaks, then their hot dishes are your go-to. Enjoy their grilled meats and roasts that are prepared without gluten. Just make sure the dishes are free of contamination.
Sirloin Steak
Chargrilled Salmon (without the lemon garlic pilaf)
Spicy Chipotle Chicken
Mom's Pot Roast
Sides
Enjoy some Twin Peaks signature sides that go well with anything you order.
Creamy Coleslaw
Garlic Mashed Potatoes
Sauteed Brocolli
Sauteed Green Beans
Practical Tips for a Gluten-Free Meal at Twin Peaks Restaurant
Twin Peaks has an allergen guide that doesn't include gluten. It only includes wheat, but gluten can be in other forms other than just wheat.
Moreover, the absence of strict contamination measures means that customers cannot ignore the risk of contamination at Twin Peaks.
Here are a few practical tips to help you navigate the Twin Peaks menu and minimize the risk of contamination as much as possible.
RECOMMENDED: Logan's Roadhouse Gluten-Free Menu Items
Know the Eatery
It's paramount that you research the eatery before you visit. A simple google search will allow you to gauge just how allergy-friendly a restaurant is. Here are some of the main aspects you should look at before visiting;
What kind of food is being served?
Is the team adequately trained to handle food allergies?
Do they have a gluten-free menu?
Do they have stringent cross-contamination protocols?
These questions will allow you to gauge how allergy-friendly a particular restaurant is.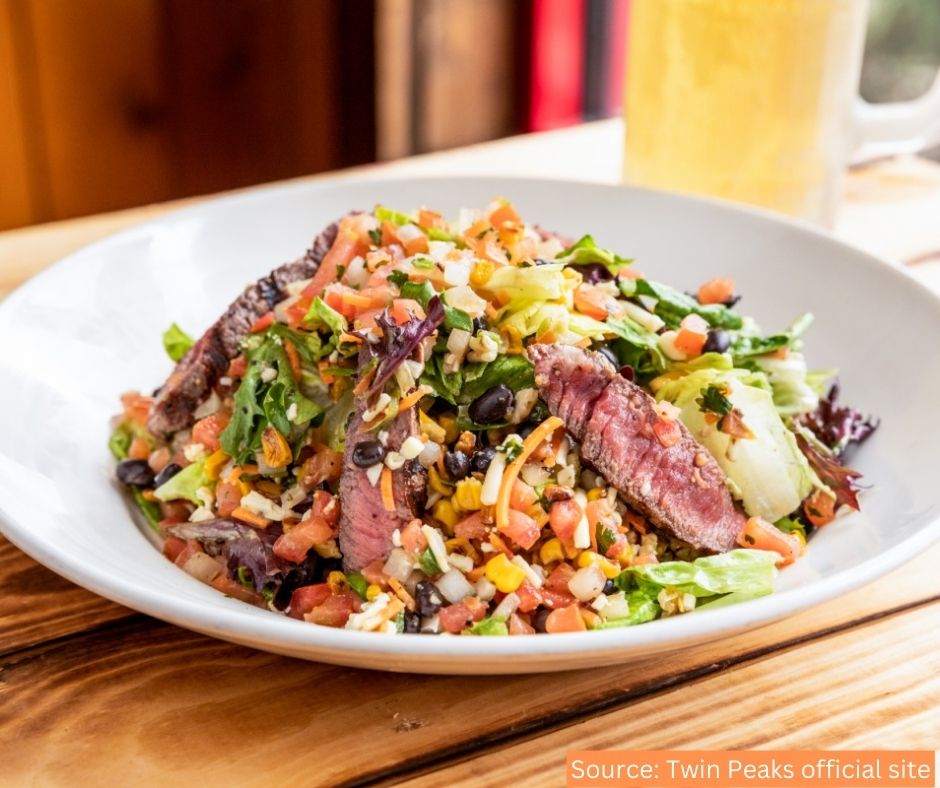 Convey your Concerns
You must convey your allergies to the manager prior to placing your order. Be clear about the severity of your condition, so the restaurant knows exactly how serious the matter is.
This will allow the restaurant to take adequate measures in order to serve a meal free of contamination.
Twin Peaks also advises its customers to inform of any allergies beforehand. They have a disclaimer stating their food is prepared on shared surfaces and is not free of cross-contamination.
Therefore, it's wise that you avoid Twin Peaks if you have severe gluten allergies.
Precautionary Measures
Here are a few precautionary measures you can ask the staff to follow to reduce the risk of contamination. These will not certify a gluten-free meal but will reduce contamination significantly.
Ask a single chef to prepare your meal from start to finish to avoid confusion.
Request the prep surfaces to be cleaned and disinfected before prepping your meal.
Ask the kitchen staff to wear a fresh pair of gloves before prepping your meal.
Ask for the ingredients to be fetched from a fresh batch to limit contamination.
Swap out the buns for lettuce wraps if you order a burger or sandwich.
Ask for your meal to be prepped first if you're going with a large group of people.
Don't Complicate Things
Keep your order simple if you're visiting a place that doesn't have a dedicated gluten-free menu. Stick to dishes with fresh ingredients that don't require complex preparation methods.
Gluten can be present in hidden forms in the form of thickeners and other ingredients. Hence, don't complicate your order and stick to items you know are safe.
If in Doubt, Throw it Out
If you're unsure about a certain ingredient or dish, it's better to avoid it. Only consume items you are sure about since no dish is worth risking your health over.
Avoid Rush
You should always visit any restaurant during off-peak hours so the team can give you their full attention and make sure proper cross-contamination protocols are followed—the risk of contamination and slip-ups increases during rush hours due to the increased load.
Cross Contamination Risk at Twin Peaks Restaurant
There's nothing worse than cross-contamination if you're a Celiac. Contamination occurs when gluten-free items come into contact with gluten. This can occur through used utensils, gloves, prep surfaces, or other food items.
Contamination can be severely detrimental to the health of Celiacs; hence, stringent cross-contamination protocols are necessary at any eatery.
Unluckily, Twin Peaks doesn't have the best cross-contamination measures. All of their food is prepared in a shared space with the same utensils, fryers, and surfaces. This increases the risk of contamination manifold.
Moreover, the staff isn't very knowledgeable or trained to handle allergies; this increases that risk even further. The restaurant states the possible risk of contamination and doesn't guarantee that its dishes are allergen-free.
You should stay clear of Twin Peaks if you have Celiac disease or severe gluten sensitivity since the risk of contamination is relatively high.
The Publics Verdict
We searched the internet for reviews on the Twin Peaks restaurant. These reviews were from Celiacs and people with gluten allergies and reflected their experience at the restaurant.
Reviews help us gauge just how allergy-friendly a restaurant really is.
Unfortunately, Twin Peaks restaurant didn't have the best of reviews. The majority of the reviews stated that the staff at Twin Peaks lacked knowledge about gluten allergies and didn't know how to cater to such customers.
Moreover, the gluten-free options were limited, and those too were prepared in the same area as other items.
We couldn't find a single review that praised their gluten-free experience at Twin Peaks. Hence, if you have Celiac disease or severe gluten sensitivity, be sure to stay clear of Twin Peaks.
It's important to note that some casual gluten-free customers who had no gluten-related health issues were able to enjoy themselves at Twin Peaks.
Even though the staff wasn't the most knowledgeable, they still did their best to satisfy customers.
Gluten-Free Alternatives to Twin Peaks Restaurant
Twin Peaks restaurant isn't the best option for dining out on a gluten-free diet due to their limited options and significant risk of contamination. Here are some alternatives you can visit for a similar experience;
Moe's Southwest Grill
Moe's Southwest Grill boasts a fully customizable menu with certified gluten-free ingredients. All of their ingredients are organic and locally sourced.
They have adequate contamination measures in place, and you can pick and choose everything that goes into your meal.
Burrito Bowls
Quesadillas
Tacos
Nachos
Sides & Salsas
Hooters
Hooters is a very similar restaurant to Twin Peaks. You can enjoy various gluten-free options as long as adequate cross-contamination protocols are followed.
Mimi's Cafe
Mimi's Cafe is a popular American restaurant serving up delicious breakfast, lunch, and dinner. They're accommodating towards customers with dietary restrictions, and their expansive menu has plenty of great gluten-free options.
Various Omelets
Fresh Green Salads
Petite Citrus Salmon
Slow Roasted Turkey Breast
Broiled Chicken Dinner
Broiled Flat Iron Steak