Who doesn't love an all-American-style breakfast that is available 24×7? Perkins restaurant and bakery is the epitome of homestyle food.
This family-made business was established in the early years of 1957 and has since become a well-known spot across the United States.
From their beloved pies to their all-day breakfasts and hearty meals, they have it all. But the real question is, what's keto-friendly at Perkins?
The most keto-friendly items on the menu are the "build-your-own breakfast" options and the grilled pork, fish, and some lunch and dinner options.
However, it is important to stay well away from bread, pancakes, larger, more-carb-dense meals, and certain beverages (especially alcohol).
If you find yourself skipping meals or missing out on birthday brunches because you are afraid there are not going to be any keto options available, Perkins is the restaurant for you.
There are many ways in which you can navigate around these difficulties and enjoy yourself without worrying about carbs!
Continue reading for a detailed overview of how you can realistically eat keto when dining in at Perkins restaurant and bakery.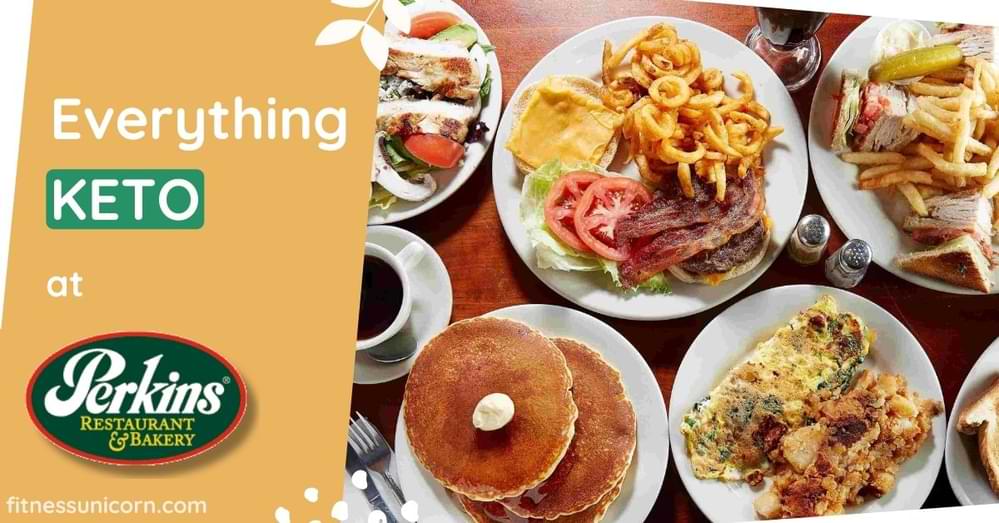 Tired of searching whether certain foods are keto? Download my keto cheat sheet with 210+ keto-friendly foods!
This post may contain affiliate links, which help keep this content free. (Full disclosure)
How To Survive Keto At Perkins
Perkins is known as an all-American style dining restaurant and bakery that has been established for 64 years.
It originated as a pancake house, serving over twenty-four different kinds of waffles and pancakes, to introducing cake and steak into the franchise later on.
Perkins is best known for their pies, so much so that they have spread their wings over 29 states and have over 25 000 employees globally. They must be doing something very right to have been so successful for so many years!
There is no need to start worrying when you hear the word "pie". Perkins is very accommodating when it comes to dietary preferences and keto-eating.
With a little bit of planning and mindfulness, you'll be able to enjoy a meal at Perkins just the same as the rest of the dinner party!
When you are on a restricted diet like keto, you may be afraid of trying out new restaurants! Your fears are definitely valid because most fast-food restaurants have only carb-laden dishes.
However, the more you explore your options, the wider your list will become and the less anxious you'll be about whether or not they are keto-friendly too.
Once you know the go-to alternatives, you'll be able to dine in almost anywhere!
Fortunately, Perkins has a large variety of keto-friendly foods on its menu. So, for peace of mind, you can always pop onto their menu and decide what to eat before joining at the dinner table.
They also have an easily accessible nutritional calculator, giving you everything you need to know about their menu.
I would suggest going for Top Sirloin Steak and Eggs which is a fresh-cracked classic on their menu. Additionally, you can request to exchange certain ingredients for others or take something away to reduce the carbohydrates.
Luckily, it is quite easy to customize your meal here as per your dietary needs.
Not to worry if those don't tickle your tastebuds, Perkins has a wide variety of other food options available that will curb those midday cravings.
It is important to note though, that there are a few items I would recommend you veer right away from.
Here's what you should completely AVOID:
Omelets
Everything that falls under "Griddle Greats" on the menu
All the syrups and toppings (excluding the sugar-free pancake syrup)
Pancakes
Potatoes
Any sort of benedict
Bread/ toast
Continue reading below to see how you can adapt the menu to accommodate your dietary preferences and ensure a stress-free dining experience at Perkins.
ALSO READ: Corner Bakery Cafe Keto-Friendly options
Perkins Keto-Friendly Options
Breakfast Options: less than 1 g of Net Carbs:
American cheese
Cheddar cheese
Egg whites
Pork sausage
Fresh mushrooms
Green bell peppers
Diced tomatoes
Turkey bacon
Turkey sausage
Salsa, medium
Applewood smoked bacon (two or four slices)
Slice of ham
Pork roll (three or four pieces)
Sausage (links, smoked, or patties)
The above food items are all less than 1g net carbs which means you can create the most nutrient-dense omelet, guilt-free!
What is so great about Perkins is that they have a 'build-your-own' omelet or breakfast option which has a large variety of keto-friendly items, all below 10g net carbs.
RECOMMENDED: Everything Keto at Twin Peaks
Fresh-Cracked Breakfast Classics
Fabulous Five (excluding toast/pancakes)
Net carbs: 0-1g
Total fats: 14g
Proteins: 10g
Calories: 170
Perkins may not have the largest variety when it comes to ready-made or designed meals (À la carte), but there is this highly-rated breakfast that includes turkey bacon, eggs, pancakes, or buttered toast.
Ditch the toast/pancakes and double down on meat and butter!
Luckily, though, there is an opportunity to create your breakfast from scratch, making it easier to track what is in your meal for the day, especially when you are following a certain quota.
Beverages
1. All coffee: 0g
2. Diet Coke: 0g
3. Teas – All flavors: 2g
4. Water: 0g
5. Caffeine-free coke – All flavors: 0g
6. Coca-Cola Zero – All flavors: 0g
7. Diet cokes – All flavors: 0g
8. Diet Fuze – All flavors: 0g
9. Seagrams diet ginger ale – All flavors: 0g
10. Sprite Zero – All flavors (except the refresher): 0g
Wine, coolers, and cocktails
1. Bella Pinot Grigio – 0g
2. Sawmill Creek chardonnay – 0g
3. Sawmill Creek Merlot – 0g
4. Smirnoff green apple – 1g
Hard liquor is always going to be your best friend on keto. Drinks like rum/gin/vodka/etc are free from any filler stuff which might otherwise inflate the carbs!
FIND MORE: Low-Carb Bakery Options at Checkers
Lunch and dinner
#1 Big BLT
Net Carbs: 2g
Total fats: 40g
Proteins: 12g
Calories: 420
#2 Triple Decker Club
Net Carbs: 3g
Total fats: 49g
Proteins: 32g
Calories: 600
These two handheld meals are absolute winners in my book! I mean, who doesn't love a piece of good bacon, lettuce, and tomato sandwich? No one!
#3 Grilled Pork Chop Dinner
Net Carbs: 7g
Total fats: 32g
Proteins: 56g
Calories: 560
#4 Grilled Salmon Dinner
Net Carbs: 2g
Total fats: 29g
Proteins: 40g
Calories: 430g
Fish is a really good alternative to red meat, as it is naturally lean and holds a high protein count. Not only that, but it is also nutrient-dense in terms of Vitamin B, Potassium, and Omega-3 or 6!
#5 Tilapia Grille
Net Carbs: 9g
Total fats: 18g
Proteins: 42g
Calories: 360
For those who may not be aware, Tilapia is a type of fish that has huge nutritional benefits, especially for keto-conscious eaters. With only 9g net carbs and 42g protein, it is a great alternative to burgers or pies!
RECOMMENDED: Gluten Free options at Perkins
Conclusion
Perkins restaurant and bakery is a fantastic choice when it comes to keto-friendly food. They may not have the largest variety in terms of ready-made meals but they do allow you to customize your meal to suit your carb quota.
Perkins is known for its incredible pies and delicious breakfasts! Being conscious about the food you choose is important here because taste doesn't always equal nutrition. That's why we wrote this article to simplify things for you.
Remember to steer away from well-known high carbohydrate meals such as pancakes or bread, as these will exhaust your daily-carb limit quickly. Instead, opt for eggs with turkey bacon and some sausage, or simply order the fabulous 5 without bread.
So, whether it is for breakfast, lunch, or dinner, Perkins is happy to oblige as customer satisfaction and a pleasurable experience are all they desire at the end of the day.