Twin Peaks might be popular for its "Twin Peaks Girls" but it's equally famous for their low-carb meal options. They have a diverse menu along with a full bar (who doesn't like that?). So what's keto-friendly at Twin Peaks?
The bone-in wings at Twin Peaks are the most keto-friendly item with 0g net carbs. They also have low-carb sides like bacon, fried eggs, and broccoli. You can also have the burgers as long as you ditch the bun.
They have many dishes here that are high in protein and fat content. Therefore, it's the perfect place for your keto outing. Without further ado, let's dive straight in and explore EVERYTHING Keto at Twin Peaks.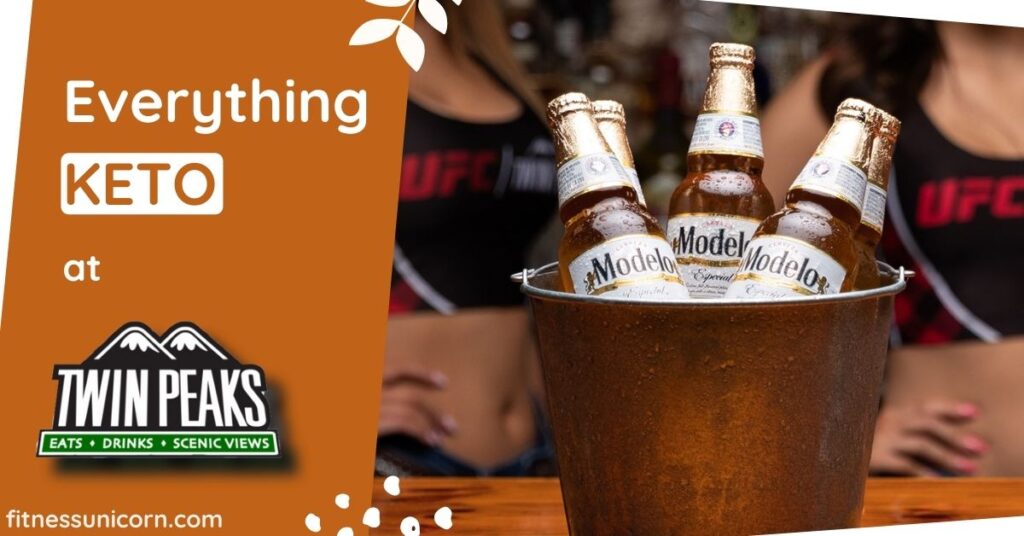 Tired of searching whether certain foods are keto? Download my keto cheat sheet with 210+ keto-friendly foods!
This post may contain affiliate links, which help keep this content free. (Full disclosure)
Surviving Keto at Twin Peaks
Twin Peaks is an American chain of sports bar and restaurants based in Texas. Founded in 2005, this "ultimate sports lodge" is known for their beautiful waitresses, primarily young women dressed in attractive clothing (no wonder why it's always packed with guys!)
Thanks to their Twin Peaks Girls, the restaurant had won the "Hot Concept" award recently by Nation's Restaurant News.
Twin Peaks boasts a pretty diverse menu including Bites, Wings, Salads & Soups, Burgers, Tacos, and a lot more.
Naturally, you might be reluctant to go to a place known for it's burgers and tacos – when practicing keto. But believe me, it's not what it looks like. There are ample low carb dishes to rely on for keto.
Starting from their salads, you need to watch out for high carb and sugary dressings that might ruin the game for you. Just go for their basic salads without any add-ons and you'll be good to go.
Twin Peaks has a whole variety of sandwiches but I doubt you can have any of them. Even if you toss away the bread slices, there's no such sandwich that comes under the allowed carb limit. So, choose burgers or tacos instead.
Talking about their burgers and tacos, if you can ditch the high carb bun (35g net carbs) and tortilla (39g net carbs), you can easily enjoy your meal without worrying about crossing the limit.
As far as their wings are considered, you should be careful with the sugary sauces and the external breaded coverings. Do make sure that it does not consist of any bread on the outside, since it's very high on carbs and choose bone-in wings since they mostly do not have breaded coverings.
For beverages, they do not have many options, so it would be better if you stick to some hot tea or coffee, that have zero carbs, and if you're too doubtful, just go with Water. ( Chilled or Hot, both are zero carb lol )
So, without any delays, let's explore what all keto-friendly options Twin Peaks has in store for you.
Also Read: Yard House Keto-Friendly Options
Keto-Friendly Options at Twin Peaks
Twin Peaks has plenty of low carb options to please your appetite. Let me take you through all of them –
Keto-Friendly Wings
Spicy Cajun Rub ( 3g )
Smoked Grilled ( 5g )
Bone-in Naked ( 0g )
Naked Fried ( 0g )
Don't be too lenient with the sauces, and it won't be much of a problem.
Low-Carb Salads
The half wedge salad ( 9g )
House Salad ( 5g )
Spa Salad with chicken ( 5g )
Spa side salad ( 3g )
Salads are the healthiest way possible to maintain keto, just watch out for the carb heavy dressings and sauces.
FIND MORE: Perkins Restaurant Keto-Friendly Options
Keto-Friendly Chilis
Cup of Venison Chili ( 10g )
Bowl of Venison Chili ( 15g )
Ideally, you should go for the cup, but can choose the bowl if suffering from "BOWL" syndrome (I found it funny, sorry!).
Keto-Friendly Soups
Cup of green chile chicken soup ( 5g )
Bowl of green chile chicken soup ( 6g )
Cup of Potato Soup ( 12g )
Cup of Tomato Soup ( 9g )
Bowl of Tomato Soup ( 13g )
These soups are served with Side Grilled Sourdough Bread which consists of 11g carbs. By now, you already know what to do to it!
Bunless Burgers
Cheeseburger ( 15g )
Avocado Smash Burger ( 14g )
The Hangover Burger ( 14g )
Billionaire's Bacon Burger ( 14g )
Grilled Turkey Burger ( 11g )
Beyond Burger – Vegetarian ( 9g )
A burger bun consists of 35g net carbs, so if you can toss it away, you're well on your way.
RELATED: Low-Carb Options at Skyline Chili
Keto-Friendly Tacos (No Tortilla)
Potato & Egg Tacos ( 13g )
Blackened Haddock Tacos ( 6g )
Brisket Tacos ( 5g )
A taco tortilla has 39g net carbs, so if you wanna remain on keto, you gotta ditch it.
Dressings
Blue Cheese ( 4g )
Cilantro Lime Vinaigrette ( 8g )
Herb Vinaigrette ( 1g )
Ranch ( 2g )
Jalapeno Honey Vinaigrette-1.5 fl oz ( 6g )
Dressings can sometimes be really high in sugar, so be careful with them and go for the above options.
Side Items
Bacon ( 0g )
Black Pepper Sausage ( 1g )
Fried Egg ( 0g )
Bleu Cheese Crumbles ( 0g )
Grilled Asparagus ( 3g )
Sauteed Brocolli ( 5g )
Sauteed Green Beans ( 6g )
Bacon Slaw ( 7g )
Though there are some zero carb items too, but still, don't binge on them, since some of them might be high in calories.
Note – Though I've included meals around 10-15 g of net carb mark, but an ideal meal should have around 7-8 g carbs, to keep your daily carb intake at around 25g. You can go for the 15g carb meals only when you've consumed very less carbs from your other meals of the day.
YOU MAY ALSO LIKE: What's Gluten-free at Twin Peaks Restaurant?
Tips to Stay Low-Carb at Twin Peaks Restaurant
Already exhausted your carb quota? You can add zero-carb options like bacon slices, pork rinds, and fried egg for a more filling meal.
Broccoli, asparagus, celery sticks, and green beans are some of the low-carb veggies available at Twin Peaks. Pick them over fancy sides to avoid a carb overload!
The blazing sauce and the classic sauce are the most keto-compatible dressings. As a rule of thumb, avoid any sweet tasting sauces as they have a ton of sugar inside.
Missing the happy hour? Only hard liqor is compatible with the keto diet – red/white wine, vodka, gin, tequila. You can also go for some light beer, but make sure you check the label for the carb count.
Conclusion
From their juicy chicken wings, to burgers and tacos, Twin Peaks looks like a reliable place for a keto outing. With some minor alterations and modifications, your keto goal can very well be achieved here.
That's more than enough knowledge for you to indulge in a keto-friendly meal at Twin Peaks! Still, if you wanna know more about the different nutritional components of your food, check out their official nutrition guide here.
Till then, Happy Ketoing 🙂
Next: Keto at BJ's Restaurants