BJ's Brewhouse is an American restaurant with delicious food and a huge beer menu! Their pizookies get me drooling every time! But can you eat Keto at BJ's Restaurant?
BJ's menu contains appetizers, salads, entrees, burgers, pasta, sandwiches, enlightened favorites, sides, and, obviously, pizza. It's the perfect place for a group of people who can't agree on what to eat!
If you are on the ketogenic diet, dining out is a risky endeavor. Bj's restaurants have a tempting menu with carbs all over the place!
But that's where we come in! We have carefully broken down their menu to bring you the most delicious low-carb options.
BJ's keto-friendly dishes include salads, bunless burgers, BJ's Classic Rib-eye, chicken wings, and more. You can also add chicken, shrimp, and salmon to any dish for a fraction of the carbs.
But there's more.
In this article, you'll find out all the low-carb options and the best keto ordering strategies for BJ's Brewhouse.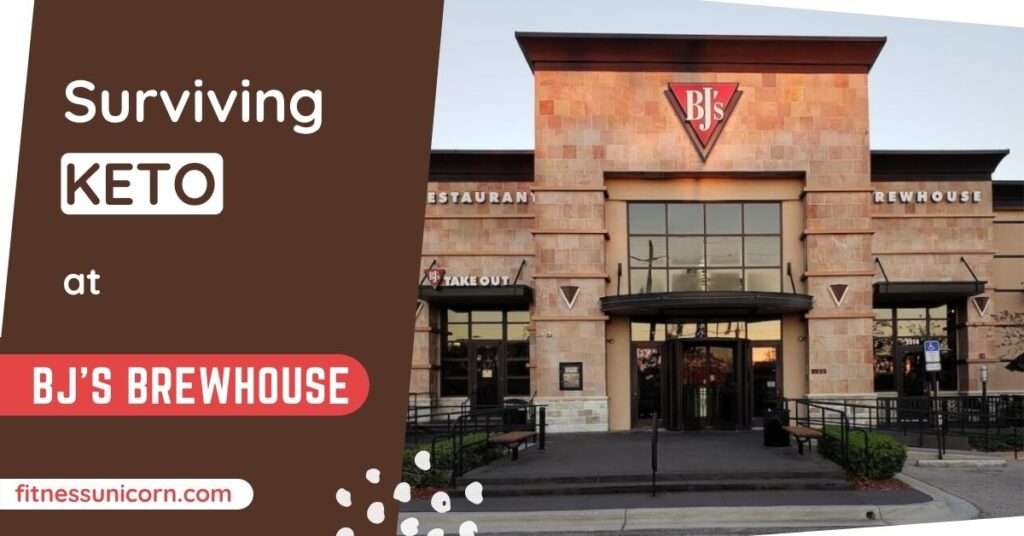 Tired of searching whether certain foods are keto? Download my keto cheat sheet with 210+ keto-friendly foods!
This post may contain affiliate links, which help keep this content free. (Full disclosure)
How to Survive Keto at BJ's Restaurant and Brewhouse
BJ's Brewhouse has a pretty vast menu which works in our favor. You see, their huge variety of food options ensures that they have something for every diet on the planet, including the ketogenic diet.
Most people on keto have a daily carb limit of 20-25g carbs. That means a single meal should be well within 8g of carbs. But realistically, you can have a satisfying meal at most restaurants for 10-15g of net carbs.
So you'll have to cautiously balance out the carbs in other meals.
For example, if you are planning to visit BJ's for dinner, make sure your breakfast and lunch have the bare minimum carbs. That way, you will have a lot more options to spoil yourself at BJ's!
Now let's see what is really low-carb at BJ's Brewhouse. Shall we?
First things first, the shareable appetizers are way out of our limits. A single serving ranges from 45g to a whopping 200g carbs!
The same goes for their "Enlightened Entrees". Not a single item fits within the keto macros and I'd surely give them a pass.
But their salads are a game-changer on the low-carb diet. You can pick a House Salad or a Wedge Salad and build up from there. BJ's has various low-carb sauces and toppings to make a wholesome flavorful meal (more on this in the next section).
Their chicken wings and chicken thighs make for a great low-carb entree. You can choose from various dry rubs and sauces. However, steer clear of the boneless wings as they have too much breading (aka a carb disaster!)
And what about their pizza? Is BJ's pizza keto-friendly?
BJ's pizza is the most loved dish in their arsenal. They have 3 types of crusts to choose from – Deep dish, Tavern cut, and the Gluten-Free thin crust pizza.
Sadly, none of them fits the keto bill.
In theory, you can enjoy a single slice of tavern cut pizza because it is only 8g of net carbs.
But think about it: Would you rather have a wholesome meal for 8g carbs (such as chicken wings) or exhaust your entire carb quota over a stupid slice of pizza?
I'm sure most of you'd pick the first option.
MORE: Hooters Keto-Friendly Options
BJ's Restaurant KETO Friendly Options
Here's your guide to all the low-carb options at BJ's Restaurants and Brewhouse:
1. Salads
Salads are the lifeline for surviving keto at any given restaurant. Even if there's nothing low-carb, you can always fall back to the good ole leafy greens, meat, and some cheese.
At BJ's restaurants, you should pick from these starter salads without any dressings:
Wedge Salad: 5g net carbs
House Salad: 7g net carbs
And then you can load up your plate with low-carb add-ons as per your preferences. Here's a complete breakdown of carbs in each added ingredient:
Dressings:
BBQ Ranch Dressing: 6g net carbs
Balsamic Vinaigrette: 5g net carbs
Bleu Cheese Dressing: 2g net carbs
Caesar Dressing: 3g net carbs
Honey Ginger Dressing: 12g net carbs
Honey Mustard Dressing: 8g net carbs
Italian Dressing: 2g net carbs
Oil & Vinegar: 5g net carbs
Ranch Dressing: 2g net carbs
Rice Wine Vinaigrette: 9g net carbs
Santa Fe Dressing: 2g net carbs
Strawberry Vinaigrette: 10g net carbs
Thousand Island Dressing: 6g net carbs
Meat Add-Ons:
Blackened Chicken: 4g net carbs
Blackened Salmon: 6g net carbs
Blackened Shrimp: 4g net carbs
Flame Broiled Salmon: 0g net carbs
Grilled Chicken: 0g net carbs
Other Toppings:
Bleu Cheese Crumbles: 2g net carbs
Grilled Onions: 7g net carbs
Chimichurri Sauce: 1g net carbs
Garlic Butter: 0g net carbs
BJ's PM Porter® Mushroom Gravy: 3g net carbs
Sautéed Mushrooms: 3g net carbs
Mushrooms & Onions: 6g net carbs
Avoid their pre-set salads as they have a ton of carbs (thanks to the extra ingredients like corn or croutons).
RELATED: Newk's Eatery Keto Options
2. Bunless Burgers
A bunless burger is exactly what it sounds like: You have all the ingredients of a burger minus the bun!
You can instead order it inside a lettuce wrap. Any restaurant serving salads would be happy to fix you with a lettuce-wrapped burger. And BJ's Brewhouse is no exception!
The truth is that the majority of the carbs in a burger lie within the bun. The cheese and the meat patties are rich in fat but quite low in carbs. However, you must be careful about the dressing you put inside.
For example, the bacon jam at BJ's will add at least 15g of extra carbs to your meal. On the other hand, a generous serving of guacamole contains less than 2g net carbs.
Use this carb guide to build a satisfying bunless burger at BJ's:
Loaded Burger Patty: 0g net carbs
American Cheese: 0g net carbs
Avocado: 1g net carbs
Cheddar Cheese: 0g net carbs
BJ's Pirahna® Pale Ale Chili: 4g net carbs
Housemade Guacamole: 1g net carbs
Note: They also have a gluten-free bun, but it is in no way keto-friendly since it has over 40 grams of carbs.
RECOMMENDED: Dickey's Barbecue Pit Keto-friendly options
3. Bone-In Wings
Chicken wings are a great fit on the keto diet, except the boneless ones. You see, boneless wings are nothing but chicken nuggets with a thick breading on top.
Luckily, BJ's Restaurants have a 10-pc serving of bone-in wings for just 5g net carbs.
And you can choose from the following rubs and dressings to spice things up:
EXXXXtra Hot Buffalo: 4g net carbs
Garlic Parmesan: 8g net carbs
Hot and Spicy Buffalo: 3g net carbs
Lemon Pepper Sesame Dry Rub: 0 carbs
Nashville Hot Sauce: 13g net carbs
Sriracha Dry Rub: 5g net carbs
They also have Sauced 'N' Tossed Chicken Thighs – a serving of 6 bone-in chicken tenders slow-roasted over two hours. Each serving contains just 3g of net carbs (without dressing).
But the goodness just doesn't end here! What if I said that you can still enjoy a crispy texture even with a bone-in wing?
Yup, everything is possible at BJ's Brewhouse!
You can try their BJ's Original Wings which have a thin layer of crunchy goodness and rakes in just 7g net carbs per serving.
4. Classic Rib-Eye
BJ's Classic Rib-Eye is a juicy, well-marbled 14 oz steak for just 4g net carbs. Enjoy it with greeny sides like broccoli, asparagus, or sauteed green beans.
You can also choose toppings from the salad section discussed above.
The rib-eye steak is not only low-carb but also contains a whopping 67g of fats, which is good news for ketoers.
5. Double Bone-In Pork Chop
It is a slow-roasted, double bone-in pork chop having just 12g net carbs.
Pair it with low-carb sides (discussed next) and the add-on toppings mentioned in the salad section.
6. Low-Carb Sides
These sides are extremely low-carb and they pair well with the above dishes:
Asparagus: 2g net carbs
Broccoli: 4g net carbs
Garlic-Roasted Vegetables: 7g net carbs
Sauteed Green Beans: 5g net carbs
Housemade Guacamole: 1g net carbs
Turmeric Roasted Cauliflower: 13g net carbs
Keto-Friendly Drinks at BJ's Brewhouse
BJ's Restaurants have plenty of low-carb options if you are missing the happy hour on keto.
You can enjoy some of the beers and other alcoholic beverages even on a tight carb budget. However, their handcrafted sodas are completely off the limits.
Check out this carb guide to decide the best option for yourself:
Handcrafted Beers:
BJ's Oasis® Amber: 5g carbs
BJ's Brewhouse Blonde®: 16g carbs
BJ's Harvest Hefeweizen®: 11g carbs
BJ's LightSwitch® Lager: 9g carbs
BJ's Piranha® Pale Ale: 17g carbs
Alcoholic Beverages:
American Mule: 13g net carbs
Spicy Bloody Marry: 14g net carbs
Tropical Mule: 17g net carbs
Ultimate Long Island: 18g net carbs
Non-alcoholic low-carb beverages include Tea, Coffee, Tropical Iced Tea, Sunset Peach, and the good ol' water.
Conclusion
BJ's Brewhouse has a ton of low-carb options that fit the keto bill. And I am not just talking about food, they also have low-carb alcoholic beers such as BJ's Oasis Amber (5g net carbs).
Follow the tips in this article and own your keto order at BJ's like a boss!
When in doubt, follow the official nutrition guide given by the restaurant.
Cheers.