Newk's menu is pretty simple and easy to order. You can choose from a wide range of soups, salads, and sandwiches that are fresh and healthy. But can you eat Keto at Newk's Eatery?
This fast-casual restaurant offers Southern-inspired recipes that are made from scratch.
Newk's is a hot spot for fitness enthusiasts who are sick of deep-fried hamburger buns and highly processed foods at most fast-food chains.
It's a great place for almost any occasion but best suited for casual get-togethers with friends and family.
If you are on a low-carb diet, Newk's Eatery has a lot to offer. You can turn any salad keto-friendly with just a few tweaks. Their Grab-N-Go menu contains high-quality proteins and fats – all you've got to do is ditch the wheatberry and croissant.
By the way, they also have a cauliflower crust pizza. But it's NOT what you think.
Their menu can seem overwhelming at first glance. But rest assured that there are plenty of low-carb options that fit the keto bill. In this article, we'll look at the best keto ordering strategies for your next visit to Newk's Eatery.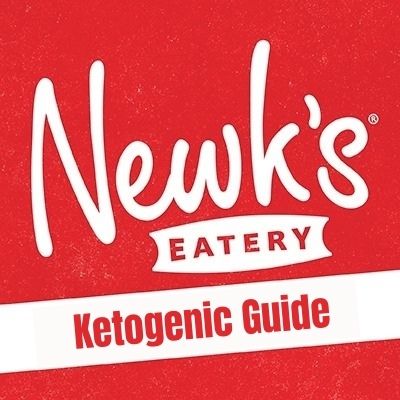 Tired of searching whether certain foods are keto? Download my keto cheat sheet with 210+ keto-friendly foods!
This post may contain affiliate links, which help keep this content free. (Full disclosure)
Tips for Ordering Keto at Newk's
Follow these simple strategies to stay under the carb radar at Newk's:
1. Streamline your Salads
Salads are generally low-carb because, after all, it's just a mixture of meat and veggies.
The problem begins when they top it with sugary sauces and those crispy balls of happiness a.k.a croutons!
Newk's Eatery has a wide range of salads and most of them can be turned keto-friendly if you make the right customizations. For example, the Ahi Tuna salad can be brought down to just 6g net carbs if you eliminate the Won Ton Strips.
The Shrimp Remoulade Salad comes for just 6g net carbs by default (no customizations required).
In the next section, you'll see how you can eliminate most of the carbs in different salads at Newk's Eatery.
2. Be Cautious with Soups
Soups are a great appetizer with few calories. But not all soups are keto-friendly!
You see, most cream-based soups are fine on the keto diet since they have high-fat and low-carbs. However, broth-based soups are a different game altogether. Some soups also contain stock that is even higher in carbs.
Here's a list of low-carb soups at Newk's Eatery (cup size):
Broccoli Cheese Soup: 11g net carbs
Chicken Noodle Soup: 11g net carbs
Grilled Vegetable Soup: 10g net carbs
Pepperjack and Crawfish Soup: 11g net carbs
Spinach and Feta Soup: 13g net carbs
Newk's soups come in three sizes – Cup, Bowl, and Jumbo. You should go with the cup which is the smallest serving size. After all, you don't want to waste all your carb quota for a bowl of soup that only fuels your hunger further!
You may add bacon bits, sour cream, or parmesan cheese to up your fat intake.
MORE: Low-Carb Firehouse Subs
3. Grab-N-Go WITHOUT the Carbs
Don't feel like making dinner at home? Or maybe you are in rush to reach somewhere. The Grab-N-Go menu has got you covered!
These sandwiches have the ideal combination of fats, carbs, and proteins to fulfill your macro needs.
However, you've got to ditch the wheatberry and croissant to keep it low-carb. So you are just left with high-quality fats and proteins.
Their meat options include chicken, ham, turkey breast, and roast beef. Pair it up with some lettuce, tomatoes, cheese, and you have a keto-friendly meal for less than 4g net carbs.
4. Make Use of the Nutrition Calculator
Newk's has this interactive nutrition calculator that spits out all the nutritional info for your meal.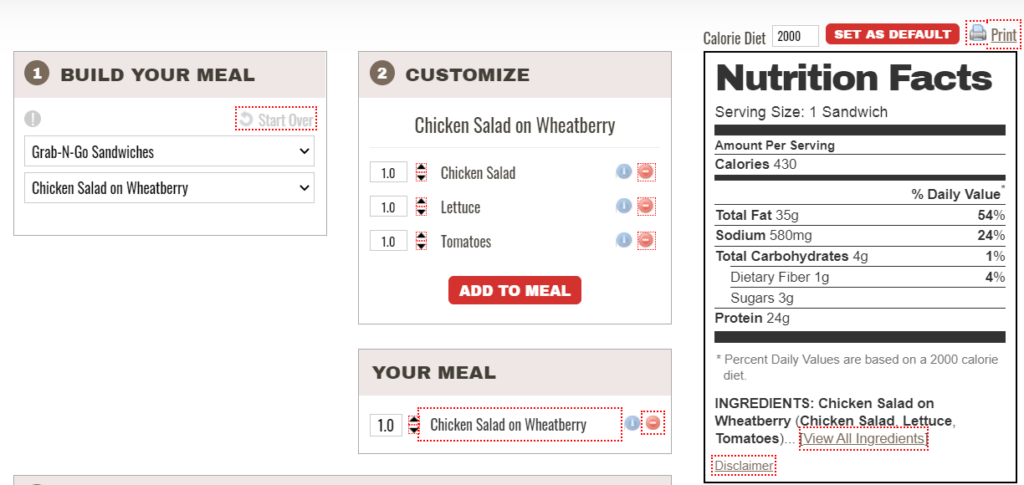 You can add and remove each ingredient to determine the exact net carbs.
At the end of the day, the art of keto is all about managing your carbs.
Don't get me wrong, keto isn't just a low-carb diet. It's low-carb AND a high-fat diet. However, when you are out and about and eating at a restaurant, staying low-carb should always be your first priority.
You can always have a fat bomb back home to balance things out!
Low-Carb Salads at Newk's Eatery
Salads are the freshest and most keto-friendly dish at Newk's. It's a combination of meat, veggies, and dressings that are certainly keto-friendly.
Newk's salads just need a few tweaks to eliminate the excess carbs. And you end up with a deliciously satisfying meal that will keep you full for a few hours.
Here's a list of all salads and what you can do to minimize your carb intake:
Ahi Tuna Salad (nix the Won Ton Strips): 6g net carbs
Black & Bleu Salad (no grape tomatoes): 6g net carbs
Caesar Salad (no croutons): 2g net carbs
Chef Salad (no croutons): 6g net carbs
Cobb Salad (no croutons or grape tomators): 6g net carbs
Greek Salad (without cucumber, grape tomatoes, & onion): 7g net carbs
Half Garden salad (no carrots): 4g net carbs
Shrimp and Avocado salad (no grape tomatoes): 6g net carbs
Shrimp Remoulade Salad: 6g net carbs
Southern Salad (no croutons): 6g net carbs
Ultimate Salad (no croutons): 6g net carbs
You can further customize them with added meat and dressings.
Added Meat:
Ahi Tuna: 1g net carbs
Grilled Chicken: 0 carbs
Grilled Salmon: 0 carbs
Grilled Steak: 0.5g net carbs
Oven-Roasted Turkey Breast: 0.5g net carbs
Shrimp: 0 carbs
House-Made Dressings (3 fl oz serving):
Balsamic Vinaigrette: 5g carbs
Blue Cheese Dressing: 2g carbs
Caesar Dressing: 2g carbs
Fat-Free Ranch: 3g carbs
Ginger-Wasabi Dressing: 11g carbs
Greek Dressing: 2g carbs
Honey Mustard: 39g carbs
Lemon Basil Vinaigrette: 6g carbs
Ranch Dressing: 5g carbs
Raspberry Vinaigrette: 18g carbs
Remoulade Dressing: 6g carbs
Sherry Vinaigrette: 20g carbs
Is Newk's Cauliflower Crust Keto Friendly?
Back in January 2020, Newk's Eatery rolled out their all-new cauliflower crust pizza. It means that you can now convert any pizza into a cauli crust pizza for a small upcharge.
However, their cauliflower crust is not at all keto-friendly! In fact, it has the same amount of carbs as found in the regular crust (63g carbs).
So why launch cauliflower crust? Well, most restaurants today offer a cauliflower crust as a gluten-free alternative to the customers. It is also suitable for those diagnosed with celiac disease.
Newk's cauliflower crust is a more wholesome and plant-based alternative to your regular pizza crust. But don't mistake it to be low-carb at all.
A truly keto-friendly cauliflower crust is made with cauliflower, eggs, and cheese. And it tastes nothing like the regular crust!
When Newk's cauli crust first came out, we didn't have the official nutritional information. So I went down to my nearest outlet to try it out.
But I could tell from the first very bite, that this isn't a Keto cauli crust. The taste was almost similar to wheat-based crusts with a carb-rich aftertaste.
Low-Carb Drinks at Newk's Eatery
So you have your Newk's keto meal all figured out! But most of us need a side drink to wash it down, right?
Don't you worry!
There are plenty of low-carb drinks to enjoy at Newk's Eatery:
Caffeine-free Diet Coke: 0g
Coke Zero: 0g
Diet Coke: 0g
Diet Dr. Pepper: 0g
Diet Sprite: 0g
Minute Maid Light Lemonade: 4g
Unsweetened Iced Tea: 3g
Tip: Always carry a pack of liquid stevia in your bag. You can sweeten your sugar-free beverages without the extra carbs!
Conclusion
Does Newk's have keto-friendly options?
Hell yeah! Most of the salads are keto-friendly with some tweaks. You can go for most soups with the smallest serving size.
The grab-n-go menu offers low-carb and high-protein meals provided you nix the wheatberry and croissant.
Also Read: