Sweetgreen is famous for its salads. We know that salads are mostly low carb, so it won't be that difficult going keto here at Sweetgreen. But, there are other things too, to look out for. And that's where I come in, to help you choose the right keto-friendly dishes here at Sweetgreen.
You can have their signature bowls like Garlic Chilli Shrimp Bowl and Blackened Catfish Bowl, just for under 5g carbs if you're willing to sacrifice the rice. They also have low-carb sides like Heirloom Tomatoes and Roasted Corn to make it a successful keto outing. Another thing that stands out here is the variety of breads they have, mostly under 15g carbs.
Sweetgreen has a lot, a lot of ingredients and sauces that you can add to your bowls and salads to make them keto-friendly. Therefore, it's the perfect place for your keto outing. Without further ado, let's dive straight in and look at the survival guide for keto at Sweetgreen.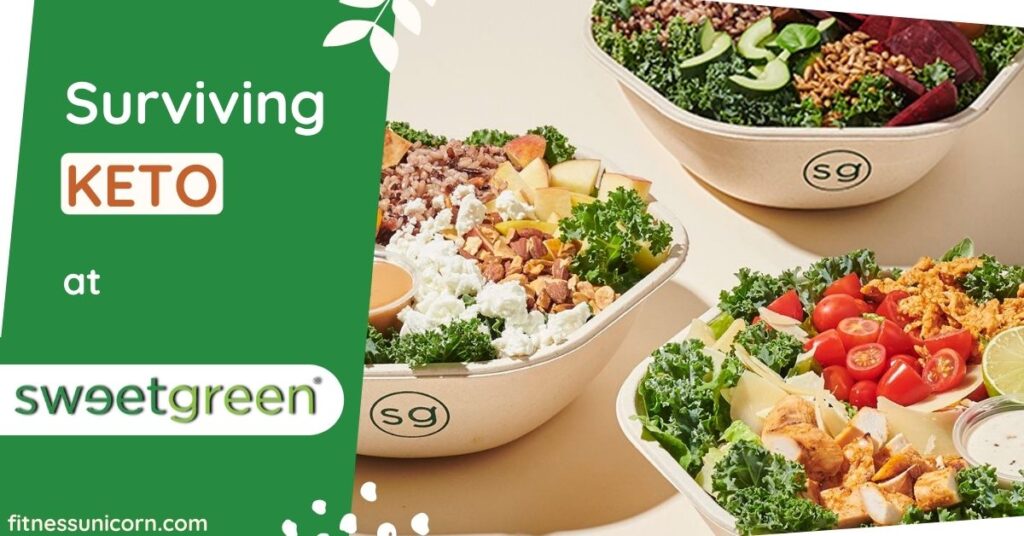 Tired of searching whether certain foods are keto? Download my keto cheat sheet with 210+ keto-friendly foods!
This post may contain affiliate links, which help keep this content free. (Full disclosure)
Surviving Keto at Sweetgreen
Sweetgreen is mostly known for its salads and meal bowls. With a collection of different types of cheeses, veggies, proteins, and sauces, it definitely increases the scope and chances of not failing at keto here. They also allow you to customize your meal at your convenience which makes it a lot easier to ditch the items we do not need.
But, there are some hazards that you will have to take care of. It's all fun and games till you land in a situation where you cannot judge, how much carbs does an item in your meal has.
Firstly, almost all of their meals consist of rice. Rice is a very high-carb dish and must be avoided under any circumstances if you want to ace your keto journey here, at Sweetgreen.
They have a huge variety of bread available too, but bread also is high in carbs, including whole wheat bread. Sweetgreen provides you with a lot of keto-friendly bread to choose from to stay on the right track.
Talking about their bases, they're all keto-friendly. Shredded Kale has the highest amount of carbs, and guess what, it's just 2g. So, you can be tension-free while choosing a base to set up your salad on.
As far as their beverages are concerned, Sweetgreen does not have too many options but whatever they have, most of them are keto-friendly, except a couple of them. Just avoid the sugary ones and you should be good to go.
So, without any delays, let's explore what all keto-friendly options Sweetgreen has in store for you.
READ: Cafe Zupas Keto-Friendly Meals
Keto-Friendly Options at Sweetgreen
Sweetgreen has plenty of low-carb options to treat your appetite. Let me take you through all of them –
Keto-Friendly Salads & Bowls
Kale Caesar
Guacamole Greens (Avoid tomatoes & tortilla chips)
Super Green Goddess (Avoid black lentils, chickpeas & roasted sweet potatoes)
Harvest Bowl (Avoid roasted sweet potatoes, warm wild rice)
Buffalo Chicken Bowl (Avoid tomatoes, shredded kale, Caesar dressing)
Chicken Pesto Parm (Avoid warm quinoa)
Shroomami (Avoid warm portobello mix & warm wild rice)
Fish Taco (Avoid tortilla chips and warm quinoa)
Blackened Catfish Bowl (Avoid warm wild rice)
Crispy Rice Bowl (Avoid crispy rice & warm wild rice)
Garden Cobb (Avoid roasted sweet potatoes)
Garlic Chili Shrimp Bowl (Avoid warm wild rice & nuoc cham dressing)
Hot Honey Chicken (Avoid hot roasted sweet potatoes & warm quinoa)
-> All these bowls that you see here, are actually keto-friendly if you can ditch some items that are high on carbs. I've mentioned the items to cut out from your meal.
Seasonal Dishes
Heirloom Tomatoes + Goat Cheese ( 6g )
Roasted Brussels Sprouts ( 1g )
Curry Roasted Cauliflower ( 1g )
Raisins ( 10g )
Cranberry Maple Vinaigrette ( 3g )
Peppercorn Tahina Dressing ( 6g )
Roasted Corn + Peppers ( 9g )
Heirloom Tomatoes ( 3g )
Low-Carb Breads
Whole Wheat Bread-BOS ( 15g )
Whole Wheat Bread-DMV ( 14g )
Whole Wheat Bread- HOU ( 12g )
Whole Wheat Bread-MIA ( 12g )
Whole Wheat Bread-PHL ( 14g )
Keto-Friendly Bases
Arugula ( 1g )
Baby Spinach ( 1g )
Chopped Romaine ( 0g )
Shredded Kale ( 2g )
Spring Mix ( 0g )
-> Most of the ingredients & sauces here are Keto-Friendly and contain very low amount of carbs, so I'll make your work easier by mentioning the dishes to avoid, while picking up items for your meal.
Signature Ingredients
-> Crispy Rice, Roasted Sweet Potatoes, Tortilla Chips & Za'atar Breadcrumbs are some signature ingredients you might as well avoid.
Premium Ingredients
-> As far as their premium ingredients are concerned, only 'Hot Roasted Sweet Potatoes' are to be avoided, and you can have all of them. ( Not together tho!! )
Keto-Friendly Dressings, Sauces & Finishers
-> Balsamic Vinaigrette, Hot Honey Mustard Sauce, Nuoc Cham Dressing, Ceviche Dressing are some you must avoid.
Low-Carb Beverages
Hibiscus Clover Tea ( 0g )
Jasmine Green Tea ( 0g )
Proud Source Sparkling Water ( 0g )
Proud Source Spring Water ( 0g )
Spindrift Grapefruit ( 4g )
Spindrift Raspberry Lime ( 2g )
Now that you have seen all the options available, here's something you should also know:
An ideal keto meal should have no more than 7-8g of carbs (in order to maintain your daily limit of 25g carbs). But sometimes we can make an exception! If you are going out for lunch and REALLY craving that delicious item, you may go for it even if it has, like, 15-20g carbs.
But that's all the carbs you are going to have that day. Do some damage control in other meals of the day by having fat bombs with negligible carbs!
Conclusion
Sweetgreen is definitely keto heaven and it should be a smooth ride for you here. You just have to avoid a couple of items from the whole list of items, and it won't be much of a problem.
You are now equipped with all the tools and weapons to enjoy your keto-friendly meal at Sweetgreen. Still, if you wanna know about the different nutritional components of your food, check out their official nutrition guide here.
Till then, Happy Ketoing 🙂
Also Read: