If you love seafood, Ceviche will surely entertain your taste buds! This tangy Mexican entrée is packed with nutrition and is often served with tortilla chips. But is Ceviche keto?
Most types of ceviche are keto-friendly in moderation. Ceviche uses raw fish at the base, which generally has a very low number of carbs. Lime juice contains a lot of carbs and you should dilute your Ceviche with avocadoes.
But only the additional ingredients will determine whether you can have it on keto! For example, Ecuadorian ceviche has tons of tomato sauce that goes in with the shrimp (carb alert!)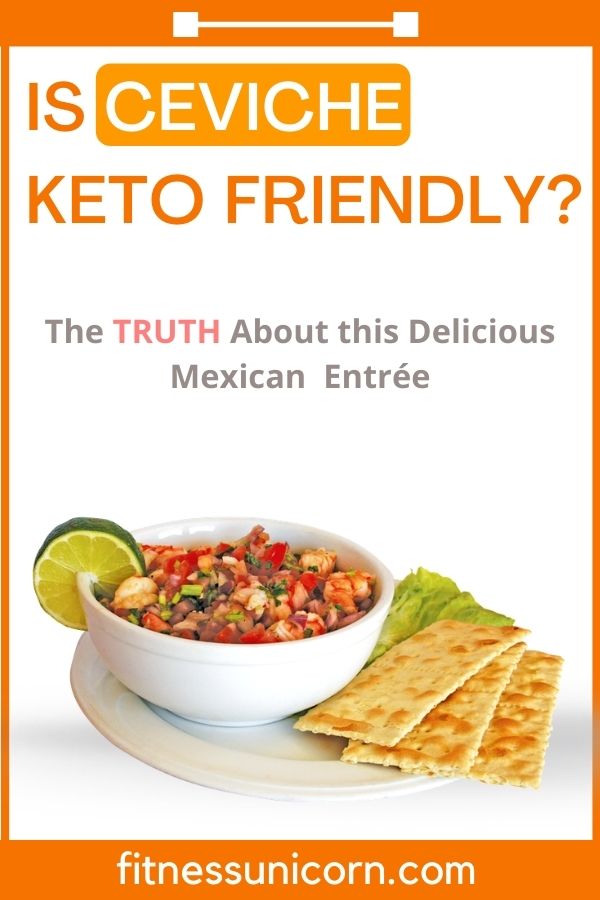 Tired of searching whether certain foods are keto? Download my keto cheat sheet with 210+ keto-friendly foods!
In this article, we'll find out what makes ceviche a keto-friendly appetizer. I'll also share some of the important health benefits you can expect from this raw fish appetizer!
More: Is Imitation Crab Keto?
This post may contain affiliate links, which help keep this content free. (Full disclosure)
All About Ceviche
Ceviche is one of the most popular raw fish recipes among fitness enthusiasts!
The reason? It's a delicious high-protein low-fat recipe that takes away minimum calories from your daily quota.
Surprisingly, it's also one of the easiest seafood dishes out there! Heck, you don't even need to turn on the heat. Just mix the ingredients and leave them in the fridge!
Ceviche uses lemon juice as the marinate for "denaturing" the dish. The citric juices work together to make the fish softer and help it absorb more flavor.
It is a very colorful Mexican entrée and you'll see a lot of variety in terms of toppings and seasonings. The most common ones include cilantro, onion, tomatoes, and peppers.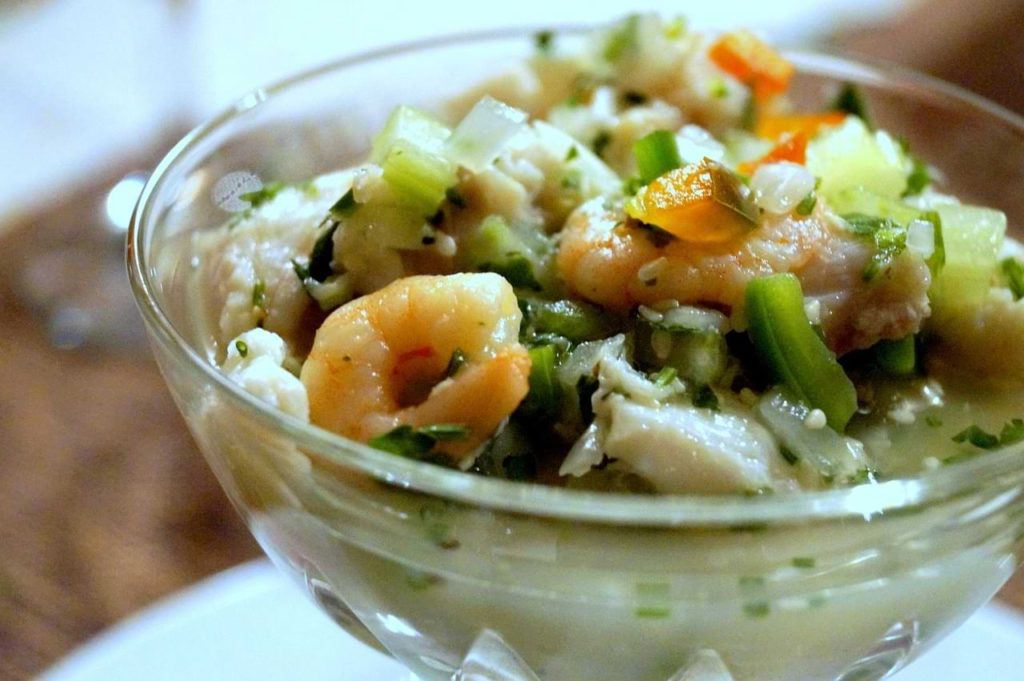 Who would've thought adding lime juice to a fish would turn out to be so delicious?
Well, that wasn't the main goal back in ancient times. You see, Ceviche is a result of an old practice used to preserve seafood.
People in coastal South American region cured the raw fish with citric juices to increase its shelf life!
Since this practice was so common across America, the exact origins of this dish are still unknown. Americans started serving this cold dish in the 1980s.
Peru (the third-largest country in South America) has even declared Ceviche as its national dish! That's why you'll often read it as Peruvian Ceviche in most restaurants.
The huge variety in its recipes across cultures still amazes me to this day!
Ecuadorian ceviche offers an exotic combination of shrimp and tomato sauce. Mexican ceviche has the gift of sizzling hot Serranoes served with tortilla chips (yummy!)
The people in the Caribbean love adding coconut milk/cream to this dish! You'll find a combination of sesame oil and soy sauce in Japanese Peruvian ceviche.
So how does this cold and delicious Mexican entrée fit into the keto diet? (Hint: It's the marinade!)
(Love Mexican Food? Check out: Keto Guide for Chipotle Mexican Grill)
Is Ceviche Keto Approved?
Ceviche is a very low-fat and high-protein Mexican appetizer. When it comes to the carb count, you'll notice a huge difference among various varieties of ceviche!
The most basic ingredients include raw fish, citrus juices, and seasonings.
Beware of sauces and lime juice. They are the major culprits that inflate the carbs of a ceviche.
A single cup of lime juice contains 20g of net carbs! Some places also add orange juice along with lime juice, which has a massive 26g of carbs per cup.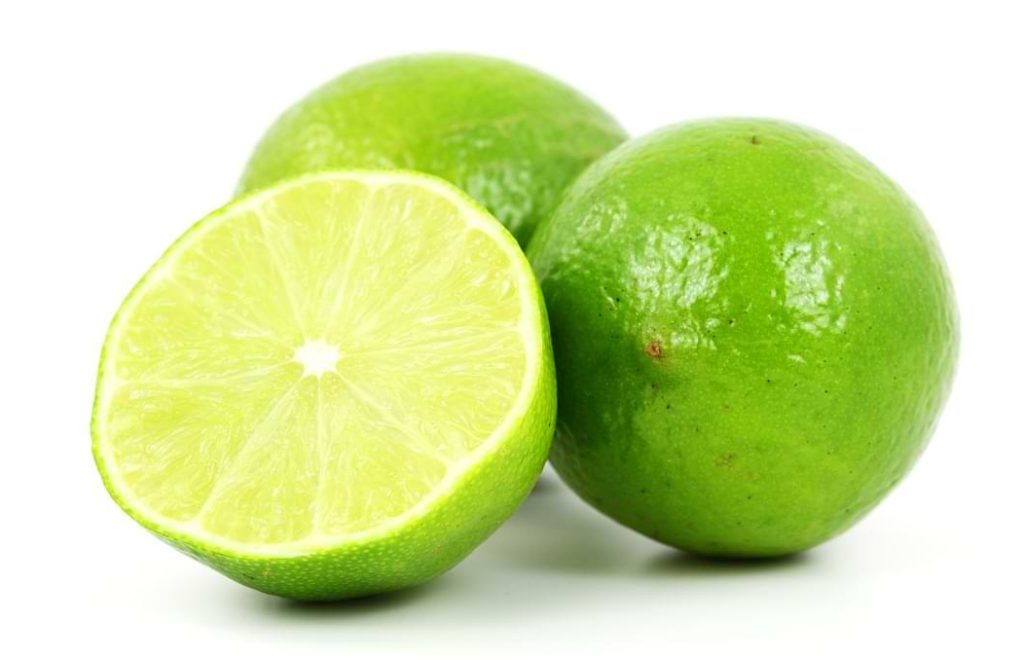 The acidity of the lime juice really "cooks" the shrimp so you can't eliminate it. But you could definitely dilute the serving of Ceviche with a keto-friendly ingredient such as avocado.
Peruvian ceviche includes corn and sweet potatoes, which are strictly off the keto charts. Some recipes also provide a fruity touch with mangoes or papayas. Sadly, you can't have either on the keto diet!
The most basic element of a ceviche is raw fish. You don't really have to worry there because fish flesh has negligible carbs!
But when it comes to shellfish, your choices are limited. Some varieties of shellfish contain a significant number of carbs. Likes of those include whelk, mussels, oysters, and octopus.
An ideal keto-friendly ceviche can have the following as base ingredients:
Snapper
Halibut
Mahi-Mahi
Fluke
Corvina (similar to Halibut, found in South America)
Hamachi
Flounder
Red snapper
Sashimi-quality tuna
Shrimp
Feel free to combine more than one fish in your keto Ceviche.
Tip: Try to obtain the freshest fish/shrimp as it can greatly influence the taste of your dish!
When dining in at a restaurant, ask them to replace orange juice with a lime base. And watch out for those tortilla chips! I know they are a huge temptation but trust me, a serving of crunchy buttery lettuce does the job well!
Cucumbers and carrots also make an excellent replacement for crispy chips.
Can I eat Aguachiles on Keto?
Aguachiles is a much spicier version of Ceviche mostly found in Mexico.
Serrano and chiltepines (grown in Sinaloa) are the two most popular chilies found in an Aguachile.
The most basic Aguachile consists of shrimp, cucumber, onion, and lime juice. The chilies are blended with water, making the marinade for the dish.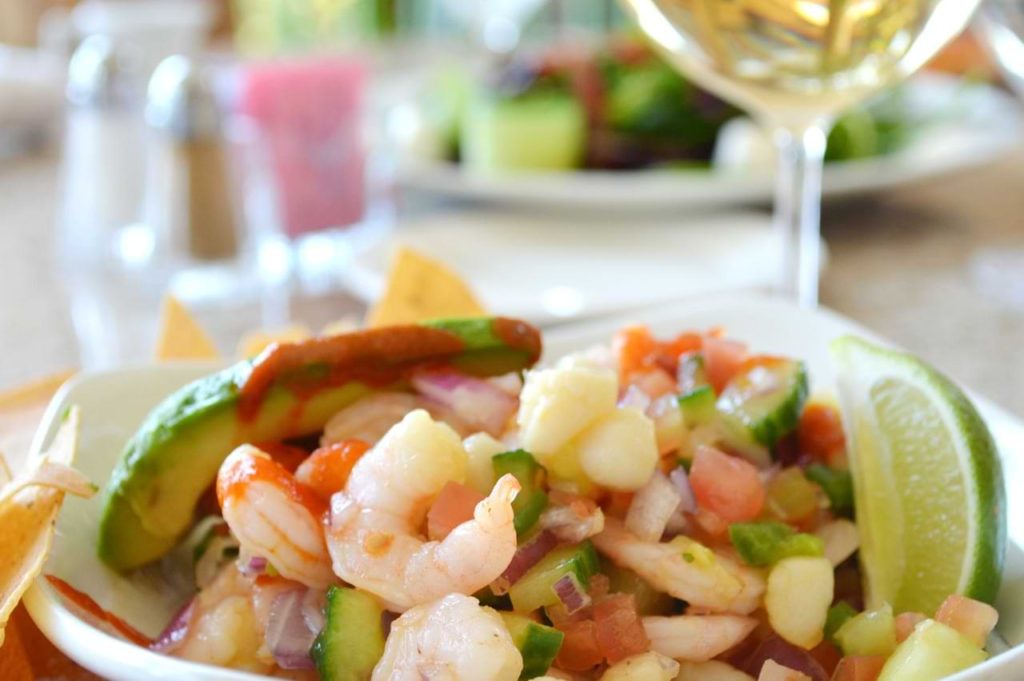 Ingredient wise, both Ceviche and Aguachile are similar to each other. But sometimes the aguachile can have more lime juice than a ceviche at the same restaurant.
And more lime means more carbs! Keeping this in mind, you can have Aguachiles on keto but only in moderation. Diluting the dish with more avocado is always a good idea!
SUGGESTED: Is Tajin Mix Keto?
Is Ceviche Healthy?
Eating ceviche can really benefit your health irrespective of the diet you follow!
It is tremendously famous among fitness freaks due to its excellent nutritious profile. What's more, there's not a single element of processed food going on your plate!
The citrus juices present inside to provide you a healthy dose of the much-needed Vitamin C. They are packed with powerful anti-oxidants that wards off illness and strengthens your immune system.
Onions and cucumber further contain a ton of micronutrients that keeps you healthy. For example, quercetin found in onion is a great antiviral compound.
Avocadoes contain carotenoids that support the functioning of your eyes. Its fat content helps you complete your macro goals of the keto diet!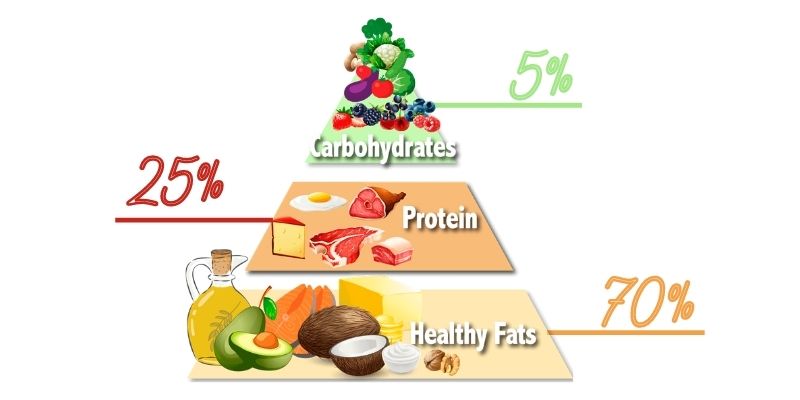 The raw fish in ceviche is an excellent source of protein and unsaturated fatty acids (omega-3 and omega-6). They are generally considered as "good fats" and help regulate cholesterol and blood pressure.
You also get zinc, selenium, phosphorus, iodine, potassium, and vitamins A, D, E and K.
Keeping aside the health benefits, seafood dishes like ceviche can really enhance your mood and keep you mentally stable.
Immunity and inflammation are two major factors that affect your mental health. Avocadoes are high in dietary fiber, which is inversely related to the signs of depression.
Conclusion
Is ceviche keto friendly?
Ceviche is keto-friendly only in moderation. It's main ingredient is lime juice which contains a significant amount of carbs.
Diluting the carbs with diced avocadoes is an excellent idea! Plus it adds a more savory touch to the dish.