You can't deny it; restaurants have become our go-to place for lunchtime breaks and casual outings. And the Melting Pot has a lot of Fondue options that serve these purposes perfectly. However, as someone on a special Keto diet, you may wonder whether anything on their menu is low in carbs.
So what's exactly keto-friendly at The Melting Pot?
The Melting Pot has plenty of low-carb options that can satisfy your mid-day cravings. For example, its Chicken Breast has just 0.2 grams of carbs. You can also have their cheese-based fondues like the Fiesta Cheese Fondue, for less than 9g carbs.
Nonetheless, since most of their dishes, like the Spinach Artichoke Cheese Fondue, aren't precisely keto-friendly, it would be best to exercise smart portion control!
In this article, you'll find EVERYTHING keto at The Melting Pot. So read on.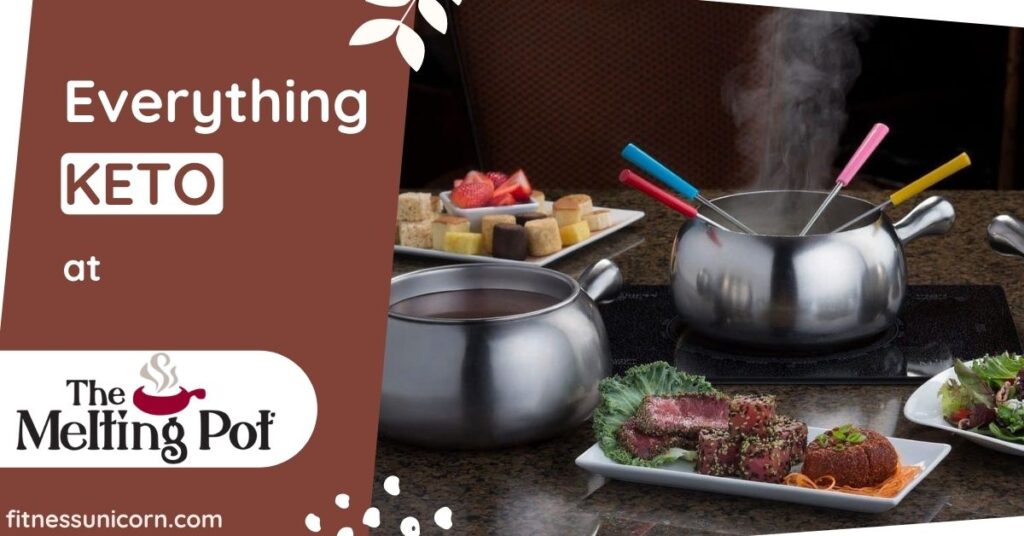 Tired of searching whether certain foods are keto? Download my keto cheat sheet with 210+ keto-friendly foods!
This post may contain affiliate links, which help keep this content free. (Full disclosure)
How to Survive Keto at The Melting Pot Restaurant
The Melting Pot isn't exactly known for keto-friendly dishes. It's majorly based on Fondue, and some of these dishes have pretty high carbs. Nonetheless, a few of their meals have a low carb content, and because of their limited options, it's easy to find them.
You may also wonder: What's a Fondue restaurant without wine? At The Melting Pot, wine isn't only served in glasses, but it's also incorporated in the food. This definitely adds to the carb counts of those meals, but not to a degree that you should be worried about.
Also, if you fancy a glass of wine, it would be best to drink from the newest, most natural wine possible. For instance, it's better to take a glass of new sparkling wine, than the aged Chardonnay on the menu.
You see, the fermentation increases the sugar content of the latter. This adds to the carb count, which isn't really good news for those on keto!
You may also wonder how exactly you can try the "tempting" options without crossing your carb limit?
Well, it mostly comes down to portion control. For example, let's say you'd like to try out the Yin & Yang Chocolate Fondue. But since it has 33 grams of carbs, you know you can't have the whole cup. So having one-third of the portion size can satisfy your cravings without overdoing the carbs!
There are downsides to this, though. The Yin & Yang Chocolate Fondue, for instance, has a specific design that's aesthetically appealing. But, unfortunately, if you divide the dish, you'll most likely ruin it and lose the complete customer experience.
Without any further ado, let's jump directly to the low-carb options at The Melting Pot!
Also Read: Golden Corral's Keto-Friendly Options
The Melting Pot Keto-Friendly Options
#1. Fiesta Cheese Fondue
Carbs: 8.5g
Fiber: 0
Net Carbs: 8.5g
Total Fats: 21.2g
Protein: 17.2g
Calories: 321Kcal
A serving of the Fiesta Cheese Fondue at the Melting Pot after a long stressful day helps to ease the mind, trust me. It tastes quite feisty as it contains aged cheddar, lager beer, and even jalapenos. It also contains Emmentaler which, alongside the aged cheddar, makes its protein content relatively high.
#2. Cheddar Cheese Fondue
Carbs: 7g
Fiber:
Net Carbs: 7g
Total Fats: 21g
Protein: 17g
Calories: 319Kcal
No one beats The Melting Pot when it comes to making Fondue. And their Cheddar Cheese Fondue comes nothing short of expectations. It has only seven grams of carbs, which means that you can combine it with the four-carb Vegetable Cup for Cheese Fondue on the menu to have a whole meal. Furthermore, the garlic and wide range of spices used to create this dish produce a distinct taste that you can find nowhere else.
#3. Traditional Swiss Cheese Fondue
Carbs: 9g
Fiber:
Net Carbs: 9g
Total Fats: 25g
Protein: 23g
Calories: 396 Kcal
The Traditional Swiss Cheese Fondue is one of my favorite dishes on The Melting Pot's menu. Gruyere cheese is an essential element in this dish. Alongside the Emmentaler, lemon juice, garlic, and nutmeg they provide magic to the meal. Luckily, the cornstarch added is in little quantities, so the carb content is kept low.
#4. Breast of Chicken — Mojo
Carbs: 0.2g
Fiber:
Net Carbs: 0.2g
Total Fats: 2.8g
Protein: 52.4g
Calories: 250 Kcal
Chicken breasts at The Melting Pot are out of this world. I would typically have two pieces since it is so low in carbs. Nonetheless, it has quite an impressive amount of protein being mostly chicken, spice, and oil.
#5. Land & Sea, Coq au Vin
Carbs: 2g
Fiber:
Net Carbs: 2g
Total Fats: 11g
Protein: 60g
Calories: 360Kcal
Surprisingly, this dish made with wine is so low in carbs; well, kudos to The Melting Pot. The chicken in the Coq au Vin makes its protein content relatively high — 60g. It also has Garlic Pepper Sirloin and Atlantic Salmon to produce that "Land & Sea" uniqueness. Its "Coq au Vin nature" is due to the presence of scallions, Garlic, Mushrooms, and Burgundy wine, all combined in delicate amounts to keep the carb count low enough for you.
#6. Spinach Mushroom Salad
Carbs: 6g
Fiber:
Net Carbs: 6g
Total Fats: 4g
Protein: 5g
Calories: 75Kcal
If you like mushrooms, then you'll love The Melting Pot's Spinach Mushroom Salad. Spinach typically contains quite a high number of carbs; however, its fiber content is what constitutes a large percentage of that number. And with mushroom being almost "carb-less", The Melting Pot was able to create this unique keto-friendly dish. So, it's pretty much a perfect meal for salad lovers like me.
#7. California Salad
Carbs: 6g
Fiber:
Net Carbs: 6g
Total Fats: 13g
Protein: 6g
Calories: 168Kcal
The California Salad is the last keto-friendly option on The Melting Pot's menu. It is a typical salad with various vegetables like mixed greens, candied pecans, gorgonzola, and tomatoes. Furthermore, it's a bit heavier on the calories because of the raspberry walnut vinaigrette it's made with.
Note: Since The Melting Pot doesn't have an official nutrition guide, we have gathered this data from online aggregator websites. There might be slight variations in actual values, but the information given here is fairly accurate in our opinion.
RELATED: Low-Carb Options at Skyline Chili
Takeaway
The Melting Pot is typically a Fondue restaurant. However, it has a couple of keto-friendly meals and is quite a decent place to eat.
The Fondue dishes are pretty spectacular, with the Fiesta Cheese Fondue, Cheddar Cheese Fondue, and Traditional Swiss Cheese Fondue being well under 15 grams of carbs. Nonetheless, you can also have other options with some smart portion control (only if you've got that self-control!)
Finally, as aforementioned, it would be best to stick to the typical low-carb options on the dish. So, with the information in this article, you can pretty much make a good ordering decision at The Melting Pot.