Which Wich is a popular American restaurant known for its scrumptious sandwiches and fresh salads. Each sandwich is handcrafted with the freshest ingredients to make every bite as satisfying as the first!
Whether you're looking for a quick lunch or heading out with a group of friends, Which Wich is the perfect place to grub at.
So what's gluten-free at Which Wich?
Which Wich offers its signature gluten-free bowl-wiches that are essentially sandwiches but without the bread. You can also order these sandwiches in a lettuce wrap instead of bread.
They offer a variety of certified gluten-free meats, toppings, and dressings that you can pick and choose from to conjure a mouth-watering bowlwich of your choice.
Other gluten-free offerings at Which Wich include their creamy ice cream shakes and various fresh green salads.
All gluten-free ingredients at Which Wich are certified by third-party consultants and safe to consume under ideal cross-contamination protocols.
The team at Which Wich practices extreme caution and protocols to avoid cross-contact. However, due to shared kitchen spaces and prep stations, the possibility of contamination is always present.
If you have Celiac disease or severe gluten allergies, you should stay cautious while ordering and reiterate the need for a contamination-free meal. If you're a casual dieter, then Which Wich is the perfect place for you to satisfy your cravings.
This article is going to be an in-depth analysis of the Which Wich menu. We'll be narrowing down all the gluten-free items and ingredients on offer to make the perfect lettuce-wrapped sandwich!
We'll also discuss some handy pointers to avoid contamination and enjoy a risk-free meal.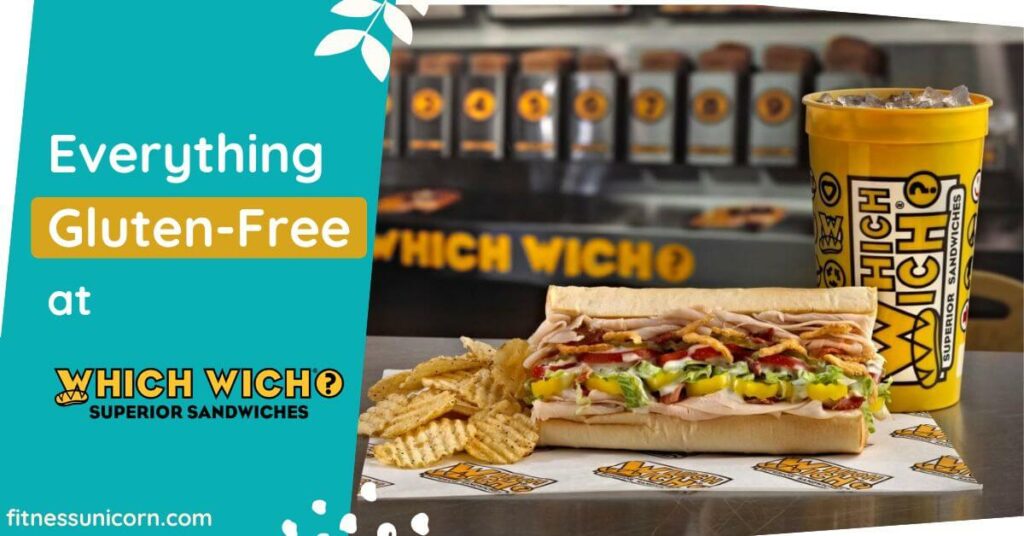 This post may contain affiliate links, which help keep this content free. (Full disclosure)
Gluten-Free Options at Which Wich
Which Wich has expanded to over 500 locations worldwide. This immense success reflects their quality and dedication to serving top-notch food the world over.
Proper protocols and preventive measures are practiced in all Which Wich kitchens to cater to customers with food allergies.
The restaurant boasts an impressive list of certified gluten-free toppings, sides, and shakes that you can use to conjure up a salad or lettuce-wrapped sandwich of your choice.
The options and combinations are limitless if you let your imagination run wild.
However, Which Wich does warn of the possible cross-contact that can occur due to shared kitchen and prep stations. This is due to the presence of gluten in the form of bread that can contaminate every possible gluten-free item.
Even though the team does its best to ensure zero contamination, it is your responsibility to remain cautious and safeguard your health at all costs.
If you have Celiac disease or severe gluten allergies, we advise you to stick to simplicity and reiterate the need for contamination control while preparing your order.
Favorite Sandwiches (Bowl-wich)
Since Which Wich does not offer any gluten-free bread, you can enjoy their delicious offerings in the form of a bowl which you can load up with all your favorite toppings, meats, cheeses, and dressings to make the perfect 'Bowl-wich.'
You can also order the sandwich lettuce wrapped since Which Wich is known for making a fantastic lettuce wrap sandwich.
Wicked
Grinder
Za'Wich
Cali Club
Reuben Wich
Buffalo Chicken
Philly Cheesesteak
Ultimate BLT
Chzbgr Wich
Club Wich
Garden Party
RECOMMMENDED: Texas De Brazil Gluten Free Options
Build Your Own Sandwiches (Bowl-wich)
If you're not enticed by any of the signature sandwiches on offer, you can also build your own by choosing all of your favorite toppings to conjure up a bowl-wich of your dreams. There are plenty of gluten-free options to choose from!
Meats
Turkey
Ham
Roast Beef
Chicken
Tuna Salad
Bacon
Steak
Corned Beef
Avocado
Toppings
Avocado
Lettuce
Tomatoes
Red Onions
Cucumbers
Bell Peppers
Pickles
Hot Pepper Mix
Caramelized Onions
Banana Peppers
Black Olives
Jalapenos
Cheeses
Cheddar
Provolone
Pepper Jack
Swiss
Dressings
Mayo
Mustard
Deli Mustard
Honey Mustard
White Sauce Pesto
1000 Island
Ranch
Oil
ALSO READ: Everything Gluten-Free at Smashburger
Salads
Using all the delicious fresh toppings mentioned above, you can come up with a tasty salad combination to enjoy. Remember to remind the staff to use clean utensils to assemble your healthy salad.
Sides & Shakes
Which Wich offers some decadent thick ice cream shakes that would go perfectly with your meal. They also have some snacking options that can be ordered on the side or to appease the kids.
Hershey Chocolate Shake
Strawberry Shake
French Fries
Wich Fries
Handy Tips for a Gluten-Free Meal at Which Wich
Which Wich boasts a detailed gluten-free menu and allergen guide but due to the lack of dedicated kitchen space, they can't guarantee a certified gluten-free meal.
Even though they practice adequate contamination control, there is still a chance of cross-contact.
We've put together a few handy tips to help curb contamination and ensure a meal that is safe for consumption.
Type of Eatery
Conducting a bit of research prior to visiting any restaurant will help you gauge how
allergy-friendly a restaurant is. Restaurants provide full menus and allergen guides on their website that will help you assess their contamination protocols and ingredient profiles.
Some of the main points you should look out for are;
Do they have a gluten-free menu?
What kind of cuisine is being served? Some cuisines incorporate more gluten-containing ingredients than others.
How strict are the cross-contamination measures?
Is the team adequately trained to handle customers with allergies?
Are there dedicated prep surfaces and utensils for gluten-free meal prep?
If a restaurant checks out on these assessment parameters, only then should you consider visiting.
Communicate your Concerns
If you have Celiac disease or severe gluten allergies, you should always inform the manager before ordering. This helps the team understand the severity of your condition and why it is vital to ensure a meal free of gluten contamination.
The team at Which Wich is courteous and makes sure to follow all necessary protocols while assembling your sandwich.
Bread Out, Greens In
A general rule of thumb is to swap out bread with lettuce wraps when a sandwich place doesn't offer gluten-free bread.
You can request the server to assemble your sandwich in a lettuce wrap or have all the toppings in a bowl and enjoy it as a salad to make the meal gluten-free.
You can ask the server to follow several other precautions to further reduce contamination risk.
Ask a single server to assemble your meal from start to finish
Request the server to put on a fresh pair of gloves before prepping your order
Ask the server to clean and disinfect the prep surface before prepping your order
Ask the server to use clean utensils to fetch your ingredients
Ask the server to fetch ingredients from a fresh tub to ensure there hasn't been any contamination
Request the server to assemble your sandwich first if you're with a large group of people
These precautions will reduce the risk of cross-contact significantly if appropriately followed.
When in Doubt, Throw it Out
If you're unsure about a particular ingredient or dish, it is better to avoid it. Only order from items you are certain of because your health is not worth taking the risk.
If you're a Celiac, even minute amounts of gluten could flare up your condition; hence it is essential to only consume items that are certified gluten-free.
Avoid Rush Hours
Rush hours mean the influx of customers is greater than usual. This means more orders that could lead to mistakes and possible contamination.
Someone could forget to clean the prep surface before prepping your meal which could be disastrous for your health. Therefore, visiting a restaurant during off-peak hours is better when the servers can pay more attention to your order.
Cross Contamination Risk at Which Wich
If you're a Celiac, you must be familiar with the term cross-contamination. It occurs when gluten-free food items are compromised through contact with gluten via contaminated utensils, surfaces, gloves, pans, and other food items.
This is why restaurants need strict contamination measures and dedicated spaces to ensure the safety of their customers with food allergies.
Which Wich has adequate protocols in place to prevent contamination; the staff is well trained and puts on fresh gloves before every order, and uses clean utensils to scoop out ingredients while ensuring not to mix up anything that could lead to contamination.
The customers' safety is a priority at Which Wich, and they stand by it.
However, due to the shared prep stations at Which Wich, there is always a risk of cross-contact that could possibly harm people with gluten allergies.
This is why the restaurant cannot guarantee a gluten-free meal even though they make every effort to avoid contamination.
We hope in the future, Which Wich will set up dedicated prep stations that will allow them to prepare 100% gluten-free meals.
If you're a Celiac, practice extreme caution while ordering and reiterate your need for strict contamination control.
What is the Public Saying?
A vital part of judging a restaurant for its gluten-friendliness is public opinion.
We went through numerous reviews on the internet by Celiacs and people with gluten allergies to see how well Which Wich does to ensure customer satisfaction.
Most reviews were positive and indicative of the standards at Which Wich. Many people, including Celiacs, were delighted with the bowl-wiches and lettuce-wrapped sandwiches that didn't make them sick afterward.
Moreover, people were pleased with the attitude and performance of the staff that took good care to ensure there was no contamination.
However, there were some negative reviews where customers were displeased by the fact that there was no gluten-free bread on offer.
Overall, the reviews indicated that it was an excellent place to eat if you're on a gluten-free diet; just remember to stay vigilant if you have Celiac disease.
Gluten-Free Alternatives to Which Wich
Which Wich has a fantastic gluten-free menu, but no sandwich experience is truly complete without bread. Since Which Wich doesn't offer any gluten-free bread, here are a few amazing alternatives that do.
Give these a try if you're on the hunt for good gluten-friendly sandwich places.
Jasons Deli
Jasons Deli is a casual delicatessen that specializes in deli sandwiches while putting in extra effort to cater to people with food allergies.
The restaurant boasts an expansive gluten-free menu with some mouth-watering offerings that are enough to satisfy anyone's cravings.
You can build your own salads and sandwiches using their fresh ingredients and specialty gluten-free bread.
Soups – Tomato Basil, Organic Garden Vegetable
Salads – Mesa Chicken, The Big Chef, Chicken Club
Salad Dressings
Build Your Own Salads
Build Your Own Sandwich (gluten-free bread or no bread)
Potatoes – CB Ranch Potato, Plain Jane, Pollo Mexicano Potato, Texas Style
Sides
Desserts
Subway
We all know and love subway for their delicious submarine sandwiches and unlimited flavor combinations on offer. The restaurant chain recently introduced certified gluten-free bread prepared in a dedicated facility.
This allows customers with gluten allergies to have the full subway experience.
Most of the subway menu is gluten-free; the only items you'll have to stay away from are;
Meatballs & Marinara
Chicken Teriyaki
Regular Bread Options
Cookies
Firehouse Subs
Firehouse Subs is another popular chain specializing in submarine sandwiches.
They boast a wide range of gluten-free meats, toppings, cheeses, dressings, and condiments to load up your sub with and have an unforgettable gastronomic experience.
All this is made possible with their signature gluten-free ciabatta roll that allows you to devour their mouth-watering sandwiches.
The restaurant has a detailed allergen guide that boasts other gluten-free items for you to enjoy as well.
Gluten-Free Subs
Chopped Salads
Salad Dressings
Soups
Chips