A delicious sandwich is always a treat to your taste buds. Which Wich Superior Sandwiches delivers mouth-watering sandwiches and salads every day. But if you are on keto, the mere thought of a sandwich (especially the bread!) can be really overwhelming. So what's keto-friendly at Which Wich?
You can convert any sandwich into a Bowlwich (salad) and save up on the carbs. Or you can also swap out the bread with a lettuce wrap instead. Which Wich has plenty of low-carb meat, cheese, dressings, and toppings and you can fully customize your bowl the way you like.
Even though this restaurant is famous for its sandwiches, their salad bowls are equally delightful! You've got to be picky with the toppings and ingredients to stay within your daily carb allowance.
In this article, you'll find EVERYTHING that is keto at Which Wich! I'll share with you the best low-carb options as well as the strategies to minimize your carb intake at this sandwich place.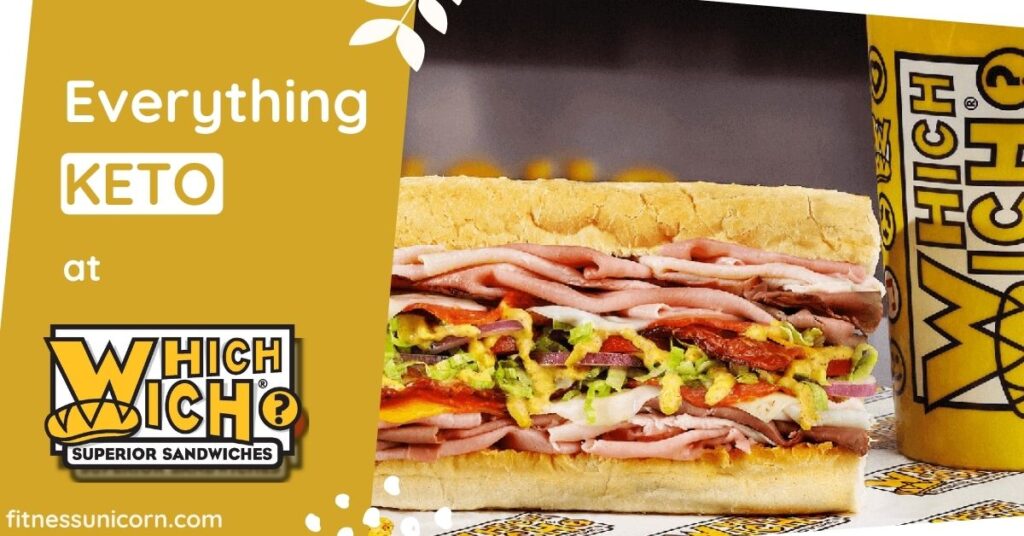 Tired of searching whether certain foods are keto? Download my keto cheat sheet with 210+ keto-friendly foods!
This post may contain affiliate links, which help keep this content free. (Full disclosure)
How to Survive Keto at Which Wich?
Which Wich Superior Sandwiches was founded in 2003. It won't be wrong to call Which Wich one of the fastest-growing fast-food chains. As of 2021, it serves in 431 national and international locations.
The chain is famous for its unique ordering system: They give your markers to mention your choices in their pre-printed menus. You've got complete freedom to choose your own toppings, meat, dressings, and other items (just like Subway). They call their sandwiches "Wiches", and you have over 60 different toppings to choose from (wow!)
Other than the submarine sandwiches, Which Wich also offers fries, cookies, shakes, and various beverages (including the keto-friendly ones!)
Most dieters avoid eating outside when they are on a low-carb diet because it's pretty tough to count carbs and calories. But that's not the case with this submarine restaurant chain! Their website lists out full nutritional information which we have used here to determine the most satisfying keto-friendly options.
Did you know? The bread in a Which Wich sandwich contributes more than 90% of the carbs! If you take out the bread – you're good to go.
Consider this example: A regular "Grinder" sandwich contains 62g of carbs, out of which 55g is coming from the White Baguette alone!
So the smart choice is to have your sandwich as a salad bowl or wrap it up in a lettuce leaf (anything except the bread would do!)
Since a sandwich is called "Wich", guess what they call their salad bowls? Yup, you've got it right! They call it the "Bowlwich"!
A bowlwich is your favorite sandwich minus the white bread. Considering the changing needs of health-conscious consumers, restaurants are gradually rolling out low-carb alternatives in their menu!
At Which Wich, you have two options:
Either pick a pre-set sandwich and have it as a bowlwich/lettuce wrap
Or, build your own bowl by customizing each topping and ingredient (more on this later)
Cheese lovers can try Provolone cheese, parmesan cheese, blue cheese, cheddar cheese, Swiss cheese, and some other keto-friendly variants of cheese. Which Wich's keto-friendly cheese contains only 1-2 grams of carbs and it's perfect for your dietary needs.
Their low-carb meat options include ham, turkey, bacon, beef, and chicken. In fact, most proteins are keto-friendly as long as they are sauce-free.
You just need to learn about the nutritional value of the best low-carb dishes. Thus, you can avoid excess carb intake and still enjoy several keto-friendly foods at Which Wich restaurant. It's a perfect solution for your dietary needs, especially when you can't take the risk of excess carb intake!
RELATED: Low-Carb Options at Skyline Chili
Build Your Own KETO Bowl at Which Wich:
This is where
things get interesting! You have complete freedom to choose your preferred toppings (from a HUGE variety!).
Choose Your Base
The very first step to building your keto bowl at Which Wich is to choose your base.
Below is the net carb count for each base (large size) (source):
Turkey: 3
Ham: 6
Roast Beef: 8
Chicken: 0
Tuna Salad: 0
Bacon: 0
Steak: 4
Corned Beef: 0
Avocado: 2
Black Bean Patty: 24 (AVOID)
PB & J: 65 (AVOID)
As you can see, most proteins have minimum carbs except the last two options, which you aren't allowed on the keto diet.
ELATED: Keto-Friendly Options at TCBY
Add Low-Carb Veggies
Avocado: 1
Lettuce: 1
Tomatoes: 2
Red Onions: 1
Cucumbers: 1
Bell Peppers: 1
Hot Pepper Mix: 2

Caramelized Onions: 4
Crispy Onions Strings: 6
Banana Peppers: 2

Jalapenos: 1
Cheese Options
Cheddar: 1
Provolone: 1
Pepper Jack: 1
Swiss: 1
Dressings & Condiments
Mayo: 0
Mustard: 1
Pickles: 1
Black Olives: 0
Bacon: 0
Deli Mustard: 4
Honey Mustard: 4
Pesto: 0
Ranch: 1
Oil: 0
Vinegar: 0
Salt: 0
Pepper: 1
1000 island and the Wich sauce are the most carb-heavy sauces in their arsenal, raking in 5g and 10g carbs per serving respectively.
Check Out: Sheetz Low-Carb Options
Which Wich Superior Sandwiches Keto-friendly Options:
Now if you don't have time to build your own bowl, simply get a sandwich without the bread.
Here's the ultimate carb guide for all the bowl versions of the sandwiches (given with net carbs for a "large" sandwich):
Wicked: 14
Grinder: 11
Za'Wich: 9
Cali Sub: 12
Reuben Wich: 16
Buffalo Chicken: 13
Meat BALR: 9
Philly Cheesesteak: 12
Ultimate BLT: 6
CHZBGR Wich: 23
Club Wich: 20
Garden Party: 22
There you go! Most of these are well within the keto carb limits. Since you are allowed 20-25g carbs per day, it means a meal within 8g can be considered keto-friendly!
However, you can even have more than that in a single dish, only if you promise to cut back carbs from other meals of the day.
Note: If you are having the sandwich in a lettuce wrap, add another 2g of net carbs to your meal.
Low-Carb Drinks at Which Wich
So you've figured out the perfect way to eat low-carb at Which Wich! Still missing something? How about a low-carb drink to complete your meal?
Whether you just want to quench your thirst or satisfy your sugar cravings with a diet coke, Which Wich has plenty of low-carb beverages to choose from!
Here you go:
Diet Mountain Dew: 0 carbs
Diet Pepsi: 0 carbs
Lipton's Unsweet Tea: 1-3g carbs
Water: Duh!
Tip: Want to enjoy a "sweet" tea without any added carbs? Always keep a pack of liquid stevia with you and flavor your beverages the keto-approved way!
Conclusion
Which Wich is a sandwich place, which means that there's a lot of bread (and carbs). But with the right approach, you can enjoy most of their offerings even on a ketogenic diet!
Have any sandwich in the bowl (aka Bowlwich) and you instantly turn it keto-friendly. Avoid the bread, shakes, cookies, and fries, and you are golden.
Which Wich is committed to serving dieters, vegans, vegetarians, and all sorts of users. Therefore, the menu offers special meals prepared for different kinds of customer base.
Next: Quiznos Low-Carb Options