Bagels make the world go round and round. Of course, who doesn't love the warm, toasted perfection goodness a bagel offers? It's an easy yet filling treat that spoils your taste buds, whether you're in a hurry or looking for a light snack.
If you're looking for a yummy bagel filled with creativity, Einstein Bros. Bagels should be your next stop!
Well, is there anything gluten-free at their place?
Even saying it feels a little hard. Unfortunately, the menu has little to no gluten-free options. All featured bagels and sandwiches contain wheat. But that doesn't mean you can't enjoy at least something.
Other than the gluten-free Broccoli Cheese soup, there are also a few sides you can treat yourself with. Let's get into those in a while.
Bagels on the menu are naturally gluten-rich. Thus, due to the nature of its items, this place may not be the best option for people with extreme gluten sensitivity or celiac disease. In fact, Einstein Bros. Bagels is pretty honest.
"All items are prepared in common areas and may contain trace amounts of ingredients contained in other products."
Yeah. That should explain why we recommend you steer clear of the place if you experience any of the conditions we mentioned earlier.
We also understand if today's one of those days that you just can't resist the smell of a freshly toasted bagel. If that's the case, make sure to read 'til the end to know your possible options, some helpful tips, and alternatives.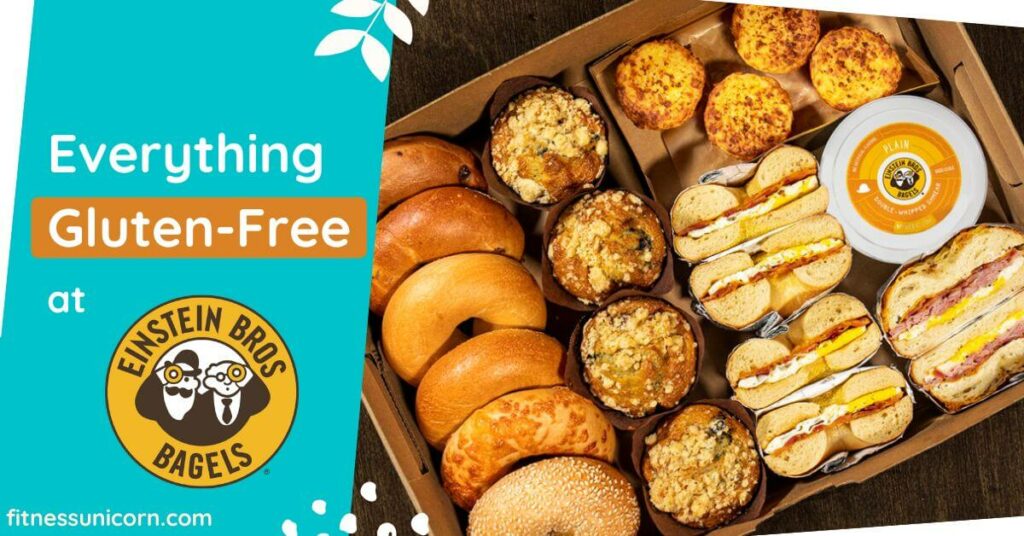 This post may contain affiliate links, which help keep this content free. (Full disclosure)
Einstein Bros. Bagels' Gluten-Free Options
Its current name is actually not how it was originally called. Yup. The place was founded as "Noah's Bagels" in 1989 by Noah Alper. Einstein Bros. later bought the company for $100 million in 1996.
Hence, the name Einstein Bros. Bagels— an American quick-casual restaurant specializing in bagels and coffee.
Things got rough in 2000 for the company. It filed for bankruptcy after loaning out too much to its franchisees.
Luckily, New World Coffee bought it out of bankruptcy for $190 million. In 2014, JAB Holding Company and BDT Capital acquired the Einstein Noah Restaurant Group.
Einstein Bros. Bagels is currently a part of Panera Brands together with Panera Bread and Caribou Coffee.
The company prides itself on bagels that always taste so out-of-the-oven fresh. Although you can't taste one of these treats, let's see what other options you can enjoy at Einstein Bros. Bagels.
Note that this information is from the available Nutrition and Allergen Information online. This was last updated in January 2022. Items in this list do not contain "wheat."
The restaurant does not eliminate the risk of cross-contamination as stated.
Whipped Cream Cheese Shmear
Garden Veggie Reduced Fat
Honey Almond Reduced Fat
Jalapeno Salsa Reduced Fat
Maple Reduced Fat
Onion and Chive
Plain
Plain Reduced Fat
Smoked Salmon
Strawberry Reduced Fat
Craft Whipped Shmear
Spreads
Butter
Honey
Natural Peanut Butter
Natural strawberry jelly
Peanut butter and jelly
YOU MAY ALSO LIKE: Tim Hortons gluten-free Menu
Cheese
American
Cheddar
Mozzarella
Swiss
Meat
Bacon
Chorizo
Ham (Breakfast and Lunch)
Lox
Pepperoni
Turkey (Lunch and Sausage Patty)
Sauces
Chipotle Salsa
Mayo
Mustard, Spicy Brown Deli
Roasted Tomato Spread
Salsa Verde
Veggies
Avocado
Capers
Cucumber
Leaf Lettuce
Red Onion
Spinach
Pickle Spear
Tomato
Sides
Barbecue or Original Kettle Chips
Fruit Cup
Twice Baked Hashbrown
Soup
FIND MORE: First Watch's Gluten-Free Options
Tips for a Gluten-Free Meal at Einstein Bros. Bagels
Talk to Your Server
Einstein Bros. Bagels specializes in bagels, which are naturally gluten-rich due to their wheat content. Thus, the risk of cross-contamination in the kitchen is high.
Einstein Bros. Bagels encourages customers to discuss their needs with the server to fully understand all facts needed before deciding.
Although you can only enjoy small meals like a soup with some sides, it's best to alert your server before ordering.
No to Fried Stuff
Among the options we laid down for you, it seems like the Twice Baked Hash Brown is the only fried item. We recommend to avoid this one since there isn't any information that Einstein Bros.
Bagels has a dedicated fryer for gluten sensitive diners.
Watch Out for Cross-Contamination
The menu features food prepared with ingredients containing all 8 major allergens.
This includes wheat. Regardless of the strictest measures in place, there's still a possibility of food coming into contact with one another or allergens transferring across the kitchen.
Hence, you should keep an eye out for possible gluten contamination. This is very likely, especially in places that aren't gluten-free facilities, such as Einstein Bros. Bagels.
You can politely ask the staff to change their gloves, clean the workplace, and use different equipment when handling your food to ease your worries.
But if the staff is unaware of proper allergy protocols, it might be best for you to follow our next tip.
Consider Other Options
There are obviously not a lot of gluten-free options on the menu. If you think about it, soups won't do the job of satisfying hunger.
To put it in the nicest way possible, Einstein Bros. Bagels isn't the place for a filling meal to get you through the day. So, try considering other alternative places that offer a more inclusive menu.
Cross-Contamination Risk
Einstein Bros. Bagels isn't a dedicated gluten-free facility like most restaurants. So, you might want to lower your expectations about getting a 100% safe, gluten-free meal here.
It can be a hard truth to digest that one wrong move can be the root of all your problems. Thanks to cross-contamination. Even the slightest trace of gluten in the system of a celiac can result in the worst immune responses.
Cross-contamination happens when gluten-free food ingredients come into contact with gluten. This can happen in the most unexpected ways. For instance, imagine if your server forgot to change gloves before handling your meal.
While this seems trivial, it can actually cause the transfer of gluten particles to your food. Hence, your food becomes unsafe.
It becomes a bigger concern for diners with gluten sensitivity since servers are typically unaware of the strong need to follow needed measures. Gluten isn't like bacteria that can be "killed" by traditional methods like heat or disinfection.
It hides in lots of hidden sources, even in cutting boards. That's why eliminating gluten in every step of the food preparation process is necessary to ensure a safe meal.
Places like Einstein Bros. Bagels, obviously, have no decent gluten-free options to save the day. But if you still wish to grab something (at least), be sure to triple-check your order with the server and follow the tips we shared with you earlier.
Or you can eat somewhere else! It's definitely a wise decision to do so. After all, it can be hard to enjoy your meal when your worries are off the roof.
What People are Saying
Did you know that Einstein Bros. Bagels used to carry a gluten-free bagel on the menu?
Yup. Sorry to break your heart. It introduced Eggels in 2020, which are eggs prepared a la sous vide and shaped like a bagel. One of its flavors was the Tree Meat & Cheese, containing bacon, ham, cheddar, and turkey sausage.
The other was a lighter option, Veggie Egg White, with portobello mushrooms, bell peppers, spinach, onions, and tomatoes.
Eggels were a limited-time offer at participating locations across the United States. However, these are likely discontinued as of 2022. We know. How could they?! Voila, there were finally gluten-free bagels. Now, they're gone!
Lots of customers are begging for Einstein Bros. to offer something gluten-free again. Last year, someone said, "It's 2021! How are there still no gluten-free options." This user added that the menu was archaic.
Bad luck. The company has no plans to carry regular gluten-free bagels as of now. It hasn't cracked the code yet for a gluten-free bagel recipe. "Rest assured that we are close," as it says.
Meanwhile, most visitors complain about the lack of gluten-free options. Some users told Einstein Bros. that they were disappointed about not being able to eat anything off the menu.
One user said that it was a need to have a gluten-free bagel.
Unfortunately, there aren't many experiences from gluten-sensitive diners about the restaurant's gluten-free accommodation. This makes sense since there isn't anything gluten-free friendly to eat, anyway.
Let's all hope Einstein Bros. Bagels offers something gluten-free in the future (again!)
Gluten-Free Alternatives to Einstein Bros. Bagel
It's safe to say that there is almost nothing decent for gluten sensitive diners at Einstein Bros. Bagel. If you're looking for something hearty, this should definitely be crossed out from your list.
On a good note, you're free to explore other places offering more gluten-free options. Don't stress out about finding one. We're here to make your life way easier.
Here are some of the best gluten-free alternatives you can go to:
WildFlour Bakery Café
WildFlour will save you from the misery of not being able to get gluten-free bread at Einstein Bros.
This place is entirely gluten-free! Its vast menu features unique, homemade bread fit for gluten sensitive diners. You can have a Sandwich Loaf, Baguette, Pumpernickel, Flatbread, or Challah (every Friday)
Looking for something more unique? Select from six of the special bread choices on the menu. Focaccia, Dinner Rolls, Hoagie Rolls, Bagels (yay!), and Potato or Caramelized Onion Knishes.
Sweet tooths can treat themselves with Sticky Pecan Buns or an Apple Turnover. There's also a great selection of cookies waiting for you at WildFlour. So, make sure to check them out!
Modern Bread & Bagel
This place is a must-stop for anyone living a gluten-free life in NYC! It prides itself on the absolute best gluten-free bagels on the planet!
Everyday flavors of bagels include plain, everything, sesame seed, superseed, and cinnamon raisin. Other bread options include Brioche Buns, Focaccia, Pita Bread, and Pain de mie loaf.
We won't lie. The pastries on the menu look incredible! Such choices are the Double Chocolate Marshmallow Cookies, Pumpkin Bread, Carrot Cake Cupcakes, Black and White Cookies, and Banana Peanut Butter Muffins.
You can check their website to see more options.
Promise to visit them the next time you drop by NYC!
Caribou Coffee
Both Einstein Bros. Bagels and Caribou Coffee are part of Panera Brands. The difference? This one's more gluten-free friendly.
More gluten sensitive diners enjoy tasty breakfast options at Caribou Coffee. There's a Bacon & Gouda Souffle made with cage-free eggs baked with smoked gouda, cream, bacon, and onion jam.
You can also have a Spinach, Artichoke, Egg & Provolone on a gluten-free muffin.
Visitors say that the sandwiches are packed in a sealed packet, so there's less risk of cross-contamination. Nonetheless, Caribou Coffee doesn't completely eliminate this possibility since it isn't a gluten-free facility.
Almost all drinks on the menu are gluten-free. But avoid anything with cookie crumbs! We still recommend asking your server about the available gluten-free beverages since visitors have varying experiences with their orders.