Johnny Rockets is a trendy all-American restaurant renowned for its amazing juicy hamburgers and thick handspun ice cream shakes.
Moreover, the restaurant has a retro vibe to it, with the decor and uniforms set to represent a 50s diner. Johnny Rockets has an expansive menu with exciting gluten-free options to choose from.
So what's gluten-free at Johnny Rockets?
Johnny Rockets features a wide variety of items apart from their signature burgers and handspun ice cream shakes.
The expansive menu boasts a healthy combination of gluten-free items, including breakfast entrees, salads, shakes, burgers, and sides.
The best thing about the Johnny Rockets menu is their gluten-free buns that enable you to enjoy most of their juicy hamburgers. 
At Johnny Rockets, you can craft a custom burger with all your favorite gluten-free toppings; this will allow you to choose everything that goes into the burger, making it the safest option for consumption.
Johnny Rockets is dedicated to serving the freshest food every time you visit. 
Even though Johnny Rockets has some fantastic options free of gluten, they're still not a certified gluten-free restaurant. Their website has a disclaimer mentioning the possible contamination because of the shared prep surfaces.
This increases the risk of cross-contamination; hence, you should stay clear of Johnny Rockets if you have Celiac disease or severe gluten sensitivity.
We'll be dissecting the Johnny Rockets menu to filter out the best possible gluten-free options for you to enjoy.
This article will also provide some informative pointers to help you stick to your diet and ensure safety against cross-contamination.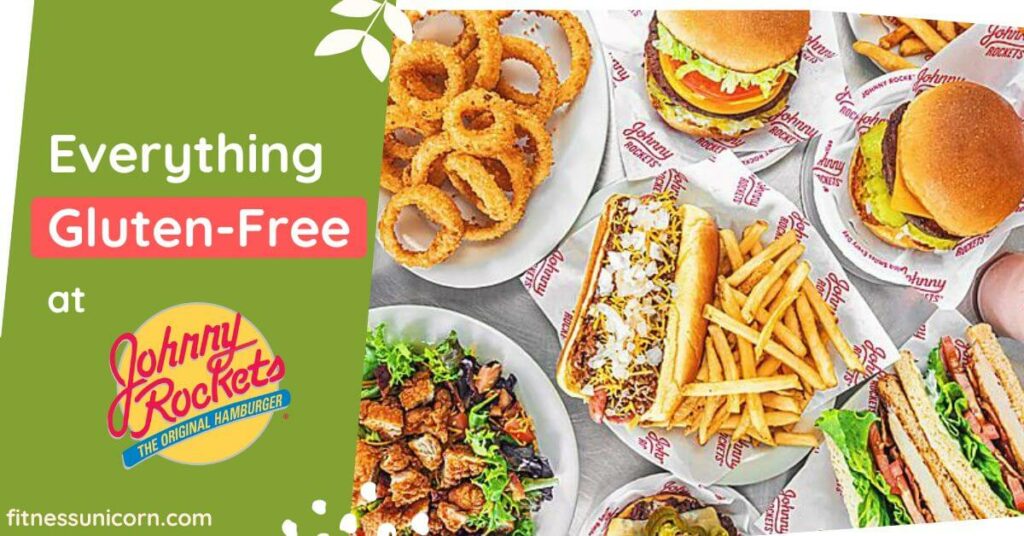 This post may contain affiliate links, which help keep this content free. (Full disclosure)
Gluten-Free Options at Johnny Rockets
Johnny Rockets is a timeless All-American restaurant dedicated to providing its customers with the best possible service, food, and atmosphere.
It is the perfect destination for friends and family to reunite and rejoice over quality hamburgers and thick shakes. 
Founded in 1986, Johnny Rockets has since grown to over 400 locations across 30 countries worldwide. This is a tribute to their passion and dedication to the industry.
Since its conception, the menu at Johnny Rockets has evolved to include much more than their signature burger and shakes. 
The extensive menu at Johnny Rockets now includes their breakfast items, sandwiches, desserts, and much more!
Their recently introduced gluten-free buns are a game-changer; they enable you to enjoy the variety of burgers and sandwiches on the menu without risking your health!
It is designed to be more flexible with various options for people with dietary restrictions.
After going through the detailed allergen list on the Johnny Rockets website, we've compiled a list of gluten-free options on the menu that you can enjoy on your next visit.
All the following items are gluten-free if adequate cross-contamination measures are in place. 
Disclaimer: Johnny Rockets has explicitly mentioned that they share prep stations and are not a certified gluten-free restaurant.
Burgers
Johnny Rockets is all about the juicy grilled burgers that put it on the map. It still uses its original recipe, and the burgers are a must-try. With the introduction of their gluten-free Udi's bun, you can try almost any burger on the menu.
If you don't want the gluten-free bun, you can always have your burger wrapped in lettuce. 
Here are some of the most popular burgers you can try, these burgers come with an option of single or double beef patties.
The Original
Bacon Cheddar
The Rocket
Smoke House (exclude the onion rings)
Spicy Houston
Route 66
Create Your Own – You can choose all the fixings of your choice to conjure up the gluten-free burger of your dreams.
Handspun Shakes
There is nothing like a thick ice cream shake from Johnny Rockets. These amazing shakes satisfy your sweet cravings on a hot summer's day. Get the shakes without malt powder to ensure they're gluten-free.
Ask the server to use a clean blender to prepare your shakes. 
Chocolate Shake
Vanilla Shake
Strawberry Shake
Banana Shake
Chocolate Banana Shake
Chocolate Peanut Butter Shake
Maple Bacon Shake
Peanut Butter Shake
Soft Serve Chocolate Strawberry Kiss Shake
Strawberry Banana Shake
Sandwiches & Rocket Dogs
You can get the sandwiches and rocket dogs at Johnny Rockets in a lettuce wrap to make them gluten-free.
Classic Rocket Dog
Philly Cheese Steak
Grilled Chicken Breast
BLT
Starters & Sides
The gluten-free sides at Johnny Rockets are only safe for consumption if they've been prepared in a separate fryer with clean oil to eliminate contamination.
Bacon Cheese Fries & Tots
Cheese Fries & Tots
Regular Fries
Salads
You can enjoy a healthy gluten-free salad at Johnny Rockets if you don't feel like grubbing out on some heavy burgers.
Grilled Chicken Club Salad
Garden Salad
Salad Dressings – Ranch, Honey Mustard, Bleu Cheese, Balsamic Vinaigrette, 1000 Island, and Fat-free Italian.
Practical Tips for a Gluten-Free Meal at Johnny Rockets
The Johnny Rockets website has a detailed allergen guide that even includes gluten. This will help you choose the perfect gluten-free meal without any added hassle.
The only drawback is that Johnny Rockets doesn't have dedicated prep stations for their gluten-free dishes; this opens the door for contaminants that can trigger gluten allergies. 
We'll be providing a few practical tips that will help you navigate your way through the menu and limit the chances of cross-contamination. These tips will be helpful at Johnny Rockets and other eateries.
Type of Restaurant
It's important you thoroughly research a restaurant before you visit. You can get valuable information about the eatery on the internet.
The main aspects you should know about any restaurant that will help you gauge just how allergy-friendly a restaurant is are;
What kind of food do they serve?
Do they have a gluten-free menu?
Is the staff well-trained and knowledgeable about food allergies?
Are they accommodating towards customers with special dietary needs?
Do they have stringent cross-contamination protocols?
Johnny Rockets has a detailed allergen list and knowledgeable and well-equipped staff to handle allergies. The only drawback is the unavailability of dedicated prep stations.
This increases the risk of cross-contamination; therefore, if you have Celiac disease or severe gluten sensitivity, it is wise to steer clear of Johnny Rockets. 
Communicate
Communication is always crucial whenever you're at a restaurant. Always start by informing the manager and wait staff about your allergy or disorder.
This lets them understand the severity of your condition and the importance of serving a gluten-free meal to you. 
At Johnny Rockets, the staff is aware of food allergies and follows adequate precautions to ensure your safety. The servers change gloves and clean the surfaces before prepping every order.
Follow Precautions
To stress the importance of cross-contamination protocols, you'll have to ask the staff to follow a few precautions to further reduce contamination risk.
Request for a single chef to prep your meal from start to finish. 
Request the chef to disinfect and clean the prep surface before starting your order. 
Ask the chef to clean their hands and put on a fresh pair of gloves before prepping your order. 
Request that the ingredients for your order be fetched from a new batch to reduce the risk of contamination further.
Remember to ask for gluten-free buns or lettuce wraps when ordering a burger or sandwich. 
If you're with a group of friends, ask for your order to be prepped before theirs since the prep surfaces are shared. 
Keep it Simple
Stick with simple dishes with the least amount of ingredients and the possibility of contamination. Complex and intricate dishes contain loads of ingredients that might contain hidden gluten.
The simpler the dish is, the lower the risk of contamination. 
If in Doubt, Throw it Out
It's better to skip or avoid a dish altogether if you're unsure about a certain ingredient or suspect possible contamination.
You should only consume items you're sure of since nothing is worth risking your health, especially if you have severe gluten sensitivity. 
Avoid Rush
A vigilant and attentive staff is paramount if you want an excellent gluten-free meal anywhere. During rush hours, the staff is pushed for time, and a possible lapse in concentration or confusion can lead to contamination.
Hence, it is best to visit any eatery during off-peak hours to have the best possible experience. 
Risk of Cross-Contamination at Johnny Rockets
Cross-contamination occurs when gluten-free food items come into direct or indirect contact with gluten. This happens through contaminated utensils, gloves, prep surfaces, and food.
This might be a Celiac's worst nightmare, a seemingly harmless gluten-free dish contaminated with gluten. Therefore, stringent cross-contamination protocols are paramount at any eatery to ensure customers' safety. 
At Johnny Rockets, the staff is knowledgeable and takes utmost caution while prepping your order. But, there are no dedicated prep stations for gluten-free items, making eating out at Johnny Rockets a little risky if you're a Celiac.
Hence, it is advised to stay cautious and ensure the staff follows adequate measures for your safety. Fast-food restaurants generally have a bad rep for being not-so allergy-friendly.
Hence, beware of all the possible risks before visiting Johnny Rockets. 
If you have severe gluten sensitivity or Celiac disease, you should steer clear of Johnny Rockets. No restaurant if worth risking your health over.
The Peoples Verdict
We conducted extensive research to find reviews on Johnny Rockets from the Celiac and gluten-sensitive community. All the reviews were sourced from the internet and reflect the general public's views and experience.
After reviewing the reviews, we noticed that the gluten-free experience greatly varies from branch to branch.
The majority of reviews were still cheerful and commended the knowledgeable staff, the availability of gluten-free buns, the surfaces cleaned before each order, and the team greatly respected the customer's needs.
Moreover, even some Celiacs had a pleasant experience at Johnny Rockets and did not get sick.
On the flip side, the negative reviews mentioned the unavailability of gluten-free buns, the lack of dedicated prep surfaces, a lack of separate fryers, and staff that wasn't so knowledgeable about allergies.
Some locations had overwhelmingly good reviews, while some had bad. So, it depends on your location. The reviews indicate that Johnny Rockets has the potential to serve you a fantastic gluten-free meal that won't get you sick.
Gluten-Free Alternatives to Johnny Rockets
If you want to change things up, here are a few gluten-free alternates to Johnny Rockets that are just as good.
Arby's
Arby's is a popular fast-food chain that features some delicious gluten-free options. The only thing you need to do is to as the servers to swap out the buns for a lettuce wrap.
Remember, strict cross-contamination protocols are necessary for a hassle-free experience. 
A selection of meats – Angus Beef, Corned Beef, Pepper Bacon, Roast Beef
Chopped Salads
Breakfast – Bacon, Sausage Patty, Scrambled Egg Patty
Shakes – Vanilla, Chocolate, and Jamocha
A selection of condiments and dipping sauces
Chick-Fil-A
Chick-Fil-A is the perfect place if you're looking for a sumptuous gluten-free chicken sandwich. They've recently introduced gluten-free buns that enable you to enjoy sandwiches without fearing for your health.
On top of that, they follow strict protocols to avoid contamination. 
Grilled Chicken Sandwiches (gluten-free buns or lettuce wraps)
Grilled Chicken Nuggets
Selection of Salads
Waffle Fries
Various Sauces – Chick-Fil-A sauce, BBQ, Honey Mustard, Buffalo Sauce, Ranch
Shake Shack
Shake Shack is an immensely popular international burger chain. It offers gluten-free buns, which means you can enjoy its signature beef burgers and hotdogs without risking your health.
The best part is that Shake Shack has adequate measures to prevent contamination to ensure customer safety and satisfaction. 
Burgers & Hotdogs (gluten-free buns or lettuce wraps)
Signature Milkshakes