The best way to say good morning to your body is to eat a hearty breakfast. And it's true! Why else would they say breakfast is the most important meal?
As such, eating champ dishes at restaurants like First Watch can be a game changer to start your day.
Does First Watch have anything gluten-free?
Thankfully, the menu features quite a lot of gluten-free options to get you through the early morning!
For breakfast, the meal First Watch is most loved for, you can have a Chile Chorizo Omelet or The Traditional Breakfast of your choice.
There are many omelets and other dishes to choose from, ranging from Parma Hash to Quinoa Bowls. All you need is a little bit of creativity and patience in tweaking your meal.
We know you're getting curious. You'll learn about the available options in a while.
As a casual dining place specializing in breakfast and lunch meals, the ingredients used may contain at least one of the 12 identified allergens. This includes wheat and gluten. Thus, the risk of cross-contamination in the kitchen can be sky high.
First Watch does not eliminate this possibility, as stated in its Nutrition Guide. "Be aware that there may still be a chance for cross-contact on shared surfaces."
It's normal to think twice about going there, especially after realizing the risk of gluten contamination in the kitchen.
Although… the smell of freshly prepared Avocado toast can be hard to resist. Yup. So true. To reduce your worries, we'll give you some tips for a safe experience at First Watch and other alternatives to consider.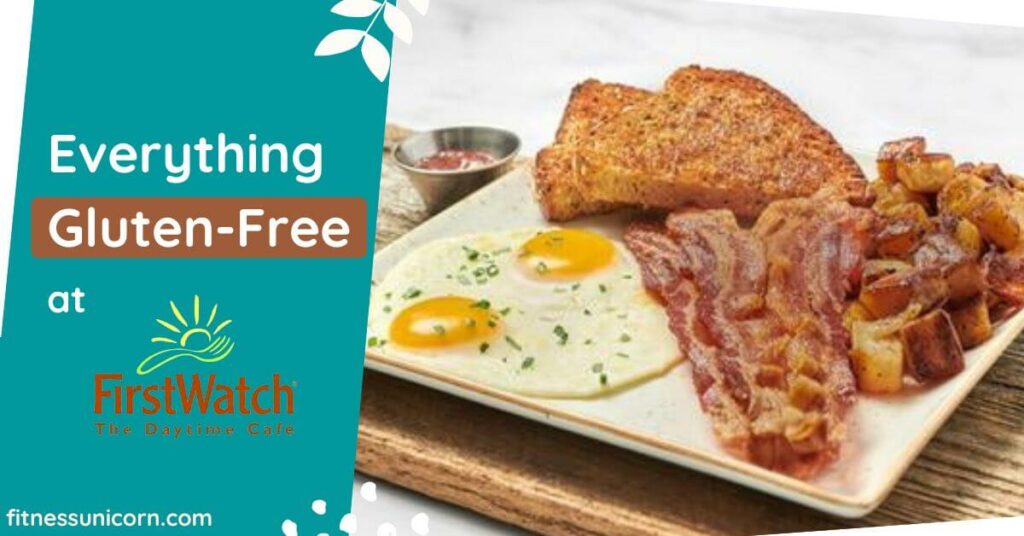 This post may contain affiliate links, which help keep this content free. (Full disclosure)
First Watch's Gluten-Free Options
Ever wondered what "First Watch" really means? Don't worry. You're not the only one. First Watch is actually a nautical reference to the very first shift of the day. That explains why its locations are only open from 7 AM to 2:30 PM.
Its first location opened in 1983 in Pacific Grove, California. John Sullivan and Ken Pendery founded First Watch after leaving Le Peep in Colorado.
Three years later, its headquarters were moved to Bradenton, Florida. In 2017, Advent International acquired First Watch from Freeman Spogli & Co.
First Watch has been commended many times for its menu and service. In 2012, it ranked as the Best Breakfast Chain after earning top ratings in service, value, taste, and menu choices.
Last year, it was recognized as the Full Service Restaurant Magazine's Best Menu and fastest-growing full-service restaurant chain based on unit growth.
It goes without saying that First Watch is really dedicated to creating the best platters for its customers. Without further ado, let's get into the available gluten-free options at First Watch.
Note that these items do not contain "Wheat" and "Gluten" as specified in First Watch's Allergen Guide.
Summer 2022 Menu
Watermelon Wake Up
Hacienda Hash
Queso Blanco Benedict
Classic Favorites
The Traditional Breakfast – ask for gluten-free bread (if available) Otherwise, do not get it with the toast. Substitutions available include:
Cage-Free Whole Eggs
Egg Whites
Bacon
Chicken Sausage
Smoked Ham
Pork Sausage
Turkey Sausage
Fresh, Seasoned Potatoes with Onions
RECOMMENDED: Are Round Table's Pizzas Gluten-Free?
Tri-Fecta
Two fresh cage-free eggs cooked in your preferred style. Order without the Belgian waffle or multigrain pancake. Substitutions available include:
Bacon
Chicken Sausage
Pork Sausage
Turkey Sausage
Cage-Free Whole Eggs
Egg Whites
Power Bowls
Power Breakfast Quinoa Bowl
Pesto Chicken Quinoa Bowl
The Healthy Side
Ask for Udi's Gluten-Free Toast instead of the Whole Grain Artisan Toast.
Avocado Toast
Healthy Turkey.
Tri-Athlete
Egg-sclusives
Ask for Udi's Gluten-Free Toast instead of the Whole Grain Artisan Toast or Toasted Ciabatta.
Farmhouse Skillet Hash
Market Skillet Hash
Classic Benedict
Elevated Egg Sandwich
Parma Hash
Omelets and Frittatas
Ask for Udi's Gluten-Free Toast instead of the Whole Grain Artisan Toast or Toasted Ciabatta.
Bacado Omelet
Ham and Gruyere Omelet
Chile Chorizo Omelet
Morning Market Veg Omelet
Inspired Italian Omelet
The Works Omelet
Frittata Rustica
Smoked Salmon & Roasted Veggie Frittata
Salads
Do not order with Ciabatta.
Super Food Kale Salad
Chicken Avocado Chop Salad
Cobb Salad
Sweet Honey Pecan Salad
YOU MAY ALSO LIKE: Einstein Bros. Bagels' Gluten-Free Options
Soups
Order without the crackers.
Sides and Small Plates
Buttered Grits
Cheesy Grits
Seasonal Fruit, Fresh
Seasoned Potatoes with Onions, Fresh
Gluten-Free Toast with Preserves (No Butter)
Hardwood Smoked Bacon
Smoked Ham
Pork Sausage Links
Savory Chicken Sausage Patties
Turkey Sausage Links
Lemon Dressed Organic Mixed Greens
Million Dollar Bacon
Beverages
Project Sunrise Coffee
Cold Brew Coffee
Iced Coffee
Herbal Tea
Fresh-brewed Iced Tea (Sweetened, Unsweetened, Seasonal Blackberry)
Hot Chocolate
Low-fat Milk
Soft Drinks
100% Cold Squeezed Orange Juice
Grapefruit, Apple, or Cranberry Juice
Juice Bar
Morning Meditation
Kale Tonic
Add Immunity Boost
Bar Signature Cocktails
Cinnamon Toast Cereal Milk
Morning Glory
Pomegranate Sunrise
Vodka Kale Tonic
Bourbon Blackberry Palmer
Bar – Brunch Classics
Bakery Treats
Brown Butter and Sea Salt Chewy Marshmallow Bar
Gluten-Free Honduran Chocolate Brownie
Tips for a Gluten-Free Meal at First Watch
Always Get the Gluten-Free Bread
Almost all dishes come with a Whole Grain Artisan Toast or a toasted Ciabatta. Both of which, of course, are rich in gluten.
No worries. You can still enjoy your meal! There are two options to do so: get the Udi's Gluten-Free Toast or ditch the toast completely.
However, most customers opted for the second option due to the risk of cross-contamination in a shared pan or toaster. It's up to you now to decide if getting the gluten-free toast is worth a shot or not.
No Toasted Bread, Please!
We'll give First Watch two thumbs-up for offering gluten-free bread.
But we advise you to ask the server to leave your bread as is, without toasting it. Most locations seem to have no dedicated toaster, which increases the risk of gluten contamination.
Well, this defeats the purpose of having an alternative gluten-free bread.
Inform the Staff
First Watch advises customers to inform the server or manager before ordering if someone in the bunch has a food allergy.
Some visitors had a positive response after informing the server of their condition. Unfortunately, other visitors still got a gluten reaction due to the staff's lack of urgency and knowledge about gluten-free meal preparation.
Regardless, informing the staff is highly recommended before they could jot down your order. Let them know of your dietary requests and other restrictions to trigger strict measures.
Be Wary of the Sandwiches
Unlike its salads, First Watch hasn't really stated if the dressings used for its sandwiches contain gluten.
While you can always dodge the gluten-rich bread, it's best not to order any of the sandwiches at First Watch to be sure. If possible, ask the server about the dressing used for your preferred sandwich before ordering.
Cross-Contamination Risk
It can always feel like a gamble to order breakfast anywhere. Sure, you can ditch the bread for most places.
However, there's still the lurking risk of cross-contamination when the usual bread shares the same cooking surface as your gluten-free food.
Yup. Cross-contamination is always the culprit that hinders you from fully enjoying your food. It occurs as gluten particles from a gluten-rich item transfer to gluten-free food. As a result, your food becomes unsafe. Not fit for consumption.
Most servers fail to realize the danger of cross-contamination for gluten sensitive diners. For a celiac, even the slightest touch of gluten in their system can translate to awful symptoms.
Other gluten sensitive diners can experience unwanted things like an upset stomach.
If you think cleaning "kills" gluten, you're wrong. Cleaning can only eliminate existing particles on kitchen surfaces since gluten is a protein that can't be killed, unlike bacteria.
Using separate equipment like fryers and toasters is recommended to prevent cross-contamination.
The risk of gluten contamination across foods in the kitchen is way higher in fast-casual places like First Watch, which aren't 100% gluten-free.
While there are ways to tweak your meal to be gluten-free, these measures can only do so much to completely avoid health risks.
Before dining, make sure to reiterate your preference twice (or even thrice!) to ensure your safety. You can also consider driving past First Watch to completely dodge the risk.
What People are Saying
Isn't it comforting to hear the insights of fellow gluten-sensitive diners?
This article is all in one package. So, we also collected reviews online based on personal opinions and interviews to save you some time from searching across tons of websites. (You're welcome!)
Visitors have a common complaint about the shared toaster. This makes having a gluten-free toast option useless.
One celiac visitor shared that the staff was honest about not having a dedicated toaster, so her bread wasn't toasted to avoid cross-contamination.
Some users recommend future visitors to let the server know of their preferences. One celiac visitor asked the server to cook his food on a dedicated surface using separate equipment, to which the staff responded positively.
Unfortunately, other visitors shared bad experiences about getting sick due to their contaminated food. One visitor shared that her celiac son got "immediately ill" because the food wasn't safely prepared, despite the separate menu.
One celiac customer shared that he had gotten sick each time he ate at First Watch. So, that was about three times.
Of course, there are still good reviews! Top favorites include the power bowls and Traditional Breakfast choices. Staff at selected locations also seem knowledgeable of proper protocol for the safety of gluten sensitive diners.
Gluten-Free Alternatives to First Watch
As promised, here are the best alternative places to go to if First Watch isn't your thing. Consider this as a thank you gift for sticking 'til the end!
Cracker Barrel
It's one of the places you can go to after driving past First Watch.
Cracker Barrel specializes in Southern-themed food that your whole bunch can enjoy. Gluten-free breakfast options include Hickory-Smoked Country Ham, Sugar Cured Ham, Turkey Sausage Patties, Egg Whites, and Seasonal Fresh Fruit.
For lunch, you can get the Country House Salad with Grilled Chicken along with a side of Pinto Beans or Loaded Baked Potato.
You won't easily run out of options at Cracker Barrel!
Golden Corral
If you're looking for a filling meal to get you through the day, Golden Corral is the place for you. Most gluten-free options are meat, which you can complete with a selection of tasty sides.
For breakfast, enjoy a Hashbrown Casserole with a bowl of Frosted Flakes Cereal or Cheese Grits.
You can also get a Slow Smoked Sirloin, Chicken Strips or Wings, Carved Turkey, BBQ Chicken, or Smothered Grilled Chicken with sides like Creamed Spinach, Mexican Rice, or Mashed Potatoes.
You can check out more gluten-free options on Golden Corral's website.
Panera Bread
Panera Bread prides itself on food you can feel good about.
Gluten-free items include many healthy options such as Greek Salad, Fuji Apple Salad with Chicken, Caesar Salad, and Seasonal Greens Salad which you can drizzle with dressings like Caesar, BBQ Ranch, Greek… and more.