Tim Hortons is a fast-food restaurant chain with an expansive menu featuring a variety of baked goods as well as hot and cold beverages. On their menu, they have items such as donuts, muffins, croissants, etc.
But does Tim Hortons have anything gluten-free?
Surprisingly, even after this much popularity Tim Hortons doesn't have a lot of gluten-free options. Let alone have a dedicated gluten-free menu.
They don't classify any of their items to be gluten-free. But you can spot a few gluten-friendly options on their allergen chart.
However, if you've celiac disease or have a high intolerance to gluten, my advice would be to not eat at Tim Hortons. It's because most of their items are made of wheat that can easily cross-contaminate the non-gluten items.
But, if you avoid gluten for other reasons, here are some tips and gluten-free options to order at Tim Hortons.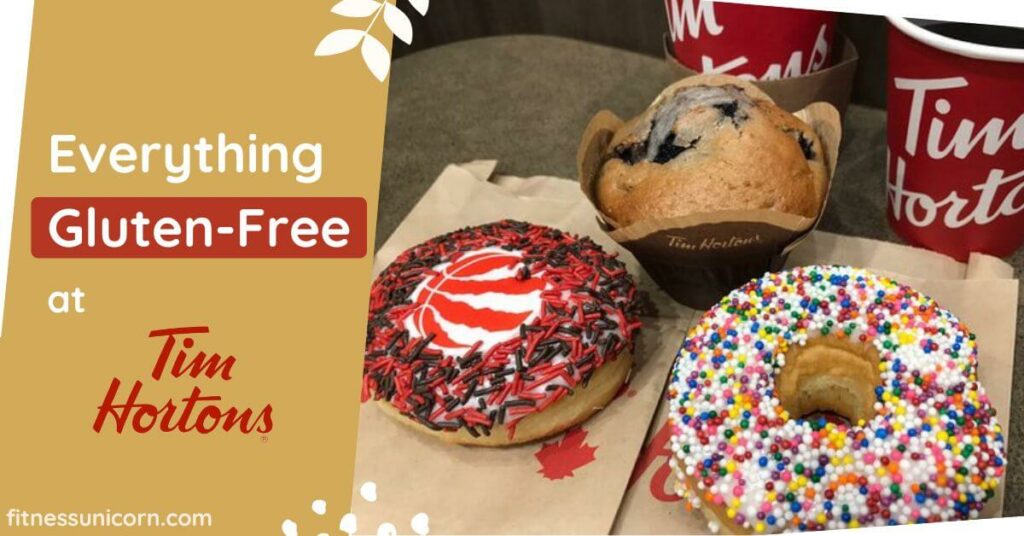 This post may contain affiliate links, which help keep this content free. (Full disclosure)
Tim Hortons gluten-free menu
Tim Hortons' main menu features hot and cold tea, coffee, bagels, donuts, Timbits, and muffins. Apart from that, they also have breakfast goods such as burgers, sandwiches, wraps, etc.
Donuts are one of the popular items on Tim Hortons menu. Their donuts are baked and slightly denser than the ones you'd find elsewhere.
These donuts come in flavors such as honey-dipped, chocolate glazed, Honey cruller, plain donuts, and so on.
Another popular dish on Tim Hortons menu is Timbits. These are nothing but donut holes. These are available in flavors such as cream chocolate, white fudge, chocolate chip, etc.
Tim Hortons has a wide selection of hot and cold beverages that are primarily different variations of tea and coffee. Iced Capp is one of their popular beverages.
If you're looking for gluten-free options at Tim Hortons, their beverage section has plenty of them.
Tim Hortons doesn't classify their beverages to be gluten-free, however, they can be considered as such because they don't contain any ingredient with gluten. They are mostly made up of milk, water, caramel, cream, etc.
There can be a chance of cross-contamination but you can eliminate that by informing your server about your allergy.
Here are all the gluten-free options Tim Hortons has. These items have been taken directly from Tim Hortons allergen menu. They may vary depending on location. If unsure of their preparation method, confirm with the server.
Breakfast
Hash Brown
Bacon and Cheese Omelet
Spinach and Egg white Omelet Bite
Lunch
Chili
Kettle chips
Potato Bacon Chowder
Coffee, Tea, & Hot Beverages
Latte
Tea Latte
Cappuccino
Bagged Tea
Vanilla Latte
Mocha Latte
Steeped Tea
Decaf Coffee
Coffee Mocha
Hot Chocolate
French Vanilla
Regular Coffee
Dark Roast Coffee
Caramel Macchiato
White Hot Chocolate
Original Blend Coffee
Double Double Coffee
FIND MORE: Are Round Table's pizzas gluten-free?
Cold Beverages
Iced Latte
Iced Coffee
Iced Lemonade
Light Iced Capp
Vanilla Iced Latte
Mocha Iced Latte
Frozen Lemonade
Vanilla Iced Coffee
Mocha Iced Coffee
Original Iced Capp
Original Cold Brew
Sweetened Iced Tea
Caramel Iced Coffee
Frozen Hot Chocolate
Unsweetened Iced Tea
Mixed Berries Smoothie
Vanilla Cream Cold Brew
Supreme Oreo Iced Capp
Blackberry Mint Refresher
Supreme Mocha Iced Capp
Supreme Caramel Iced Capp
Tips for ordering gluten-free at Tim Hortons
Keep an eye on Tim Hortons' allergen menu.
Tim Hortons keeps updating its menu from time to time, and it differs based on location. So, regularly check their allergen menu for updated information.
You can also call their nearest location to know whether they have gluten-free options.
Avoid ordering from these sections.
If you find yourself at Tim Hortons, stay away from donuts, Timbits, and baked goods. Even their breakfast and lunch items are not safe. However, most of their beverages are gluten-free. So you can go with those.
Ask the Cashier.
Ask the cashier to suggest some items that would be safe to consume on a gluten-free diet. And ask them to prepare your items after changing gloves and separate them from non-gluten-free things.
Avoid going to Tim Hortons if this option is not available. Several other similar places accommodate people with gluten allergies. You can find them below.
RECOMMENDED: First Watch's Gluten-Free Options
Cross-contamination risk at Tim Hortons
At Tim Hortons, all food items are prepared using shared utensils and equipment in a common area. In addition, they run a bakery where most of the items are made of wheat.
Because of this, gluten-free items can become cross-contaminated.
Furthermore, Tim Hortons isn't a dedicated gluten-free establishment, so no strict rules or training are in place to prevent cross-contamination.
Due to this reason, even those items listed as gluten-free on Tim Hortons' allergen menu aren't guaranteed to be gluten-free.
The best you can do to be safe is ask the cashier to suggest some safe items for gluten-sensitive people. Or altogether, avoid this particular chain.
What do people say about the gluten-free options at Tim Hortons?
This is what people with celiac and non-celiac gluten sensitivity said about gluten-free options at Tim Hortons. This part is gathered from around the net to help you make better decisions when ordering gluten-free at Tim Hortons.
Some people reported that when they asked the server about gluten-free options, "the server gave them a blank stare". They had no idea what gluten-free was. At some places, they were even served items that had wheat in them.
People have reported that Tim Hortons doesn't have a dedicated gluten-free menu and beverages are their only gluten-free options.
Some people said that when they enquired with Tim Hortons, they were told not to visit the place because Tim Hortons didn't have anything gluten-free.
People even said, "Tim Hortons is behind the times. With this much popularity, they should have a clear gluten-free menu".
This is what people with gluten intolerance ordered at Tim Hortons without any allergic reactions:
Hearty potato soup
Creamy sun-dried tomato soup
Has browns
Gluten-free alternatives to Tim Hortons
Not happy with Tim Hortons' gluten-free options? Give these restaurants a try!
Red Robin
Red Robin is a casual dining restaurant chain famous for its Burgers. They sell around a dozen types of grilled burgers in different price ranges.
Some of the most popular burgers on their menu are the Royal Red Robin, Black & Bleu, and the traditional Cheeseburger.
Red Robin has an extensive list of customizable ingredients for the burgers. Apart from burgers, they've items such as sandwiches, fries, onion rings, pizzas, salads, desserts, shakes, cocktails, etc.
Thankfully, Red Robin also has a gluten-free bun and an option for lettuce-wrapped burgers or sandwiches. You can either select one of their ready-made burgers and swap a few ingredients to make it gluten-free.
Or, make a burger with your choice of gluten-free ingredients.
Red Robin also follows allergy protocols to prevent cross-contact. For example, gluten-free items are marked with a purple stick while they're served. Many of their locations have a separate fryer for the fries.
The staff at most of their location are trained on the subject. Make sure to tell them about your allergy so that they can recommend you better options.
P.F. Chang's
P.F. Chang's is an Asian casual dine-in restaurant. Here, each dish is handmade from scratch every day. They serve various dishes and drinks for lunch, happy hour, and dinner.
Their main menu features items such as appetizers, dim sum, sushi, soups & salads, main entrees, desserts, as well as beverages. P.F. Chang's also has a dedicated gluten-free menu.
Their gluten-free menu has items such as appetizers, soups, main entrees, desserts, and lunch options. You can try out Chang's lettuce wraps and spicy chicken risk-free.
If you inform the server about your allergies, they'd recommend more options.
The chefs at P.F. Chang's use a dedicated gluten-free cooking area and have dedicated cooking utensils. At some locations, they even have reserved plates for people with gluten sensitivity.
All of this is comforting to know, however, be sure to tell your server about your allergies so that they can take extra precautions.
Shake Shack
Shake Shack is a fast-casual restaurant chain primarily known for its hotdogs. They also have items such as chicken burgers, hotdogs, hamburgers, fries, frozen custard, and beverages on their menu.
Shake Shack also offers gluten-free buns for an extra dollar and an option for the lettuce wrap for any of their burgers.
If you have celiac or high gluten intolerance, stay away from their fries because their frying oil is filtered with the same filter as the fried shrimp. And their fried shrimp is not gluten-free.
Shack Shack follows an allergy protocol. So whenever you visit one, be sure to state to the cashier that you've gluten allergy so that they follow their allergy protocol.
And always ask them to repeat your order so that you know they've taken your allergy into account.
Subway
Subway is most popular for its sandwiches known as subs. They've more than a dozen varieties of sandwich combinations including Mozza meat and Supreme meats.
They also have quite a few options for bread and wraps like multigrain flatbread, artisan bread, Italian Herbs & Cheese, etc.
On their menu, they've items such as sandwiches, sandwich bowls, salad bowls, wraps, breakfast items, some side items, and drinks. Subway also has a 6" gluten-free bread at selected locations.
But you can order their lettuce-wrapped sandwiches, known as protein-style, at all subway locations.
Most of their fillings such as meat, vegetables, cheeses, and condiments are gluten-free. You can either order from their readymade collection of sandwiches or customize them with your choice of ingredients.
But stay away from their cookies, soups, and pizzas.
Be sure to inform the cashier that you have a gluten allergy. The staff at most of the subway locations are knowledgeable about it and will take necessary measures to prevent cross-contact.
Five Guys
Five Guys is a fast-food restaurant chain with quite a simple menu. On their menu, they've Burgers, hotdogs, sandwiches, fries, and milkshakes. The fries at Five Guys are guaranteed to be gluten-free.
And all of their toppings are also free of gluten.
Unfortunately, Five Guys doesn't have gluten-free buns, however, they do provide an option to lettuce-wrap the burgers. At some locations, they may not even have a lettuce wrap option, in that case, ask for a bowl.
Five Guys also has allergy protocol. So, when you ask for a lettuce wrap, tell them that you have a gluten allergy. Then, they'll follow their allergy protocol and take the required measures to prevent any cross-contamination.
Otherwise, they may assume it's just your dietary preference and may even serve a wrong order.