Did you know that 50 Billion Hamburgers are eaten every year in the United States? And a small fraction of it is sold by Wahlburgers. But, today we are interested to find out if any of those are keto-friendly. Let's find out.
Despite being a burger place, Wahlburgers surely can be visited on a keto diet. With burgers like 'The Fiesta' burger that carries just 2g carbs, and salads like Caesar Salad holding just 4g carbs, it certainly has got many low-carb options.
Low-carb beverages are also in plenty with both alcoholic and non-alcoholic drinks on the menu.
I'm not bragging, but this article acts as a lifesaver. Throughout the article, I will provide you with some golden tips that'll help you select the right condiments, sauces and side dishes.
Also, I'll guide you on how each dish has to be eaten and what has to be avoided.
So, without further ado, let me take you through the survival guide for having a keto-friendly meal at Wahlburgers. After which, we will have a look at all the low-carb options here. Let's go.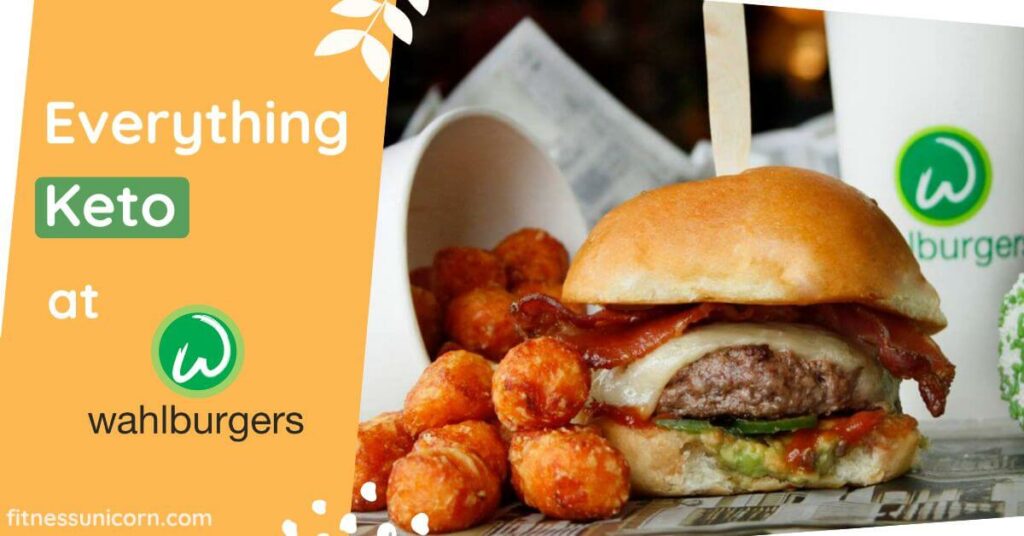 Tired of searching whether certain foods are keto? Download my keto cheat sheet with 210+ keto-friendly foods!
This post may contain affiliate links, which help keep this content free. (Full disclosure)
How to survive Keto at Wahlburgers
Wahlburgers Franchising LLC, doing business as Wahlburgers, is a casual dining burger restaurant and bar chain. There are around 50 Wahlburgers locations in the United States, two in Canada and one in Germany.
Along with Burgers, Wahlburgers also serves delish salads, sandwiches, appetizers, side dishes and both, alcoholic as well as non-alcoholic drinks.
All of these require little alterations to turn them into low-carb meals and I'll tell you how it can be done.
Let's talk about burgers. Burgers are good food for a keto-friendly meal, with veggies, cheese and ham patties containing high amounts of protein and fat. But, the downside to burgers is the buttery burger buns.
A burger bun on average consists of 26g of carbs and this can not be afforded at any cost. Now, there are two ways to counter this problem.
You can either have the fillings of the burger i.e. veggies, patty and cheese as a separate bowl. You can enjoy it as any other low-carb salad. The second option is wrapping your burger into a lettuce wrap.
100g of lettuce carries less than 3g of carbs, and also holds a substantial amount of dietary fiber. Fiber helps during dieting since it makes you feel fuller and you are unlikely to binge eat.
Similar to burgers, even sandwiches are to be eaten through the above-mentioned methods. Just two slices of white bread contain 28g of net carbs and are to be avoided.
If you are looking to satisfy your sugar cravings, avoid desserts and choose low-carb drinks instead. No dessert is low on carbs and can not be modified either, to make it keto-friendly.
But low-carb beverages are in plenty. Draft Beers, Wines, and Sangrias are all on the menu and do not cost you many carbs.
I feel that's more than enough for now and it's time to go through the available keto-friendly options at Wahlburgers.
LEARN MORE: Glory Days Grill Keto-Friendly Options
Wahlburgers Keto-Friendly Options
Wahlburgers has a decent amount of keto-friendly options. Salads, Burgers, Sandwiches and Beverages are the sub-sections with the most number of keto-friendly options. Let us have a look-
-> Let's start with their appetizers. Unfortunately, they are on the higher side. Being glazed with sugary sauces makes them unfit for your keto meal. Nor are any modifications possible or feasible in the case of appetizers at Wahlburgers.
Salads
Jenn's Chicken ( 8g )
Cobb Salad ( 4g )
Caesar Salad ( 4g )
Salmon & Street Corn ( 11g )
Southern Crispy Chicken ( 15g )
-> Personally speaking, salads are my go-to keto meal. They are low on carbs, and high on fibres and the fresh taste makes them a perfect keto-friendly dish.
RECOMMENDED: Eat'n Park Keto-Friendly Options
Toppings
Swiss Cheese ( 0g )
Pepper Jack ( 1g )
Blue Cheese ( 1g )
White Cheddar ( 0g )
Smoked Cheddar ( 1g )
Crispy Bacon ( 0g )
Caramelized Onion ( 0g )
Onion Rings ( 0g )
Chili ( 0g )
Sauteed Mushrooms ( 0g )
Avocado Spread ( 0g )
Fried Egg ( 0g )
-> All of these low-carb toppings can be added to your meal for an even better taste. Since they hardly contain any carbs, it's a less risky deal.
FIND MORE: Lupe Tortilla Keto Friendly Options
Mom's Favorites
Housemade Chili ( 12g )
Crispy Chicken Ranch Sandwich ( 8g )
Jenn's Chicken Sandwich ( 8g )
Crispy Fish Sandwich ( 8g )
-> Sandwiches and bread go hand-in-hand. But what doesn't go together, is bread and keto as mentioned earlier. So better enjoy your sandwich as either a bowl or a lettuce wrap. It'll make sure the carbs are under control.
Burgers
The OUR Burger ( 7g )
Double Decker ( 8g )
BBQ Bacon ( 8g )
O.F.D. Burger ( 5g )
The Fiesta ( 2g )
The Super Melt ( 6g )
The Impossible Burger ( 13g )
-> Similar to sandwiches, even burger buns are not keto-friendly. Burgers are should be consumed without the bread only and with low-carb sauces.
Sides
Side Salad ( 4g )
Kale & Brussels Sprout Slaw ( 8g )
-> I suggest you do some maths before indulging in side dishes. Since, the total carbs from your main course, plus your side dish should be below the allowed carb limit for the day.
Drinks
Diet Coke( 0g )
Root Beer & Diet ( 0g )
AquaHydrate ( 0g )
Fresh Brewed Iced Tea, Tea & Coffee ( 0g )
-> Wahlburgers also has a good range of soft liquor, beers and wines. A pint of beer or a glass of wine will cost you as low as 5g of carbs, which is not bad for a drink.
Beers like the Miller Lite and Corona hold just 3g carbs. Draft beers are slightly on the higher side though.
Now, in the next section, I'm gonna give you some alternatives to Wahlburgers if you are still not satisfied with all the options above.
Alternative Restaurants to Wahlburgers
Burgerfi
BurgerFi International, LLC is an American hamburger restaurant chain aimed at the "better burger" sector of the market.
The first location was opened in February 2011 in Lauderdale-by-the-Sea, Florida and since then has spread across the states.
Keto options at Burgerfi range from their Burgers to Hot Dogs to their low-carb condiments and dressings. It shouldn't be much of a problem going keto then at Burgerfi if you're willing to do the needful.
Their burgers are slightly on the higher side, even after ditching the bun. But, if you have eaten fewer carbs from other meals of the day, you're good to go.
Whataburger
Whataburger is an American regional fast food restaurant chain, headquartered and based in San Antonio, Texas, that specializes in hamburgers. They currently serve at over 880 locations across the United States. 
Other than their trademark burgers, they have low-carb salads like Cobb Salad and side dishes like Apple Slices, that hold less than 10g of carbs.
Various Add-ons and dressings also contain fewer carbs, making them absolutely keto-friendly.
Conclusion
In my opinion, burgers complete more than half the journey of their preparation as a keto-friendly dish. But, as soon as buns come into the picture, things change.
Still, Wahlburgers proves to be a place that cares for its diet-conscious customers and provides them with customization options available wherever possible.
Even in their official menu, they have stated that customers can ask for the buns to be removed if they are allergic. Gestures like these certainly show their interest in the consumer's liking.
On top of that, Wahlburgers has low-carb salads, sandwiches, beverages and toppings to cater to everyone's needs. The tips and tricks mentioned throughout the article come in handy here.
Having said that, I feel that now you are ready to visit Wahlburgers and order a low-carb meal without hesitancy.
And, if you wanna know more about the nutritional information or other dishes on the menu, you can go through Wahlburgers' official menu here.